Spring Summer 2011 Collections at Fourpublicity Press Day
|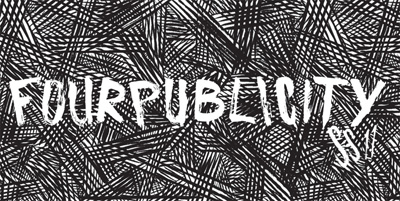 Event: Fourpublicity Press Day
Season: Spring Summer 2011
Brands: AG Adriano Goldschmied, Evisu, C.P Company, C.P Company Under Sixteen, Galliano, Galliano Kids, M Missoni, Money, oki- ni, Sand, Scholl, Something Else, Stone Island, Stone Island Junior, True Religion, Uno de 50 ,Tween, Woolrich
Website: www.fourmarketing.com
On walking into the Fourmarketing exhibition, I now understand how Caesar must have felt when first climbing to the top of his throne in Alexandria at the pinnacle of his empire. If Alexandria was quality and the way of life, then I would gladly die happy in amongst the railings of its satrapies. Fourmarketing had been keeping a secret from us all and if the secret had a wish, it had wished for more secrets and more secrets they had kept in hiding waiting to be eavesdropped and spread. In amongst its secrets were noticeable gems that winked at passersby and which will be and must be mentioned.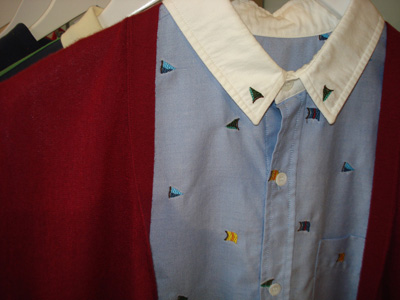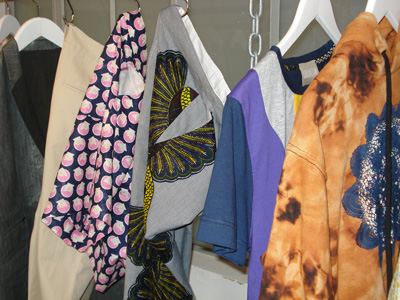 Oki-ni certainly took on the saying New and Improved. What's new is the mass enlisting of fresh new designers not only London based but in the international reaches of the US and Scandinavia, to name a few: Fallow, Billionaire Boys Club and Norse Projects. Along with the mass enlistees were the teaming of some of the worlds greats including: Marc Jacobs, Jil Saunders, Martin Margiela, Alexander McQueen and Christopher Kane.
S/S 2011 is the establishing of new talent ever sourcing a product of rarity and premium quality introducing denim, Scandinavian themes and wear ability factor. They're reaching out to a new audience with their toned down features of previous collections and that's what's improved.
Attempting to expand, Oki-ni has done it in the only way they know how to. Through revolution and through breaking into other sectors of styled multimedia and mix series bringing them into the foreground of music, encouraging DJ's and bands to create snapshots of their music for free podcasts as well as creating artwork to accompany t-shirts on their records, each taking on a spirit of its own. As do the garments. They're as mentioned before revolutionary, simple but fashion forward to the subtlest of tones with the injection of genius into its design from the core of each fibre and strand that creates it. Their prints will leave you with a buzz, their t-shirts will keep you in the gaze of others to the point of touch and their female inspired jeans will leave you as cool as an ice cube. These long lasting jeans are quality that needs to be felt and worn and may be the bridge needed to mix and match the sexes.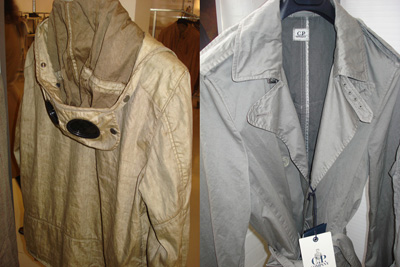 Having changed ownership CP Company take a 'Back to the future' stance for S/S 2011 going back to what they do best which is creation through experimentation. Known for their jackets with goggles in the hoods, they are determined not to let us forget, as they have teamed this up with their hallmark fabrics unknown to fashion. Fabrics have been treated to look as though they have been dried in the sun, or bleached by the salt of the sea, or that the fabrics colour changes tones as well as coating fabrics to give them an oily leathered look, most associated with the traditional look of men at sea. Incredible attention to detail with fastenings, pockets and seams was also evident, reminding us of CP Company's military roots with an incredibly modern flavour.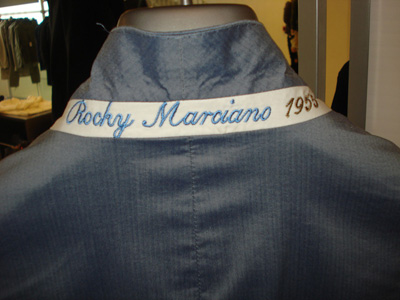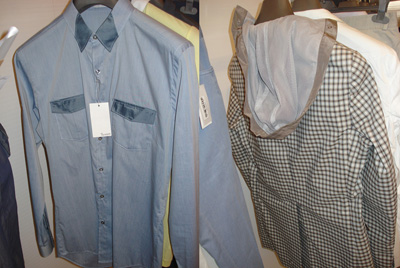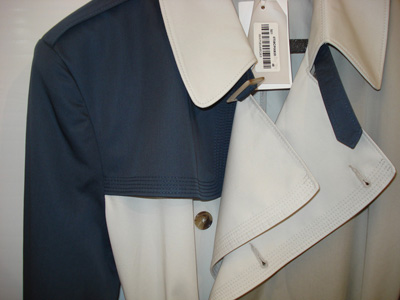 Tween goes back to the 50's to find it relevant within the 21st Century focussing on the Teddy boy shapes of styled suits with straight legged trousers, swooping trenches and clean cut tailoring. They look to the greats of 50's boxing legends encouraging a fighting spirit in their collection with a modern masculinity which is both traditional and urban. Tween and our generation it seems is fighting for a cause and this may be the environment with the involvement of the eco-friendly fabrics of lightweight natural cottons and dyes used throughout the collection.
Tween have also teamed up with rising star Omar Kashoura, creating a capsule collection.
The Tween man this season is a new hero, he is relaxed and stands proud.- Omar Kashoura
Omar takes influence from his own signature style as well as from previous Tween collections carrying on his theme of navy with over dying and pleating details incorporated. Omar developed a new print with Tween inspired by stills taken from the film 'Cinderella Man' which can be seen on some of their bomber jackets and shirts.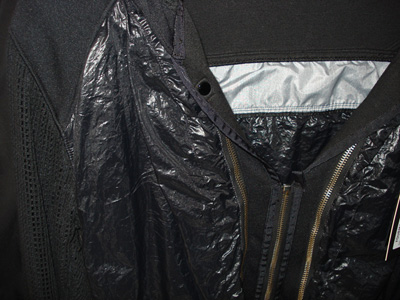 Another brand following the route of revolutionary materials is Stone Island. They have dedicated their time on the ideas of perception and aesthetics in order for the wearer to feel the power of everyday sportswear. Environments of the Ocean are core to the ideas that created Stone Islands S/S 2011 collection. The treated materials bring new meaning to ideas of perception playing with your eyes' notion of depth, colour, tone and shades. Metallics have been introduced, reminiscent of supercar bodyworks. Two tone effects have been created by laminating or dipping fabrics into paint or nylon. It is a testament to home much modern technology can revitalise so that we can relive history. The Shadow Project is exceptional to the extreme, catching your eye from across the room, with glimmers of matte and shiny black garments which are a feast for your peripherals. It isn't hard to identify the influences of the navy and military with urban undercurrents throughout the collection.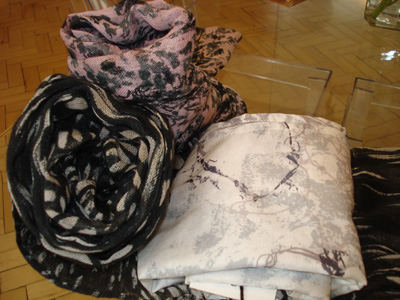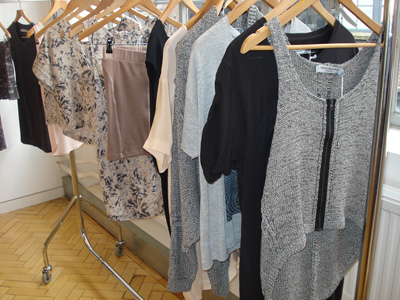 Natalie Woods collection of 'Middle of Nowhere', for her label Something Else is exactly what it says on the tin. The textures of the open and tightly weaved knits and lightweight jerseys are visually stunning and really set the scene of being in a natural environment. One of ease and isolation that is desolate from any outside influence that would ruin the calm and textures of tranquillity. You really feel a sense of progression and hope from the garments as if it's a self discovery in itself. It's all about finding yourself and your style in a world of confusion by taking you out of the chaos for a while. It's reminiscent of a very urban outfitters theme more commonly seen in European countries despite Natalie being Australian born and based. Working in partnership with artists such as Tara Marynowsky, Christina K and Michaela Saunders imagery of experimental style and unique aesthetic was beautifully created. What makes this self discovery even more rewarding and modern is that a lot of the proceeds are charity bound.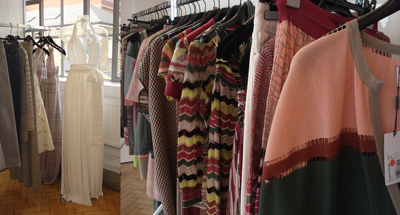 M.Missoni was equally impressive as always, bringing an imaginative interpretation on the traditionally unique Missoni knitwear and colourful textile patterns taking on the scene of a 70's hippy chic party for the ever young and fashion forward girl. Anyone tired of the hard and unforgiving circumstances this world has to offer only has to look as far as M.Missoni's S/S 2011 collection to go back to the days of peace, love, harmony and fantastic mix and match knitwear and timeless halter neck maxis.
Adriano Goldschmied along with Sand also deserves a mention for their exceptional work. California designer Adriano Goldschmied is a testament to Hollywood as well as denim. His jeans appeal to celebrities as well as those interested in living the L.A, Hollywood, American lifestyle seen on T.V and in magazines. Fall in love with the 'AG-ed Vintage' jean with modern silhouette that will fit like a glove and look like it's been worn for years.
All in all, a wonderfully mouth watering experience with or without the refreshments on offer. As always there is a descent to any rise and even Caesar had to bid farewell to his Alexandria. Although don't fool yourselves into thinking that this was all a dream of an illusion, for all these satrapies are real and you have not been denied. Approach S/S 2011 with great emotion and enjoyment knowing that good fortune lies ahead.
Written by Diamando Christofi, Design Scene Contributing Editor