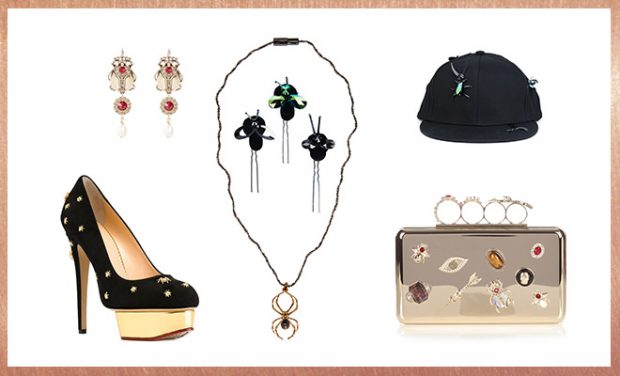 Hard to deny fashion's obsession with insects, which is once again in its peak especially with the accessories we found in the latest womenswear collections. Whether you are a fan of bugs or not, fashion designer at Charlotte Olympia, Alexander McQueen, Piers Atkinson and Dolce & Gabbana were quite inspired by spiders, scarabs and bees.
RELATED: BROWSE OUR JEWELRY ARCHIVE ON DESIGN SCENE
Our Fashion Features Editor Katarina Djoric shines the spotlight on a few must-have accessories coming from a 'bug's life' kind of perspective.
See more after the jump: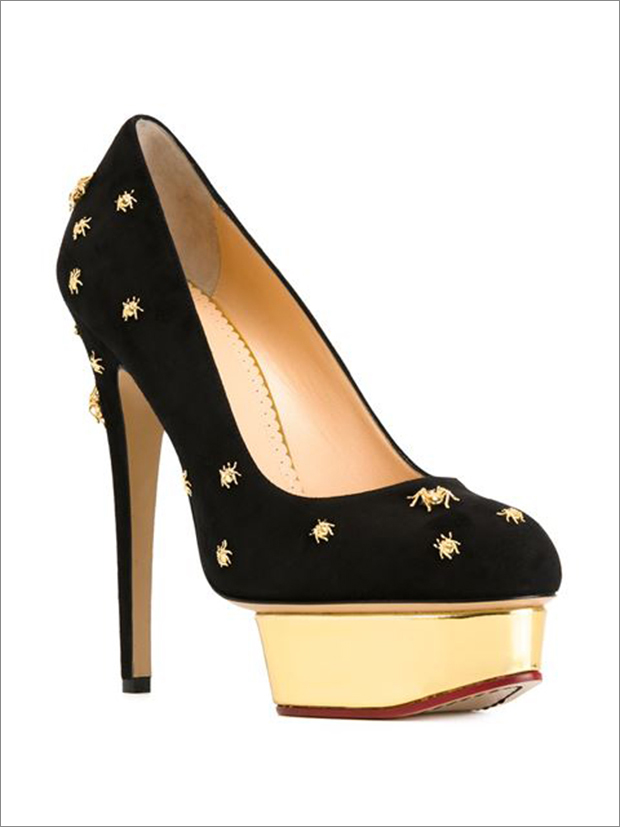 CHARLOTTE OLYMPIA
'Spider Dolly' pumps are simply said a must have hit. Black calf leather 'Spider Dolly' pumps from Charlotte Olympia come with an almond toe and a brand embossed insole, a golden platform sole as well as a high stiletto heel. The pumps are covered in golden spiders. Here's the best part we found these on a 70% discount now on FARFETCH.com, from 1.259,23 € to 377,77 €. Tap the image above for more info.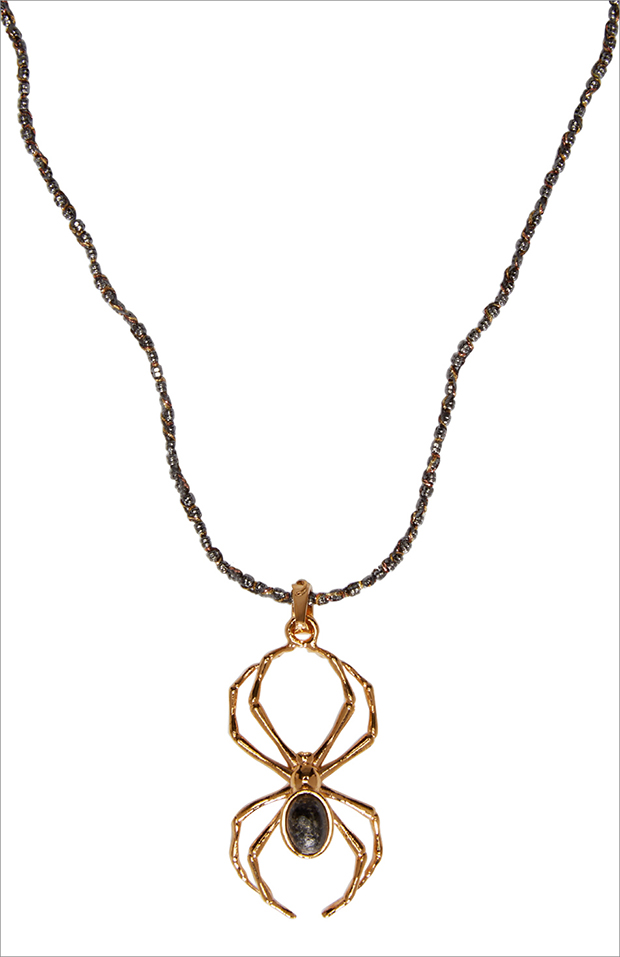 Lanvin Spider Necklace
Gold Spider Pendant Necklace is a true kind of this list. Lanvin design team has long been a fan of insect inspired accessories. The necklace in gunmetal-tone is entirely beeded and comes with metallic thread woven throughout. Gold-tone spider pendant featuring dark grey stone accent. We found this necklace for you on SSENSE tap image for more info.
ALEXANDER MCQUEEN
Crystal-embellished beetle earrings from the Alexander McQueen's silver and light-gold tone brass earrings are a typically irreverent finishing touch to classic evening looks. The earrings come with a sparkling arrangement of crystals in the shape of a beetle, skull and flower, and are finished with a creamy faux-pearl. We found these earrings for you on MATCHESFASHION for 495 euros
.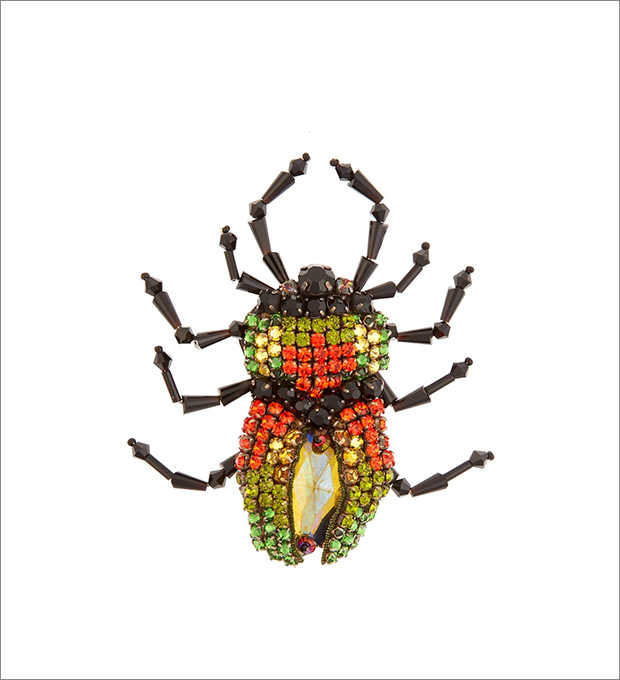 GUCCI
Bug crystal-embellished brooch comes right from the Alessandro Michele's alley. So why not have an oversized BUG BROACH in the collection, for the price of 490 euros (we found it on MATCHESFASHION) you are no doubt to get yourself a memorable jewelry piece. This oversized brouche is covered with glistening jewel toned crystals. We could recommend it as a detail on a monochrome jacket or a top.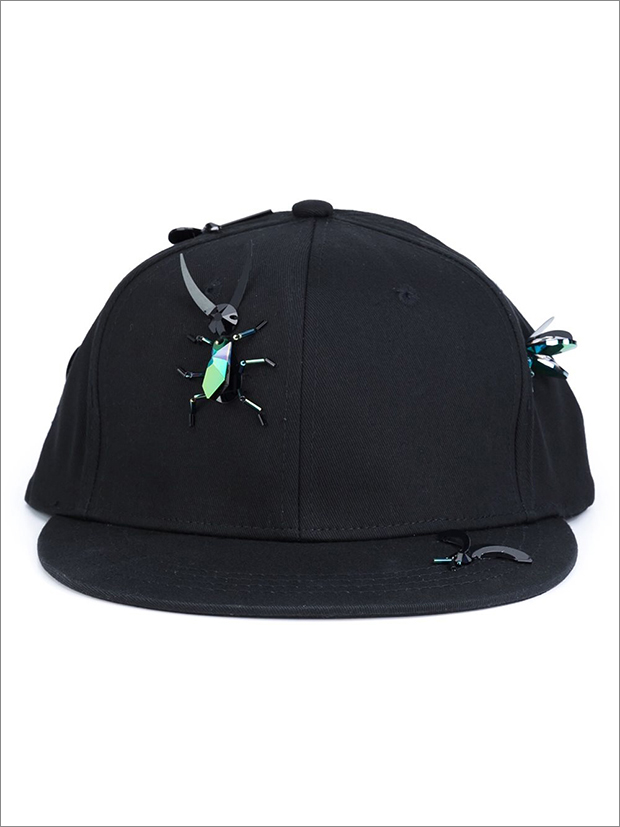 PIERS ATKINSON
We leave this one for you to decide, the 400 euro price might be a 'let's wait for a sale' kind of a moment, however this crystal bug cup will complete your outfit in more than a few ways. Other option is to get a 4 euros black cap at H&M and make the bug embellishment yourself. If you are not up for some arts and crafts, click on the image above for more details, we found the cap on FARFETCH.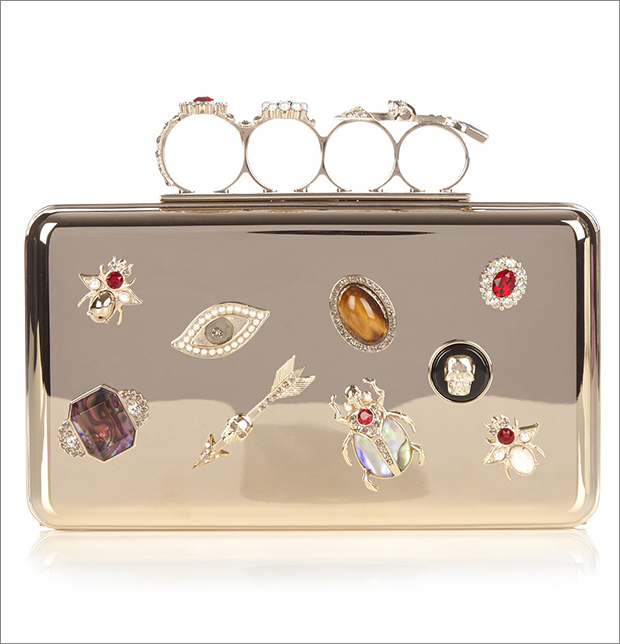 ALEXANDER MCQUEEN Crystal-embellished gold-tone knuckle clutch
With the price of little under two and a half thousand euros this Alexander McQueen clutch is definitely falling into the INVESTMENT PIECE category. Coming from the house's Pre Autumn 2016 collection this gold tone brass knuckle clutch comes with crystal studded eyes and insects among other. We discovered the piece for you on MATCHESFASHION fashion for 2495 euros.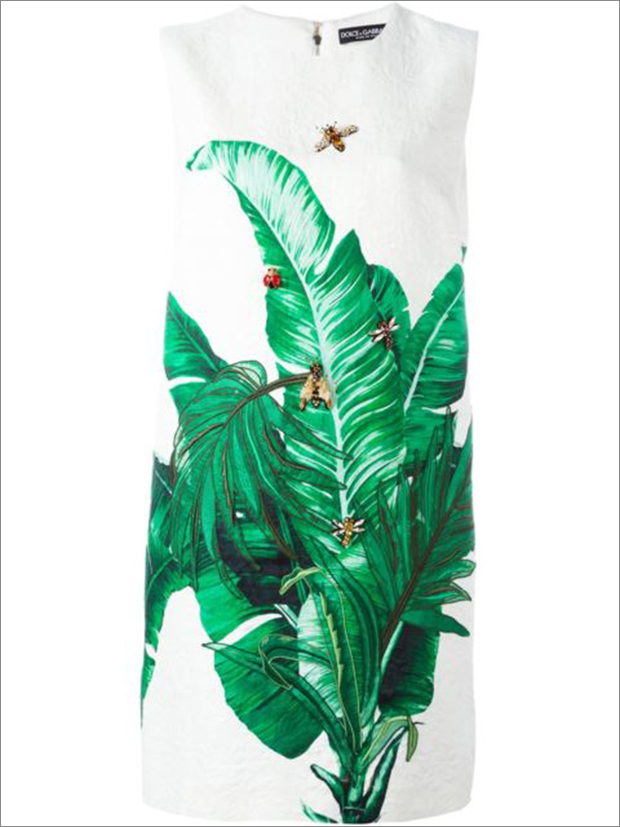 DOLCE & GABBANA banana leaf brocade dress
White and green stretch cotton banana leaf brocade dress from Dolce & Gabbana featuring a round neck, a sleeveless design, a concealed rear zip fastening, an embroidered brocade design, multicolour rhinestone embellished bee and lady bug appliqués to the front, a signature banana leaf print to the front, a shift silhouette, a straight hem and a short length.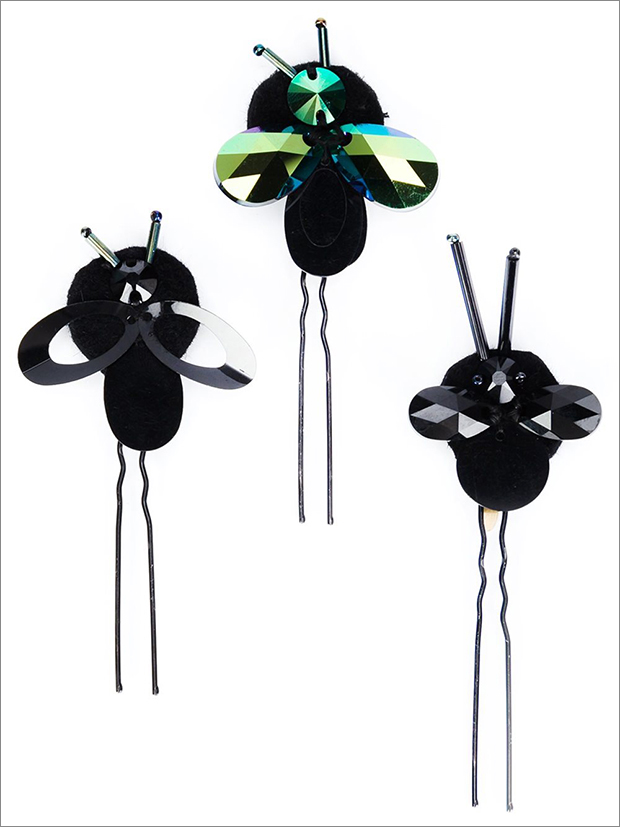 PIERS ATKINSON crystal bug hair pins
Black and green wool felt crystal bug hair pins from Piers Atkinson are simply said a much needed detail. As they say god is in the details.