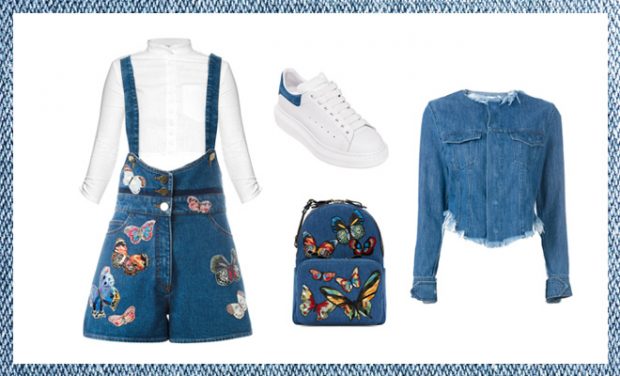 Up until now, past decades could easily be identified by their own respective denim style. From cropped dungarees to denim jackets, embroidery pieces and maybe even a backpack, it's time to make space in your wardrobe for some newbie styles. From textiles to home decor, these pieces are sure to inspire your best denim outfits.
RELATED: THE LATEST RUNWAY COLLECTIONS ON DESIGN SCENE
Our Fashion Features editor Katarina Djoric selected pieces from the likes of Valentino, Alexander McQueen, Roxana Salehoun and Marques Almeida among other.
See more after the jump:
VALENTINO
Butterfly Embroidered Denim Playsuit
This light-wash blue denim Valentino butterfly embroidered playsuit is a modern take on the retro overall style. Radiating a hippie-chic vibe, the Italian-crafted piece boasts daring mini-length shorts and extremely low front. Keep focus on the playful multi-coloured butterfly pattern by styling it over an understated, plain white tee.
Cover-up on hot-weather getaways with the effortless cool of Roxana Salehoun's white linen shirt.
MARQUES'ALMEIDA
Frayed denim jacket
If there's one piece that works any time of year, it's the denim jacket. Wear this blue cotton frayed denim jacket from Marques Almeida to complete the outfit.
VALENTINO
Blue Denim Embroidered Butterflies Backpack
Denim backpack in blue. Grained leather trim and signature pyramid stud detailing throughout. Carry handle. Detachable id tag at handle base. Adjustable shoulder straps with pin-buckle fastening. Butterfly-shaped embroidered appliqués and zippered compartment at face. Patch pockets at sides. Logo patch at back face.
ALEXANDER MCQUEEN
40mm Leather and suede sneakers
With 40mm oversized rubber sole and contrasting blue suede heel detail this McQueen sneakers are perfect match with your all jeans outfit.