ABOUT
D'SCENE Publishing Ltd. is a network of magazines curated as a daily fashion, design & lifestyle destination. Giving you exclusive editorials, the best of fashion glossy, and international runways always with a unique mix of design articles. Besides fashion we are also here to show you fascinating architecture, interior, industrial & commercial design, music,culture & lifestyle. 
Editor In Chief: Žarko Davinić | Linked In
Deputy Editor: Ana Marković
Fashion Director: Christopher Maul | www.styleofmaul.com
Fashion Features Director: Katarina Djoric | @katarina.djoric
Art Director: Igor Cvoro | Linked In + www.igorcvoro.com
Fashion Editor Milan: Emily Lee | www.emilylee.net
Fashion Editor Asia: Randolph Tan | www.randolphtan.com
Social Media Editor: Iva Petrovic
Publishers: Žarko Davinić and Igor Čvoro
Publishing Manager: Marios Stavrou
Publications: 
D'SCENE Magazine – biannual print and digital distributed internationally
DESIGN SCENE Magazine – monthly digital and print on demand
MALE MODEL SCENE – monthly digital and print on demand
contact:

info@designscene.net
Phone: +381 11 676 29 62
Mobile: +381 63 8 404 431

Agencies, magazine publishers, photographers, designers, artists, models, stylists… wanting their editorials covered feel free to contact us.

Note to bloggers: please do credit Design Scene if you place material from our pages onto some other site. Thank you.

FAQ AND GUIDELINES:
How long does it take to get a story featured?
We do consider every submitted shoot or news update for a feature, due to high number of emails please leave us up to 5 working days to reply back. In case we passed on the story we will let you know in a timely manner.
What if my shoot is already published?
A submitted shoot doesn't have to be an exclusive story, it may also be your work photographed for a print magazine.
Do you feature editorials shot for online magazines?
Due to high demand at the moment we do not include in our news updates stories shot for online magazines.
What is the difference between DESIGN SCENE and D'SCENE?
DESIGN SCENE is our monthly magazine published from November 2015 as an e-book and print available for purchase online, comprised of submitted work  of our contributors, you can find all the editorials under the EXCLUSIVE tab.
D'SCENE is our biannual print magazine, available in digital form online print order and placed in select book stores. We do not accept submissions for D'SCENE.
Find both DESIGN SCENE and D'SCENE in our SHOP section.
Where do you get the images featured on DESIGNSCENE.net?
Images featured on the site come from our work with agencies, photographers, and magazines.
How can we advertise online?
You can buy advertising by clicking on Advertise Here links in our side rail, we do our banner advertising mainly via blogads.com. Through those links you will be able to shape your adverts on your own, from size, time period (1 week to 3 months), to price range most suitable for you.
If you are interested in other forms of advertising please do not hesitate to contact us – info@designscene.net.
How can we advertise in your DESIGN SCENE and D'SCENE Magazines.
For a detailed media kit of our magazine editions email us at info@designscene.net.
VISIT OUR WEB PAGES:



MEET OUR READERS




MEET OUR CLIENTS
PRINT EDITION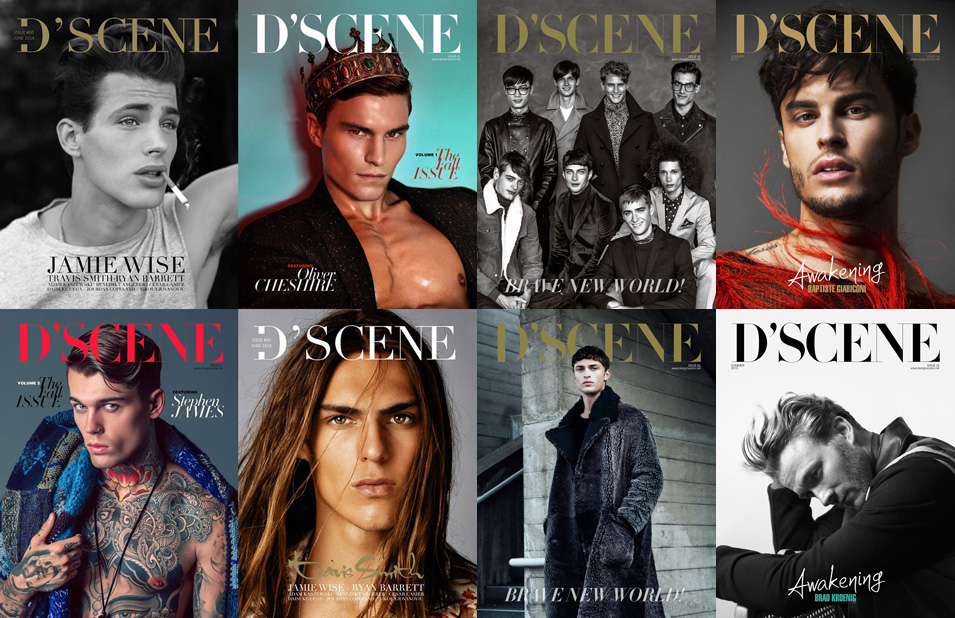 CONTACT
For additional information regarding advertising in our digital and print publications as well as sponsorship opportunities on our pages please contact info@designscene.net.