DSCENE 014: The Art Issue is
Out Now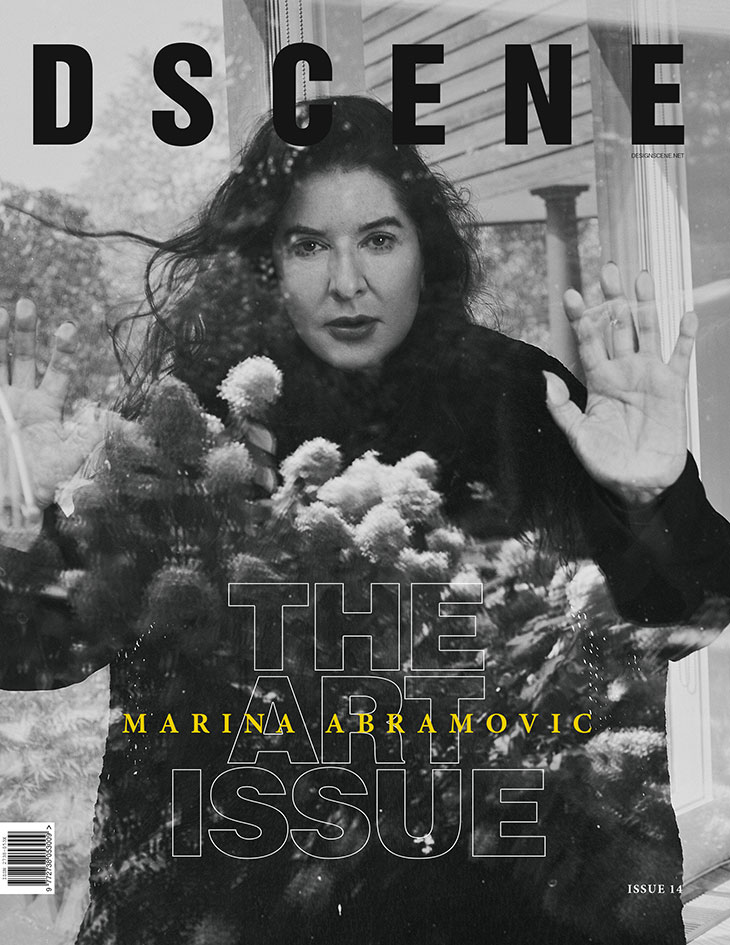 DSCENE Magazine is back for issue No14 with an art special featuring exclusive interviews with artists to watch and our cover star Marina Abramovic photographed by Helena Christensen.
Welcome to the Winter issue of DSCENE magazine which celebrates the art scene in a way we never did before, venturing before our continuous exploration of the relationship between fashion and art. Our dedication to art has always been at the heart of DSCENE, yet in the days where fashion shoots have turned into a health risk together our whole team of editors decided it is time to turn our pages to conversation. Fashion is still present in this issue, especially with the cover story featuring Marina Abramovic, the ultimate artist fashion muse.
Specs: Standard 8.25″ x 10.75″, 122 pages Perfect-bound
Featured artists: ALEXANDRA BIRCKEN, AUGUSTAS SERAPINAS, DAVID DOUARD, GUAN XIAO, KOLYA BOZOVIC, MADISON BYCROFT, :MENTALKLINIK, NIKITA GALE,  VUK CUK, WALEAD BESHTY and ZHENG BO; curators ANDREA BACCIN and ILARIA MAROTTA from CURA, gallerist JAN EUGSTER, as well as the essays by NATALIJA PAUNIC and OLIVER BASCIANO
MMSCENE Magazine Issue 034
Discover our latest edition with cover stars JAMIE WISE and RODRIGUE DURARD fronting the Spring 2020 season.
Specs: Standard 8.25″ x 10.75″, 126 pages Perfect-bound
Models: Rodrigue Durard, Josef Ptacek, Alex Sinclair, Matthias El Koulali, Robin Cocco, Jonathan Eap, Stefan Pollmann, Jamie Wise, Noah Lopez, Mbaye Ndiaye, Skyler Henegan, Lucien Laviscount, Abdisamed Said, Molvik, Bano Sow, Pharaoh, Florian Van Bael, Yonatan, Conrad Bromfield.
Photographers: Benjo Arwas, Danilo Pavlovic, Davide Carson, Grant Legan, Jose Martínez, Julia Sariy, Julie Michelet, Kevin Roldan, Leonardo Bornati, Mollie Rose, Que Dong
Stylists: Andrea Colace, Beñat Yanci, Brandon M. Garr, Christian Choy, Jeffrey Cameron, Mike Stallings, Olivia Jones, Shalev Lavan, Stefano Guerrini,
Contributing Writer: Quade Au