Design SCENE Issue 034 is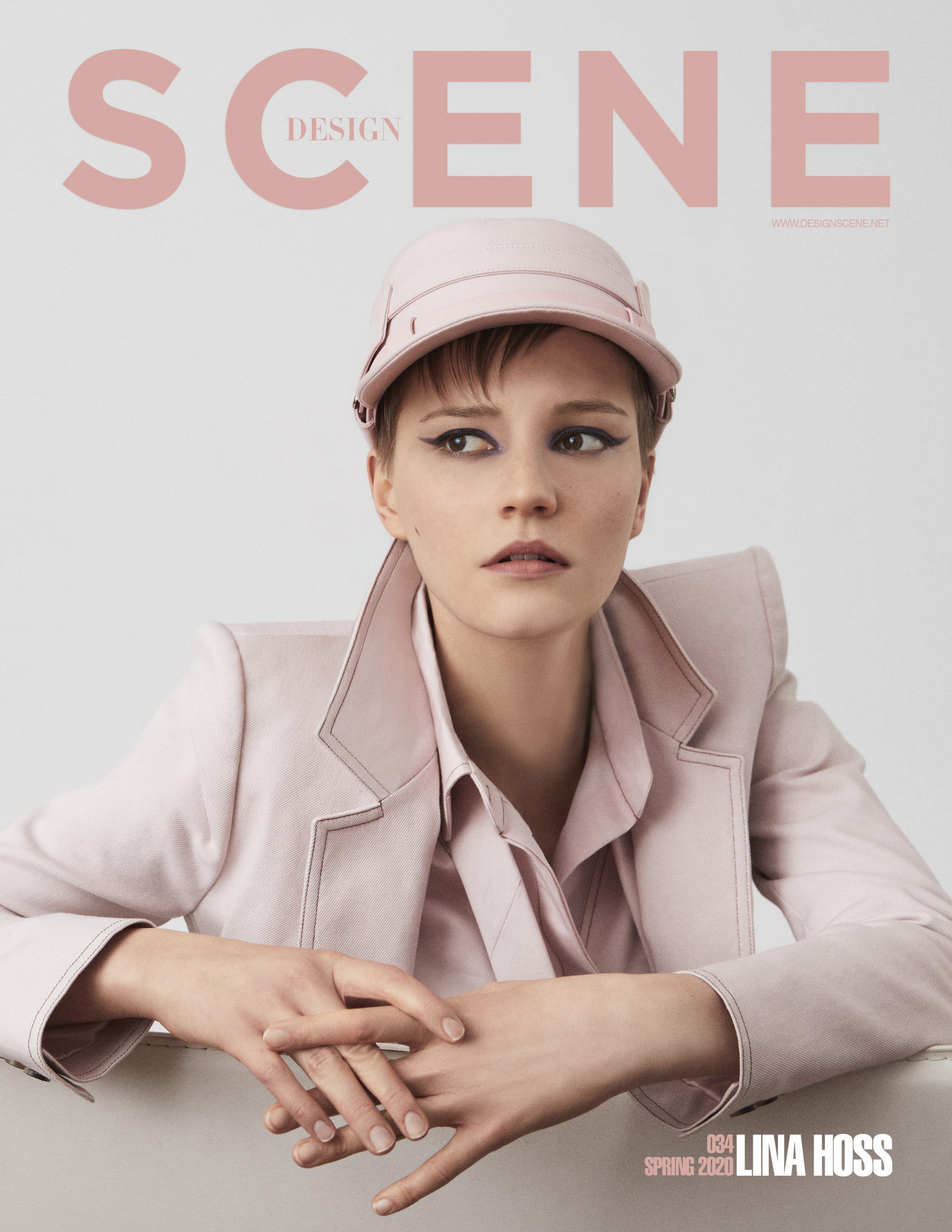 DESIGN SCENE Magazine Spring 2020 issue is out now with cover star LINA HOSS and more than 100 pages of latest fashion editorials and exclusive interviews.
New issue of DESIGN SCENE Magazine features over hundred pages of spring stories plus cover story with LINA HOSS. When it comes to our sit down we have exclusive interviews with Lina as well as MAJA SALAMON, founders of WORN, three inspiring young women designers to watch and stories on dating, today's friendships and much more.
In the days we started working on this spring issue of DESIGN SCENE Magazine we were months away before planning our fashion week travels and 2020 editorial calendar. At the time we were Olympic inspired stories were coming to mind while looking forward to the games in July and summer travels to have. Spring 2020 is once again prepared to celebrate the talent of our tireless contributors. Most of these stories were shot before the winter holidays, with an excitement for new collections and spring adventures..
Our cover star Lina Hoss has teamed up with regular contributor Coni Tarallo for the masterfully elegant story styled with coveted spring pieces by Connie Berg. In addition to her cover story we got a chance to sit down with Lina and talk about her sky-rocketing career and future plans. In addition to Lina we also got to have a note-worthy conversation with top model Maja Salamon who unselfishly shared her view of the industry and advice for models starting out. Salamon also posed for a stunning shoot by Piotr Krawczyk accompanying our conversation.
When it comes to design talent we had the honour to talk to the founders of Geneva based label on the rise WORN, whose exploration of up-cycling is truly inspiring. We are also exploring young talent thanks to our trip to Ukranian city of Lviv later last year where we got to discover a truly inspiring scene of talented designers presented at the Spring Summer 2020 fashion week. We talked to three young women designers who impressed us both with their talent and selfless determination.
Contributing Photographers Andrea Cenetiempo, Coni Tarallo, Filippo Del Vita, Karel Losenicky, Laurie Basset, Niels Bruchmann, Piotr Krawczyk, Sarah Storch, Sheen Wang, Tim Kent
Stylists Alessandro Ferrari, Catlin Myers, Connie Berg, Jade Hennessey, Jan Giovanni Catapano, Jenesee Utley, Laurie Basset, Marcella Verweyen, Matteo Ortu
DSCENE Publishing Team working on issue Thirty-Four: Deputy Editor Ana Markovic, Art Director Igor Cvoro, Fashion Director Katarina Djoric, Milan Fashion Editor Emily Lee, Social Media Editor Maja Vuckovic, Editor-In-Chief Zarko Davinic
MMSCENE Magazine Issue 034
Discover our latest edition with cover stars JAMIE WISE and RODRIGUE DURARD fronting the Spring 2020 season.
Specs: Standard 8.25″ x 10.75″, 126 pages Perfect-bound
Models: Rodrigue Durard, Josef Ptacek, Alex Sinclair, Matthias El Koulali, Robin Cocco, Jonathan Eap, Stefan Pollmann, Jamie Wise, Noah Lopez, Mbaye Ndiaye, Skyler Henegan, Lucien Laviscount, Abdisamed Said, Molvik, Bano Sow, Pharaoh, Florian Van Bael, Yonatan, Conrad Bromfield.
Photographers: Benjo Arwas, Danilo Pavlovic, Davide Carson, Grant Legan, Jose Martínez, Julia Sariy, Julie Michelet, Kevin Roldan, Leonardo Bornati, Mollie Rose, Que Dong
Stylists: Andrea Colace, Beñat Yanci, Brandon M. Garr, Christian Choy, Jeffrey Cameron, Mike Stallings, Olivia Jones, Shalev Lavan, Stefano Guerrini,
Contributing Writer: Quade Au