STOCKISTS D'SCENE – WINTER 2018 (biannual 2 issues per year)
Belgium
Brussels, Press PANTEA, Rue Marchee Aux Poulets 8-10
Canada
Montreal, CORP. PRESSE COMMERCE # 02, 825 Du Mont-Royal
Toronto, MAISON DE LA PRESSE, 99 Yorkville
China
Hong Kong
BASHEER DESIGN BOOKS, 1/F, Island Bldg 439-441 Hennessy Rd, Causeway Bay
PAGE ONE TIMES SQUARE, Shop 922, 9/F, 1 Matheson Street
PAGE ONE FESTIVAL WALK, Shop LG 1-30, 80 Tat Chee Avenue
Cyprus
Sketch School of Art and Design, 14 Navarinou street, Limassol, 3041
France
Paris
THE BROKEN ARM, 12, rue Perrée
COLETTE 213 Rue Saint-Honoré
PALAIS DE TOKYO, 13 Avenue President Wilson
Germany
Berlin, VOOSTORE, Oranienstrasse 24
Italy
Milan
10 Corso Como , Corso Como 10 , 20154 Milan
Armani Libri, Via Manzoni 31
MONDADORI Multicenter, Corso Vittorio Emanuele II
MONDADORI Multicenter, Piazza del Duomo 1
Firenze
FASHION ROOM, Via dei Palchetti 3/3a
Japan
Tokyo
LOGOS BOOKSTORE SHIBUYA, B1F Parco Part 115-1 Udagawacho, Shibuya-ku
DAIKANYAMA TSUTAYA
SHONAN TSUTAYA
UMEDA TSUTAYA
Portugal
Porto
WRONG WEATHER STORE, Avenue da Boavista 754, 4100-111 Porto, Portugal
Singapore
ALLSCRIPT KATONG, 112 East Coast Road, B1-71 Katong Mall
ALLSCRIPT STAR VISTA, 1 Vista Exchange Green B1-03 The Star Vista
KINOKUNIYA BOOKSTORE, 391 Orchard Road 03-09/10/15 Ngee Ann City
PAGE ONE, 1 Harbourfront Walk, #02-41/42 VivoCity
South Korea
Seoul
KYOBO BOOK CENTRE, Gwanghwamun-jum, Number 1, Jong-ro 1 Street
WORLD MAGAZINE, Yujin Building 1F, 13-7 Nonhyun-dong, Kangnam-gu
Taiwan
Taipei
MAG FREAK, No. 32, Lane 190, Sec. 1, Dun Hua S. Rd.
XIN YI FLAGSHIP STORE Eslite, 2F, No. 11, Sung Gao Rd.
PAGE ONE, 4 Fl, No. 45, Shi Fu Rd., Sin Yi District
United Kingdom
London
PHOTOGRAPHER'S GALLERY, 16-18 Ramillies St
DOVER STREET MARKET, 17-18 Dover Street
ARTWORDS (Shoreditch), Rivington ST EC2
WARDOUR NEWS, 118 Wardour St W
United States
New York, OPENING CEREMONY, 33 Howard Street
New York, MAGAZINE CAFÉ STORE, 15 W 37th Street
MMSCENE MAG STOCKISTS WINTER 2018 (10 issues per year)
China
Hong Kong
BASHEER DESIGN BOOKS, 1/F, Island Bldg 439-441 Hennessy Rd, Causeway Bay
PAGE ONE TIMES SQUARE, Shop 922, 9/F, 1 Matheson Street
PAGE ONE FESTIVAL WALK, Shop LG 1-30, 80 Tat Chee Avenue
Cyprus
Sketch School of Art and Design, 14 Navarinou street, Limassol, 3041
France
Paris
COLETTE 213 Rue Saint-Honoré
PALAIS DE TOKYO, 13 Avenue President Wilson
Germany
Berlin, VOOSTORE, Oranienstrasse 24
Italy
Milan
10 Corso Como , Corso Como 10 , 20154 Milan
Firenze
FASHION ROOM, Via dei Palchetti 3/3a
Japan
Tokyo
LOGOS BOOKSTORE SHIBUYA, B1F Parco Part 115-1 Udagawacho, Shibuya-ku
DAIKANYAMA TSUTAYA, Daikanyama T site, 17-5 Sarugakucho
SHONAN TSUTAYA,  Kanagawa Fujisawa 6-20-1 Tsujidomotomachi.
UMEDA TSUTAYA, Japan, 530-8558 Osaka Prefecture
Portugal
Porto
WRONG WEATHER STORE, Avenue da Boavista 754, 4100-111 Porto, Portugal
Singapore
ALLSCRIPT KATONG, 112 East Coast Road, B1-71 Katong Mall
ALLSCRIPT STAR VISTA, 1 Vista Exchange Green B1-03 The Star Vista
KINOKUNIYA BOOKSTORE, 391 Orchard Road 03-09/10/15 Ngee Ann City
PAGE ONE, 1 Harbourfront Walk, #02-41/42 VivoCity
South Korea
Seoul
KYOBO BOOK CENTRE, Gwanghwamun-jum, Number 1, Jong-ro 1 Street
WORLD MAGAZINE, Yujin Building 1F, 13-7 Nonhyun-dong, Kangnam-gu
Taiwan
Taipei
MAG FREAK, No. 32, Lane 190, Sec. 1, Dun Hua S. Rd.
XIN YI FLAGSHIP STORE Eslite, 2F, No. 11, Sung Gao Rd.
PAGE ONE, 4 Fl, No. 45, Shi Fu Rd., Sin Yi District
United States
New York, MAGAZINE CAFÉ STORE, 15 W 37th Street
DESIGN SCENE MAG WINTER 2018 (10 issues per year)
China
Hong Kong
BASHEER DESIGN BOOKS, 1/F, Island Bldg 439-441 Hennessy Rd, Causeway Bay
PAGE ONE TIMES SQUARE, Shop 922, 9/F, 1 Matheson Street
PAGE ONE FESTIVAL WALK, Shop LG 1-30, 80 Tat Chee Avenue
France
COLETTE 213 Rue Saint-Honoré
PALAIS DE TOKYO, 13 Avenue President Wilson
Germany
Berlin, VOOSTORE, Oranienstrasse 24
Singapore
ALLSCRIPT KATONG, 112 East Coast Road, B1-71 Katong Mall
ALLSCRIPT STAR VISTA, 1 Vista Exchange Green B1-03 The Star Vista
KINOKUNIYA BOOKSTORE, 391 Orchard Road 03-09/10/15 Ngee Ann City
PAGE ONE, 1 Harbourfront Walk, #02-41/42 VivoCity
South Korea
Seoul
KYOBO BOOK CENTRE, Gwanghwamun-jum, Number 1, Jong-ro 1 Street
WORLD MAGAZINE, Yujin Building 1F, 13-7 Nonhyun-dong, Kangnam-gu
Taiwan
Taipei
MAG FREAK, No. 32, Lane 190, Sec. 1, Dun Hua S. Rd.
XIN YI FLAGSHIP STORE Eslite, 2F, No. 11, Sung Gao Rd.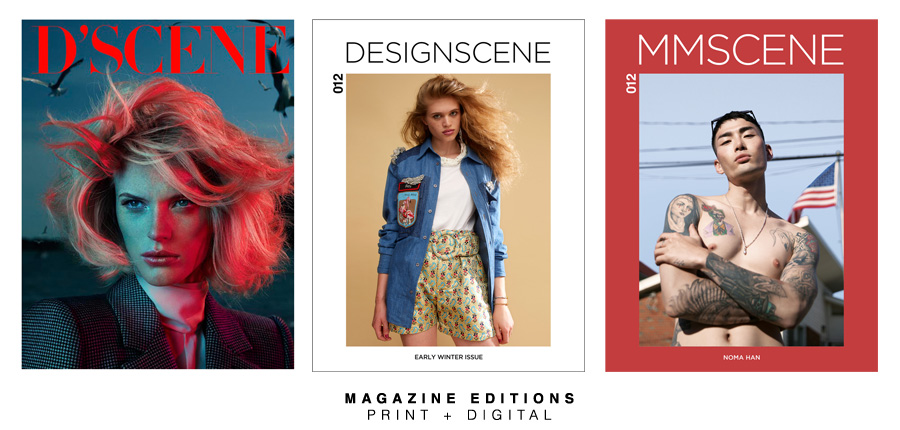 ©D'SCENE Publishing LTD is a company incorporated in Cyprus registered number H.E. 347957 whose registered office is at 14 Terpsichoris Street, Aglatzia, Nicosia, Cyprus, 2102 and where the context requires, includes its subsidiaries and associated undertakings.