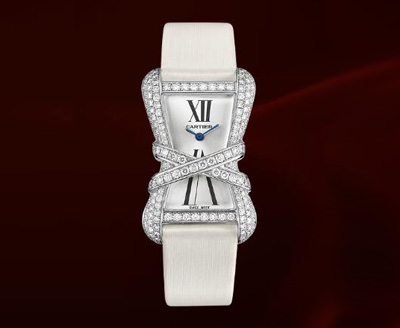 Cartier watches are stepping out into a new era, where young men and women wear diamonds on their watches without apology. No longer does a sparkly watch mean you are an heiress or mogul's mink-coated wife; you can be a young professional or fashionista with great taste and a yearning for timeless quality imbued with modern trends.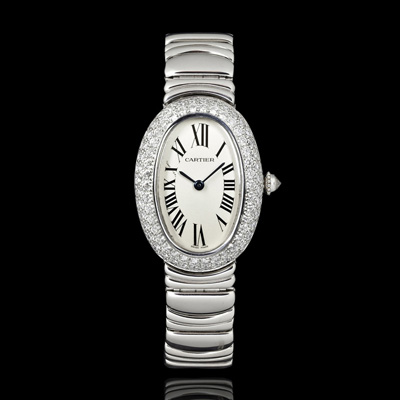 Cartier introduces these watches with on-trend timing for glamour and statement in jewelry. Larger pieces, animal motifs, and diamonds are making an impact in everything from rings to neckwear to timepieces. Old is new again as Cartier celebrates classic styles (like the Bagnoire, left) and introduces bold new styles like the Masse Secrete Panther Decor Watch below, or the bold Tank Enlacee Watch. Each one is a glittering bow to add a touch of either traditional glitz or cheeky edginess to a night (or day) out.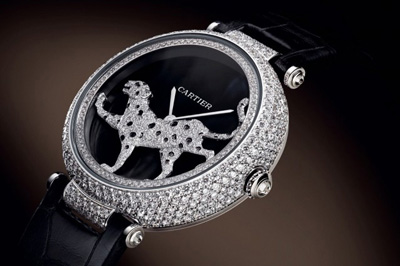 High-end watches are being paired with jeans and untucked shirts, getting casual and relaxed while still looking beautiful. If this attitude could speak it might say: "I was too busy living my life to make everything match today, but I have great taste." We are also seeing a throw-back to feminine grace and glamour in today's yearning for vintage clothing and jewelry. Pencil skirts and sheer blouses complete the womanly yet youthful look. High jewelry watches by Cartier are part timepiece, part jewelry, and often worn with bracelets of mixed materials.
Cartier embraces the times with these modern introductions while leaving their well-loved classics like the Tank Louis well enough alone. Celebrities have helped popularize the brand by wearing the timepieces everywhere. Pictures of Sofia Vergara and other celebrities sporting their Cartier watches on the beach or to movie premieres, have made the watch appropriate and almost essential accessories to wear all the time. This fits in with the idea of Cartier timepieces being well-known, but new, and great additions to the young fashionista's wardrobe.
Written by Leslie Foss