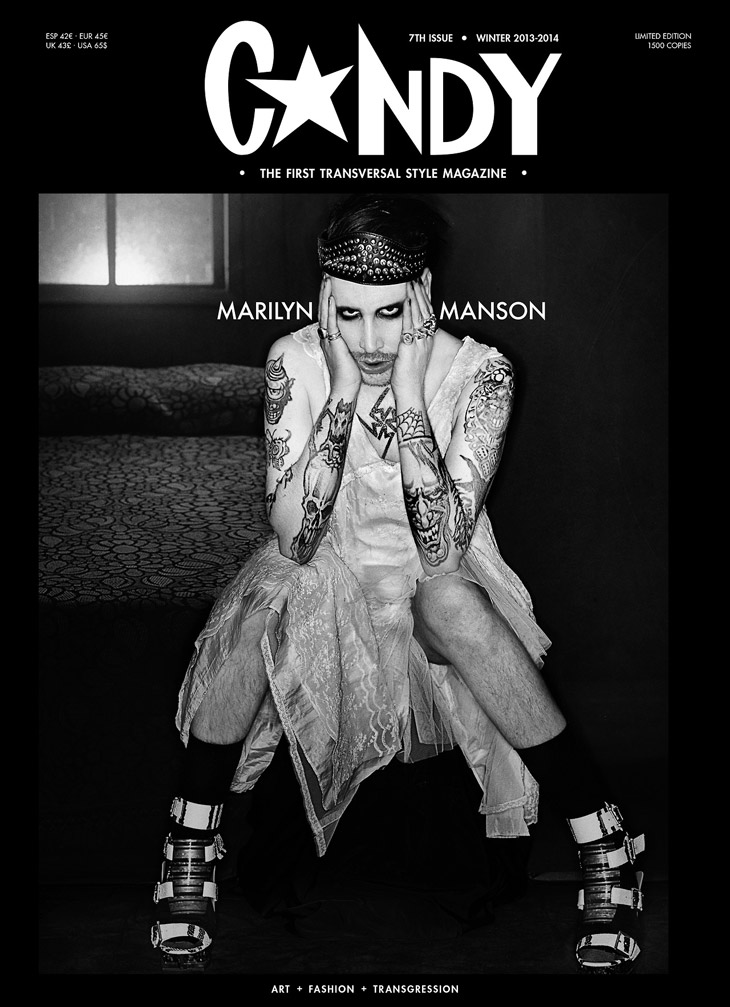 No it's not Lady Gaga dressed as Marilyn Manson, its the man himself covering the 7th edition of Candy Magazine with a showstopping shot from the legendary Steven Klein. To bring Lady Gaga back into the story, she is accompanying Manson in the double-cover release coming from Candy for this Fall Winter 2013 edition. Sadly for a few reasons we can't feature her cover (censorship).
Off topic, here's an extract from an interesting interview with Klein:
What is it about Photobooth that made you want to go take pictures in a plane toilet last night? Why didn't you ever go and do that with a traditional point-andshoot camera? Or did you?
No. Too many people have a point-and-shoot camera out there now. It's all too predictable. The lens on this Photobooth camera is really interesting to me. The fact it has like a live video feed to your computer screen makes it a new tool almost. You can put it down anywhere almo stand then kind of work it. With a point-and-shoot camera you've got to hold it in your hand almost all the time. Doing that in a plane toilet wouldn't interest me visually. With Photobooth you've got this different perspective. And you have this 4-3-2-1-0 countdown to the picture being taken which is interesting to me as well. Like I say, it's a new tool.
How and why did you first start using it?
I was just playing about with it. But I really wanted to start doing some work where I wasn't reliant on whole teams of people. You know how it is when you have a big set and there's all these assistants and hair and make-up and catering and a dozen other things. I wanted to get away from all that and just do some spontaneous pictures where it was just me. Sometimes you need to strip it all away. I wanted to do something by myself, something for myself.
There's some really interesting shapes and compositions in these Photobooth portraits. Is that planned to some extent or is a lot of it happy accidents?
Well it's not by accident because I move things around a lot deliberately. I move the computer around a lot to find interesting compositions and then I move myself within that environment. So it's not really an accident at all.
Read more of Steven's Interview over at MyOwnUtopia.
For more of Steven's work log on to kleinstudio.us