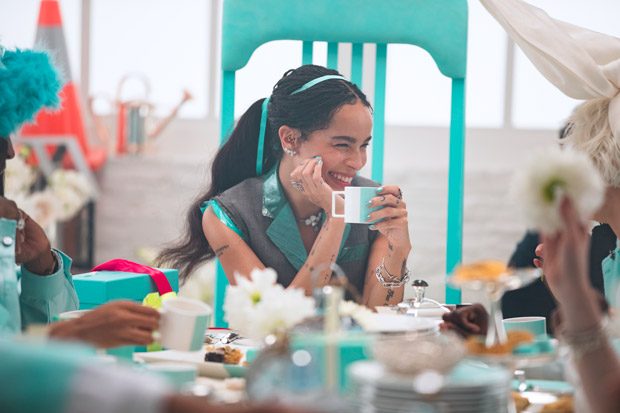 Discover Tiffany & Co's Believe In Dreams Holiday 2018 video campaign featuring Zoe Kravitz, Naomi Campbell, Karen Elson, Xiao Wen Ju, Maye Musk, and Brad Calcaterra among others directed by Mark Romanek. The campaign features Aerosmith's 1973 hit Dream On.
"This holiday season, Tiffany & Co. introduces the latest chapter of its "Believe in Dreams" campaign, which takes viewers behind the scenes of a Tiffany workshop where surprising and surreal moments unfold, featuring a star-studded cast of characters.  The campaign film opens at Tiffany & Co.'s iconic Fifth Avenue flagship store, where actress, musician and style icon Zoë Kravitz stars as a Tiffany sales professional working late into the evening. Kravitz is drawn from reality into a Tiffany Blue® dreamscape infused with pops of neon. At the heart of this whimsical wonderland is an underground holiday workshop with craftspeople, and at the helm is a quirky manager played by model Xiao Wen Ju. The exquisite workmanship and masterful artistry of Tiffany & Co. are brought to life in a series of witty vignettes with cameos from models Karen Elson and Maye Musk, among others. The journey culminates in a "madcap tea party" hosted by Naomi Campbell, complete with a delectable selection of pastries from The Blue Box Cafe™ and housewares and table settings from the Home & Accessories collection. By the end of the story, Kravitz discovers that the magic of Tiffany & Co. is where creativity and craftsmanship come together."
"The holiday season is a time of year when more than ever, we're inspired to dream. At Tiffany, our artisans work to create magic and beauty in every piece. We created this film to bring their artistry to life and capture the spirit of a Tiffany holiday where anything is possible." – Reed Krakoff, chief artistic officer, Tiffany & Co.