Fashion designer MALAN BRETON has traveled an impressive path from his beginnings in the entertainment industry to creating one of the most successful self-made eponymous fashion brands on the scene.
Malan sits down for an interview with our Editor KATARINA DJORIC to talk about his first step onto the fashion scene, his latest collection and a five year plan.
Read more after the jump:

How and when did you start designing?
I started designing at the age of eleven, I was enamored of my grandmothers clothing and accessories, and started designing small pieces.
How did you come to start your own label?
My label was started by chance, I had designed a pair of trousers for myself for a party that was given for Baz Luhrmann to celebrate the opening of La Boheme on Broadway, I used to make all my clothing. That night I was stopped by a number of people who asked me to make custom pairs for them. I had been doing Voice overs for ESPN until then. I was so afraid of auditioning, and after an audition I called my agent and left entertainment. When he asked me what I planned to do to make money, I said I'm going to become a fashion designer. I met my mentor who was Arnold Scaasi, and we had a long chat he asked me what I wanted to do, if I wanted to go on as a performer, or finally branch off into design. Four months later I launched my first line at NY Fashion week.

What are your sources of inspiration?
My sources of inspiration include moments, moments in my daily life, moments in film, moments in theatre, dance, moments in nature, moments with people, etc. moments inspire me deeply, human emotion inspired me deeply.
What is the most important lesson you have learned so far about fashion?
The most important lesson I have learned in fashion is to tell a story, give people experiences, design clothes that are functional, durable, and wearable. To be true to my branding, and to be kind.
Tell us about your FW19.20 Collection?
Fall Winter 19/20 for me was about moments. Telling a story of progression through leather, silk, cashmere, and faux fur. It was a collection that symbolises hope, youthful innocence, and whimsical structures that could be worn for moments, experiences that would be memorable for the wearer in their life.
What are the key pieces?
The key pieces are my structured suits, lucid day dresses and my pleated and sculpted leathers.
How do you decide on your theme for each collection?

Did you set a theme for this collection?
Each collection has a theme that is meant to inspire, and challenge the buyers viscerally. This collection I wanted to present as an immersive experience in fashion. I love that people can feel a part of my inspiration, my journey each season, and be moved by it.
Do they all have a story to tell?
Yes, this season was a study on "Sunset Boulevard" the film. I wanted to dissect the conflict in a character such as Norma Desmond, to see what hypothetically would have driven her from Hollywood ingenue, to forgotten star, to murderess. The fashion show was an interactive set with characters inspired by silent film greats, and we closed the show with my dearest friend Kiera Chaplin, the granddaughter of Sir Charles Chaplin.
Do you have particular pieces you enjoy designing and making more than others?
I love reinventing the suit for women, I love giving men colour and texture, something I have done since I launched my men's collection in 2010. I love making leather more functional.
Who would you consider to be the most inspiring person in the fashion industry today?
The most inspiring to me was Karl, I was introduced to him in Paris a couple of seasons ago, I'm deeply saddened by his loss.

And why?
He was the last of the great working designers, brilliant marketing geniuses that reinvented fashion gave it their signature, never influenced by trends, or other designers, they were always making trends. Moving fashion ahead instead of backwards. Very sad…
Do you think fashion can still influence society?
I think it always influences society. The first thing we do after bathing is wear fashion. I think it will always influence life and society.
What would you like to achieve in the next 5 years?
In five years, wow that is so far away. I live in the moment, I design three years ahead. I think in five years fashion will be very different. I would like to introduce more technology in my industry, more evolutionary advancement.
What is your motto?
Wherever you go, shine…
Discover the world of Malan Breton on his official web page malanbreton.com.
Images: Malan Breton Fall Winter 2019.20 presentation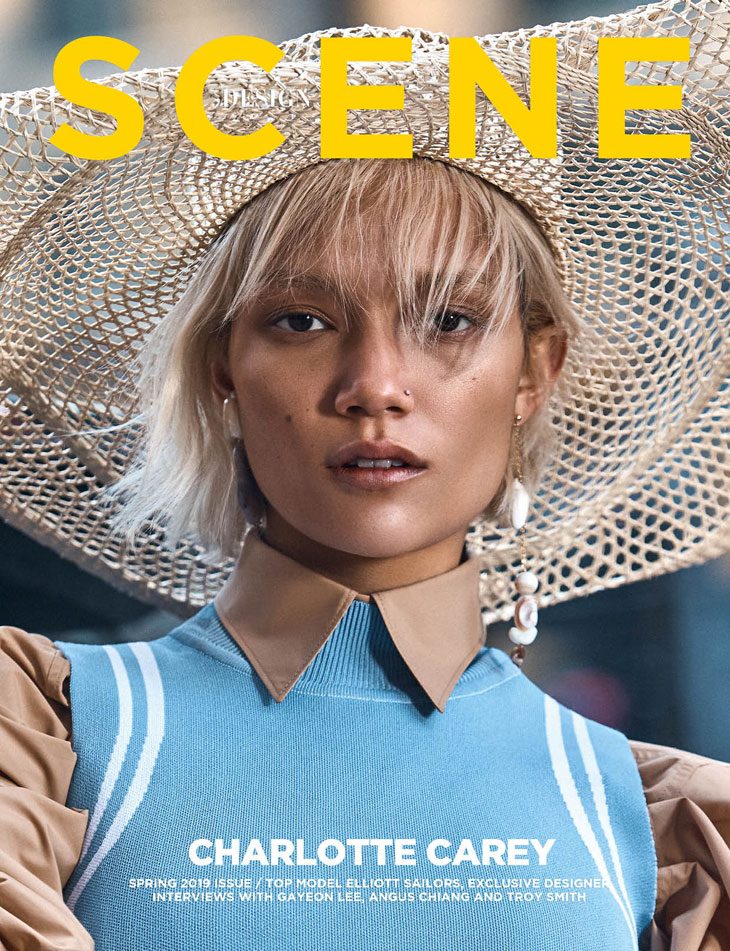 Order DESIGN SCENE Summer 2019 issue – AVAILABLE NOW IN PRINT $22.90 & DIGITAL $4.90