Discover ROCHAS Spring Summer 2022 collection presented at Mona Bismarck American Center, during the ongoing finished Paris Fashion Week. Creative Director Charles de Vilmorin looked into the archives of couturier Marcel Rochas, who brought a breath of youth to haute couture when he set up his fashion house on Place Beauvau in 1925, at only 23 years old.
Paraded through the ornate salons of Mona von Bismarck's Parisian fantasia, cinematic vignettes underpin vibrant new expressions of a poetic world on fire. A master of Surreal figuration, de Vilmorin's plume conjures an illustrated universe of women: curlicues of black ink that reveal androgyne bodies in motion, expressionist portraits, and the dreamlike remnants of an ancestral home.
– from Rochas.
An oneiric underworld of strange beauty pulses through the Rochas Spring Summer collection. The silhouettes feature classical shapes permeated with new lightness. Deconstructing the whimsy of cotton dresses and parachute skirts hitched in tumbling volumes, crisp shirts unbuttoned in peeling drapes and gowns that glint in tiers of flaming plissé.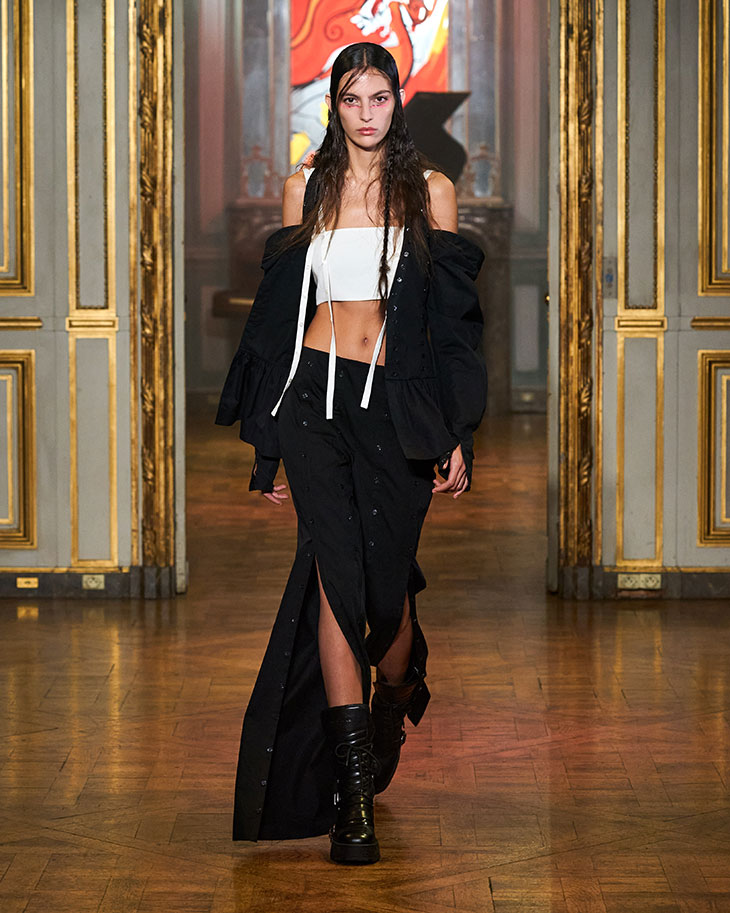 Colours glow in a harlequin palette of cobalt, lemon and flame reds that smoulder against charcoal and smoke. Leather crackles in varnished lambskin, metallic brocades dissolve into chiffon pleats, and flame lilies blossom over tattoo hosiery and dazzling embroidered jewels.