If you have finally taken the time to check out your shoe closet, you might have found some pairs that you've never worn for many years. If so, it's time to do some decluttering and a capsule wardrobe makeover. It's time to narrow down your collection and turn it into staple styles you could wear on more occasions.
When decluttering, the primary thing to do is to assess whether your possession sparks joy or if you're ready to let it go. Take time to evaluate your shoe collection and match it along with your current lifestyle. Remember, you have to go to work, play some sports, attend formal events, go out on a date, or run errands. Based on your usual routines, you'll be able to decide what stock of shoes you need in your capsule shoe collection.
Check out the following types of footwear that every man should keep in their shoe collection:
Leather Oxford Shoes
Oxfords with black cap toes are the first Oxfords every man should own. Bespoke Unit explains how elegant, unique, and timeless these kinds of shoes are. These are shoes you can wear to many occasions in your life, from work office and formal meetings to weddings, funerals, and formal parties. Oxfords are versatile and classic-looking.
Every man's wardrobe should contain at least one pair of black and possibly one pair of brown shoes. The shoes go well with every outfit except when you're wearing something too casual like jeans and a t-shirt. They look great in any kind of suit or formal wear too.
Running Or Sports Shoes
Every man has an athletic side. Whether you love going out for a run, hitting the gym, playing basketball, or any sports, you'll need sports shoes for such sporty activities. The best perk of owning these shoes is that you can also use them with your casual outfits. You can run errands, go to the supermarket, or walk around the neighborhood with your dog.
If you want to go for shoes that can complement any outfit, you better choose a neutral color. Some familiar and popular sports shoes include navy, white, black, grey, and blue ones. Bright colors like neon are only good if you're feeling more playful with your wardrobe. They make great colors, especially if you go out running in the evenings. Other than that, bright tones could be more challenging to pair with casual wear.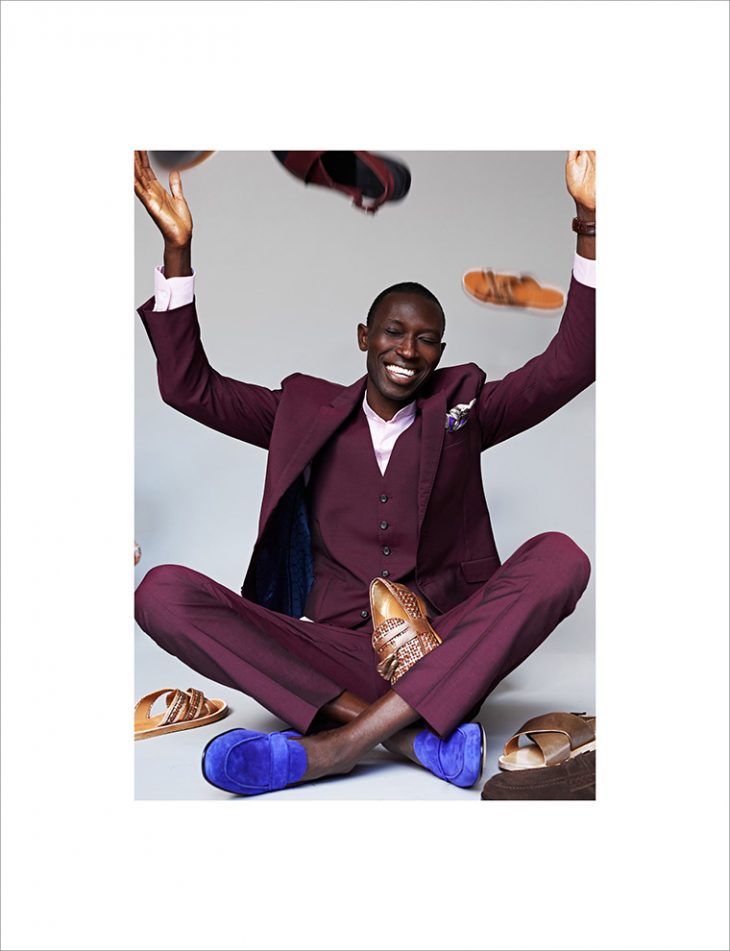 Sneakers
Along with your other summer fashion essentials, wearing sneakers as your footwear is sure to elevate your summer look. There is nothing better than a pair of kicks that are stylish but can maintain a casual vibe. If your fashion sense is more relaxed and you're opting for a boy-next-door vibe, you should own sneakers in your capsule wardrobe. Almost any outfit can be paired with a simple pair of sneakers. They go well with denim jeans, shorts, chinos, and any top will do too.
Aside from casual wear, you'll be surprised to see how some sneakers look great on formal clothes too. They look fantastic when worn with a fitted blazer and dark-washed jeans. You can play with various styles and sneakers would still look great on them.
Suede Moccasins
Another must-have on your shoe collection is suede moccasins. Depending on the climate of your city or country, they can be worn all year long. The style of these shoes is a combination of dress shoes and sneakers. It's like the middle ground between casual and formal. Many formal and informal attire look great with moccasins, so you won't ever regret adding them to your closet.
However, you must consider some reminders to make the most out of your look. Ensure not to wear visible socks on them, as they look best without one. Don't worry about how they'd feel on your feet as moccasins are designed to be worn with hidden or short socks. Find the right socks when wearing moccasins.
The suede material is partially sensitive to liquid and external particles, so check you have them protected with a scotch guard. You can find these in some stores. Emery board can remove stains from suede. However, you'll need to be extra careful with your outdoor activities while wearing suede moccasins. Suede fabric is easily penetrated with dirt and can deplete its quality over time. So, if you want something that'll last longer, go for high-quality and durable ones.
Conclusion
Wearing the proper kicks to an event can give you an unprecedented sense of confidence. That's why it's important to know what kind of shoes to wear on any occasion. With the different types of footwear needed in your capsule wardrobe, as mentioned above, you'll have essential pairs that will match any event in your life, as well as your overall personality and lifestyle.
Images from MODEL CITIZEN: EXCLUSIVE INTERVIEW WITH ARMANDO CABRAL originally published in our menswear Magazine MMSCENE print and digital editions – See the full story here