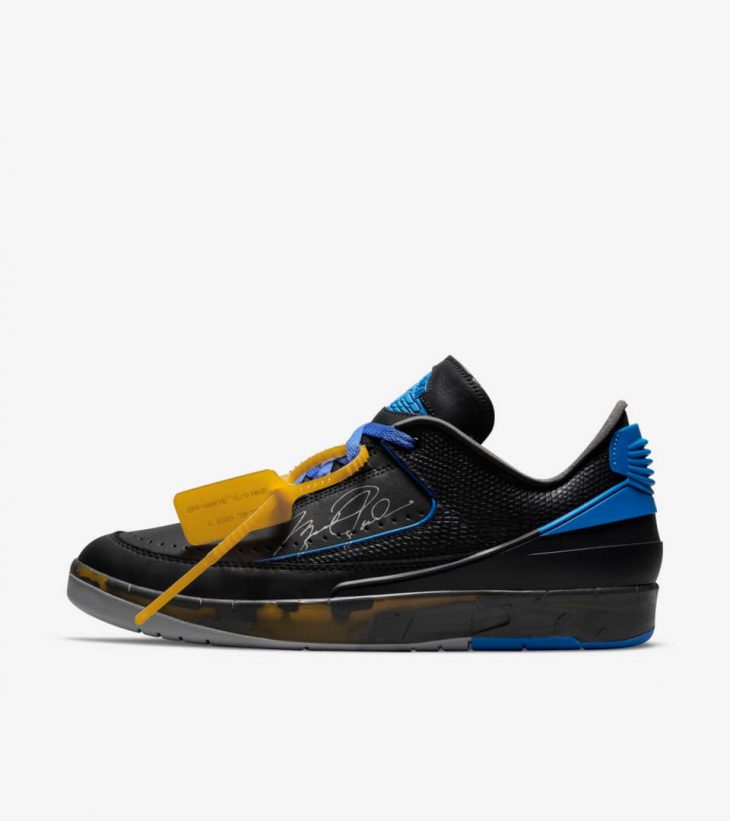 Virgil Abloh is back with another deconstructed silhouette! This time, he's adding his unique touch to the iconic Air Jordan 2 model. After sneak peeks leaking on Instagram this June, the Off-White x Air Jordan 2 Retro Low SP 'Black Varsity Royal' is finally arriving this November, featuring the label's signature text graphics and a bright-colored details.
This will be Virgil Abloh's fourth Air Jordan silhouette, delivered in two colorways – "Black Royal" and "White Red". The shoe features full-grain leather and a grid mesh on the upper, combined with a clear textile that adds a subtle layer of luxury. The laces and Air cushioning are adorned with a bold all-caps details, with familiar "Off-White™ for Nike" Helvetica lettering on the medial side.
Jordan's have have something indescribable quality about them if you really think about it. This Jordan 2 low I have coming is a deep dive into homage into a often overlooked chapter and silhouette in the early Jordan era.
– said Virgil Abloh via Instagram.
DESIGN:
Virgil Abloh's relationship with Nike started long before their first collaboration in 2017. As a teenager, he's been sketching shoe designs with his friends and mailing them to Nike. He particularly liked Jordans – "We were enamored with Air Jordans. Michael Jordan was larger than life – he was Superman to me. My entire design background and ethos came from the '90s." – he said.
For the Off-White x Air Jordan 2 Retro Low, the Off-White designer said he was following the one design premise – trap the indescribable into the object. He used a three-dimensional scanning of an exact pair from Michael Jordan's personal collection of shoes he received from Nike before the game season started. This is the first time in Nike history that a sneaker was reverse-engineered from an original pair in the DNA Archive. The designer said he even borrowed medical technology for the scans. As MJ was signing the Jordan's after each game and giving them to the fans, Abloh used that as a design detail. He got his autograph with different pens and applied it on the shoes, so each pair has a different signature.
FEATURES:
The creative process started with a question – If an Air Jordan 2 was pulled directly from a time capsule, what would it look like? This is why this shoe's design is directly based off of archival pairs in Jordan Brand's DNA archive, using the 3D scans. The design process gave a few unique details – the shoes have a faux-crumbled midsole, imitating MJ's own pairs from the late '80s, but also to acknowledge that the Air Jordan 2 silhouette is turning 35 years old this year. The other special detail is MJ's signature over the lateral mid-panel, applied differently on each shoe, recalling how he'd sign his own pairs and give them away to kids after games.
The Off-White x Air Jordan 2 Retro Low SP has a textured black leather upper, with royal blue accents, and the usual exposed-foam tongue, featuring the Jordan Wings logo. Virgil Abloh leaves his mark with his signature Helvetica text on the medial side, MJ's signature scrawled across the lateral side, the blue laces with 'SHOELACES' print and a yellow plastic zip tie.
RELEASE DATE:
The Off-White x Air Jordan 2 Retro Low SP 'Black Varsity Royal' is set to release on November 12th at Nike.com and select retailers, including GOAT and Flight Club. The retail price tag is set at $190 USD.
In addition to the sneakers release, the two brands has worked on an accompanying capsule collection of basketball clothing, including tees, hoodies, caps, shorts and trousers.
INFO:
BRAND: Air Jordan
RELEASE DATE: November 12th 2021
PRICE: $190 for the Sneakers, up to $300 for the Clothing
UPPER MATERIAL: Leather
MAIN COLOR: Black
COLORWAY: Black/Varsity Royal
DESIGNER: Bruce Kilgore
SILHOUETTE: Air Jordan 2
TECHNOLOGY: Air
NICKNAME: Black Varsity Royal
CATEGORY: Lifestyle