Musician, songwriter, and front person of British indie rock band Black Honey, Izzy Bee Phillips sits down for an exclusive interview with DSCENE editor Maja Vuckovic, to talk about the beginnings and future of Black Honey, upcoming tours, greatest influences, stage rituals, and more.
For accompanying story Izzy Bee teams up with fashion photographer Frederick Wilkinson. In charge of styling was Samuel J Borg, with makeup from beauty artist Charlotte Fitzjohn, and hair styling by Porco Yosuke. Read the interview below:
Can you tell us a bit more about yourself? Who is Izzy Bee Phillips?
I am a front person, songwriter and rhythm guitar player in Black Honey. We are a retro guitar band from Brighton.
Tell us about how you started making music.
I needed somewhere to place the overwhelm of my day to day and songs gave me some relief.
Was music always your passion?
No I liked drawing and art, my first big painting I did when I was 6 was of a peach cut in half.
Can you tell us about the beginnings of Black Honey?
We formed in Brighton, there was a big grunge scene existing alongside the queer culture of Brighton I worked in a vintage shop called Beyond Retro and looking back it all fed into what I was making. Though I didn't know it at the time.
Describe your favourite and least favourite part about being a musician.
Being broke, hungover and exhausted all the time is like a base level. The highs are being a force of nature with your gang playing shows to thousands of people all around the world! I love watching other bands too and building a world that engulfs me.
Can you describe the creative process behind making music with your band?
Each song is different at the moment I'm having a write with all my friends phase we love bringing people in for performances or to get new ideas for sounds. Also, I love learning of other established songwriters. We have been working with Cathy Dennis recently. She wrote Toxic and is kind of magical to watch at work.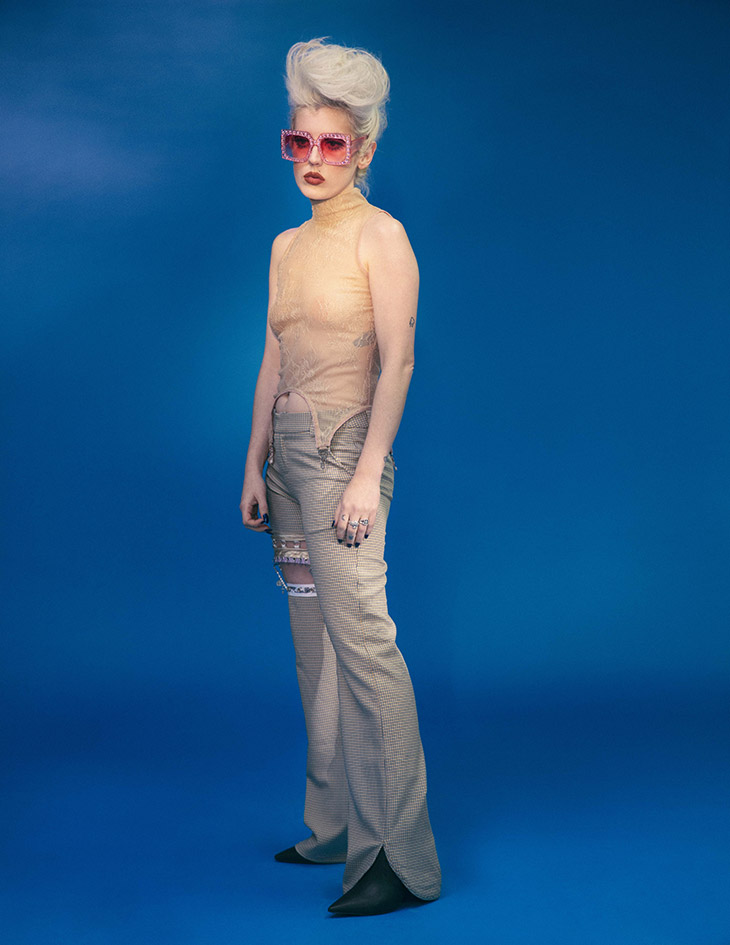 Top 5 songs on your playlist?
Right now?? Chaise longue – Wet Leg, all of Arlo Parks. I love Phoebe Green who we just took on tour and Tigercub's new tune I.W.G.F.U.
Do you have any rituals before getting on stage?
We shot tequila and kiss our drummers head and sometimes pray to Bowie.
Who is your greatest influence?
This question is horrible, but I guess someone I admire the artistic choices of is Amy Winehouse.
Scrolling through your instagram page we can see you love to dress up. How would you describe your personal style?
My style is a Grindhouse movie character. Probably works in McDonald's but listens to AC/DC en route.
Any future plans for Izzy and Black Honey?
Yeah, we just announced The Reading and Leeds Main Stage! Next week we go on tour with Nothing But Thieves for a month and the day we get back to the UK we jump straight on tour with The Vaccines! Plus we are cooking up some magic right now.
Keep up with Izzy Bee Phillips  @izzybeephillips
Photographer Frederick Wilkinson – @fw_photo
Stylist Samuel J Borg – @samuelsoonn
Beauty Charlotte Fitzjohn – @charlottefitzjohnmua
Hair Porco Yosuke – @porcoyosuke