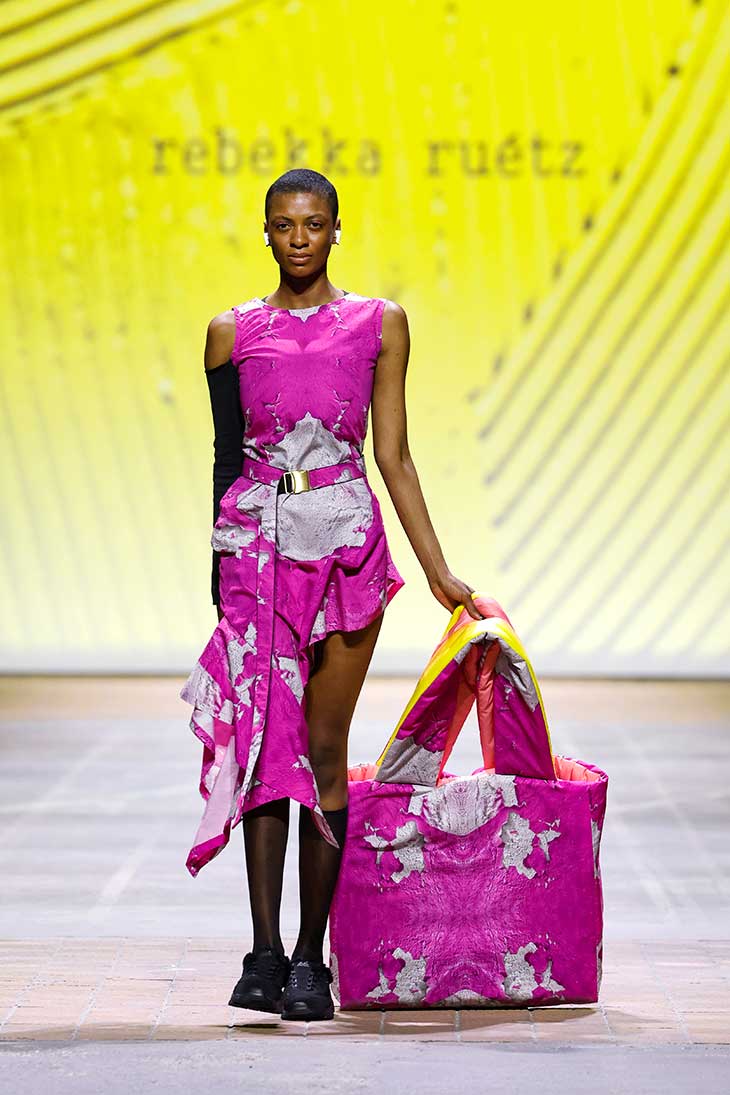 For her Fall Winter 2022 collection titled rewritten_IDENTITY, Austrian designer Rebekka Ruétz celebrates the transformation of femininity. Her new line was introduced on March 16th as part of Mercedes-Benz Fashion Week Berlin. The pieces of this line are made for the emancipated, contemporary and confident woman that prefers to dress in comfortable, sophisticated clothes. Therefore they are the perfect choice for the cosmopolitan, strong woman who likes to pair contrary elements and values sustainable fashion: unusual pairings are used several times, for instance traditional influences meet modern ones. In addition to that, feminine and masculine approaches are creatively mixed and matched together. In that content it is worth mentioning the label offers "high quality slow fashion". The long- lasting, sustainable creations are locally produced. Moreover ethical principles are followed: for example all collections do not contain any real leather, fur or silk. When purchasing any of these garments, you can enjoy and wear them for many years.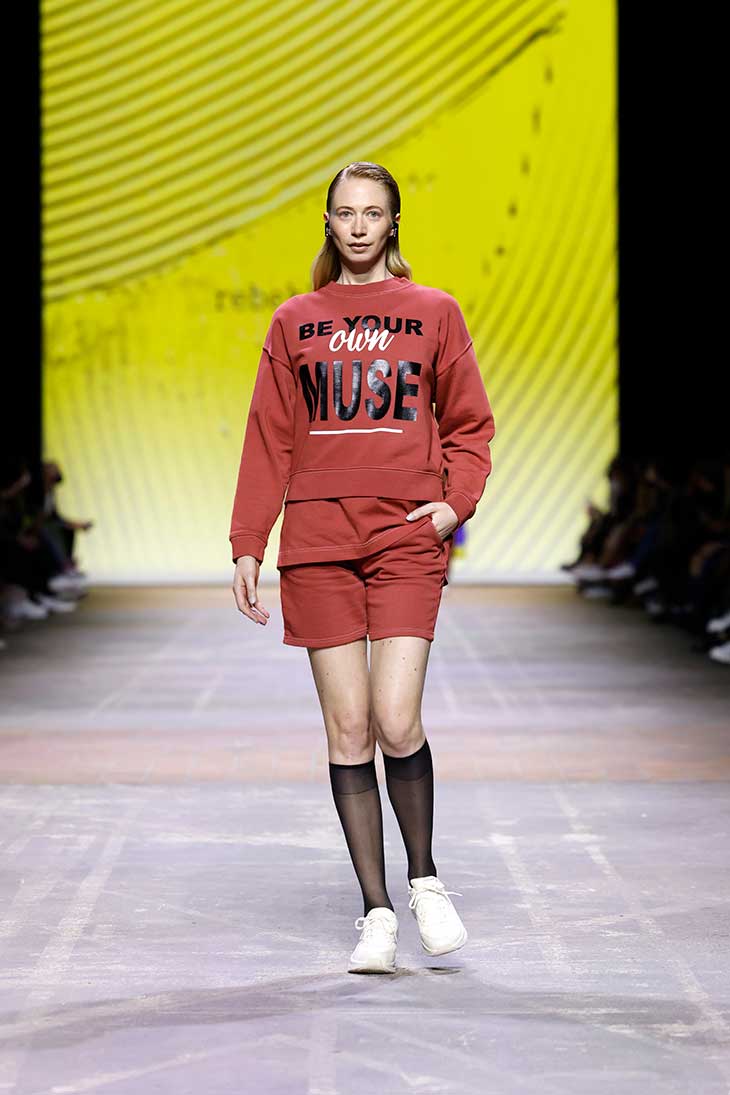 The pattern choice is a highly creative one: for example hair and graphic prints are often applied. On top of that, bold colours that radiate pure joie de vivre play a major role. Needless to mention that these outfits certainly stay in mind. Allover prints are refreshing to observe.
Loose-fitting clothes appear in soft, comfortable fabrics. Thus, they perfectly move with the female silhouette while walking. Asymmetric cuts and ruffles create distinctive volumes and stunning shapes. Oversized-tendencies are used in several outfits. Additionally, colourful oversized handbags are true eyecatchers and make the looks even more special. Trenchcoats are sometimes, but not always, worn floor-length and often loose fitting. Various outfits are focused on the waist which underlines the feminine character of these looks.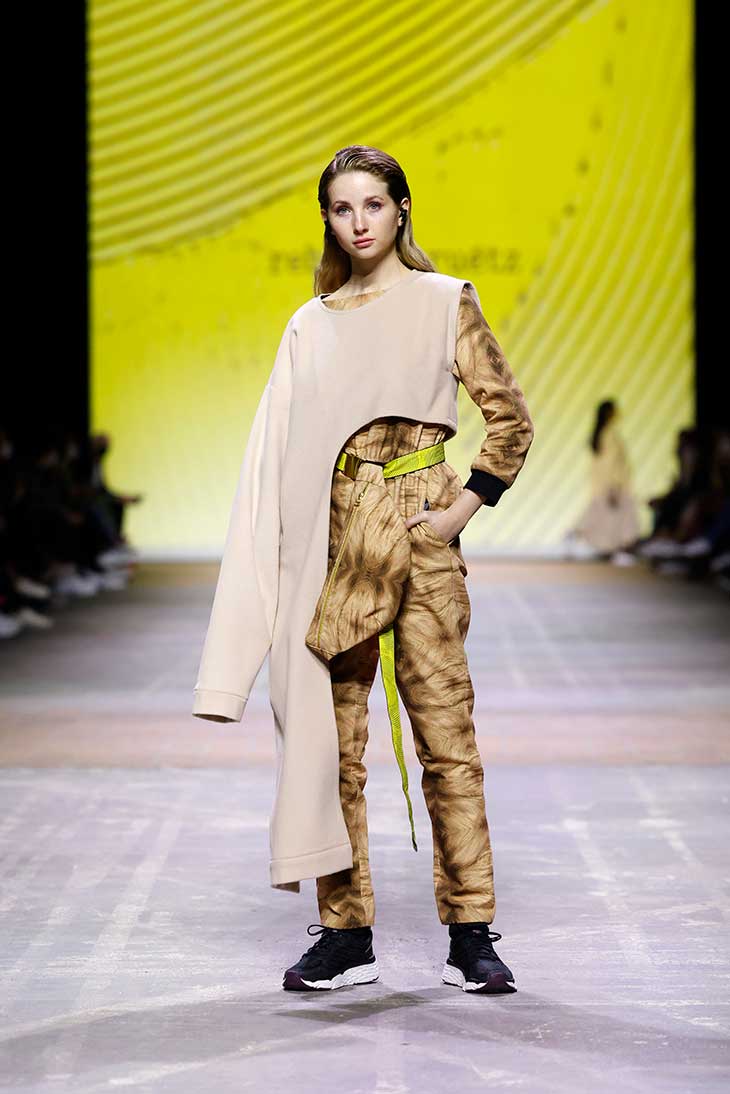 The sweaters are provided with motivational sentences that are incredibly inspiring to observe, for example BE YOUR OWN MUSE or I CAN, I WILL end of STORY.
These statement tops are worn with casual shorts and sporty sneakers. Completely charming and comfortable! The range of colours can be described as vibrant, powerful and diverse: eye-popping fuchsia, lemon, azure blue and scarlet are repeatedly utilized. Then, some rather restrained hues, such as cloud, pewter, off-white, peanut, tortilla, lavender and coral are applied. Midnight blue and night black are used in numerous looks. They are paired with various tones or even together. Some outifts are kept tonal, whereas others are a true mix and match of different nuances. Comfortable Skechers sneakers round off the feelgood factor of these stunning looks.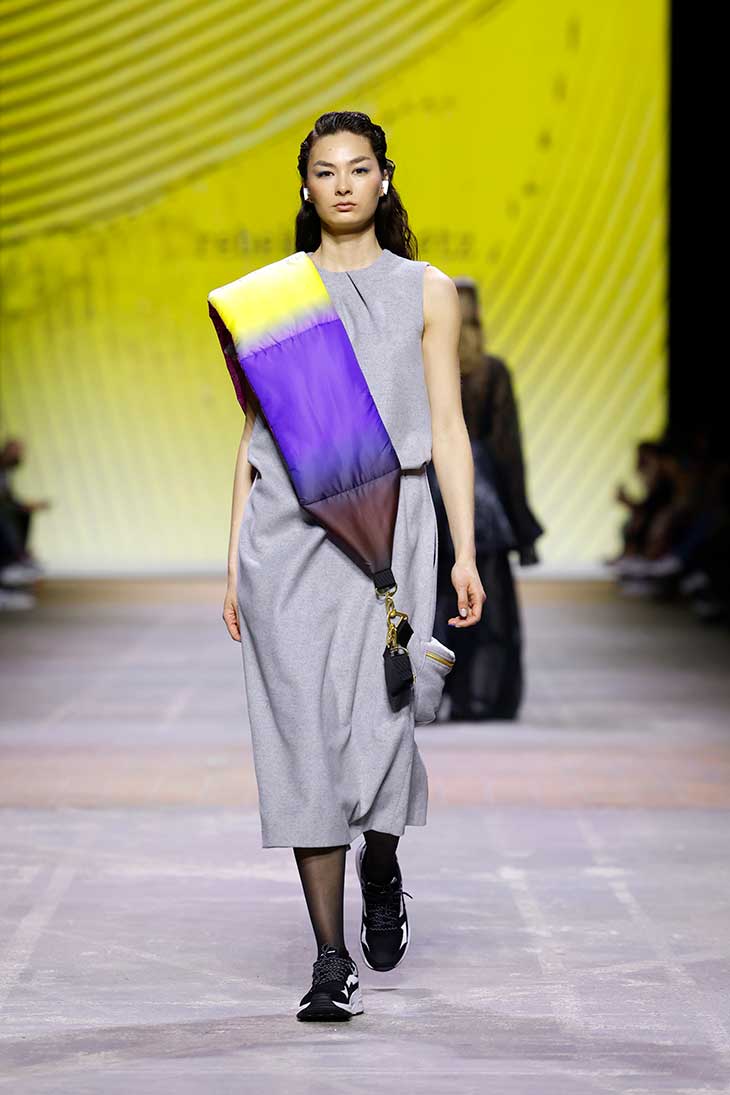 rewritten_IDENTITY can be understood as an ode to celebrate femininity and all colours and facets of life by wearing sustainable fashion in the most vibrant hues. We will certainly keep an eye on Rebekka Ruétz and her upcoming collections!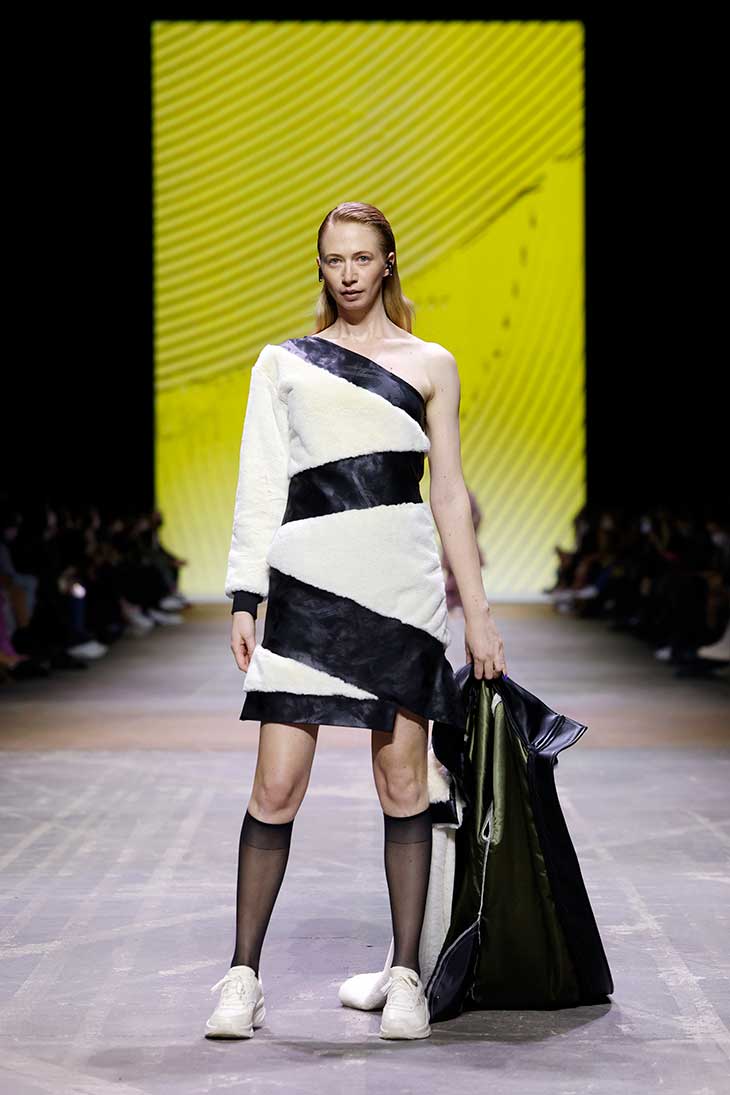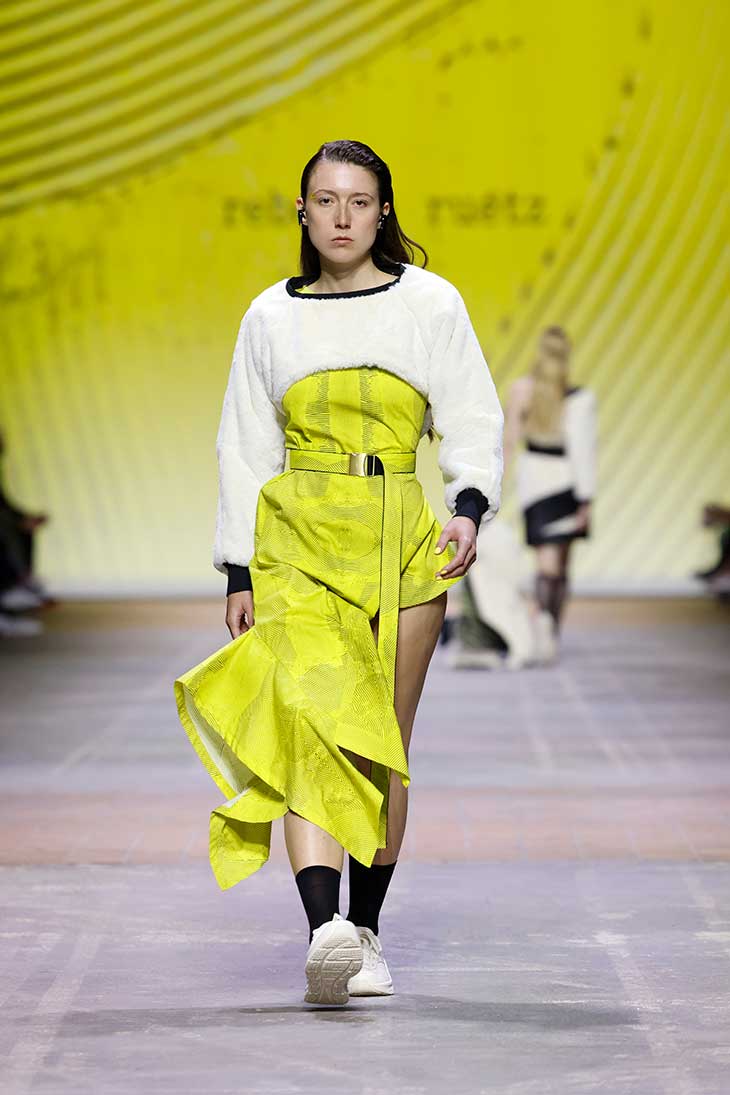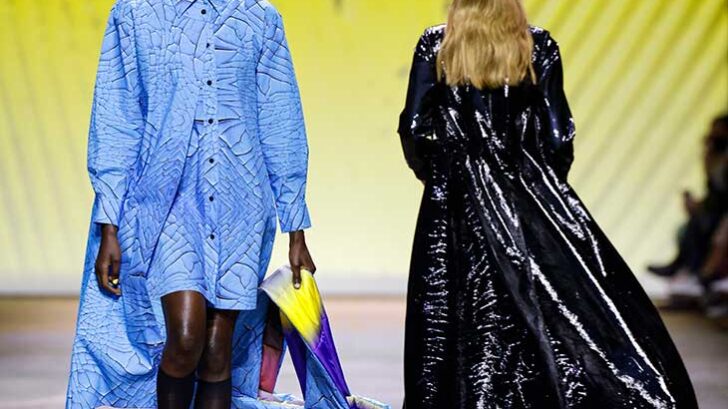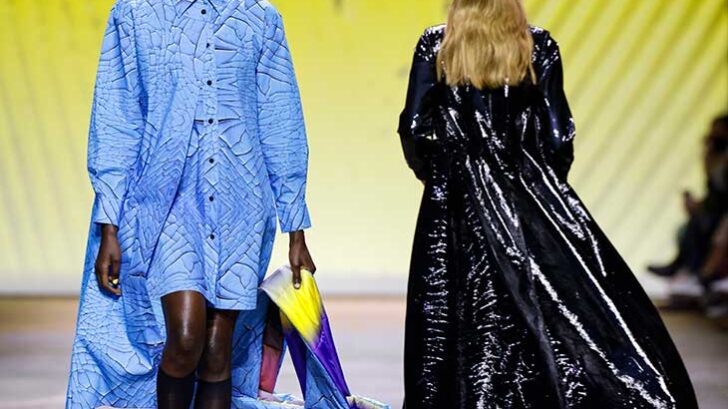 Review by Sussan Zeck for DSCENE Magazine