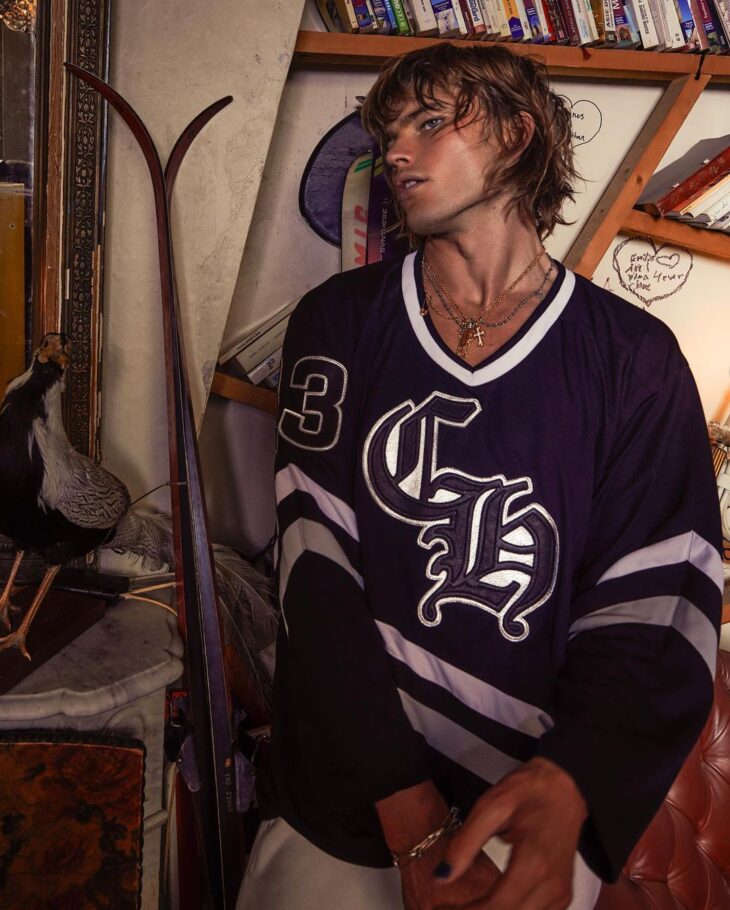 Although Chrome Hearts is now making waves in the realms of streetwear and pop culture, it is not new by any means. The brand has been operating for more than thirty years. For the most part, the label has remained relatively low key. The designs, which include sterling silver ornamentation and thick leather construction, have developed a cult following in Japan over the years, but with a few celebrity endorsements, the whole world is watching.
Not only has it been there for that long, but it has also been reasonably popular, or at the very least well-known and appreciated in the fashion business from its creation. Chrome Hearts is an oddity in 2020 because to its lack of web presence and the brand's preference for one-off initiatives, which may be what makes it so fascinating.
History
The brand was founded in the 1980s in Los Angeles by three biker friends Richard Stark, Leonard Kamhout and John Bowman. According to Stark, the brand was founded on "one sedate evening" in 1988. He was a luxury leather trader, and he and his friend, leather artisan John Bowman, both avid bikers, came up with the concept of creating leather jackets and accessories for themselves and friends. They named the third founding member of the brand, Leonard Kamhout, a goldsmith who had exclusively used a special alloy of silver and copper known as sterling silver, to embellish them. Kamhout made pure sterling silver buttons, eyelets, and straps for them. The end product of that partnership was a collection of handcrafted leather, leather, and silver leather motorcycle jackets, saddles, and accessories with a level of craftsmanship and unique material quality, as well as a country-goth look that remained synonymous with the brand until today.
Unlike most luxury brands, Chrome Hearts' brand identity model has allowed it to transcend the same category of fashion and become a cultural phenomenon in a short period of time, without exploiting the usual media and commercial platforms for the current luxury industry. Because of its multidisciplinary nature and emphasis on workmanship, it has been able to spread across all areas of production, making it an already achieved example of that new idea of luxury that values the cross-identity of a brand and its community rather than its status symbol.
Our DSCENE editors have compiled a list of the most popular Chrome Hearts T-Shirt for your Spring/ Summer 2022 wardrobe.
Chrome Hearts x Matty Boy Spider T-Shirt 'Purple'
The Chrome Hearts Matty Boy Spider Web T-shirts comes in a trendy purple shade. The T-Shirt, which was launched on August 14th, 2021, features a black Chrome Hearts logo on the front chest and a Matty Boy-designed Spider Web image on the back. In terms of fit, Chrome Hearts delivered exceptional fit throughout the upper portion.
Chrome Hearts x The Rolling Stones T-shirt
Back in 2011, Chrome Hearts collaborated with the Rolling Stones on a limited-edition capsule collection. Alongside jewelry and leather accessories, the collection also featured this iconic T-Shirts that bares the logos of both the brand and the artists. The back features a prominent Rolling Stones lips and tongue logo, surrounded by the Chrome Hearts logotype.
Chrome Hearts Glow In The Dark Pocket Tee 'Black'
This Chrome Hearts the is certainly an eye catcher. The black cotton t-shirt comes in a regular fit and features a distinctive print that glows in the dark. Chrome Hearts reselling is a thriving industry right now, and their products typically have a hefty pricetag. This tee is a fan favorite.
Chrome Hearts x Bella Hadid Hand Dyed Baby Tee 'Tie Dye'
This T-Shirt is a result of a recent collaboration of the iconic LA label with Bella Hadid. Hadid designed the tie dye Bella Baby Tee on her family farm in isolation, producing a 49-piece limited run of hand-dyed tees with 100% of revenues benefiting to her favorite charity, Feeding America. The organization is the largest hunger relief network in the United States. The shirts are cropped, Y2K-ready, and slickly fitting.
Discover additional Chrome Hearts tees and clothing here.
Chrome Hearts Cemetery Cross Tire Tracks T-Shirt 'White'
The Chrome Hearts Cemetery Cross Tire Tracks T-Shirt is now one of the brand's best-selling tees. Despite the fact that it is white and simplistic, its distinctive style lets you stick out from the crowd and look fantastic. It's the ideal balance of elegance and simplicity.