German traditional brand Marc Cain invited their guests on January 18 2023 to Tempelhof Airport in Berlin to celebrate the presentation of their Autumn/Winter 2023 collection titled 'A New Journey'. The historic location was incredibly interesting to visit. It was built between 1936 and 1941 as an airport and is used since 2008 as an event location. When we were arriving at this impressive venue, Berlin's evening sky was illuminated by the bright 'Marc Cain' logo that has enlightened the monument. The lighting was mainly kept in bright yellow and orange hues. This colourful celebration continued inside, where the striking departure hall of the former Tempelhof Airport was shining in orange and violet nuances. Simply stellar!
For the realization of this fashion show, Marc Cain cooperated with Mercedes-Benz. The car manufacturer established a new format titled 'Mercedes-Benz Fashion Moments' and chose Marc Cain as its first cooperation partner.
We are starting our anniversary – 50 years of Marc Cain – with a bang. We have great plans for 2023 and the innovative Fashion Show staging in the old Tempelhof Airport building in Berlin was the ideal start. We were particularly pleased to have Mercedes-Benz on board as our partner this time. – declared Helmut Schlotterer, Managing Director, founder and owner of Marc Cain.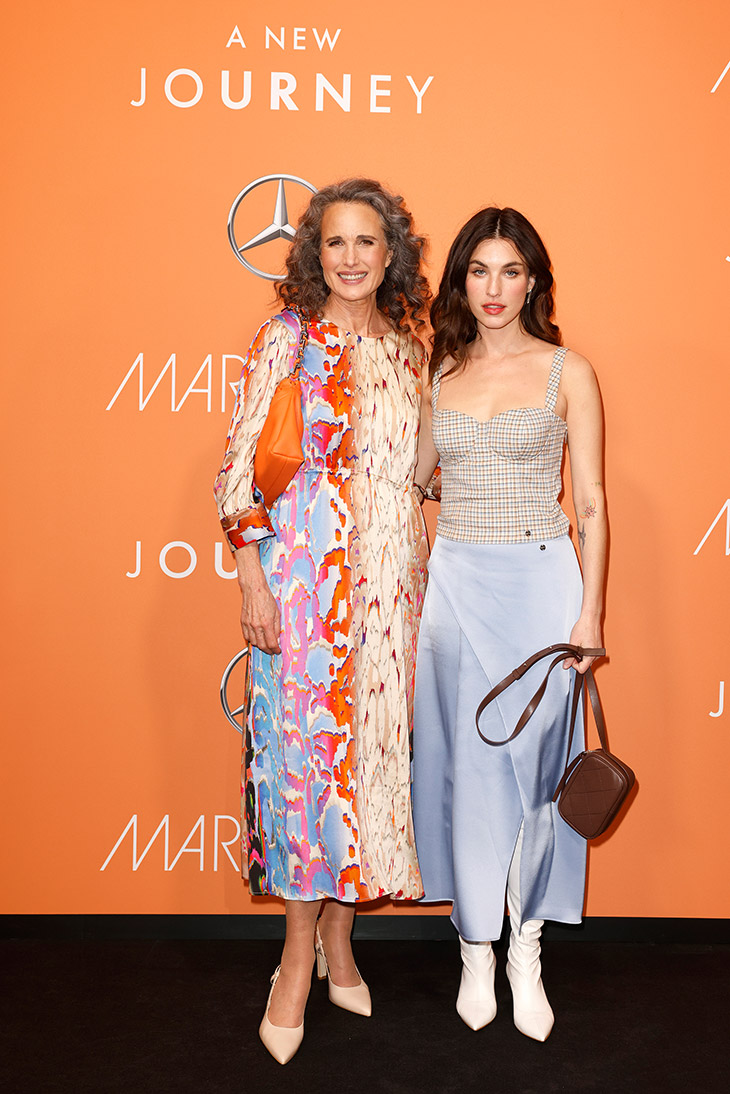 As celebrity guests, Hollywood actress Andie MacDowell and her daughter Rainey Qualley who is working as a singer, songwriter & actress, could be spotted in the front row. They were welcomed by an excerpt from the poem "Wanderlied" by Johann Wolfgang von Goethe. This lyric, that was read by German actress Marleen Lohse, was the start of Marc Cain's unforgettable journey. With its bold, eye-popping colours that radiated pure joie de vivre, this fashion show felt like a celebration of life and Marc Cain's fashion. That being said, we need to notice the renowned label had a reason to celebrate: its 50th anniversary. For that festive reason, the spectacular departure hall of the former Tempelhof Airport was the perfect setting to start 'A New Journey' and invite the audience on this exciting trip. Worth of mentioning is also the fact the models entered the colourful runway from the original airline service boxes and presented a total of 65 bold, strong outfits for new season. Being significant for the character of these lavish looks was their opulent elegance. That impression was paired with a unique, futuristic approach that was incredibly interesting to observe. There was a true airport feeling with a positive mood of departure that made the atmosphere of this evening so incredibly blithe. The model finale was rounded off by Maye Musk who was posing in front of the entire model crowd.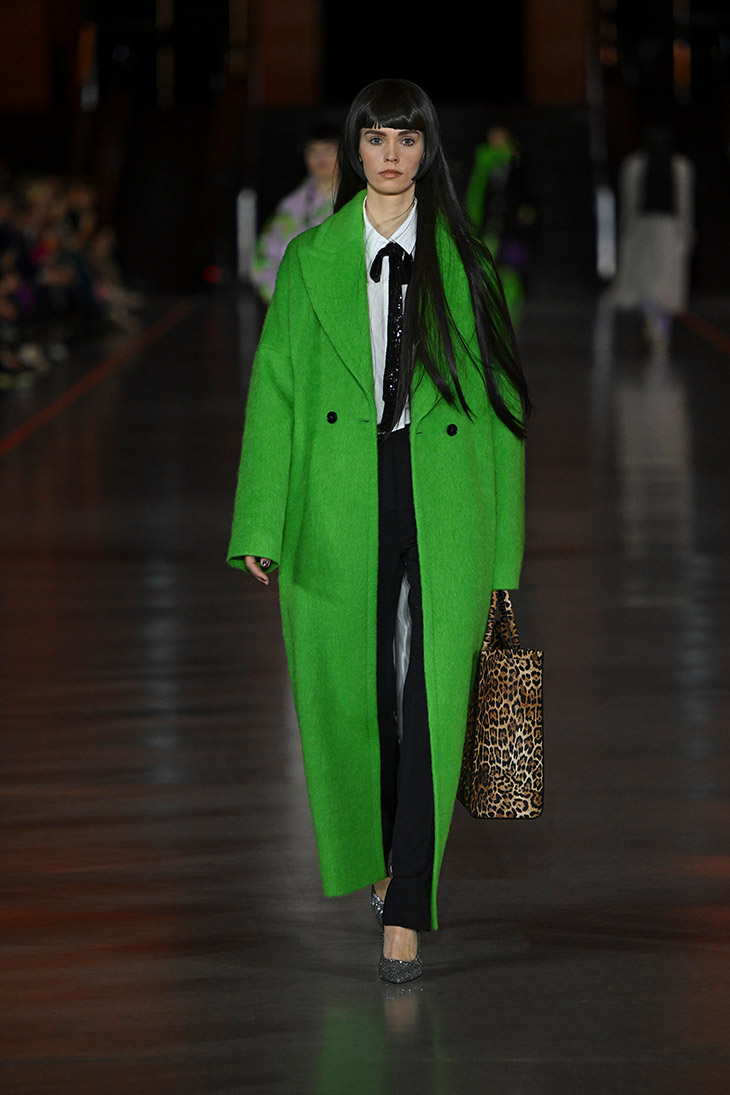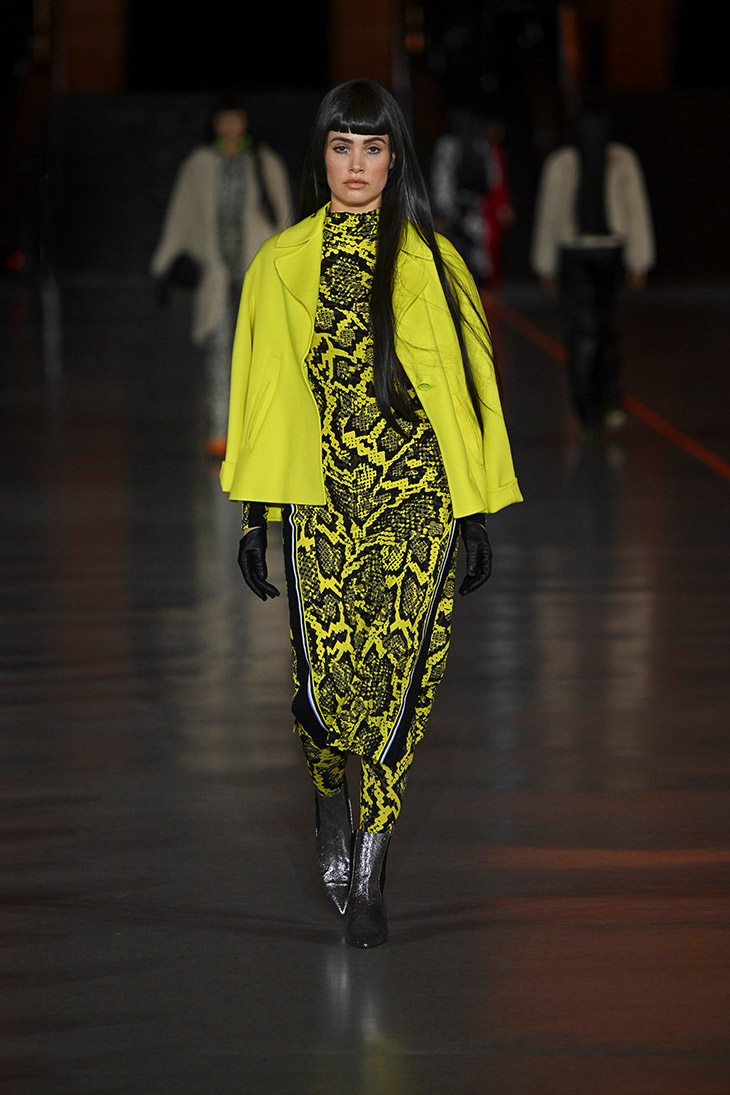 One of the main topics of this line were eye-catching pattern. Many motifs took their inspiration from flora and fauna. Of course an element you could notice in many previous Marc Cain collections was applied anew, animal pattern. You could also find this ornament on accessories. Checked pattern was repeatedly used as well. Then, contrary elements were often harmoniously united: for instance extremely elegant pieces were often paired with sparkling ones. Trouser suits that usually depict a certain austerity were presented in the most lively, eye-popping colours, such as lime green. They also appeared in several rather soft nuances, such as rose and lavender.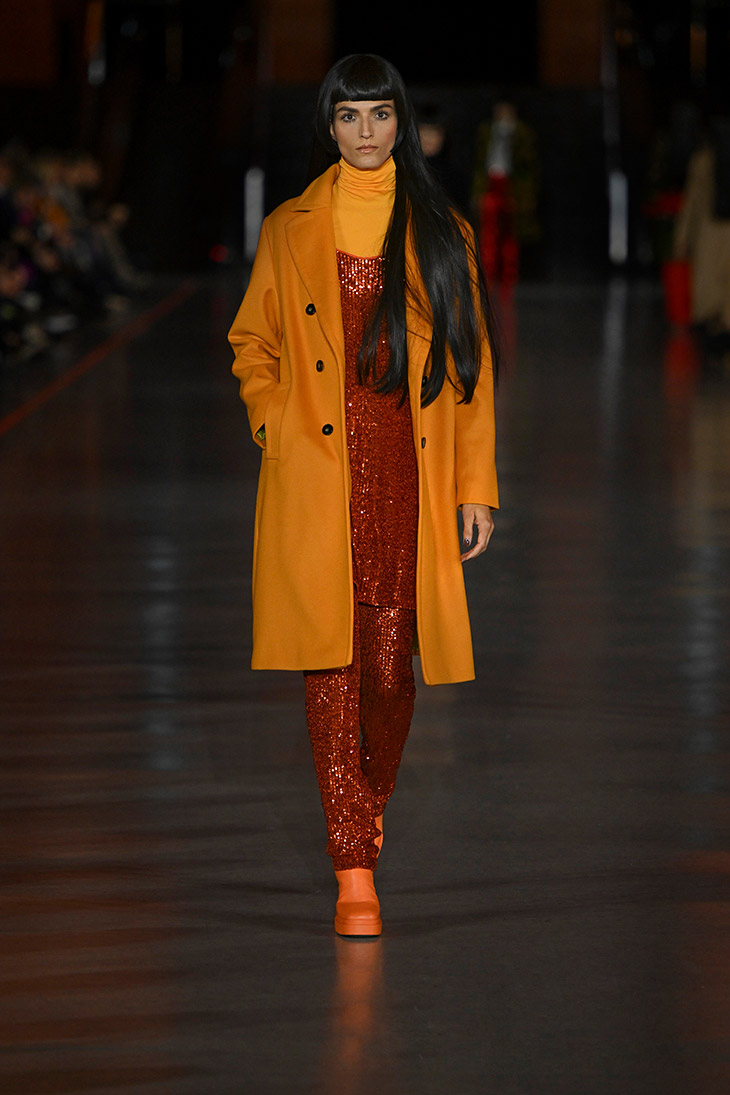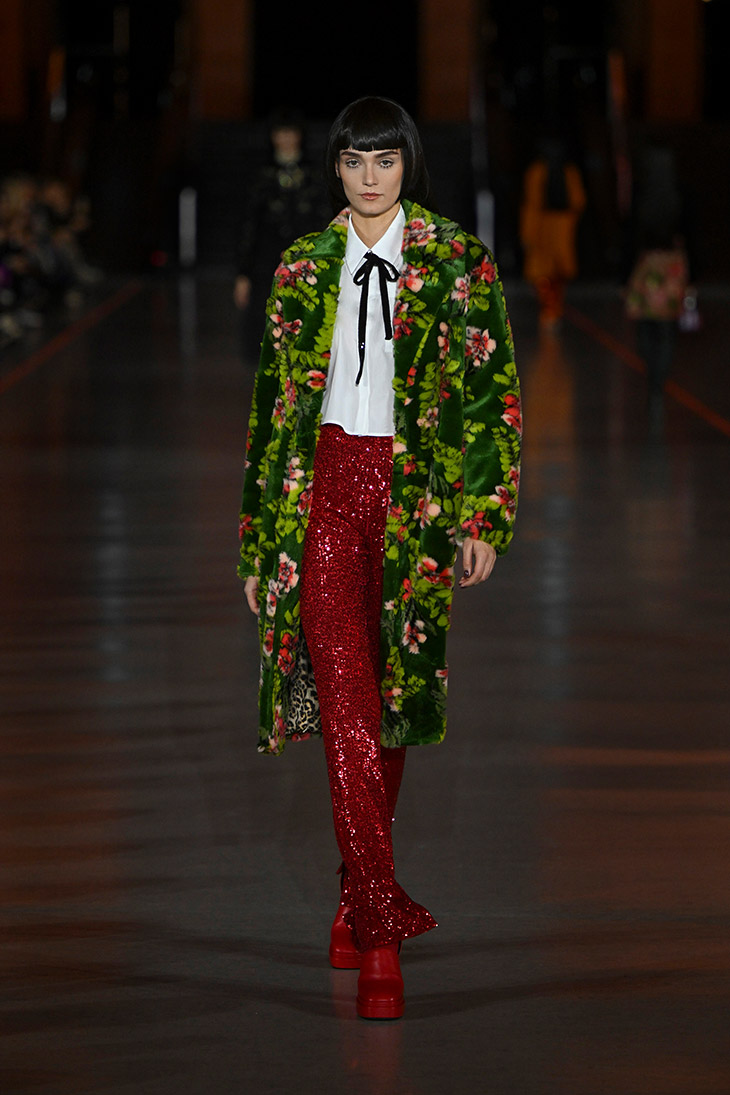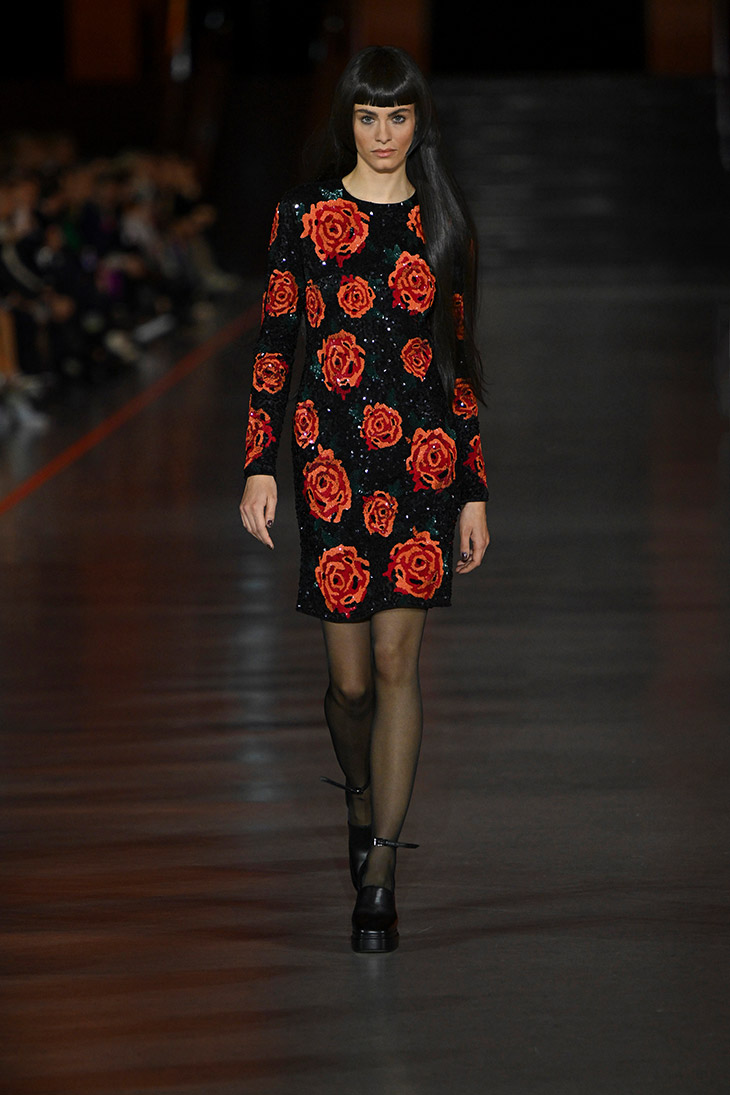 The unique play with various lengths was extremely inspiring to watch: it ranged from ultra-short skirts and jackets, to long, over-sized coats. The last mentioned underlined the feelgood-factor of these outfits. Various lengths were creatively mixed and matched together. Colourful scarfs were also worn over-sized and should keep you warm during cold autumn and winter days. Coloured accessories emphasized the contemporary approach of the outfits and contributed to the signature look of the label. The use of belts highlighted the female silhouette and therefore the feminine character of several looks.
Being significant for 'A New Journey' was the use of an opulent elegance that was paired with futuristic elements. The use of bright nuances radiated pure joie de vivre. Therefore it could be interpreted as a positive start into the new season and a powerful anniversary celebration of Marc Cain.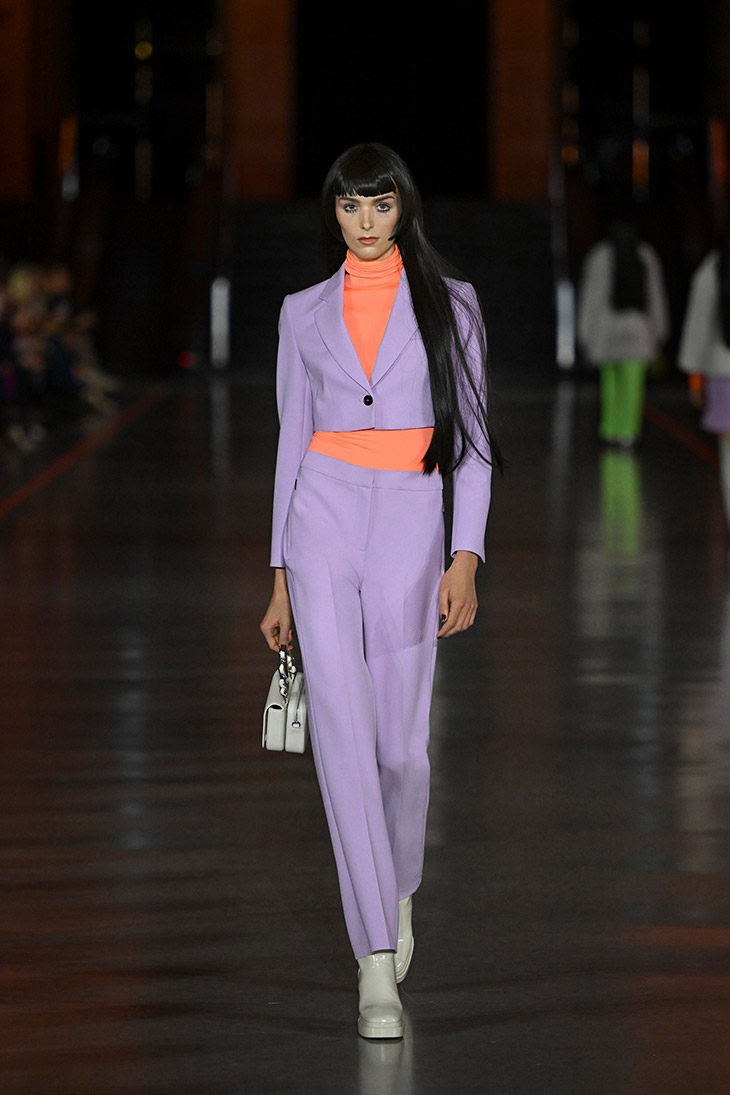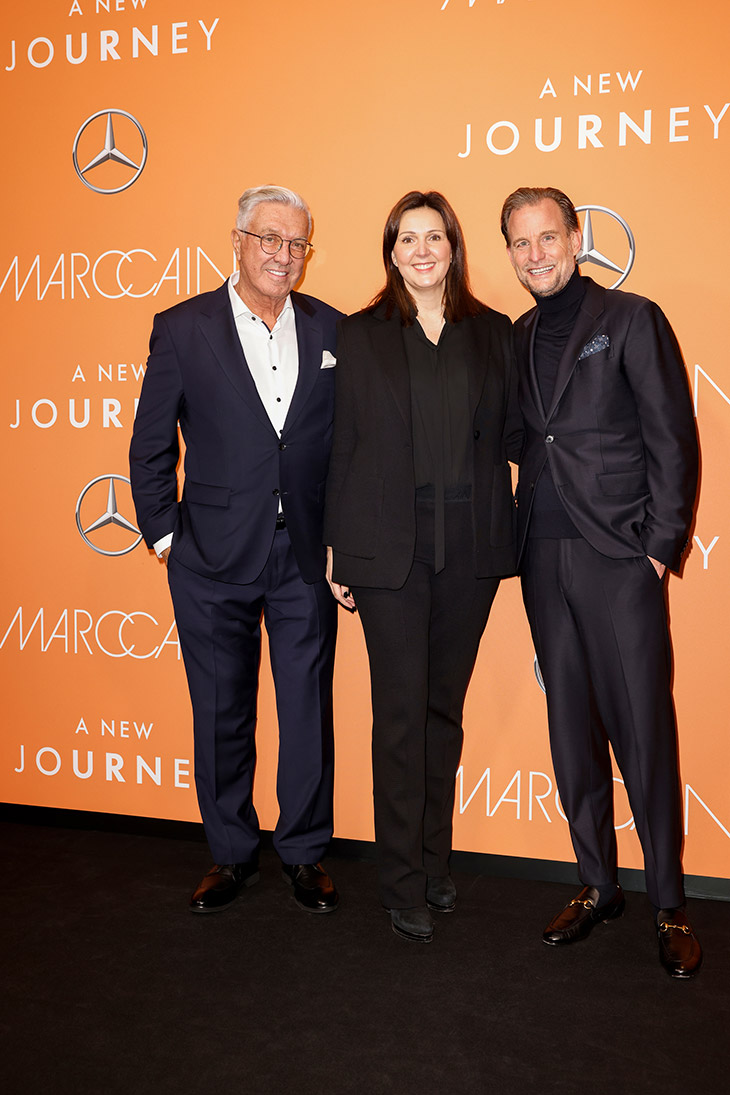 Review by Sussan Zeck for DSCENE Magazine.
Images Courtesy of Marc Cain GmbH