Fashion house JEKEUN presented the Fall Winter 2023 Collection with a campaign that takes inspiration from the 1999 Korean film Attack The Gas Station, centered around four characters from different backgrounds and follows their individual journeys as their lives are transformed as they enter gang culture. London-based Jekeun Cho revisits his Korean homeland psychologically and physically through this exploration of the film which was shot on location at the local gas station in the neighbourhood of Bundang on the outskirts of Seoul where he grew up. From the brand's London based studio, these characters and themes are relocated and reimagined in new surroundings as Cho weaves visual storytelling and character development through his thought-provoking and uniquely original design handwriting.
For the occassion, DSCENE Digital Editor Maja Vuckovic sits down with Creative Director Jekeun Cho to talk about his Fall Winter 2023 collection, love for fashion, struggles in fashion world and more.
Hello Jekeun, nice to have you at DSCENE. Can you tell us a bit more about yourself? Who is Jekeun? 
Hello, DSCENE readers. I am the designer of JEKEUN, JEKEUN is my South Korean name in English, the meaning in Korean is gathered roots. I am South Korean with a bit of Japanese blood. I moved to the UK after almost ten years of living in China. I launched my Menswear brand in 2021 in London with our core brand message – psychology and mental health which are my biggest interests. Combining this message with a mixed style of my East Asian background with subcultures and current home, the UK, we keep searching for more opportunities to communicate with our audience through fashion.
Where did your love of fashion come from?
I've loved fashion since my teenage years. My idol was Hedi Slimane, I bought everything I could whenever I had money, but I never thought I could be a fashion designer because I'm from a very ordinary family, so I decided on a safer university route. After graduating from university, I was idle on a friend's sofa in Shanghai waiting for job interviews. My friend was a film fanatic whose sister was an actress. He introduced me to the film In the Mood for Love and I absolutely loved it, it changed my life ever since. I was in awe with all the moods from the film, everything about it fascinated me, the feeling of it and all the in/out metaphors by sensitive touches. I've loved the director Wong Kar-wai ever since and strongly admire the cinematographer, Christopher Doyle. He served the scenes very carefully and beautifully and it pushed me to do something more with life rather than settling. I went to Hong Kong and Siem Reap by myself to feel the beautiful end scene the film captured. This was around age 26 that I decided I would do whatever it takes to become a fashion designer. I believe my fashion skills came from my beloved Japanese great-grandmother who was a great seamstress. She moved to South Korea from Japan for love. Sadly, her husband died a few years later, and she had to survive with two kids in a foreign land. She was talented at sewing, so she used it to make and alter clothes for people in the village. I keep her old sewing machine with me to feel connected to her and for inspiration.
What was the biggest struggle of creating your own brand?
I had an offer to launch the brand just after graduating, however I turned it down because I wasn't sure about what I wanted to say through my designs. I didn't want to just sell clothes; I wanted them to have a purpose so I would say building the right brand identity has been the biggest struggle. I'm always thinking of this question but I doubt I'll get a clear answer soon, but I'll try until I can. Sales is another big struggle for new brands, but I believe customers will find us more and more once we have the right and better brand/design identity.
You attended law school in China before you moved to London and started your career in fashion. Did the change of career paths impact you and your designs? 
Whenever I am designing, I stop and ask myself, what is the reason I am doing this? Does this make sense? Self-reflection is a big part or my work process. When I was a student in fashion, I had a chance to meet and show my work to Agi and Sam (they were one of my favourite young designers at the time) and they were surprised at how my designs explained "why" in every single point. I thought I should continue with this approach as that's what I learnt from my Law degree but now I've realised that I don't need to think too much about causality in design. It helps sometimes but creativity needs eccentricity always so, I keep trying to think more freely, I don't need to care if they are connected.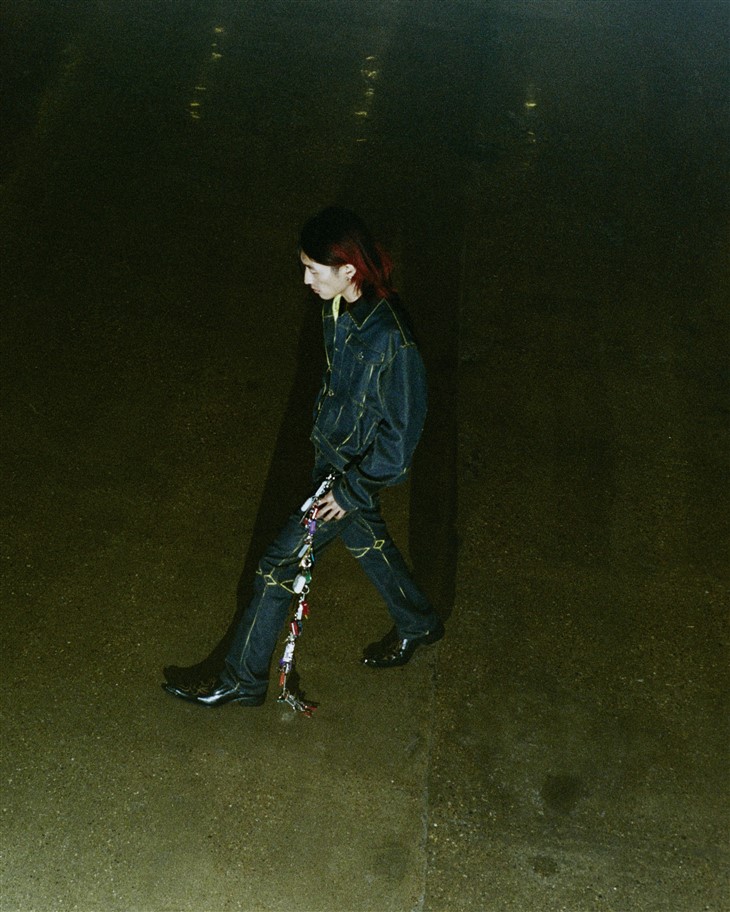 How have you grown as a designer since your first show?
I am very pleased looking back at my footprints and the development of myself as a designer and the brand itself. Since my first show, the designs and styles are more defined and there's more alignment in terms of brand identity. The project we worked on last year with Young Minds and Depop has sparked more ideas on how the Jekeun brand can contribute to society and conversations around mental health. I'm looking forward to working on similar projects in the future as I felt it was very successful.
With more and more brands on the market, you need real creativity to stay relevant. Do you find it hard to reach your audience?
Definitely. You see many creative and talented new brands every day but also many of them are gone after a couple of years. I believe we all have great creative capacities, but it takes time to reach the right audience. I should believe my creativity and keep developing myself to reach them. I am very pleased to see more people interested in my brand as time goes on, it encourages me and the possibilities in the future are endless so I know I can develop more which I am excited about. Of course, there are sad moments too because it is hard to reach the audience with so much already out there, but I will keep trying as there is so much I want to say and I know there's plenty of people who have an interest in these topics.
Is inspiration something that comes to you naturally? 
I believe all the inspiration comes unnaturally. I need to see, feel and argue about things. It can be anything, but all those activities create inspiration as I am always thinking about fashion and my brand. I like to read novels; I feel happy when creating scenes and outfits of characters in my head from the pages. All those things come and are filtered down, a few remaining pieces are joined together and become something new. I really love this process and the most exciting moment is when you have something new very suddenly.
How would you describe your brand in three words?
Between external / internal.
Where did you get the inspiration for your latest collection?
The collection Influence was from the South Korean film Attack the Gas Station. Like the film, I wanted to examine how humans interact, respond, and portray themselves and one another. This took place inside a gas station where the comedic criminals stole money. I loved 4 different narratives from 4 main characters and how those narratives are different from their looks. This film was one of the best 90s youth culture moments in Korea when I was a fashion addicted teenager, and the location of the film is only 10minutes away from my house in Korea so every time I pass there I'm reminded of the film. For the brand, it to heads to a gas station to shoot its lookbook with commentary on the human psyche and a I used cuts, details, textiles, and silhouette for expressing our core idea which is how we are shown as a person externally but how vastly contrasting our inside look is. Those elements are everywhere in the garments, but they are not talking loudly, more like hidden, same as us.
What is your favourite piece from the Fall Winter 2023.24 Collection and why?
My favourite piece is the green and brown checked pattern suit. Cut lines which is inspired by my brain scan images and hidden in contrasted details following the cuts are well collaborated, I think. It took a long time to match the tartan, but it made perfection and I like the cracks revealing themselves in between this perfection. Also, the knit jumpers are always my favourite from all seasons. This season it started simply from a city mascot, Udon Man from a city in Takamatsu, Japan. The mascot has a brain made of Udon noodles and we started from that and developed it into knits. I liked how it developed and the fact it can be worn dual sided giving it more functionality.
Is there something you're fascinated by right now? Maybe something you would like to incorporate into your next collection?
I have always had a fascination with East Asian films, books, and comics especially, youth gang culture and their style. Riding a motor bike on the midnight, giggling with friends on the dark corner of downtown or pirates in the world of fantasy. I am really into these moods in East Asian countries such as Korea, Japan, China and Hong Kong. This will be one of my concepts for the next season and I would love to bring these characters to London.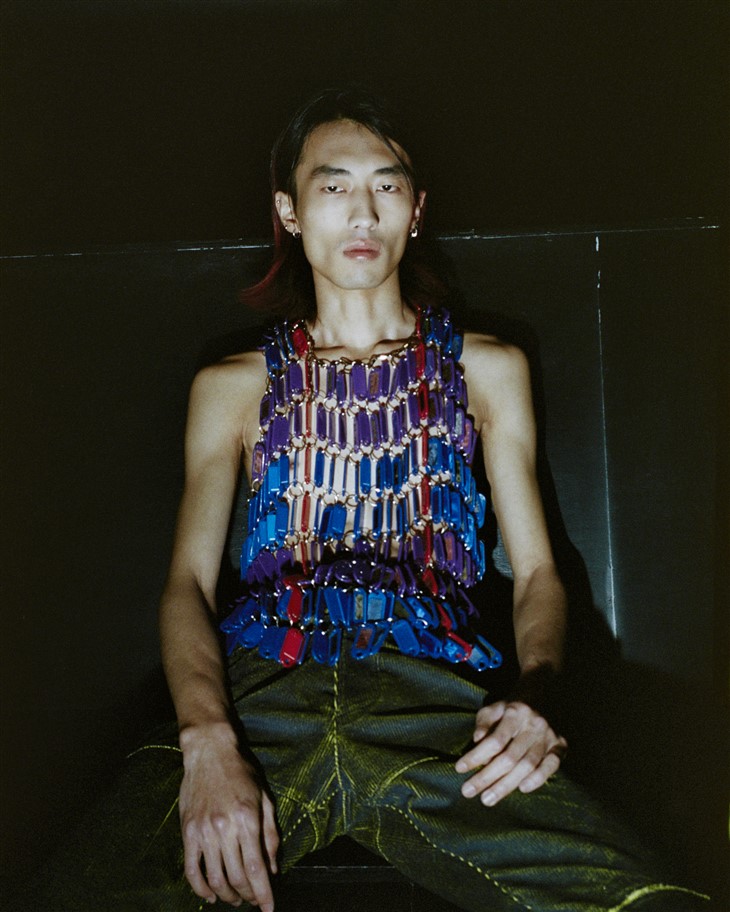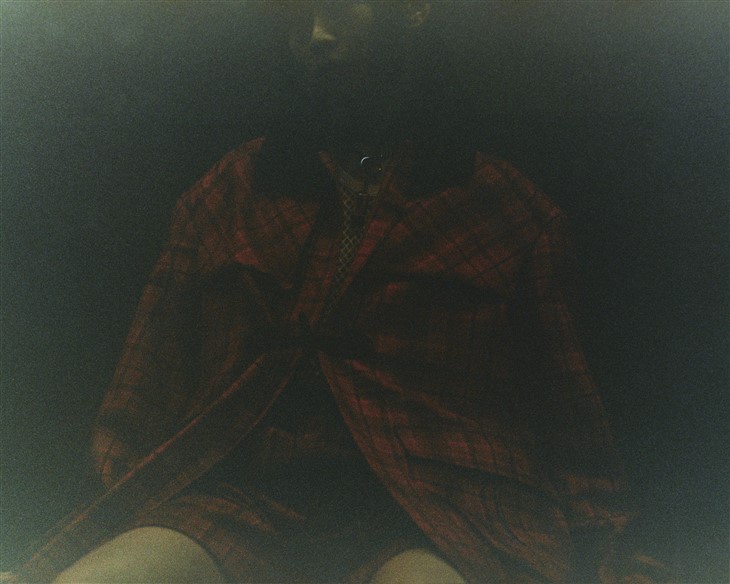 Keep up with Jekeun on Instagram – @_jekeun