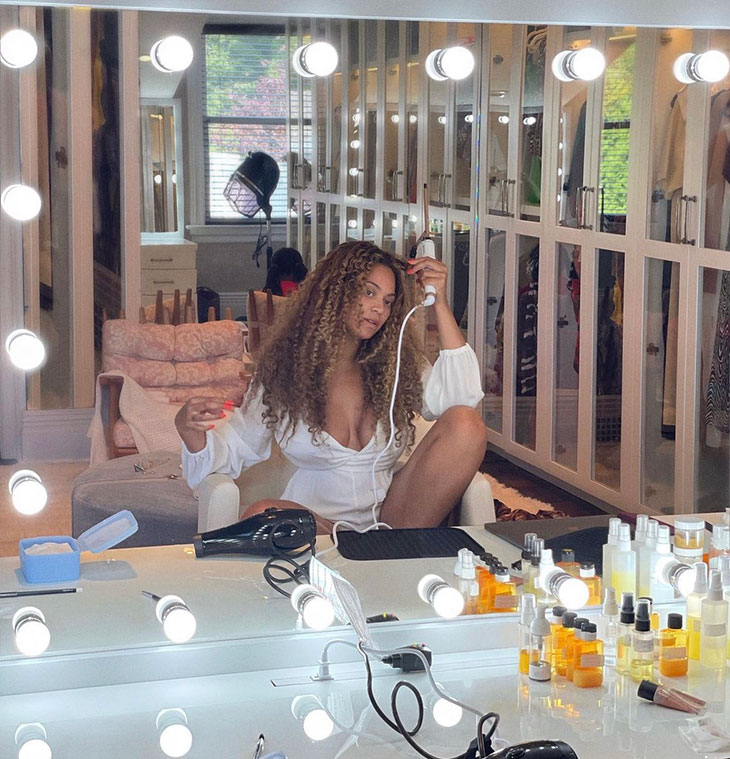 Beyoncé might be starting a new chapter in her life as a beauty entrepreneur. On May 16, Queen Bey uploaded a carousel of three photographs on her Instagram account with no caption. The first image was of her playing with her hair in the mirror while there were empty bottles in front of her, and the second image was of her getting her hair done when she was younger. However, it was the third one that caused us to raise our eyebrows and activate the alarms. It contains a handwritten message reading: How many of you knew my first job was sweeping hair in my mama's salon? Destiny's Child got our start by performing for clients while they were getting their hair done. I was exposed to so many different kinds of entrepreneurial women in her salon. 
I saw firsthand how the ways we nurture and cerebrate hair can directly impact our souls. I watched her heal and be of service to so many women. Having lamed so much on my hair journey, I've always dreamed of carrying on her legacy I cant wait for you to experience what I've been creating. – added Beyonce via Instagram.
It appears that a hair care line bearing the name of the one and only Beyoncé may be on the horizon and it's not entirely surprising that the singer would venture into the hair care industry. The Grammy-winning artist has consistently received acclaim for her stunning hairdos, courtesy of her trusted stylists Neal Farinah and Kim Kimble, as well as her mother Tina Knowles-Lawson.
View this post on Instagram
The rise of celebrity-owned beauty brands has been a notable trend in recent years, with the likes of Brad Pitt's Le Domaine and Millie Bobby Brown's Florence by Mills making waves in the industry. Amidst the waning trend of celebrity-owned beauty brands, Queen Bey sets herself apart by teasing a potential new venture in the beauty industry.
Following the commencement of her much-awaited Renaissance Tour, the enigmatic declaration has surfaced. The tour has been a resounding success, with accolades pouring in for her exceptional vocal prowess and otherworldly, superstar-esque appearance. Although there are no confirmed details as of yet, one can only imagine the excitement surrounding the possibility of a Beyoncé hair care line. With her upcoming world tour, we may even catch a glimpse of the luxurious products she uses to maintain her flawless tresses.