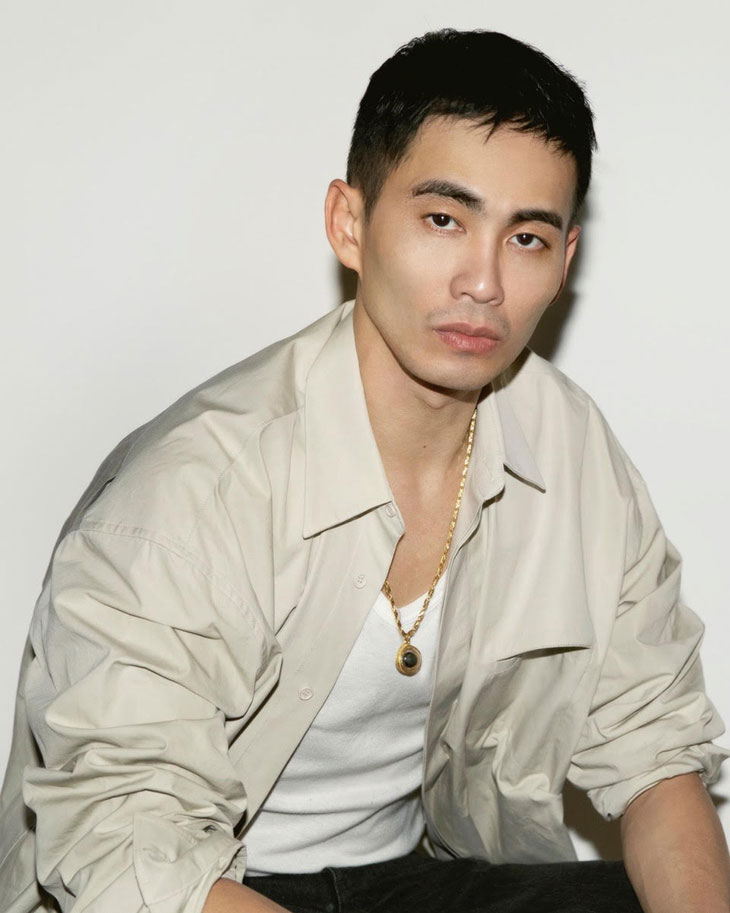 For Pre-Fall 2023 collection, Self-Portrait's Creative Director Han Chong continues to build on his signature silhouettes while also exploring new approaches to the production of fabrics and sewing techniques. Embroidered materials and newly designed lace are applied to clean-cut silhouettes, inspired by vintage manufacturing procedures. An exuberant color palette, comes in the shades of pink, blue and green, with the addition of black, white and denim pieces. Embellishments made of sequins and rhinestones are added to dresses with abstract motifs, heavily influenced by the 1990s fashion. Lace styles emphasize ease and comfort while paying attention to the smallest details.
DSCENE Magazine's Editor MAJA VUCKOVIC sits down with HAN CHONG to talk about the new Pre-Fall 2023 collection and inspirations behind it.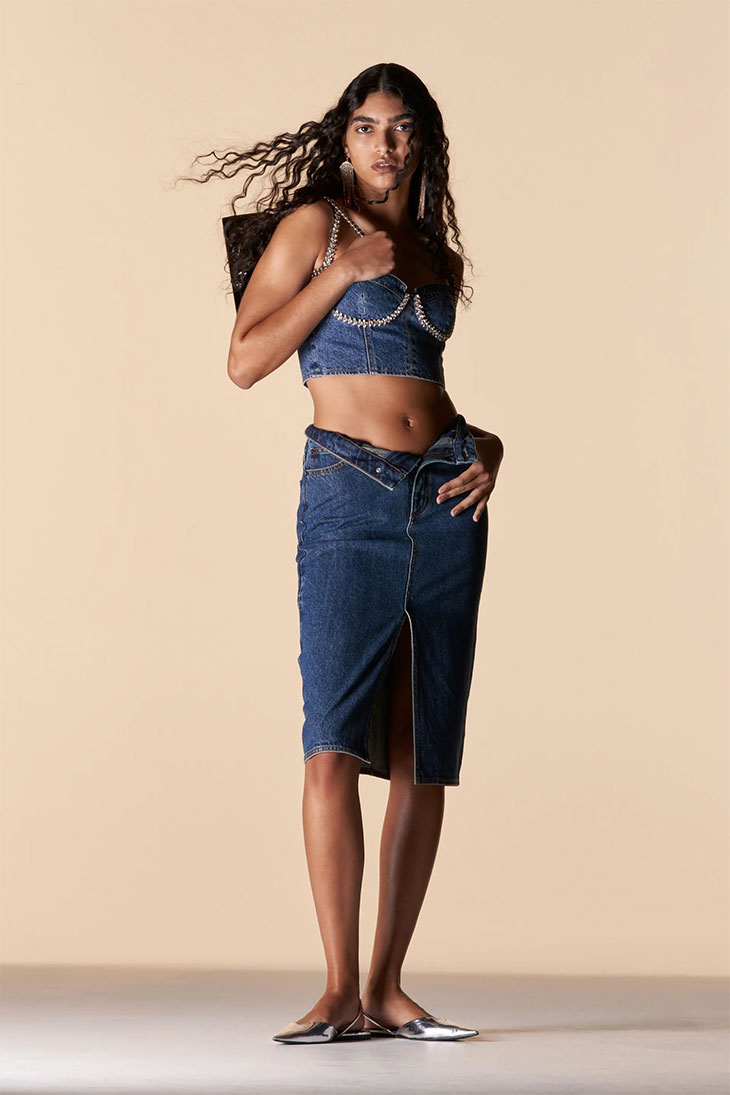 Can you tell us about the inspiration behind your latest Pre-Fall 2023 Collection and how it differs from your previous collections? – Each season we look to build on self-portrait's core styles to further evolve our collections. Working towards this season, we started to explore new fabrics and techniques that could be applied to familiar shapes – a midi dress is reimagined in sequin for example. You'll also see a lot more eveningwear designs in longer lengths, alongside contrasting cargo inspired denim. I've been really excited about this collection, it's very cool!
We notice that your collection features a lot of vintage processes and techniques. How do you balance old and new when designing a collection? – I love being able to experiment with old techniques and approaches in design, for example…through lingerie-inspired or embroidered detailing. Balancing the old and the new becomes relatively easy. We've been revisiting and stripping back familiar styles to create a cleaner silhouette over the last two seasons – the beauty of this is that we have a clean canvas to play around with. Adding embellished details such as crystal bows or detailed collars incorporates an elevated touch without compromising the shape or silhouette of the design.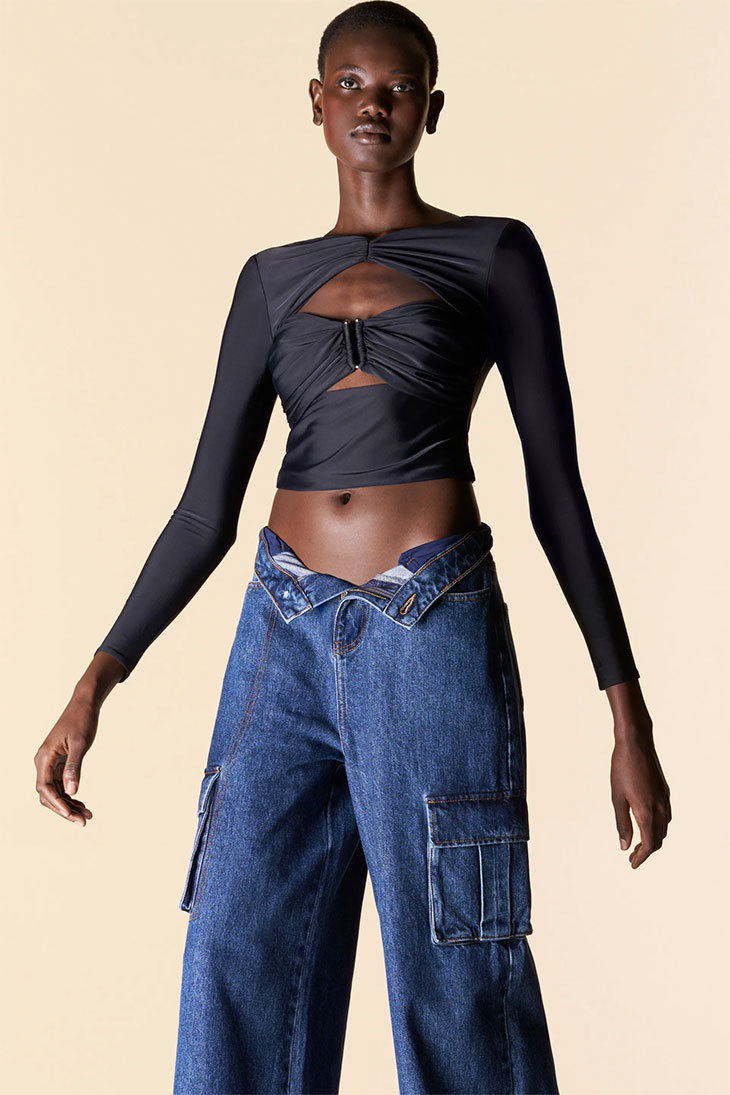 Your collection is known for clean-cut silhouettes. How do you ensure that the new fabric developments and techniques used in this collection complement these silhouettes? – It's allowed us to take a new direction with eveningwear dressing. By taking a minimalist gown and applying a high shine sequin or taking a clean-cut top and applying our new iridescent rhinestone, we're creating a modern look where the fabric gets to shine without any distraction – it allows the process to speak for itself!
How did you choose the joyful color palette for this collection, and how do you think it reflects the mood and energy of the moment? – Incorporating these beautiful lilacs, pinks, blues and greens has added a real softness to the collection. I look at it in its entirety and feel a deep sense of calmness, which feels contradictory to the sparkle and embellished details that appear throughout. Having that balance is what makes this collection so interesting.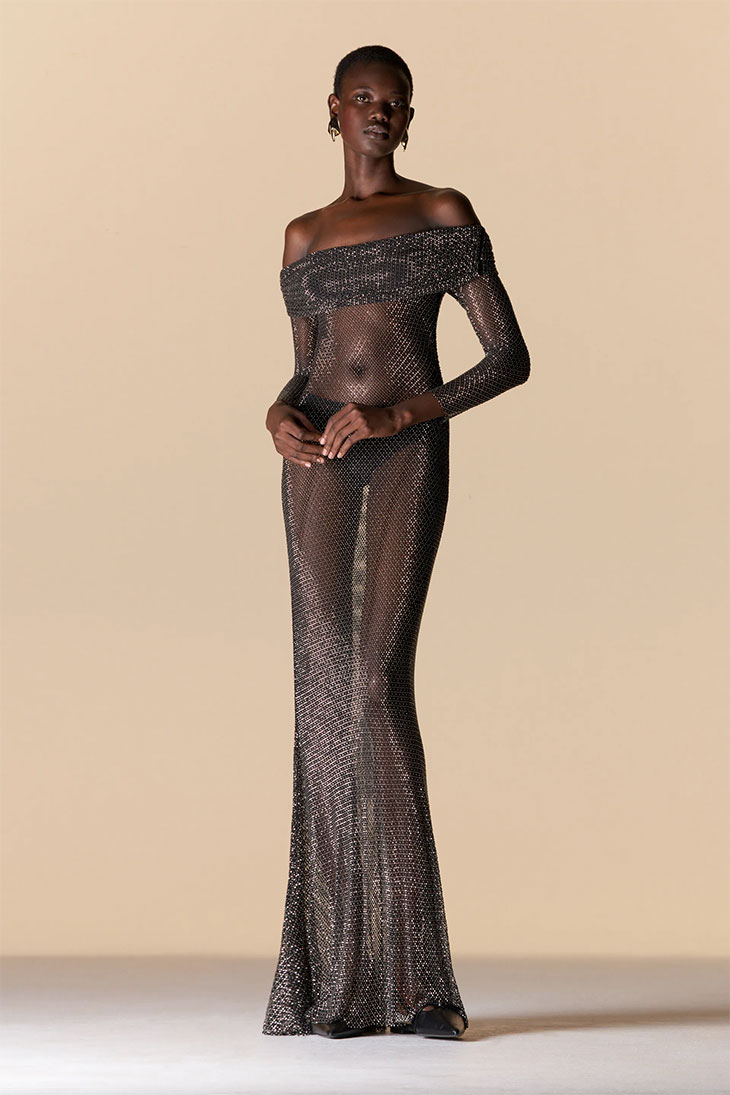 Could you walk us through the process of applying newly developed lace to your designs and how it enhances the aesthetic of the collection? – Lace is a big part of the self-portrait story so we are always looking to develop new fabrications and introduce fresh colourways so we can keep telling that story in a way that feels modern and new. We did a lot of research on antique and vintage laces whilst working on this collection, incorporating new techniques to produce a vintage-inspired floral-motif which has been applied to both core styles and new designs.
Keep up with Self-Portrait on Instagram – @mrselfportrait