Hollywood's fascination with biopics continues, and with Michael Mann's latest work, "Ferrari", enthusiasts and cinephiles have every reason to be thrilled. With a star-studded cast, led by Adam Driver and Penélope Cruz, the much-awaited teaser trailer has finally dropped, offering a tantalizing glimpse into the life of Enzo Ferrari during a crucial phase in the mid-1950s. While for many of us Adam Driver will always remain the Adam from GIRLS, yet for Hollywood Driver seems to be a go to for any Italian biopic. From Gucci to Ferrari, Adam is here.
A Glimpse into 1957
The year is 1957. The sheen of Formula 1 masks the tumultuous reality of Enzo Ferrari's personal and professional life. Facing potential bankruptcy, strained relations with his wife Laura after their son's death, and the challenge of acknowledging another son, Piero, with Lina Lardi, Enzo's world seems to be on the brink of collapse. Amidst this personal chaos, the ambitious racers under the Ferrari banner are gearing up for the perilous Mille Miglia, Italy's iconic 1,000-mile race.
Mann Returns to the Big Screen
Michael Mann's last major directorial work dates back to 2015, but his prowess remains undiminished. Having recently directed the pilot episode for "Tokyo Vice", Mann's collaboration with Adam Driver in "Ferrari" is eagerly anticipated. The film's screenplay, crafted by Troy Kennedy Martin, is an adaptation from Brock Yates's illuminating biography, "Enzo Ferrari: The Man and the Machine".
Star-studded Ensemble
While Adam Driver, fresh from his roles in "65", "Star Wars", and "House of Gucci", takes the wheel as Enzo Ferrari, Penélope Cruz breathes life into Laura Ferrari. The duo is joined by Shailene Woodley, playing Lina Lardi, and Jack O'Connell, portraying Peter Collins. Sarah Gadon and Patrick Dempsey round off this ensemble, starring as Linda Christian and Piero Taruffi, respectively.
The Teaser That Says It All
While words might be scant in the just-released teaser trailer, the auditory sensation of roaring car engines more than makes up for it. It encapsulates the adrenaline, the passion, and the drive (pun intended) of the racers and the man behind the iconic car brand. As the engines rev and the suspense builds, it culminates in a singular line at the very end, leaving viewers craving for more. Cause it's 2023 and we still have to be fascinated by cars, electric or well old Ferraris.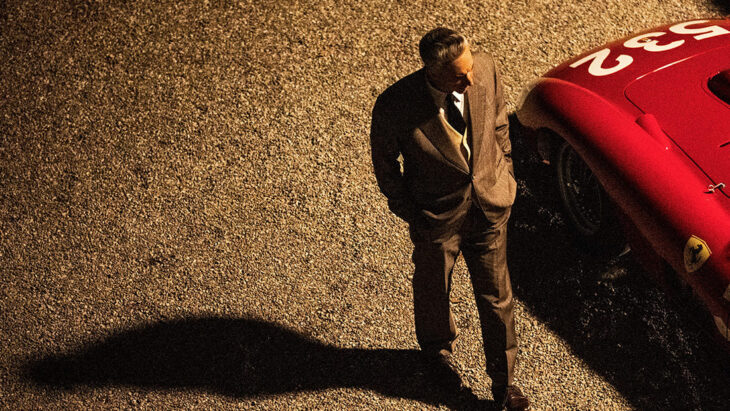 Mark the Date
Set to race into theatres on Christmas Day, "Ferrari" is positioned as one of the must-watch releases of 2023. It shares its premiere date with "Aquaman and the Lost Kingdom", promising movie enthusiasts a day of diverse cinematic experiences. And quite honestly with the ongoing actor and writer strike you literally won't have much of anything else to watch.
"Ferrari" promises a riveting look into the life of an automotive legend, yet lives us questioning if there was even any need to cover this story. But also was there any need for 17 parts of Fast and Furious? With its promised compelling narrative, exemplary cast, and Mann's directorial touch, the film is poised to offer a memorable cinematic experience this Christmas. You will hate it or love it. Let us know in the comments how excited you are for this movie: