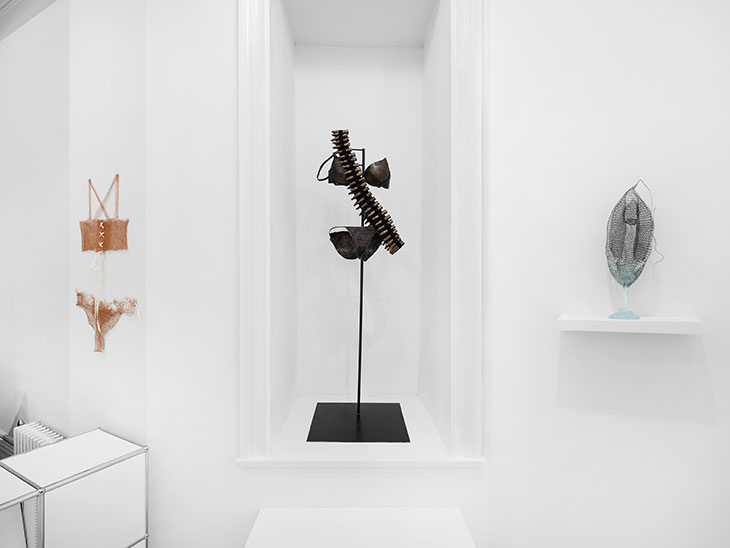 Jewish-Filipina artist Zoe Schwartz presents "Mother Mold" exhibition at Alanna Miller gallery in New York City. Drawing inspiration from the sculptural process of lost wax casting, "Mother Mold" becomes more than just an art term. It's Schwartz's symbol of resilience against pressures to conform, particularly the cultural expectation to mold oneself to prevailing standards of beauty. Zoe's bronze-cast undergarments and mesmerizing glass pieces echo 'Loob ng Tao', a philosophy by Filipino thinker Carl Lorenz Cervantes, emphasizing the self's revelation through interaction.
In this intimate conversation, Schwartz talks to DSCENE Magazine's Editor, Katarina Doric, about her exploration of identity, trauma, and artistic expression.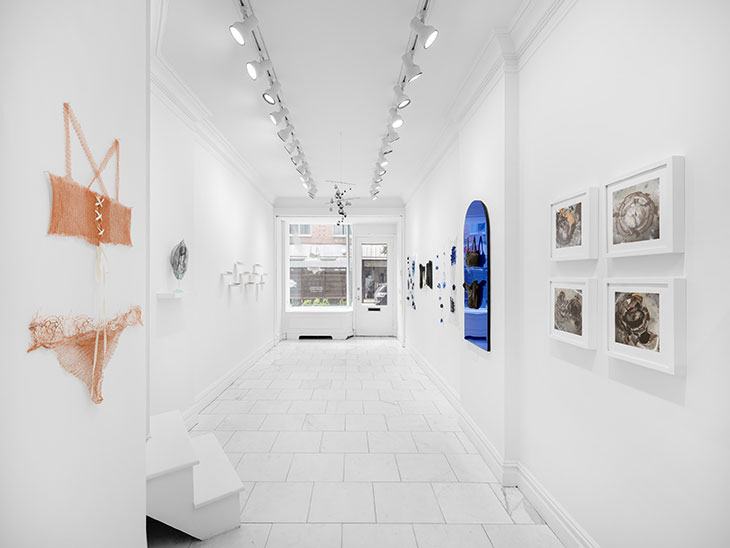 Your exhibition "Mother Mold" draws heavily from the sculptural process known as lost wax casting. How did this specific process become central to the themes you explore in this body of work? – I worked as a mold making intern at the New York Art Foundry, where I made molds that created perfect wax reproductions. I am interested in how I can subvert the act of mold making, thinking about how molds can break from expectation and give space to nuance and individuality.
The idea of the "mother mold" in your work extends beyond the physical and into the conceptual, representing the generational inheritance of trauma. Can you elaborate on how this concept guides and influences your creations? – My mother was molded by her mother just as my mother molded me, but time creates spaces to evolve. The pieces entitled Mother Molds are shells filled with glass I baked in a kiln. Once fired, the shells dehydrate and turn to dust. I place the glass in new shells, but there is a space between the new shell and the glass form. Even though the mother mold is gone, the effects are still present and there is a generational gap left behind.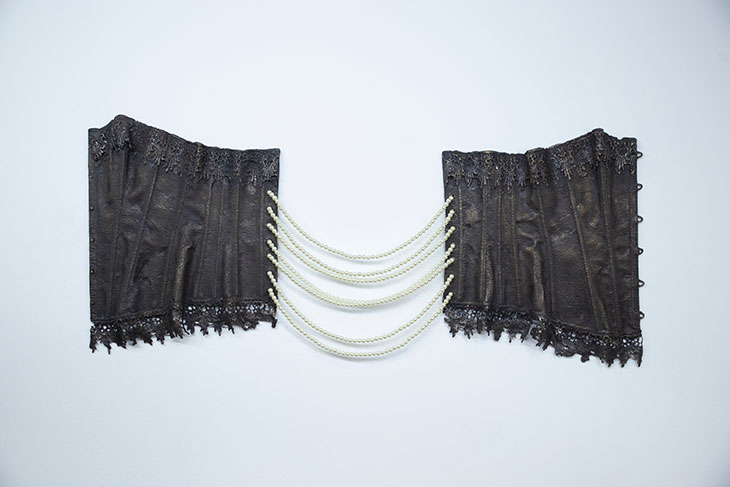 Your sculptures of undergarments made from bronze and abstract glass works aim to achieve cellular healing through relational aesthetics. How do these materials and forms help articulate Carl Lorenz Cervantes's idea of Loob ng Tao, the interior self? – My bronze work acts as a lens for viewers to interrogate their own opinions on these structures of femininity and develop their own Loob ng Tao. The more abstract works show how both glass and identity are fluid materials that are shaped by their environment.
As a Jewish-Filipina woman, you address the ultrafeminine archetypes in both your cultures, confronting stereotypes through your artwork. How do you navigate the balance between critiquing these archetypes and celebrating your cultural heritage? – One can love something and still critique it. Judaism taught me to question the sacred because we have the right to think for ourselves and challenge the status quo. I believe it takes a lot of strength to find beauty in the face of constant violence, but we need to continue to evolve our definitions of beauty.
Your materials range from bronze to organic matter like shells and pearls. How do these choices of materials deepen and expand your conceptual practice centered on feminism, matrilineal inheritance, and generational trauma? – My definition of feminism, matrilineal inheritance, and generational trauma are constantly changing, but what I can say is that my material choices are based on a cycle of beauty, destruction and time.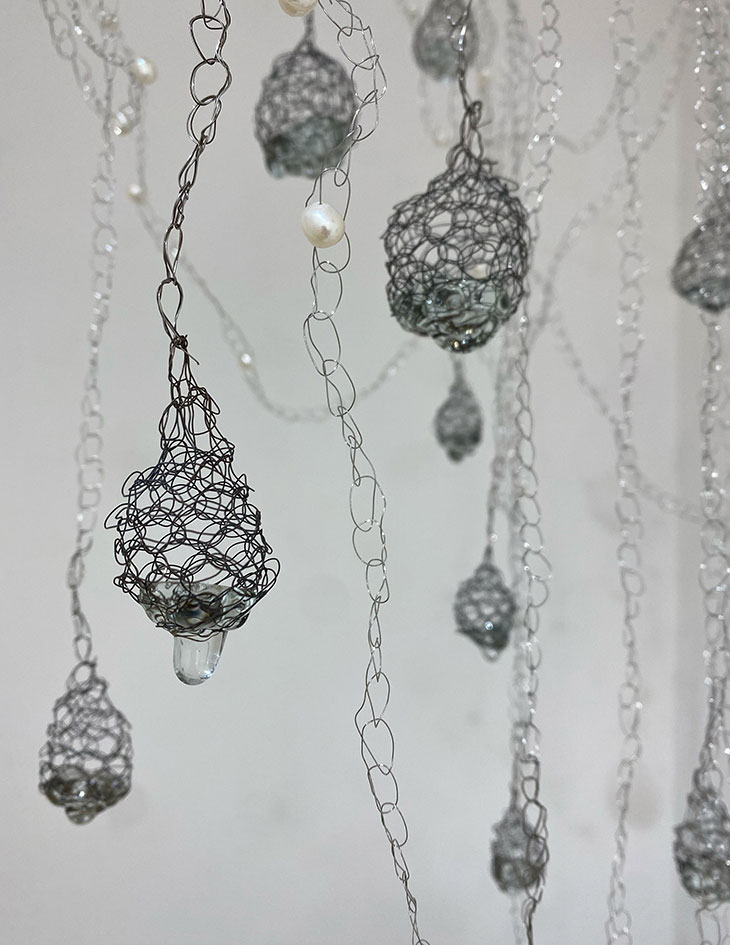 Your work seems to hover in a realm that bridges the resilient with the fragile. Can you discuss the duality present in your pieces, especially the crocheted wire and glass tapestries? – My work pushes the delicacy of metal and the strength of glass, they are contrasting, but they also coexist. The threat of breaking is present, but the crochet links that resemble DNA strands are remarkably strong despite appearing weak.
With "Mother Mold" being such a personal reflection on matrilineal trauma and cultural intersections, how do you envision audiences from diverse backgrounds connecting with and interpreting your artwork? – Everyone has mommy issues, or at least a maternal figure in their lives that has influenced the way they see the world. I hope my work is accessible in that way.
In my twenty plus years of being an art student, I did not meet my first Filipinx art professor until my last year of grad school. Representation matters and as difficult as it is to be vulnerable and visible, I need more people who look like me in art and life.
Having graduated from RISD recently and now with your first solo show in NYC, how has your journey in the art world evolved, and how do you see it progressing in the future? – My journey in decolonizing myself and my art practice has led me on a journey of finding community and building kapwa. I invited Jana Lynne Umipig, a diasporic babaylan, activist and artist, to my solo show to lead us in rituals that connected us to our ancestors. I hope to activate more spaces to heal wounds colonization left behind.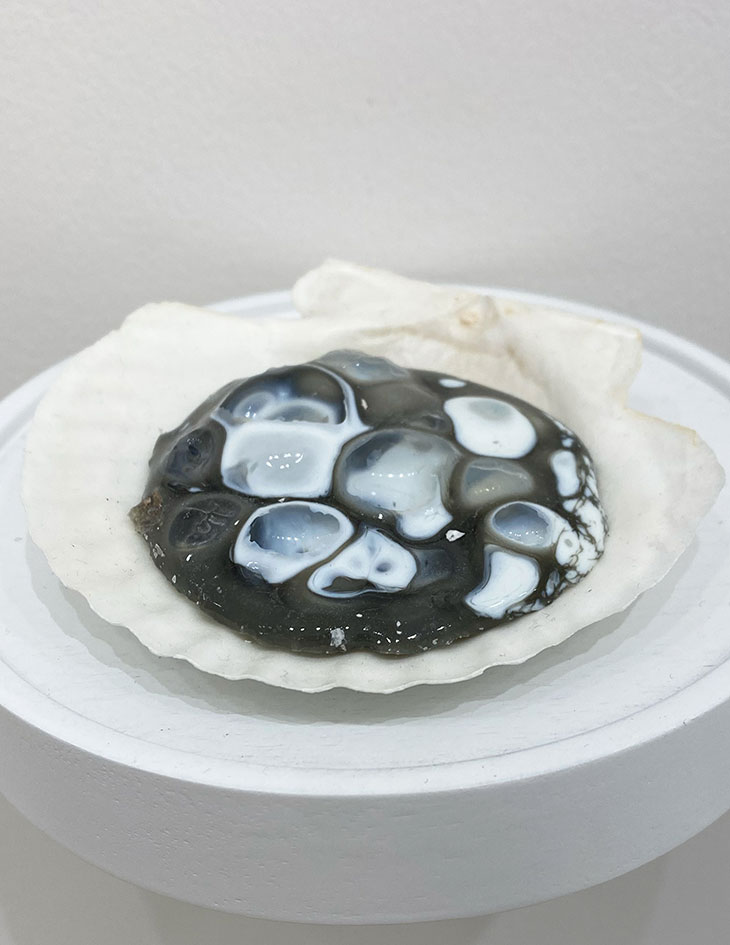 You've previously worked in a foundry, an ultramasculine space, before transitioning to your role as an educator at the School of Visual Arts. How have these experiences shaped your perspective on resilience, fragility, and visibility in art and life? – I used to try to hide a lot and didn't trust my inner voice because I was the only one who looked like me in these spaces. In my twenty plus years of being an art student, I did not meet my first Filipinx art professor until my last year of grad school. Representation matters and as difficult as it is to be vulnerable and visible, I need more people who look like me in art and life.
What's next for you? – I have a meeting with Rabbi Mira Rivera, the first Filipina-American to be ordained as a Rabbi. I'm excited to see how our conversations inspire future art.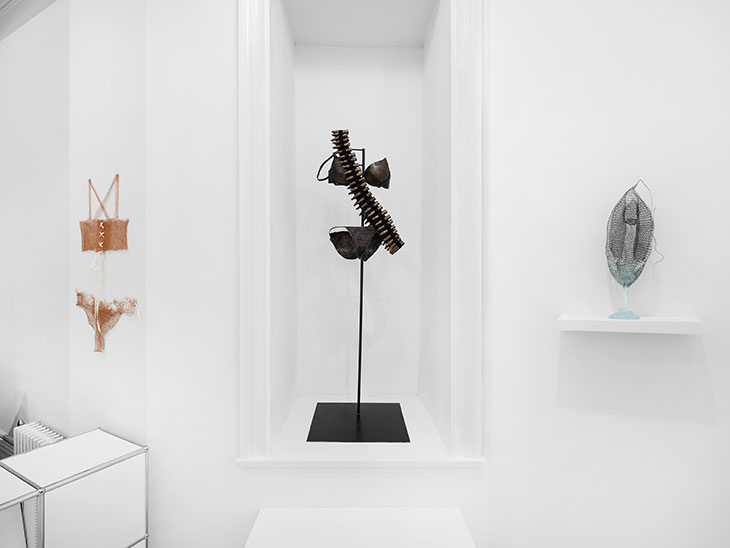 Zoe Schwartz's "Mother Mold" exhibition is on view at Alanna Miller through Thursday, August 24th