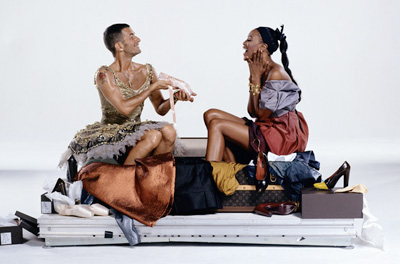 Magazine:
Bazaar US Sept.2007
Models:
Naomi Campbell
and Marc Jacobs
Photographer:
Jean Paul Goude
Editorial title:
"Marc On Top"
Website: 
www.harpersbazaar.com
They first met in 1986 – Marc was 23, Naomi a baby of 16 – at a fitting for Marc's first fashion show. "I was with Cindy [Crawford] and Christy [Turlington]," Naomi reminds Marc, "and you offered me chocolates because I was hungry." Marc marvels, "She has the most amazing memory. She's got ears all over and eyes at the back of her head".
The text above and image are outtakes from "Marc On Top" editorial in Bazaar US September 2007 issue, featuring Naomi Campbell and Marc himself.