Magazine:
VMAN
Issue:

Fall Winter 2009.
Editorial:

"FRANCO BY FRANCO: A Visual Essay by James Franco & Carter"
Photographed by

James Franco and Carter
Curator:

Dominic Sidhu
Styling:

Parinaz Mogadassi
Website:
www.vman.com
"James Franco does not simply appear on the cover of this issue. He also, through a self-portrait of sorts, brings to our readers an impressive 10-page work of art within the magazine's pages. It's artistic, expressive, and worth seeing—both in print and as a moving image. I always like to think of VMAN as a fashion magazine for stylish and creative men who have an artistic side—James Franco is just that.
Who would think that an actor of his caliber would have such fantasies. He is an "artist" in every sense of the word, and very much a modern Renaissance man. I don't know that we've ever come across someone who so credibly rests one foot in Hollywood and one in the art world. For that reason I think this body of work is a milestone. Plus, his fascination with burning motorcycles, flamethrowers, and archers shooting flaming arrows…well it lends new meaning to the word, Hot!"- Editor in Chief/Founder of V and VMAN, Stephen Gan. More from Franco by Franco under the cut: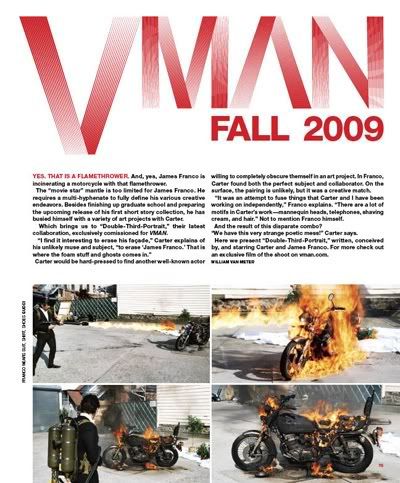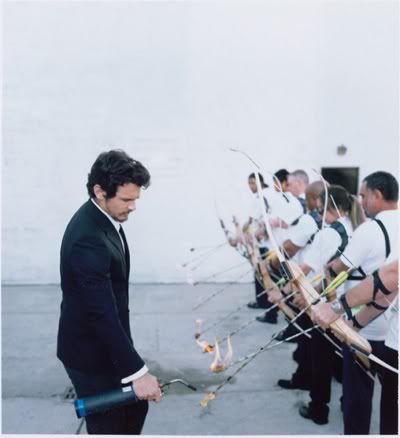 James Franco wears Gucci on the cover. New VMAN #15 is already on your newsstands, for more info log on to vman.com
*Courtesy of VMAN magazine