For many homeowners, watching a home-buying show isn't just an idle interest but instead provides inspiration on what makes the perfect property. From the small dreams, like having a garden of our own to grow fruit and vegetables in, to the big impossible-seeming dreams – like that of a heated indoor swimming pool – there is always something that we think could improve our homes.
En-suite bathrooms beat swimming pools as the home improvement people in the UK most desire.
Reasonable Aspirations
Despite some lofty ambitions, a study from leading secured loan and mortgage broker Ocean Finance found that most people have a rather modest approach to their house modifications. A third of those asked would like an en-suite bathroom; 32% would love a garden room or conservatory to soak up those precious few weeks of summer; and a quarter would like a larger garden than the one they have – which may be none, as over two million UK homes are without a garden entirely.
(photo: conservatoryoutlet.co.uk)
However, there are also those who dream of the small luxuries that would make everyday life simpler. Around nine million people (17%) would like to have an office or study in their house – a dedicated room for working, planning, budgeting and paying bills. Meanwhile, one in five of those surveyed would choose a gym for their home, allowing them to stay fit without the additional cost of expensive gym memberships. And of the 17 million who dream of fitting an en-suite bathroom, women were more likely than men to desire this feature – 39% compared with 25%.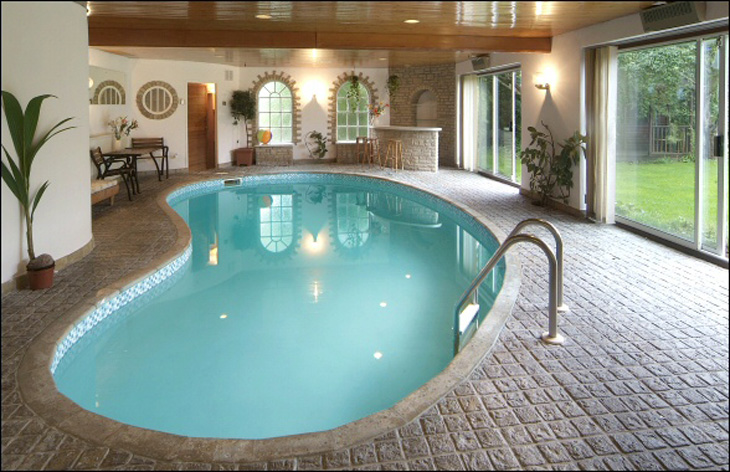 (photo: friendskorner.com)
Pipe Dreams
One of the most popular fantasies for homeowners is that of having an indoor swimming pool – 18 million UK residents said they aspire to this. Other far-out ideas include a Jacuzzi or hot tub at home (23%), an open fire or log burner (18%), or a snooker or games room (16%). Surprisingly, half a million UK citizens would like to have a panic room in their homes, suggesting improved security is high on their list of priorities. Then there were the half a million Britons who long for their own football pitch; the three million who fancy having a tennis court; and the one million who long for a moat around their property.
While it's fine to dream about the life of luxury that comes with having your own swimming pool, gym and moat, it seems the aspirations of most people in the UK remain simple. More freedom to garden, an extra bathroom for a big family, or just a garage to keep the car in.