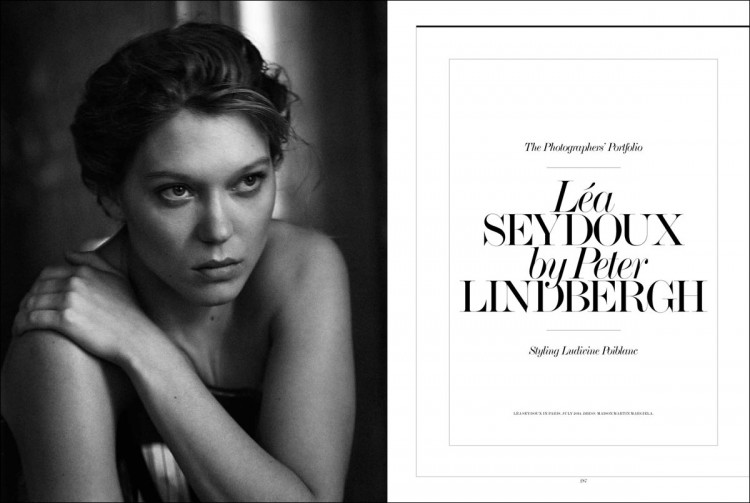 The legendary fashion and portrait photographer Peter Lindbergh takes part in Interview Magazine's The Photographers issue with his Lea Seydoux session. The fashion's darling was styled for the shoot by fashion stylist Ludivine Poiblanc, who selected pieces fit for the intimate series.
Seydoux's hair styling is courtesy of hair stylist Odile Gilbert, makeup by makeup artist Aude Gill.
LEA SEYDOUX: So, Peter, it's my first interview. I'm very excited. [laughs] I want to start from the beginning, when you were a kid. What were your first obsessions?
PETER LINDBERGH My first obsession was actually sports. I was a very good handball goalkeeper. With special permission, I played in the premier league in Germany before I was even old enough. When I became 18 years old, I knew I definitely didn't want to go to the German military service, so I went to Switzerland and stopped my sports career. Eight months later, I went to Berlin for a year and a half, and that's where I learned about culture and art and everything. Before that, I lived in total absence of culture. I come from a house where there was nothing like reading or art—the opposite of yours.
LEA SEYDOUX: And when did your fascination begin with Vincent van Gogh?
LINDBERGH: When I went to the Academy [of Arts], in Berlin, they wanted you to paint and draw as realistically as possible, saying that was the basis for an artist. I was flabbergasted and said to myself, "What? This is from the past." I thought, "No, this is not my place. I want to go to Arles, because van Gogh lived there, and I want to see the light and everything else he used as inspiration for his revolutionary paintings." I was inspired by his powerful interpretation of nature. So I hitchhiked to Arles and stayed there for eight months. That's more exciting than drawing realist pictures for two years, no?
LEA SEYDOUX: Did you discover photography in art school?
LINDBERGH: No, not at all. After the eight months in Arles, I hitchhiked through Spain, Morocco, and the south of France for another year and a half. When I came back, I stopped in Düsseldorf, and then went to art school in Krefeld, where I studied for three and a half years. I did something called "free painting," but never touched photography. It's a long story why I stopped being a painter, because I was quite successful in the beginning. I had an exhibition at Galerie Denise René, Hans Mayer in Krefeld, one of the great avant-garde galleries in Germany, in September 1969, while I was still in art school, which was rather a miracle. When I finished art school, I went to live in Düsseldorf and something surprising took place. I read an article by Klaus Honnef about conceptual art and went to see Joseph Kosuth's piece One and Three Chairs [1965]. The work of Kosuth, Lawrence Weiner, Douglas Huebler, and others turned all my knowledge about art upside down. I could not accept what I did anymore. I wanted to do something different, a project that touched people intellectually. But that didn't really feel like me. So I decided to stop working as an artist, to find out where I really wanted to go. For six or seven months, I didn't do anything, which was very unusual for me. And then, accidentally, a friend of mine knew of a photographer friend who was looking for an assistant. So I went to assist [Hans Lux]. Nearly two years later, about 1973, I started my own studio in Düsseldorf. That was the switch from art to photography. Now people ask whether photography is art, but I think the question is of absolutely no interest.
EXTRACT FROM INTERVIEW MAGAZINE INTERVIEW BY SEYDOUX
Lindbergh is represented by 2b Management.
For more log on to interviewmagazine.com.