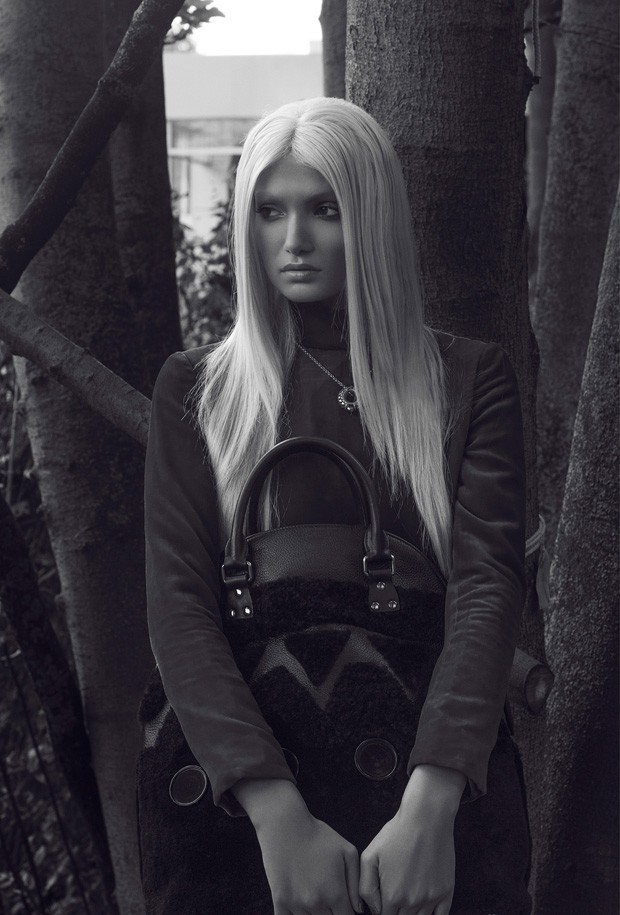 An on-the-go lifestyle means having to tote around a lot of stuff every day. And of course, you need something to carry it all in style. While the women's handbag market has been strong for decades, men's bags are beginning to take off in popularity as well. Photo above John Cubillan for D'SCENE Magazine style Christopher Maul
From computer bags to messenger bags, from fun to functional, the options are many and the trends keep coming!

For Your Tech
These days, most people carry around a cell phone and a laptop, with a tablet thrown in for a good measure. All of those devices need a safe, sturdy place to reside when not in use. DigitalTrends.com explains that some of the features sought in trendy laptop bags for both men and women include: durable fabrics like leather and treated polyester that can withstand the elements, a secure flap with sturdy metal closures, and reinforced bottom and side panels to keep your computer and other devices protected. A minimalist designis a good way to accent a sleek look for men while something with a brighter pop of color is a popular look for women's bags. Photo above Fabio Bozzetti
For the Gym
Don't risk messing up your laptop by shoving your gym gear in your laptop bag. Instead, keep things organized and designate a specific bag for your gym gear. Shutting between home, the office, and the gym, you need access to different clothing, shoes, and a few personal hygiene items. Designers have taken note and created stylish gym bags.
Colors like Marsala carry fashion trends into gym accessories so you can coordinate your yoga outfit, or your running shoes to your gym bag, explains More Magazine. Many of today's gym bags are large enough that they can double as a weekend bag. Stylish options can be found online through retailers like eBags. Ebates, an online coupon provider, offers eBags coupons that aggregate deals like free shipping and cash back, so you can get all the bags your heart desires.
For School
Back packs and messenger bags are popular options for students of all ages. From character bags to designer labels, school bags can help students stand out among the crowd and exhibit their personal style. Bags for school should have sturdy, padded straps for easy, comfortable toting and plenty of space for storing and organizing daily necessities.
Purses and Totes
PopSugar.com, an Internet fashion site, explains that the trends in purses and totes are staying pretty steady for 2015. The cross-body and bucket bags that have been popular for the past few years are still going strong. Delicate clutches for evening fuse old-school elegance with trendy patterns. Brands like Moschino are taking cues from pop culture mainstays like Barbie and McDonalds to create whimsical designs that are as eye-catching as they are memorable.
Parents' Preferences
Diaper bags have evolved from necessity to accessory over the years. MomTrends.com highlights the current trends in parenting accessories. Oversized totes in fun colors and patterns are popular with moms because they can be used to store everything from diapers to toys. Totes feature materials like canvas that can be easily cleaned. Another popular diaper bag option for both moms and dads is the backpack style diaper bag. Backpacks are easy to carry and don't slip off when you bend to pick up the kids. The backpack style also offers plenty of storage compartments for organizing. A good diaper bag should be durable, washable, and provide easy one-handed access to what you need when you need it. Having a bag that won't clash with your wardrobe is always a nice bonus.
Living a fast-paced life means spending a lot of time away from home. Whether you're going to the gym, work, school, or running errands around town, the right bag can let you securely and stylishly bring along the things you need.