When German traditional brand Marc Cain invites, everyone is coming and therefore the guest list was, as always, a very prominent one. We spotted big names, such as supermodel Eva Herzigova and Australian supermodel Elle MacPherson, sitting front row. With that guest list, as you might assume, entrance tickets for Marc Cain were highly sought after. It seemed to be made for friends and family of the label. With having chosen "Future Romance" as topic, romantic looks were interpreted in a new, refreshing way. Traditional elements met modern ones. The legendary German fashion house took its inspiration from the movie "Picnic at Valentine's Day". As a consequence, romantic looks made of lace, crochet, embroideries and pearls, were shown.
As we heard, fashion icon Eva Herzigova fancied the show: "The show was very inspiring. I love the style of the '70s. My Highlight of "Future Romance" were crochet-, and lace dresses in delicatesoft hues." Elle MacPherson added: "This is the first time I am attending Mercedes- Benz Fashion Week Berlin and I solely arrived to watch Marc Cains' show. It was truly an awesome staging and the collection was very inspiring. Furthermore I love the fact Marc Cain is producing in Germany and in European countries." We also got the chance to catch a statement from Marc Cain's founder and owner: "With todays show, Marc Cain proved once more its versatility. From last shows' "East End" which was inspired by Londons' East End, to "Future Romance". We are in positive mood and are looking forward for many effective orders".
Print- wise, flowers could be often noticed within this collection. Apart of that, other elements reminding us of the Hippie time could be noticed, for instance flare pants and skirts that came along in floating materials.
Worth of mentioning is also Marc Cains' detail- awareness and therefore fringes and pleats were used in several pieces of this collection. The long, floating maxi- dresses and skirts gave the looks an ethereal look. They were never too loud, they were never too bright. They were just right. The hair of the models was kept decrepit and open, with middle parting. The make- up of the looks appeared natural, with shimmering eye shadow, a fresh glow and a little bit of mascara. The colour palette was dominated by different hues of white, such as sheer white and créme.
As highlight of the show, rose petals were falling from the ceiling and the models were dancing like pixies on the runway. It felt like we were walking through strawberry fields. And strawberry fields are forever…
For more of the collection shown during Mercedes Benz BERLIN FASHION WEEK continue below: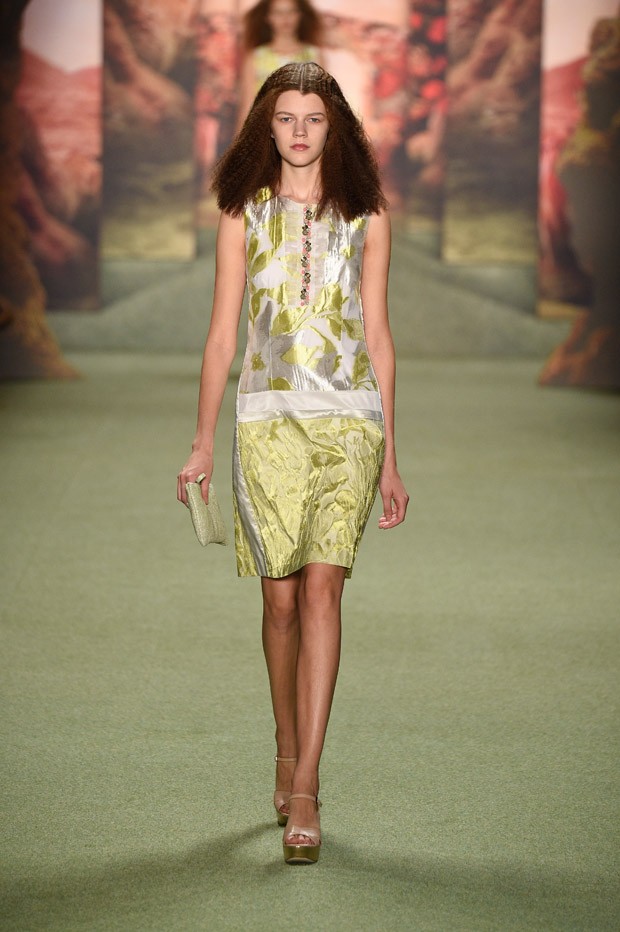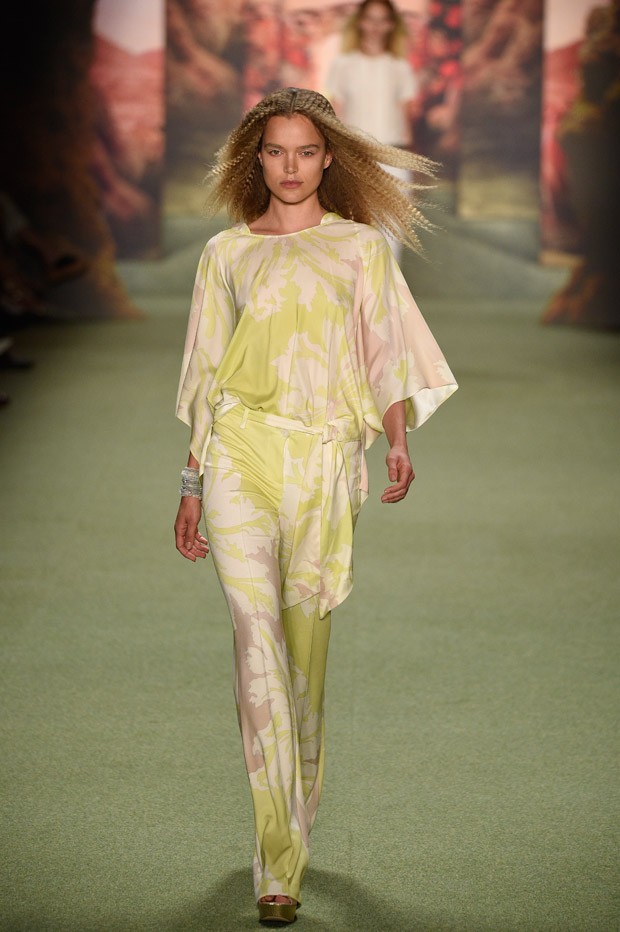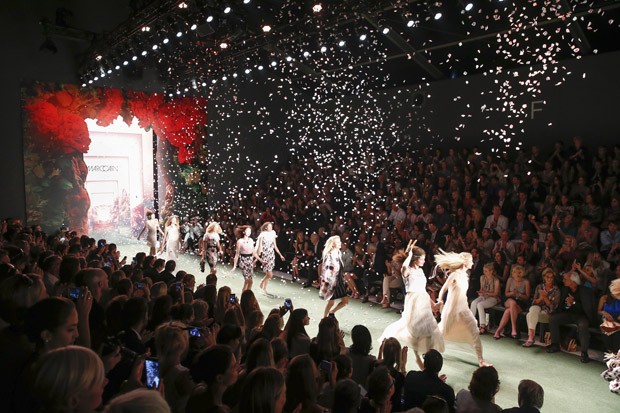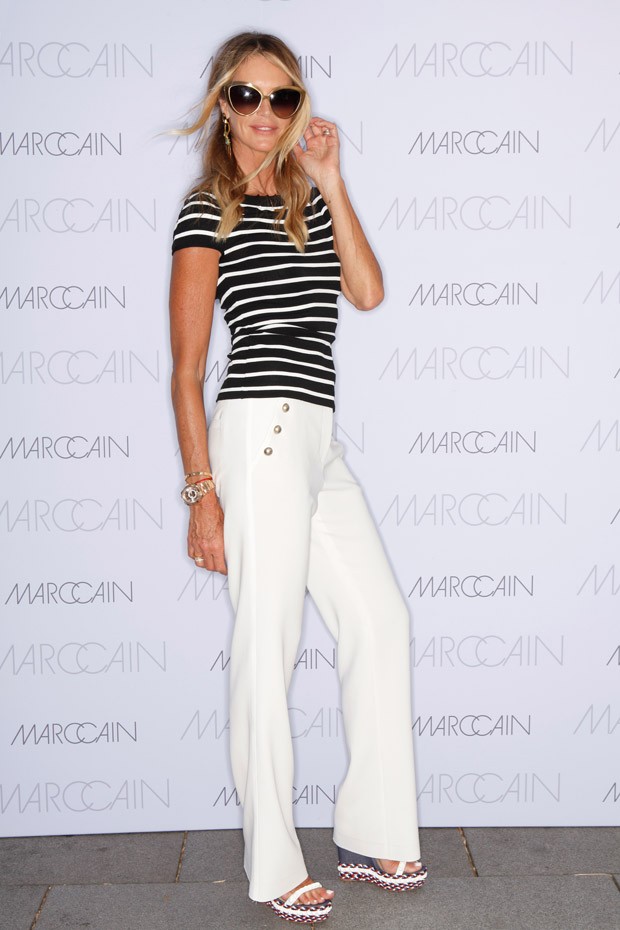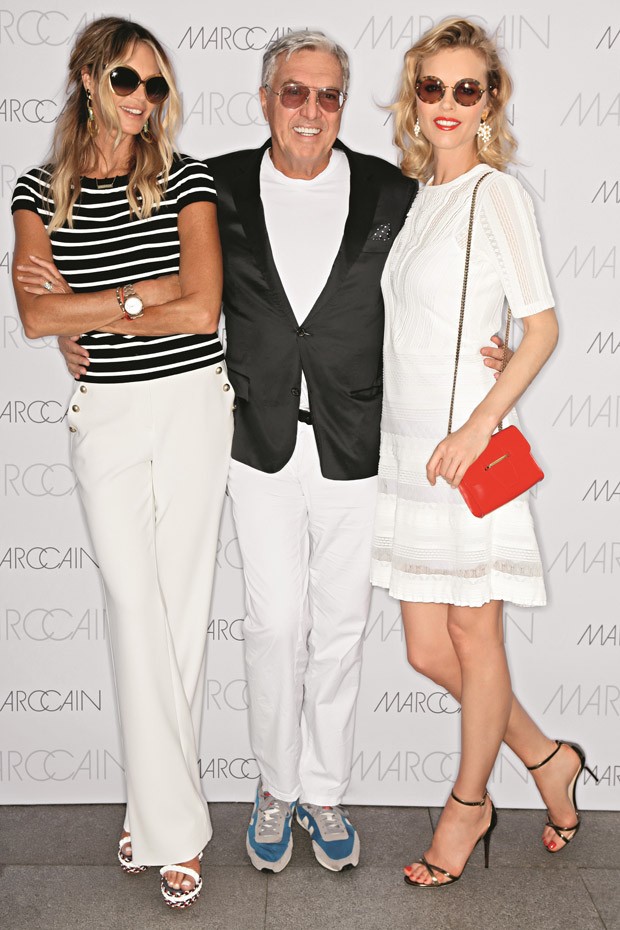 Official Website: www.marc-cain.com || Review by Sussan Zeck for D'SCENE Magazine