By the latest reports the attraction of shopping for swimwear online is at its peak in 2016. With a multitude of new swimwear and clothing companies popping up and most readily accessible via social media and Instagram, the reach for these companies is only to grow.
The issue for many is that purchasing swimwear online is tricky and can result in an inappropriate fit. However, there are a few things that can help you make your decision a good one every time. The key to shopping online for swimwear is to know your body type. Different body types call for different swimsuits. Lets take a look at the different body types.
(Image: Venus Rising by Skye Tan for DESIGN SCENE)
Read more after the jump: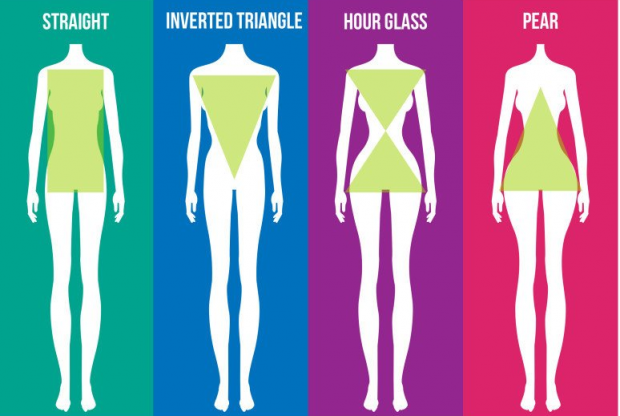 Straight

With a small bust and narrow hips women with a straight torso will do well with a swimsuit that creates a curvaceous illusion. Triangle suits can help and thin straps will create contrast between the shoulders and bust. Triangles can also be created with the ties so straps that tie at the neck are a good option. Working well with smaller busts triangle tops don't need underwires.
A similar top called a bralette, also with no underwire, can actually provide good support but with the addition of soft padded cups can boost the bust. Adjustable straps can also help with comfort.
Inverted Triangle

For women with an inverted triangle shape, that is, a full bust and narrow hips, halter tops or tops with more support are usually necessary. Using either plastic strips or metal strips as an underwire help the top lift and support the bust. These tops work well not just for support but those looking to enhance definition of their bust. Halter tops have extra material that wraps up and ties behind the neck. Since they tie at the neck they also provide a good amount of support for the bust. Strictly speaking, any top that tie's at the neck could be considered a halter.
For the bottoms the best way to balance an inverted triangle is actually with less material on the bottoms. Less coverage actually emphasizes the material around the waist and helps create the curvaceous look at the hips.
Rather than sitting on the hips, high waist swimsuit bottoms sit around the belly button height. This is a look that has resurgence from the pinup look of the 50's, they have become quite popular in recent years. Aside from hiding the lower abdomen they also tend to stay on better. This could be important in the ocean or in the waves.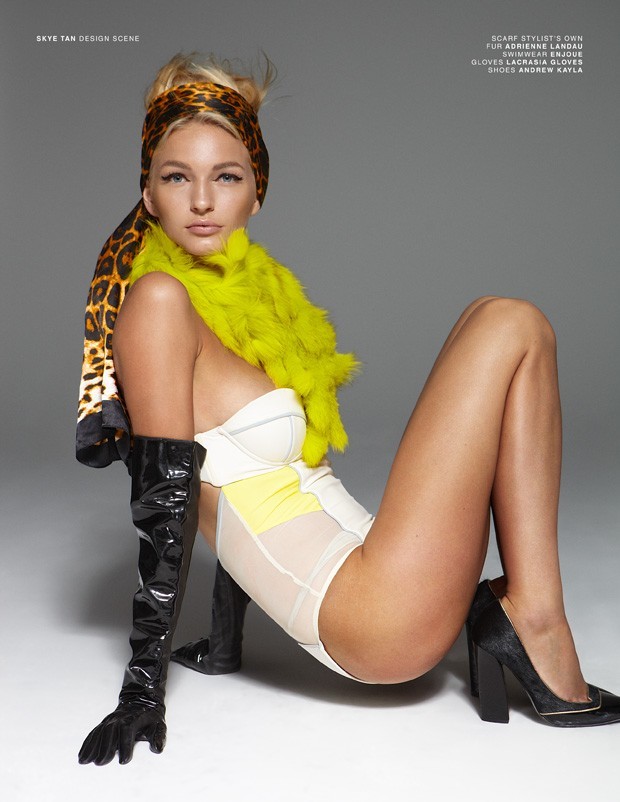 Venus Rising by Skye Tan for DESIGN SCENE
Hourglass

Hourglass shapes are proportional bust and hips with a narrow waist. The best look is achieved with swimsuits that provide similar coverage top and bottom.
Pear Shape

Pear shape is opposite to the inverted triangle, with a small bust and wide hips. Adding padded tops will add volume to the upper body creating the illusion of a larger bust. Some tops have removable options. Nylon or waterproof padding that doesn't tend to hold water and get heavy will be more appropriate.
Good for the pear shape is the balconet. The balconet create the effect of a rounder bust with shorter cups that reveal more of the chest. The bottom band has to support the bust firmly since there is less coverage that other styles.
SUNGAZER by THANH NGUYEN for DESIGN SCENE MARCH 2016
Other tops

Bandeau or boob-tube tops are strapless tops though sometimes come with removable straps. They wrap around the body and suit smaller busts however, very small busts or straight body shapes may have trouble with the top inching down if not used with straps.
Crop tops are a little longer than bikini tops and look more like a small tank top. For this reason some people can wear these a a regular top with just shorts or a skirt. Bottoms with full coverage are still stylish but cover most of your buttocks and hips, perfect for those who don't want to reveal their cheeks. These are considered the classic coverage or classic swimwear bottom; a great option for women's plus sized swimwear.
Bottoms with moderate coverage are slightly narrower that full coverage swimwear, showing a little skin without being too revealing.
The most revealing cut are the Brazilian or cheeky cut. From the same origin as the Brazilian bikini, the Brazilian cut has moved from a Latin American term to a widely used term in all parts of the world. It is a narrow cut and reveals most of the buttock cheek for a sexier look. Brazilian bottoms are also typically low rise. Low rise, or hipster bottoms, sit lower than the hips. They are commonly referred to the hot pants of swimwear as they reveal a larger part of the lower abdomen. Whether full coverage or cheeky cut, all cuts can also come in high waist or low rise cuts.
With a good understanding of the best swimsuits to suit your body type and knowing what parts of your body you want to highlight or de-emphasise you'll be far likelier to choose a flattering style.