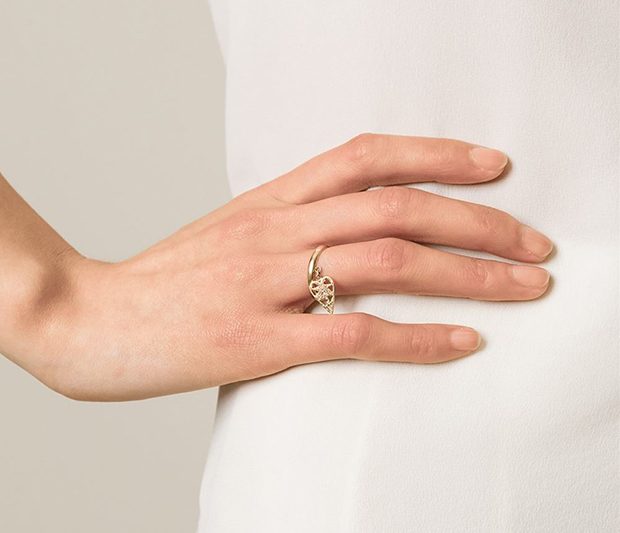 Let's face it, your engagement ring is likely going to be something you wear for the rest of your life, so it would make sense that as well as having special meaning, you also want it to be something that's timeless and will never go out of fashion.
You never want to choose a ring that's trendy at the moment, only to have that particular cut or style fade like so many other fleeting moments in fashion. Imagine if you were to look back at your original engagement ring and wonder what you were thinking. No one wants to face that. Ideally, you want to be wearing the same ring when you celebrate your anniversary decades down the line.
So, how do you choose a timelessly beautiful engagement ring that will always be fashionable, while also making sure that it's modern and reflects your overall style?
Read more after the jump:
Choose a Quality Diamond
The first thing to consider in your quest for a fashionable-yet-timeless engagement ring should be the quality of the diamond. Quality never goes out of style, and even if you have to get a smaller stone, it can be worth it if it's excellent quality. If you're unsure of what to look for when selecting a diamond, Diamonds.pro is a great resource with plenty of helpful information, even if you're a novice.
Think About Your Personal Style
Even if you choose the most classically beautiful engagement ring, it's not going to make you happy over the long-term if it doesn't also reflect your personal style. Before you start shopping with your fiancé for an engagement ring or giving subtle hints, look at your closet and see what your style tends to lean toward. You want your ring to reflect your overall fashion sensibility, so doing an evaluation of your wardrobe and even your existing jewelry and accessories is a great place to start.
Go For Longevity
A big part of timelessness is also dependent on choosing materials that are going to be durable and are going to stand the test of time. Think about this when you're choosing your setting. For example, while yellow gold might be a classic engagement ring option that really doesn't go out of style, it also tends to be softer and perhaps more prone to damage than platinum. Platinum is heavier, stronger and more rare than gold, and that heaviness may be appealing to some people, while it might not be to others who want something that feels delicate and lightweight.
Select a Classic Shape
If you perhaps want something a bit distinctive in your engagement ring but also want it to be timeless, you can consider experimenting with the setting, but then going classic with the shape of the diamond. Round and princess cut diamonds tend to be the most timeless and enduring, and if you want to re-do the setting down the road but keep the diamond itself, this can be an option.
As a final note, choosing an engagement ring is a deeply personal decision and one that most people don't take lightly. You certainly want it to be a timeless piece of jewelry, but at the same time, don't sacrifice your personal style or your wishes in the name of remaining traditional.