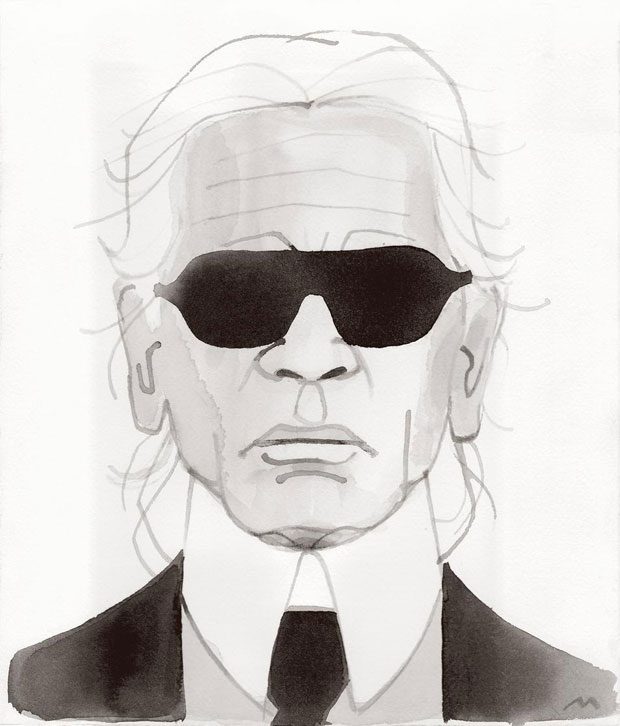 PHOTO: MATS GUSTAFSON FOR WSJ. MAGAZINE

The tireless KARL LAGERFELD is no doubt one of the most prolific living fashion designers, at the same time the most fearless. Lagerfeld talks in an exclusive interview for the latest WSJ Magazine, shares why he's against the mix of politics and fashion, dressing Melania Trump, Angela Merkel's fashion sense but also mentions Choupette and his godson. 
Read more from the exclusive interview after the jump: 
On Trumps, Angela Merkel and the style world's place in politics:
"Fashion magazines and fashion people are fashion, they are not politics. I knew Trump before, when he was not in politics. I'm not American, but he's a democratically elected president of America, so people have to deal with it. I loved Michelle Obama, but she doesn't want to [run for office]. Mrs. Trump is a very nice woman and pretty handsome. Good body, no? And this Ivanka is quite cute, no?" Lagerfeld says.
When it comes to the fashion world's place in politics, "I'm very much against it. Like Mrs. Merkel, maybe her clothes are horrible, but she is not in fashion, hmm?"
On his image and fame:
His fame has resulted in a self imposed captivity. Nearly all his outings these days are limited to a four-block radius.
"It's all my fault. I became too cartoonish and easy to recognize,"
"I don't want to arrive somewhere sloppy in an old sweatshirt," he says. "I know I look different from other people, but I don't feel different, because I think I'm the most normal thing in the world.
On his uber famous cat Choupette:
"She is the center of the world. In my own house, I come a long time after Choupette. First of all, it's 'How is Choupette?' 'Choupette made poo-poo,' and so on. She sleeps on my pillow."
"Choupette has made me perhaps a better person. More caring—I don't know. Less selfish.
On the fast pace of fashion:
"The other designers say, 'We are burned out….' Ooh," Lagerfeld says in mock sympathy. "You will get burned out—if you take the job only for the check, you'd better do something else. People want the money but they don't want to work. And they might be a little bit younger than I am, so they need their 'private life.' " Smiling mischievously, he says, "I add collections and it makes them furious."
"I am never pleased—I always think I could do better, that I am lazy.
On grudges:
The blazer Lagerfeld is wearing, is work of Hedi Slimane while he was still at Dior Homme and later Saint Laurent. "But Hedi made them for me without the labels. I don't wear Saint Laurent," he says. "Pierre Bergé was such a pain in the ass all these years that I don't want to have that name on my back ever."
On how he dotes on his godson Hudson Kroenig, son of Brad Kroenig:
"I'm very good with kids," continues Lagerfeld, who lives alone and has never married or had children. "If I had been a woman, I would have had 12 children."
"He has very good taste, not childish at all, no, no, no. He hates that," says Lagerfeld, bragging fondly that the 8-year-old recently purchased his first apartment in New York City—with a bit of help from Lagerfeld—which Hudson decorated himself. "Hudson is unbelievable. He can dance, he can sing, he can sketch. "He said to me, 'You understand, our house in New Jersey is very good. But in the winter, it's a little boring during the weekend. So I have to go to New York to do shopping and to go to galleries.' It's crazy—eh?"
On his generosity in bestowing money or gifts upon others:
Lagerfeld will buy a bag of the latest iPhones to distribute to his friends. "Do you want the big one or the little one?" he asks. (Says Lagerfeld, "The people who are with me get the same thing I buy, nearly. But that's normal, eh? My line in life is, '[He] pays who has the money.'