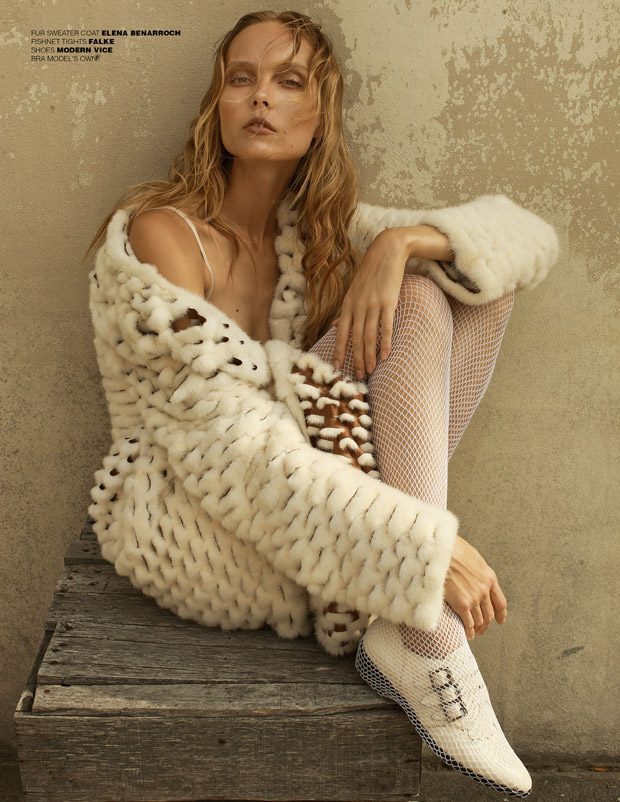 Tights can be described as one of the best fashion trends to come out of medieval European tradition. They are now a staple in every woman's wardrobe and can be worn for a casual day spent running errands or paired with a smart shirt for a formal evening. Tights not only keep your legs warm, but are also comfortable and convenient.
Tights are available in a wide range of styles and colours, so you can pair them with the perfect accessories to keep up with fluctuating fashion styles. You can choose between opaque, sheer, fishnet, patterned, textured, anti-cellulite, maternity and even crotchless tights. When paired properly, tights can be worn for almost any occasion. From the gym to classy dinners, tights have been increasingly making their mark in the fashion world and here is our guide on how to wear tights for any occasion.
Read more after the jump:

Opaque Tights
Opaque tights have become an essential fashion item as they are a smart choice that go with a casual dress and jacket. You can also find these tights in a variety of colours to add a bit of fun and extra touch to any outfit. If you are aiming for a more conservative look, then you can always opt for tights that match the colour of your skirt or shoes as this can give your overall outfit a more professional look.
Good colours to own in tights include solid grey, navy, black and brown as they can be paired with virtually any dress or skirt. While there are no hard and fast rules about wearing tights, you should avoid wearing opaque ones in nude. Just remember to create a good balance of colours in your outfit.
You can also pair colourful blouses with black tights for a classic look. Coloured tights or those with patterns can be paired with colourful skirts to create a unique look. You can also opt for low rise, semi-opaque tights with a matt finish for a smart look.
Opaque tights can be worn to work or formal dinners. For a casual day spent with family or friends, pair colourful tights in bright, bold colours to add a bit of fun to your outfit. For a more formal look, you can always opt for solid grey or black tights paired with a skirt and a smart jacket.
Crotchless Tights
Sexy and sassy – these are the two words that best describe crotchless tights. Not only do these tights look feminine, they also create confident in your appearance. These can be bought in a variety of designs and are the perfect way to be sexy and elegant at the same time without showing off every asset you have.
You can opt for an open gusset design which can be the perfect replacement for stockings and provide a smooth finish under tight skirts or dresses. Choose classic black, nude or fiery red crotchless tights for an intimate evening at home or a romantic date. If you're looking for a pair of open crotch tights, this collection I found by Apm fashion is a good place to start browsing.

Sheer Tights
Sheer tights are the most common types of tights. These look best in nude or black and lend a modern look to any outfit. They can also look chic when paired with a brightly coloured dress such as yellow or turquoise, or you can always opt for nude tights paired with a classic black dress.
Sheer tights are also one of the wardrobe favourites of the Duchess of Cambridge who is credited with bringing back nude sheer tights into fashion. For formal evenings or occasions, you can pair nude sheer tights with a classy mid length dress and high heels for an elegant and classy look.
Fishnets
Fishnets can best be described as retro and sexy. They are a great fashion accessory for formal occasions, romantic dinners and nights out on the town.They are also a great option for when you want to up the sex appeal of your outfit – however, always remember to wear your fishnets correctly by pairing them with the right outfit. While these are available in a variety of colours and styles, classic nude or black still look the best, especially if you want to add a chic look for office or business meetings.For a casual look, you can wear fishnets in black under ripped jeans or let them peak out a few inches above your waistband.
The best part about the considerable variety of tights such as fishnets, opaque, crotchless and sheer is that they are suitable for women of all sizes and shapes, and are a great substitute for slacks or jeans. Moreover, tights are also one of the best options for older women.
Hence, wearing tights can add a lot of appeal to any outfit, while ensuring a youthful and hip appearance. Tights are also the perfect solution for cold days – they can be worn to the office, meetings and casual outings with friends,or to formal occasions and romantic dates.
Images by Itaysha Jordan for Design SCENE Magazine Early Winter Issue