Legendary Paris based fashion designer JEAN CLAUDE JITROIS known for his daring leather garments sits down for for an exclusive interview with D'SCENE Magazine's Fashion Features Editor KATARINA DJORIC to talk about the start of his career, Joan Collins and the digital era.
At what point did you realise fashion could be your career? 
Given my background as a psychologist, I spent some time working at La Salpêtrière Hospital in Paris, where I was working daily with disabled and ill children. To amuse the kids, I used to create costumes for them, maybe as soldiers or as firemen, to lift their spirit. More than this, I noticed how costumes and particularly leather gave the kids a second identity and a freedom of expression, and its that foundation which built Jitrois. Gradually, the process of creating and designing costumes and particularly, the way clothing and fashion are a part of your personality and character. It was at that point that I began to seriously consider a career in this industry. However, I've always instinctively known I suppose; my father's leather aviation jacket that I used to wear secretly it influence of when I wasn't supposed to inspired my first pieces and still inspires my collections.
Read more after the jump: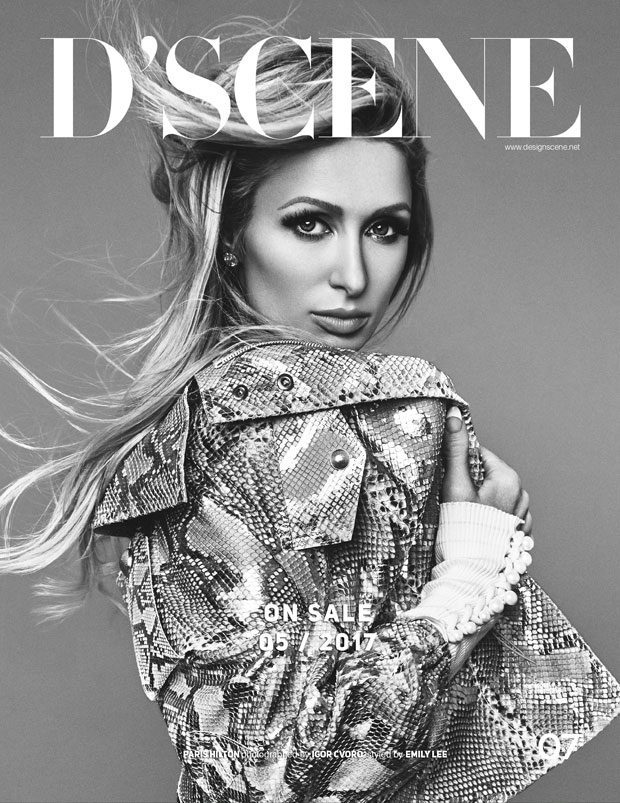 Paris Hilton in Jitrois jacket for D'SCENE #007 by Igor Cvoro
When you started out as young designer, did you ever think you would achieve the amount of success that you have? 
Prosper Crebillon used to say "Le succès fut toujours un enfant de l'audace." Of course i could never have anticipated the success of Jitrois but I knew that if I had not stepped out from my comfort zone I would never have fulfilled my dreams.
Your first fashion show took place at a nightclub, which was quite an organic move at that time. How do you compare the fashion shows and presentations today to the movement back then?
Fashions shows and presentations have changed tremendously; nowadays there's live streaming, virtual reality filming and photography – so it's become important that as well as being a visual representation of the collection, the shows must be more photogenic and film-ready than ever as everyone's going to see the show live as opposed to through the words of a journalist.

Do you think the digital era has entirely changed the fashion industry?
The digital era has been an exciting evolution in the fashion world. Nowadays, catwalk shows and presentations are projected to the world in the form of Instagram feeds and Twitter coverage, leveraging the power of social media against traditional fashion journalism in the industry. The fashion industry is nowadays seen through a square-eyed instagram lens and for me it's something to embrace; it's allowing us to diffuse our visions and inspirations in an intimate way to a wide and diverse audience. Of course, the difficulty lies in balancing the present with our origins and our identity. But of course digital goes behind the scenes : digitalisation drives efficiency and opens up sourcing opportunities. Furthermore, it's instrumental in improving the way we can interact with clients, building deeper and more organic relationship, subverting geographical boundaries
Back in the 70's you lived in Nice and you were friends with a few great artists of the time, what kind of role does art play in your life and career?
My grandmother introduced me originally to the classical arts and opera as a very young child and to this day, and the passion I gained for the arts resonates still in each collection I design. At the beginning of my career artists such as Niki de Saint Phalles and Ben served as huge inspirations to my collections. Over the years, I have of course been lucky enough to have collaborated with some of the greatest and most innovative artists such as Helmut Newton, Jean-Baptiste Mondino or Bettina Rheims. And since 2006, I have been working closely with Rankin for all the jitrois campaigns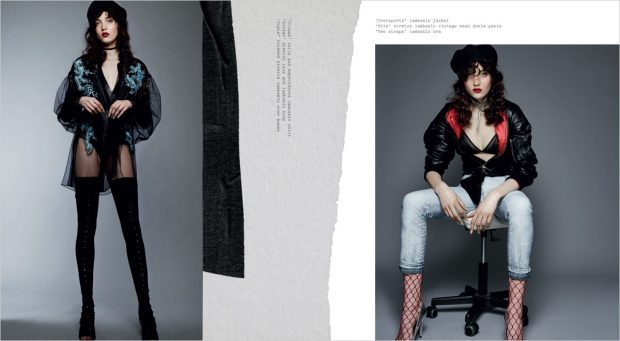 Jitrois Autumn Winter 2017.18 by Vicky Lawton
You made costumes for 'Dallas' and Joan Collins in 'Dynasty', which looking back are iconic moments to this day. How did that experience shape your career? 
I first started dressing Joan Collins when we had our first store in St. Tropez. She had a unique presence at the time and still has a reputation for being a strong, power woman, and I think that's why she is so suited to wearing Jitrois; she exudes confidence in leather. 'Dallas' and 'Dynasty' had such a huge impact on culture at the time; I'd be lying if I said that those features hadn't changed my career. With these tv shows, which were largely about luxury and about the empowerment of the business woman which was a modern idea at the time, it was quite controversial to say the least, given leather's reputation as a bad-boy, protection layer as opposed to an emblem of elegance. Therefore, not only did dressing these shows really put Jitrois on the map, it was also a large influencer in changing the image of leather and helped us to carry on developing our stretch leather.
You were the first designer to inject colour into leather and you developed the revolutionary stretch leather. So tell me where that love for leather came from?
As I previously mentioned, my father was a pilot and whenever he was away, I used to wear his bespoke leather aviator jacket as a young child. It was from then that I loved leather, the empowering image it imposes and the elegance of it, and to feminize it. Decades ago, leather was worn by rock stars and carried with it a negative stereotype, which is something I saw through and an image that I wanted to be a part of its revolution.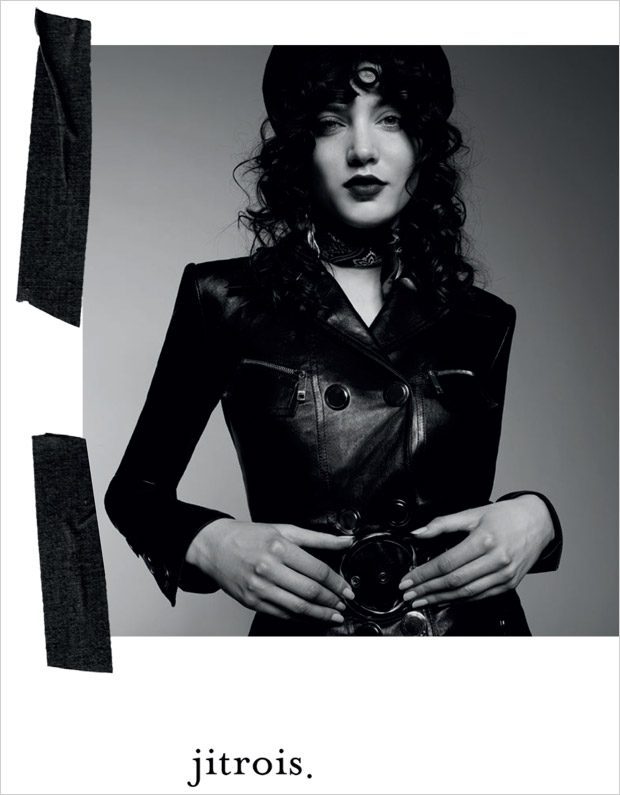 Jitrois Autumn Winter 2017.18 by Vicky Lawton
You said "The more you wear it, the more familiar and comfortable it gets". Is that the reason you never gave up on leather?
As I mentioned, I've been passionate about leather since I was very young, and working with leather for such a long time has only made that passion stronger. It's certainly true that since my development of stretch leather, leather has become much more wearable and much more comfortable, but for me, it's the versatility of leather which keeps me interested: at Jitrois we're now using it to create everything from dresses and jackets to denim-look leather jeans.

You made a blue leather evening dress for Princess Stephanie of Monaco for the Bal de la Rose. How much of a risk was that idea at the time when leather was worn only by rockers and bad boys?
The Bal de la Rose is one of those events to showcase your style and your personality through clothes. At the time, it's true to say that leather did still have a fairly negative stereotype, but the dress we made for Princess Stephanie of Monaco was tailored to exude elegance and glamour as opposed to grit and hardiness, so in that sense it wasn't too much of a risk, it was one of those defining moments where leather changed from being a symbol of protection, to a symbol of seduction.

Tell us about your collaboration with Helmut Newton. How did you decide to use statues instead of models?
Helmut Newton and I first collaborated for an advertising campaign shot for L'Officiel de la mode et de la Couture in Monte Carlo. The concept behind using statues as opposed to models was to stray away from the normal representation of the body. The statues were giant, wearing proportionally large Jitrois pieces, allowing the statues to be sexualised and heightening the opulence of the clothing.

As a fashion designer you have to come out with new designs at least twice, if not four times a year. How difficult is to keep up with that pace for so many years?
I'm fortunate enough to be doing something I love, and when you truly enjoy your work, it's never too difficult. Of course, creating four collections per year is challenging, each which need substantial care and attention is taxing and is a constant journey, however, for me it's something that I love to do. The constant social evolution that we witness day in day out are keeping the fashion industry alive and are inspiring us every day with each piece we're creating. Fashion is a unique world which works in harmony with social and technological and cultural advances, which make it a constantly changing and exciting place to be creating.
Which competitor do you have the most respect for? 
I have great respect for Pierre Cardin. He's impeccably creative, constantly subverting fashion norms and today is still crossing the boundaries across the 20th and the 21st Century. What's also striking is his talent in designing clothes and also his amazing eye for architecture.
Who is your best friend in the fashion industry?
My best friend in the fashion industry has to be all of those people that help me to realise my designs and visions; from stylists to patterns makers, knowledgeable artisans, embroiderers, cutters and sewers, the mechanics who help me transform my materials each season, but also the digital creatives who curate my vision the list goes on! But yes, anyone who's helping me the fashion industry to evolve is a friend of mine.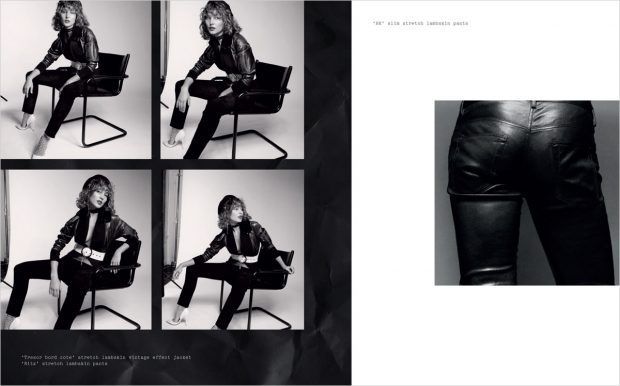 Jitrois Autumn Winter 2017.18 by Vicky Lawton
If you met the Jean-Claude from the 70s today, what advice would you give him? 
To continue my life as Jean Claude – i would say be bold, then be even bolder and to always be bold.
I was infatuated by a great deal of pieces in your new collection, which are your personal favourites from it?

For me, it's not a question of which piece makes this collection special, it's the materials we've worked with, such as the stretch python leather which is featured – it's this that gives the collection the 'Jitrois' look. Also, the art and detail incorporated into the clothes of this collection allows each piece to tell its own story, and it's that individuality and bespoke feel which I love about the collection.
For more of Jitrois visit jitrois.com and keep up @jitroisparis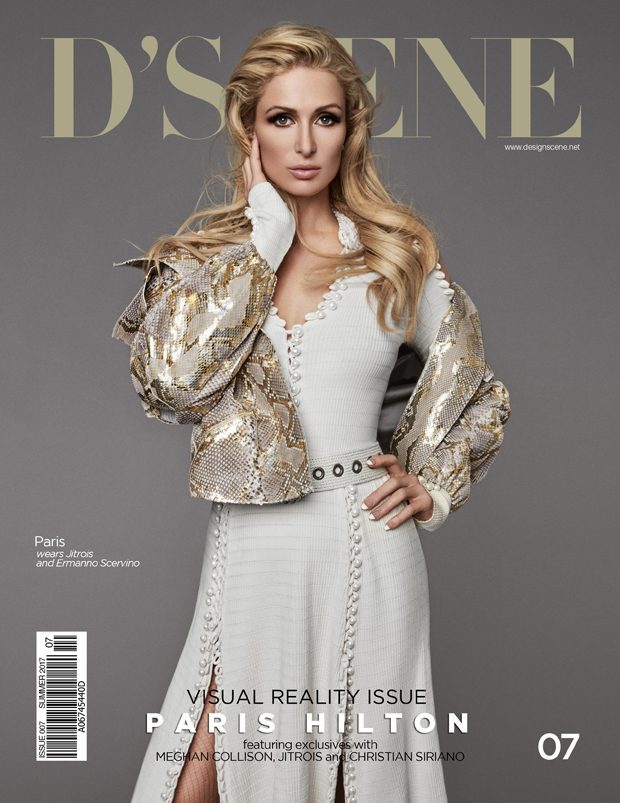 Get your copy of D'SCENE Summer 2017 issue in PRINT and DIGITAL.