Missoni Fall Winter 2018 collection is to go down in the archives as one of the most intricate collections by the Italian fashion house. And here's why:
Finding that designer look which manages to generate all the energy, help you look incredible, give you that perfect combination of class with a touch of downtown chic is part of magic in its own right. The look needs to be revelatory, and go into definition of what makes good clothes actually good. However whether its a dress or a coat, the piece does not have to be the work of a major fashion house, nor is the beholder of the same interested in keeping up with the trends. Instead, the girl wearing that dress is straying away from the trend-set uniform. That is when a young designer comes into play. [Image above: Jumpsuit by Ashley Isham, gloves by Dans La Vie]
Being a young designers is no easy task, as the self made legend Tom Ford said at the Fashion Fund Awards Ceremony: "You have to love what you do, to the point where you can not imagine doing anything else with your life. Otherwise, you really need to get out now. But I promise there will be some light at the end of the tunnel. If you love what you do there is nothing like having a rush of a great idea." Thus, going back to our intro, by wearing young designers, not only are you sure to stand out in the crowd with an (almost) unique outfit, you are also helping the spark of creativity move on.
In today's industry even if you are an established name, your future in the business is far from certain. While this very moody year is to come to an end, after all we are already in September – the January of fashion, it is more certain then ever a definition of a long term designer career does not exist. I am to except Karl Lagerfeld from this clarification, however looking at the state of the affairs the fashion houses are looking into another perspective for their collections. The heads of top brands are looking into the IT names on the scene, booking them and their teams for even only a season. The whole process is starting to resemble a music band getting a gig at a festival. Among the first to start with such an experiment was Fashion Designer Donatella Versace, whose Versus Versace line was brought back to life only a few years ago following a long hideouts. Donatella, reinvented Versus by bringing new blood to the Milanese brand, it all started with Christopher Kane, who worked on the 1st major reinvention of Versus under Donatella's wing. Followed by then still an up and comer, Anthony Vaccarello, who after a few seasons with Ms Versace got the famous position of Hedi Slimane, becoming the new creative director of Saint Laurent. Filling in Vaccarello's shoes, was by the fashion industry looked down upon Zayn Malik, a singer, ex boybander and the more famously boyfriend of one of those Hadid girls, who for a season brought back the attention to VERSUS. Young blood is now in the DNA of Versus, only yesterday we saw Donatella bring a crew of it kids to pose for the Fall Winter 2017 collection campaign images starring young creatives Tommy Genesis, Lily McMenamy, Hunter Schafer, Rina Sawayama, Rejjie Snow, Cosmo Pyke, Wilson Oryema, and Judah Lang.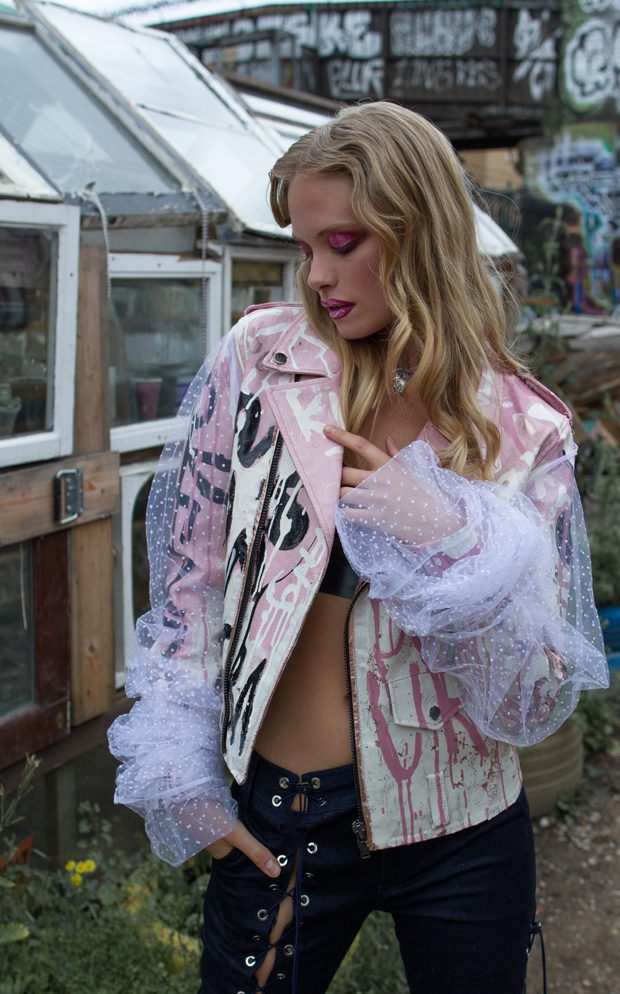 Jacket by Jayne Pierson, top by Kim West, trousers by Angel Chen, shoes by Chie
Mihara, necklace by Pyrrha.
For brands themselves, we can conclude it is often uncertain how long their designer's gig is to last. Staying close in the neighborhood of Versus, such is the story of American in Milan, Justin O'Shea a man plucked from the street style feeds into the helm of one of the oldest menswear fashion houses in Milan, Brioni. O'Shea, most likely not a cowboy himself, tried to infuse the ever classic Brioni with bell buckles and a few more other cowboy tricks. Yet the reinvention, while perhaps edgy, did not bring major results for the Italian menswear icon and it's long sartorial history. Not even lasting up to the 2nd season, Mr. O'Shea was sacked by Brioni's chief executive officer Fabrizio Malverdi. While the cowboy theme might not have worked out, Mr Malverdi sure kept an eye on what's hot. With O'Shea far from a designer background, this time the new creative director of Brioni is a designer with a more than impressive resume. The newly appointed head of Brioni, Nina-Maria Nitsche has worked more than two decades alongside the Maison Martin Margiela founding designer, to briefly join her colleague Demna Gvasalia at Vetements in 2016, moving on now to a gig in Milan. Malverdi does not have only an exquisite designer in his team now to put back Brioni on the spotlight, but also a touch of that priceless MargielaxVetements magic dust which Balenciaga is flaunting left and right. Broad shoulders for Brioni in Milan? We will find out in January.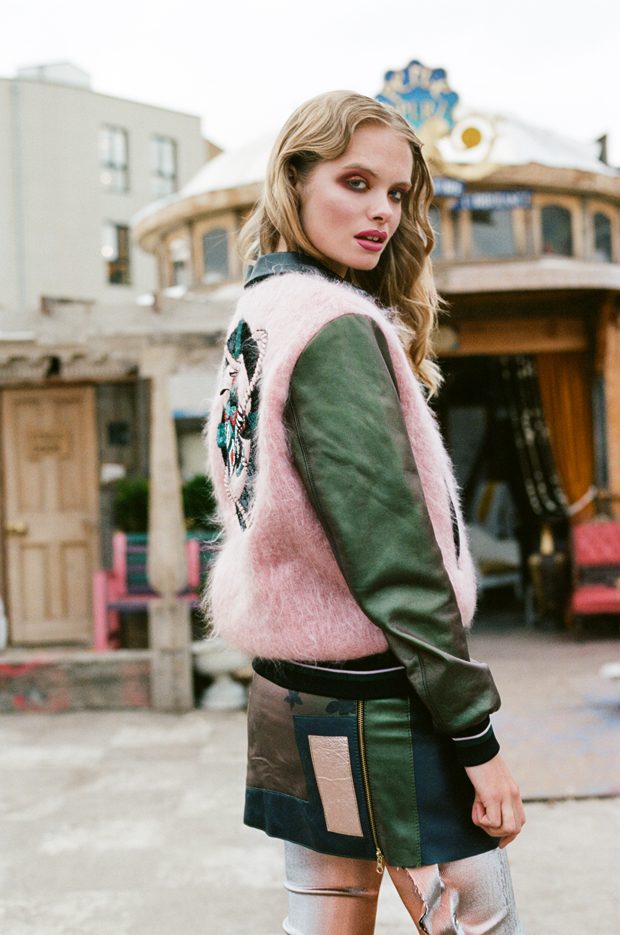 Jacket by Roberta Einer, top by Kim West, Skirt Roberta Einer, suspenders by Paula Knorr.
Dress by Bora Aksu, coat by Lady Lucy Latex, shoes by Minna Parikka.
During the now unfolding fashion month, a lot of attention on the runway is given to the model casting. This month of fashion weeks is to create the new supermodels out of runway girls, or sadly leave them with a runway girl rank. The massive brands such as Chanel, Marc Jacobs, Prada are first in line when it comes to plucking out the runway talents, and thus propelling the models to new top model ranking heights. However, the runways are also a great opportunity for designers, and thus are the official schedules of London, Milan, and Paris. Closely curated, these lists are giving a pivotal spotlight to young and rising designers. However, the New York Schedule story, is one of confusion and over crowding, which makes this game only ever harder for young designers having to compete for time slots with often more than two shows at the same time.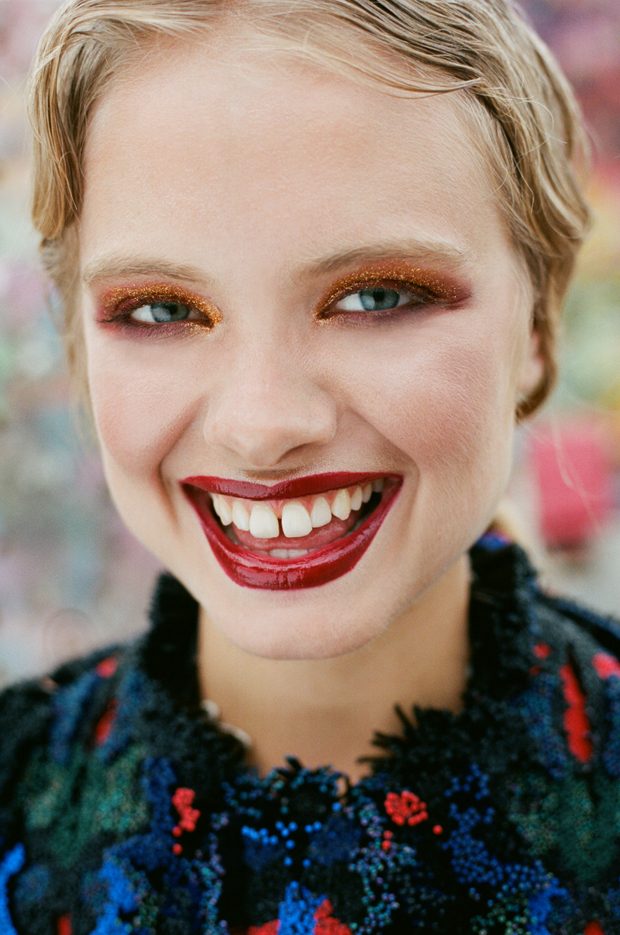 Top by Zyanya Keizer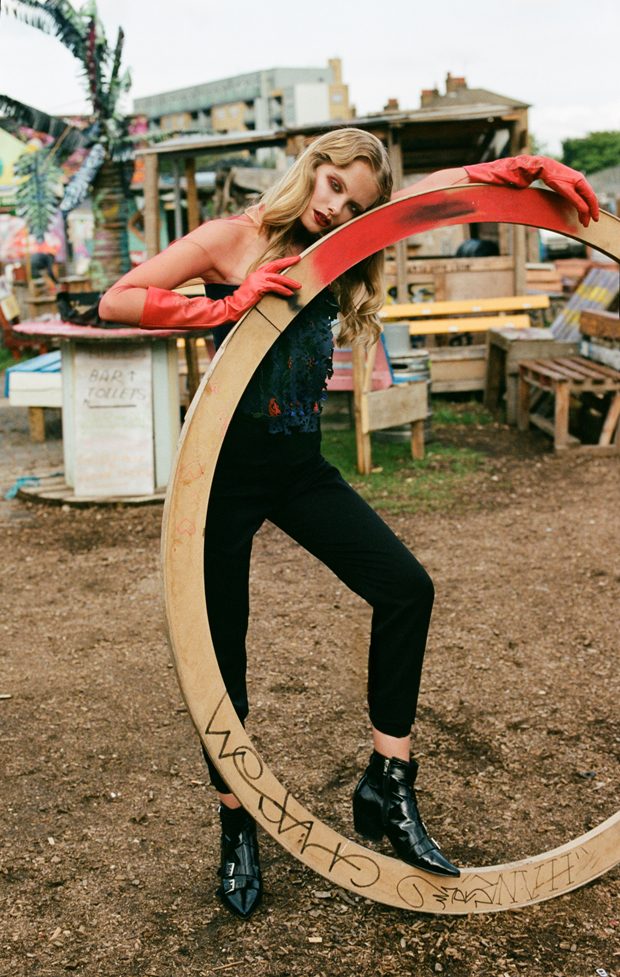 Top by Paula Knorr, corset by Zyanya Keizer, trousers by Child of the Jago, shoes
Ash, gloves by Roberta Einer.
So, the same time these runway girls, are hoping for their next gig, so are the designers behind the scenes. While the Grand Palais shows of Paris, with maisons such as Chanel and Louis Vuitton are to approve new super-model graduates, London runways are the ones to birth the most top-designers-to-be. Such is the story of Jonathan W. Anderson, as well as the above mentioned Christopher Kane. London, is for a week to become a hotspot of talent and fashion's future stars. Our personal London find, are the ever talented Bora Aksu as well as Angel Chen, both a powerhouse of talent (and both featured in our shoot accompanying the piece).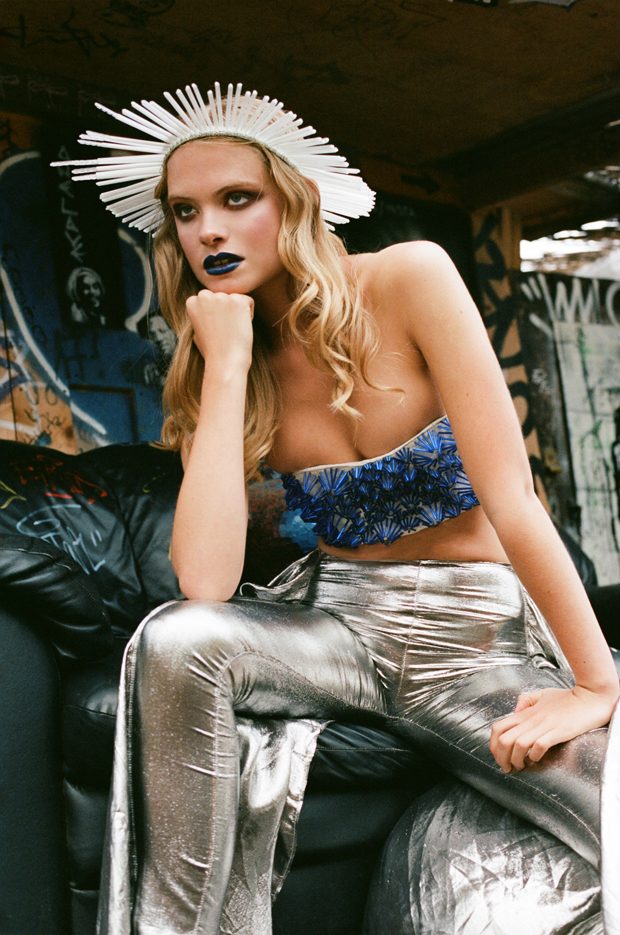 Trousers by Paula Knorr, corset by Zyanya Keizer, shoes by Chie Mihara, crown by
Zyanya Keizer.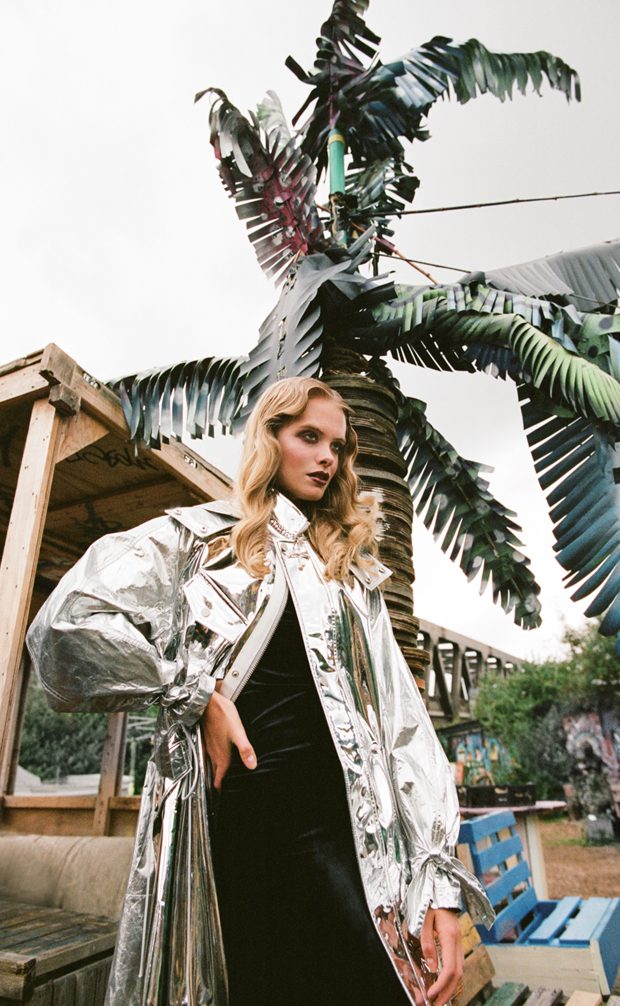 Coat by Angel Chen, Dress by Paula Knorr, Shoes by Rue St, Earrings and necklace
by Claire English.
Photographer Zuzanna Zuonly – www.zuonly.com
Stylist Plum O'Keeffe
Stylist Assistant Alicia Barnet
Makeup And Hair Styling Jimmy Jones
Model Charlie Newman at Models 1
Words by Zarko Davinic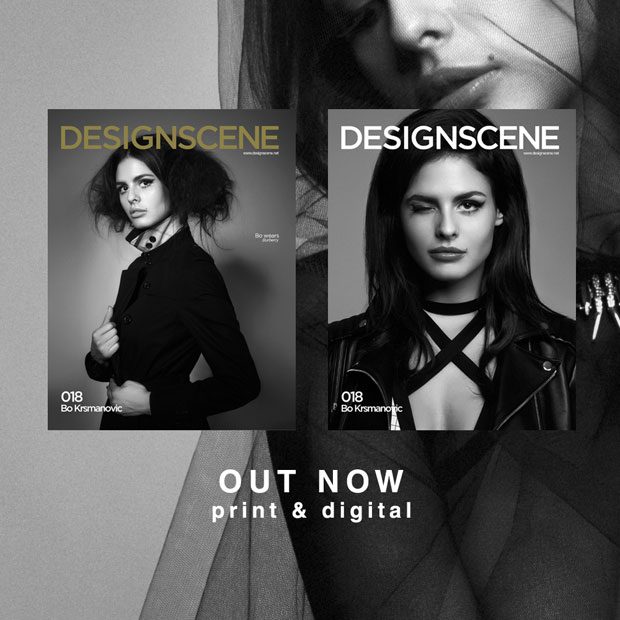 Originally published in DESIGN SCENE Magazine Issue 018 – available now in print and digital.