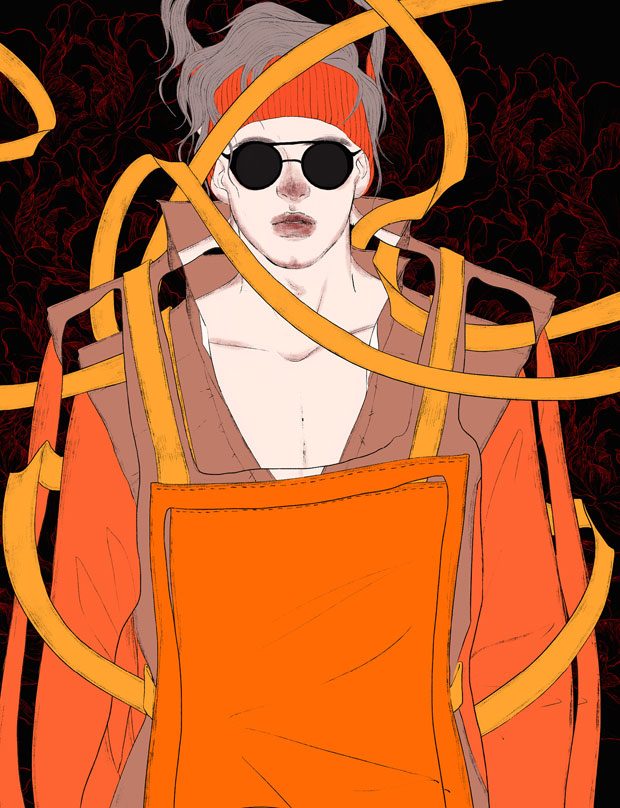 Fashion designer BORIS BIDJAN SABERI sits down for an exclusive interview with D'SCENE editor KATARINA DJORIC to talk about his beginnings, his work in progress and fashion industry's demanding pace.
AVAILABLE NOW IN PRINT & $4.90 DIGITAL
How did the fact your parents worked in fashion industry shape you as a designer? Did you ever feel the pressure?
Actually, my parents left the business when I started myself to think about it, when I was about 6 years old. Therefore, I didn't learn neither see the pressure or the day by day business from them. But my desire and my obsession are very anchored to my soul and this comes from generations of my family and from my individuality and personality that my parents have very much influenced.
Read more after the jump: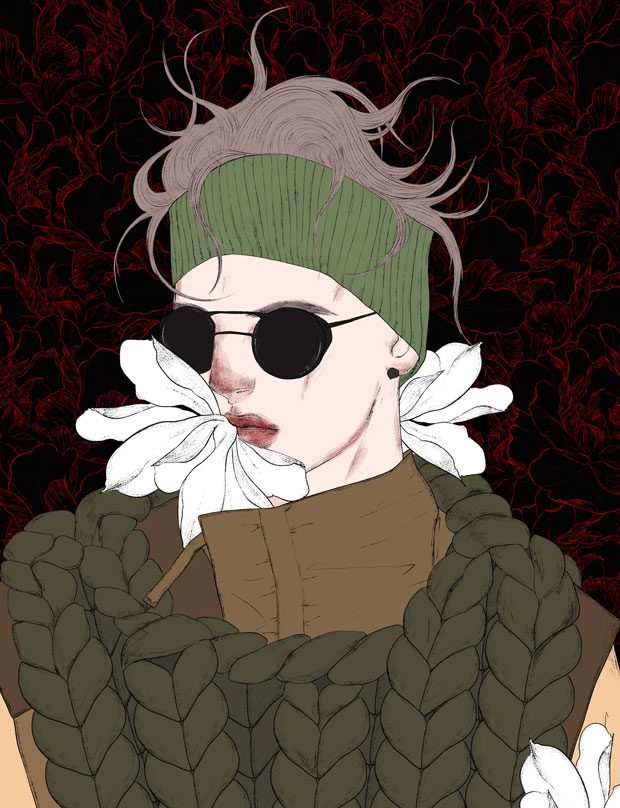 Somehow, I really got to know about my complete origins and roots recently. My persian and russian Grandfather was a tailor whom tailored and produced uniforms for high ranking officers in the Shah army. His son, my father, is a textile engineer who introduced me to a sewing machine when I was only 8. My mother, German and Irish, designed everything they produced for their brand. She relays to me her sensitivity and her very precise care for details and a sensibility to esthetics in general.
How has your work evolved since you began your label 10 years ago?
Boris Bidjan Saberi started as a passionate and artistic one man show, and it grew step by step into a still very passionate and artistic company. Around thirty people are directly working in our Barcelona headquarters while minimum hundred are involved in the production process, without forgetting a worldwide distribution, logistics and sale network involving many more actors. This international and hard working team make sure that Boris Bidjan Saberi provide a very authentic and strong product that reach the people whom love and desire them.

Your design is mostly influenced by your heritage [Persian and German]. What else inspires you?
My style is surely influenced and defined by the weird mix of my roots, with my German-Irish Mother and Persian-Russian Father. But my childhood and the life I live and have lived so far, are also very strong definers of my work. From punk to hip-hop, skateboarding, snowboarding or climbing, my passions have defined my personality and influences, as it was not so common in the 80s´ Bavaria to wear low crotch pants and too big and long T-shirt and some complete skated out and fucked up sneakers with no skate brand on it. I had to fight to wear what I wore because it was not easily accepted by society and people rather laughed about me and my style. I had to fight to skate at the bus station, it was illegal and police constantly went after us. I had to fight my own fear for my passion of extreme sports, which at this time, were also a niche.
Those fights, those 10 step ollies, those heartbeats are part of whom I am and became, because it makes you suffer and give you strength and a reason to live. Of course, my style comes from a west coast surfer niche, which just started to reach Europe and Germany in the late 70s, a punk rock and hip hop culture of this time and formed me with my already weird culture mix living as a stranger in Bavaria – still a post nazi environment at this time.
Furthermore, I have a strong feeling for experimentation and cannot stop to try things, from the moment I started skateboarding and had to put Shoe-Goo on my fucked up sneakers, till now, when I get obsessed with materials of any forms and origins. This is a daily inclination and passion that became a large professional library for me.
Moreover, every collection from BBS is theme-oriented. Each of my collections is inspired by two or three major themes that we put against each other to create something totally new and to propose a new angle to some existing items and concepts. My style will always have the red line in it, because this is whom I am and what I cannot give up. People laughed too long about it to leave it on the way today.
I also am very proud to be part of this european skate-punk-hip hop era, to have witnessed when it all began and then got accepted by the society and created a whole new industry. And if we observe reality today, every third Dad looks like he is or wants to be a skater.
In the end, what I can say, is that my life truly inspires me, and that I have never stopped to be this kid whom looks for this amazing last jump, but also tried just to be coherent to himself, to the world and his whole surrounding.

What are the phases in creating a BBS collection?
We experiment constantly, 24/7, with fabrics, leathers, metals, etc… We confront two to three themes per season and create our whole new world. We create each and every garment from scratch, on my own body. In the course of the process, we sometimes dig in the huge military archive I have collected over the years. Never to reproduce, but to investigate and question ourselves. How was it done? Why was it done this way? And now… how could we rethink it today ? What can be the evolution with the fabrics we have, with the techniques we know, for the people in the nowadays society. Because everything evolves and is different and our work reflects this constant evolution.
You regularly present your collections at Paris Fashion Week. What sets apart Paris from other cities?
Paris has the advantage to the be the center of Fashion since Louis XIV and this is one of the reasons I show my work there. There is a certain historicity and authenticity about Paris and style. The client whom is looking for a specific garment and a certain quality and creativity is in Paris for Fashion Week and this is why I also am there.
Your collections are known for use of innovative techniques and experimentation in materials and cuts. What is the main feature of SS18?
The SS18 collection was inspired by three themes:
1. Garments inspired by the concept of camouflage from my military archive. How to match and unmatch colours to recreate military greens in a total look.
2. Japanese kimono tradition and martial art suits.
3. Attitudes and society in the 90´s influenced by the hip hop culture on the West and East Coasts. NWA.

I loved the heavily knitted tops and hyper-saturated orange I saw at your PFW show, which pieces are your personal favorites?
Actually these heavy knitted capes are part of the collection because I have asked myself why an upper garment should be closed on its sides. Why cannot it be just open ?
This story brought us to create garments that are open on the sides, below the armpits. Those garments are handknitted in the northern part of Spain with whool from transhumant goats.
BBS fans are most often part of the 'total black' squad, however your latest collection moved the spotlight from the all-black. Do you ever see the total black trend going out of fashion?
I never thought BBS is part of any trend and I am not sure I am pleased if it is. I am happy when my work reaches a person who really understands and desires it and pays for it. Then the reality circle is closed for me.
There are many organizations questioning the ethics of using real leather, would you ever consider designing with faux-leather?
For me there is no debate nor doubt about our position on this matter. I know what I am doing, stand for it and I feel very good about every step of my work. I eat meat and fish and I am coherent with myself and my work. The skin is a rest of the animal which is bred for its use. I only use products coming from a process I can control, so I know where the animals come from and I know how they are processed. I also control how the skin gets tanned to be leather in the end and I use natural based primary material. Faux-leather is trying to be something which is inherently not. This is the opposite of authenticity for me and therefore totally uninteresting.


What is the connection between your collections?
The soul of that curious and weird skateboard hip hop-punk.
In the world where fast fashion dominates the industry, how challenging is to honour the very detailed craftsmanship going into your designs.
In my opinion, fast food and or fast fashion are not interesting and I refuse to think about how to make money out of something.
I am a slow cook and I feel, think and rethink again each and every step. Then, I reflect it to society but also to my origins and identity. It is as well very important that every part, every origin, every collaborator and primary material match – if not, I rather not do it. Money won't have any influence on my creative process and its authenticity. However, I have to sell those very well thought, worked and loved pieces and I have to do it on a price that reflects that very special care, so we can keep going with this story.
Your work is not just about clothes, but it's also a subtle dose of criticism of today's society. In what ways do you believe fashion can challenge our current views?
I would bet on the fact that, at the moment, 80% of the brands and fashion companies are ruled by a very tight financial model that influence their creativity and choices. Their motor is based on moving money and they are part of a strong money circle.
Witnessing those moves, I am wondering where the statement is, where are authenticity, creativity and evolutionism and why we should be part of it. Does our work help the world to evolve in any way? Does it help anyone? Does it make anybody really happy and does that feeling stands and stays? Does it make sense? Those are the questions I'd rather focus on. I really question myself about this and I challenge myself to replies. And yes I believe what we do at BBS makes sense, because it is manufactured by people who love what they do and how they do it and with primary material and a production process that supports local handcrafting and knowledge. The energy around our garments is strong and real and this is why it is sustainable: because it stands for its authenticity.


Beside fashion design, you've also designed furniture for your showroom. Do you have plans to expand into furniture design?
I would love to develop my creative energy in a larger variety of objects and projects. But my time is limited and I would only do it when it can be well thought and well done. Soon, hopefully I will be able to extend to different disciplines.
You refuse to follow fashion trends and you don't compromise. Is that the key to maintaining your success?
I never think in trends to be honest. Not even when I was a teenaager. I always wanted just to be authentic, know what fits me and follow my feelings. Since I can remember, I always self reflected a lot and asked myself what I want, Who I am and Where I come from and want to go. That's also what my parents taught me. I am a niche thinker and I try to reflect it to the contemporary society and to be coherent, so to evolve myself within this world.
How do you see your label grow in the next 10 years?
It depends a lot on our capacities but, what I am sure of, is that I will keep fighting very hard to give support to the world in the best way I can.
Illustration by Shibo Chen, for more of Boris' work visit www.borisbidjansaberi.com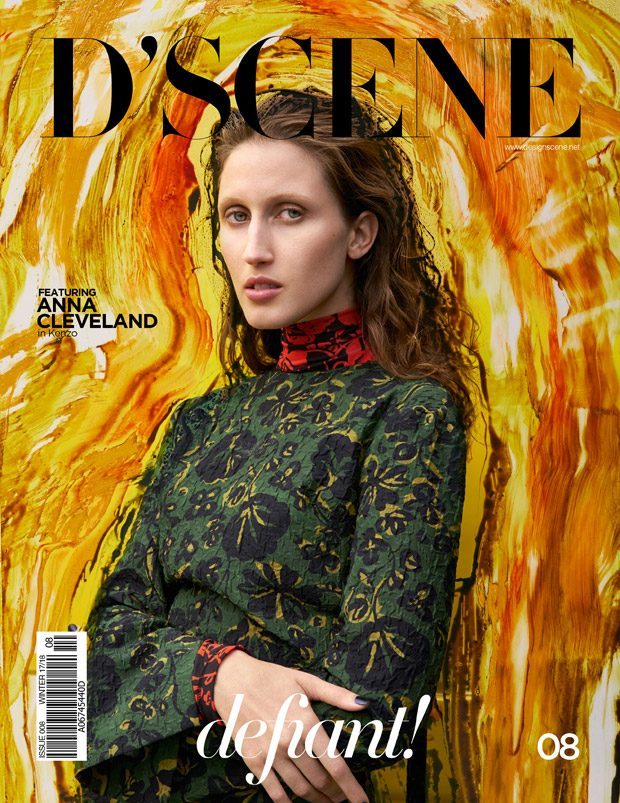 D'SCENE Magazine's Defiant issue is available now in print & digital.