Bottega Veneta Art Collaboration for Spring Summer 2018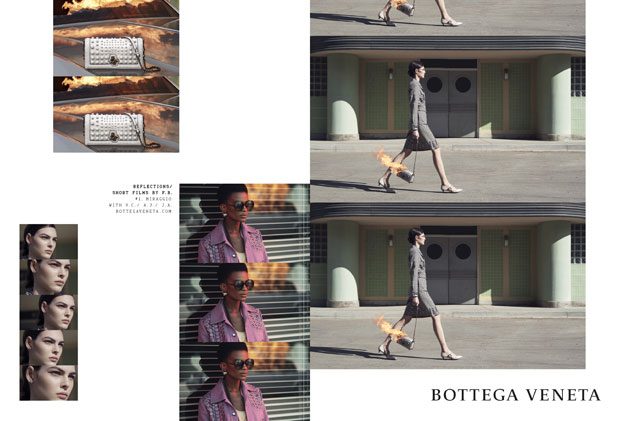 Discover the final chapter of Bottega Veneta's art collaboration created with renowned agency Baron & Baron – a short films Aurora and Vertigo. Titled Reflections, the Spring Summer 2018 campaign is a product of collaboration between Bottega's Creative Director Tomas Maier, Fabien Baron, who directed the films, Academy Award-nominated cinematographer Philippe Le Sourd, renowned set designer Stefan Beckman and record-producer and composer Johnny Jewel. 
Aurora is about the brightness within the dark. A woman is walking slowly and confidently along a dark empty street in a small town. Heading towards a flood of bright white light, she suddenly stops and faces a perfectly empty white room with seemingly no beginning, no end, no walls. She steps into the white space and disappears. The bright light signals a brighter future. It's about a film noir feeling transforming into its diametric opposite.
Pulsing with rhythm and movement, Vertigo is a hypnotic story about an electric fantasy with laser and neon lights. A woman is dancing sensually to the slow pace of the music with the camera catching a moment of mystery and fantasy. The music transports you to the alternate reality of a mirrored space that turns everything into a multi-faceted world of reflections. It's a story that invites you to lose yourself in your imagination. – from Bottega Veneta
We have always told stories about our products and our brand. The evolution of the Art of Collaboration enables us to reach and have a dialogue with the customer on his or her own terms. –  Creative Director Tomas Maier
Related:
See more after the jump: