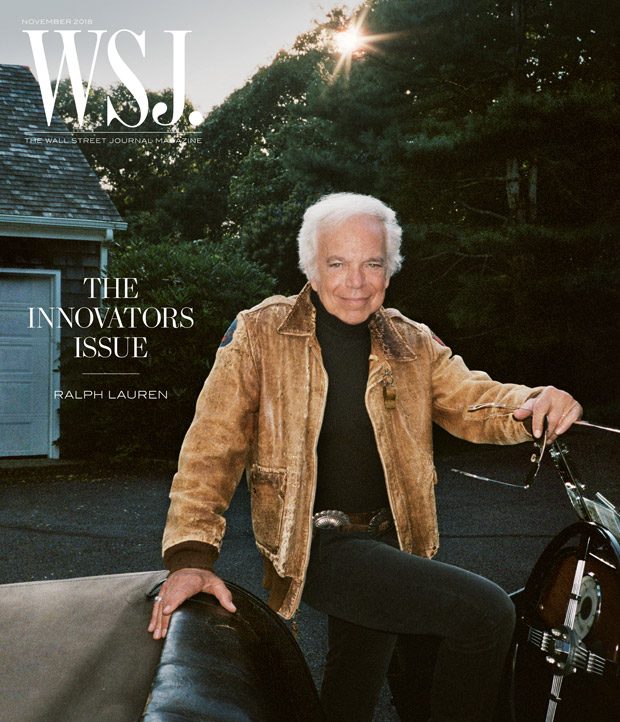 Fashion photographer Cass Bird captured the cover story of WSJ. Magazine's November 2018 Innovator's edition featuring the legendary American fashion designer Ralph Lauren.
"This one said everything I wanted to say about my life and my career, how I feel about America, how I feel about where we are as a country, how I feel about diversity. I expressed my history, my work, what I stood for, what I believe in." – Ralph Lauren on his 50th Anniversary show.
For more images + story continue bellow: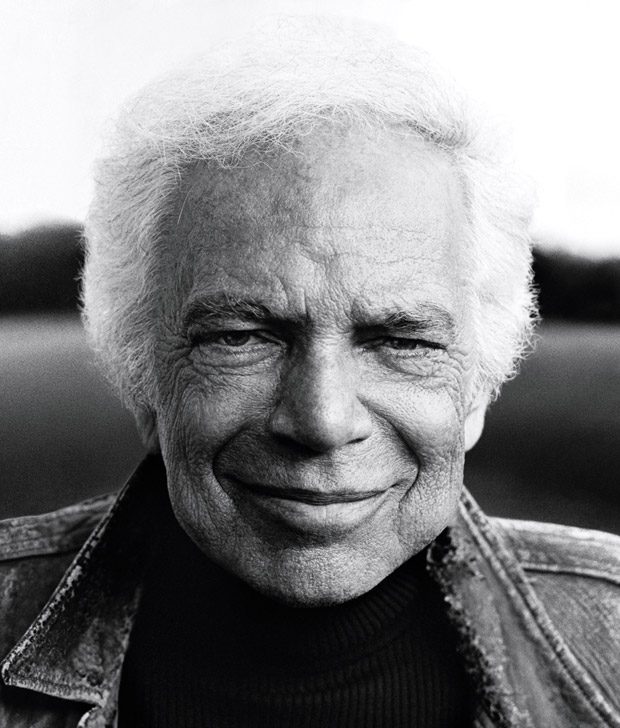 Ralph Lauren on his empire:
"I created all this. I didn't go to fashion school. I created a restaurant. I created a home business. I created a lifestyle. I built clothes for living, not just fashion," says Lauren. "I was the consumer. I was desiring the same things as other people."
Ralph Lauren's studios have also served as graduate school for a generation of entrepreneurial designers—Vera Wang, Simon Spurr, Tim Coppens, Thom Browne, Michael Bastian—who in turn established their own labels. Alumna Tory Burch mines her own life for her womenswear brand, while designer Clare Waight Keller went on to Givenchy and royal wedding-dress fame. "We called it Polo University," says John Varvatos, who, after serving as Lauren's head of menswear in the '90s, launched his eponymous menswear brand.
RL on politics:
Hillary Clinton was one of the first to embrace Lauren after the show. Lauren is a longtime Democratic donor, though Melania Trump chose a bird's-egg-blue Ralph Lauren ensemble for her husband's 2017 inauguration. Lauren insists, "I don't think the Republican Party versus the Democratic. I'm thinking about what people want today…. I grew up in this country. It's been very good to me. And I started with nothing and built a great company. I'm very proud of that. So I want to make sure that we stay happy, and I can do just so much—I'm not the president of the United States."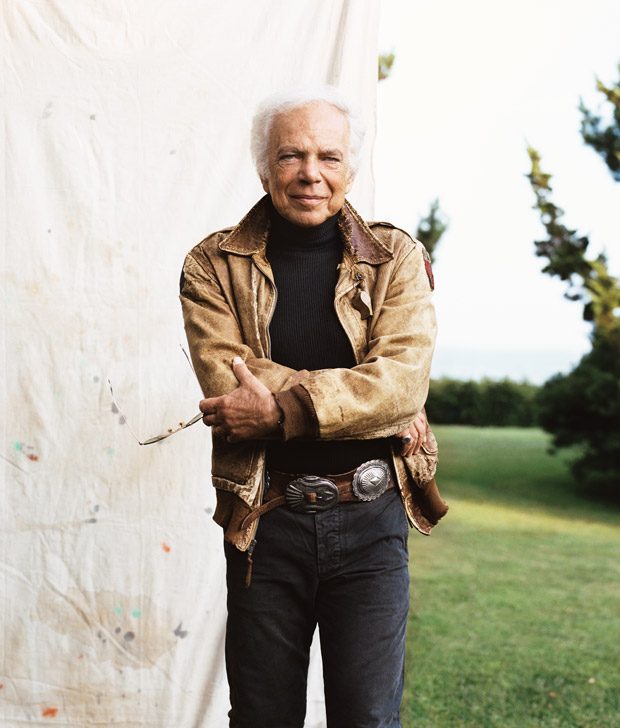 RL on Wall Street:
He recognizes that Wall Street's current love is also, in part, a fad. Retail sales in the U.S. have turned out to be generally strong this year. "Wall Street is more trendy than anybody. They're trendy and they go with the wind," says Lauren, with a quick grimace. "Now watch my stock go down."
Donna Karan says she warned him not to go public in the first place, and others agreed. "People have said to me in my company, we should never have gone public," he says. Meeting the quarterly demands of Wall Street— "That part is not good. That part is hard."
RL on his company's downs…and ups:
"What's made this company strong is an identity, the ability to know who you are…. You have your misses. You think you're going to do something great, and it doesn't go great." He points out the short stint of his much-ballyhooed Polo Store. "That wasn't great; that was not successful. The Fifth Avenue business got cut in half because people were not coming in. Tourists were not shopping Fifth Avenue as they were when I bought the lease."
Donna Karan on his 50th Anniversary show:
"That show was Ralph. Pure Ralph," said Karan. "I cried from the minute it began to the minute it ended. It was like watching my life…because I lived it all. And I was thinking, what it took to do what he did…. I can't believe he does it still."
RL on his philanthropy:
He also funded the restoration of the Star-Spangled Banner flag from the War of 1812, which had been deteriorating at the Smithsonian Institution. That brought him into the orbit of Hillary Clinton, who says they've been friends ever since. "It was just such a painstaking conservation, which he paid for," Clinton said at the anniversary show in September, reminiscing about working on the Save America's Treasures program together. Lauren says he owed the flag's restoration to the nation: "I had to give back something. I used the flag on my sweaters."
"I was winning awards, and the doctor said, 'Ralph, we have to operate, we found something,'" he recalls. That tumor influenced Lauren's philanthropy. He founded Fashion Targets Breast Cancer after losing a friend, Washington Post fashion editor Nina Hyde, to the disease in 1990. "She passed away," he says. "I thought I could save her. I don't know why—maybe because I came out all right." He opened the Ralph Lauren Center for Cancer Care with Memorial Sloan Kettering, placing it far north of the main hospital because he remembered his mother had feared leaving their Bronx neighborhood for her medical care.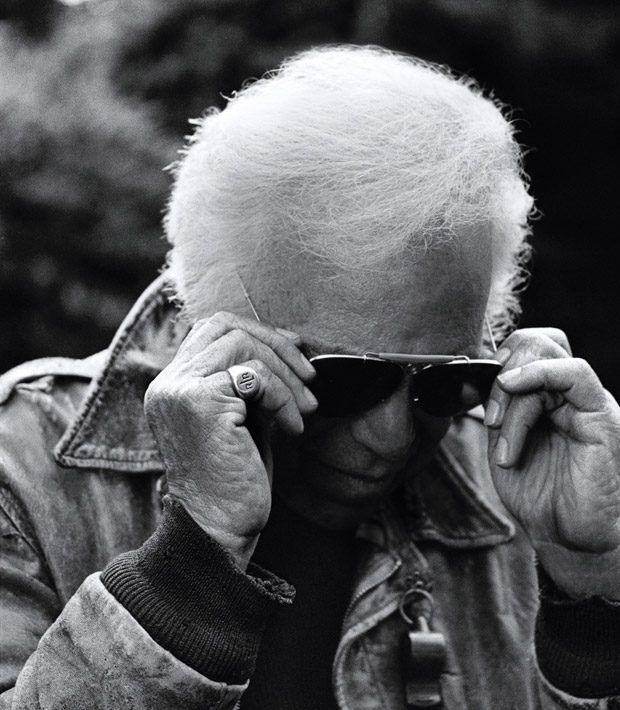 RL on what's next:
Lauren seems content to close each fashion show with his signature strut down the runway, but he walks more gingerly these days. One Wall Street analyst listed the potential "loss of Mr. Lauren's services" as one of the risks to the company's performance. Lauren says he isn't going anywhere. In fact, he's still chewing on new ideas, like creating Ralph Lauren hotels. "There would be different hotels. It could be a hotel in New York; Bedford would have another style."
In the meantime, he'll be at work, styling new visions of America. "I think people want to feel good about their country."
WSJ. Magazine November Innovator's issue, on newsstands Saturday, November 10th, 2018 – www.wsj.com