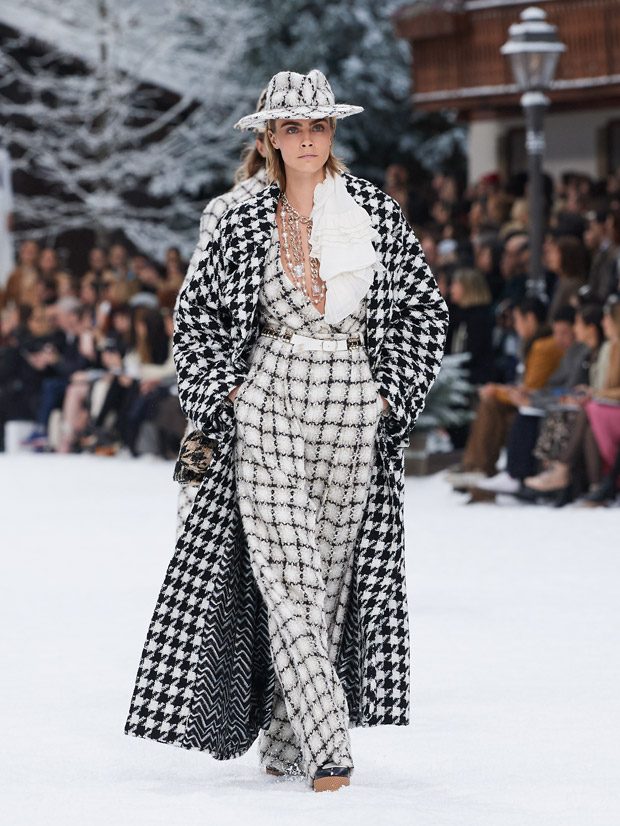 Discover Karl Lagerfeld's last Chanel collection, inspired by a beautiful winter's day in a peaceful mountain village, presented on Tuesday March 5th 2019, at the Grand Palais, during the recently finished Paris Fashion Week. Chanel's Fall Winter 2019.20 Collection illuminates winter with its daring and dazzling freshness.
"Peaks as far as the eye can see, a street and snow-topped chalets. This season, the Grand Palais is transformed into a peaceful mountain village to welcome the CHANEL Fall-Winter 2019/20 Ready-to-Wear collection. A metamorphosis imagined by Karl Lagerfeld and Virginie Viard, in the atmosphere of a beautiful winter's day, in the grand nave, a place so dear to the House.
Wearing brogans enhanced with a platform sole, protected beneath tweed fedoras, the elegant mountain dwellers seize the spirit of romantic dandies as they walk through the powdery snow. Created by Karl Lagerfeld and Virginie Viard, the silhouettes of the collection are warmed by a wardrobe marked with masculine/feminine accents, a major stamp of the CHANEL style. A palette of winter white, beige, black and navy blue is punctuated with flashes of purple, fuchsia, brick and emerald green.
With houndstooth, tartan and big check motifs, a dusting of snowflakes, in chevrons or imitating astrakhan, top stitched and quilted, tweed displays its masculinity on suits with wide-cut trousers worn high at the waist, coupled with great overcoats. Fastened with a high collar or a shawl collar and mini cape, enhanced with a trompe-l'oeil bolero or a faux fur lapel, sometimes embellished with martingales, straight or double-breasted, trapeze or belted, maxi pockets slit or buttoned and folded down, the coats are different every time.
The tweed jackets are trimmed with a thick wool braid, woven or left almost raw. Others reveal a flared collar and a trompe-l'oeil bolero. The big soft knit pullovers alternate with sweaters embroidered with crystals and cardigans with mountain motifs. Ski outfits are mixed with urban wear: a down jacket is sported with wide-cut trousers in big check tweed, while a zip-up ski-suit comes in tri-colour tweed. Braided or adorned with a patch pocket to slip in a ski-pass, little tweed jackets are combined with a pencil skirt, and an outfit of over-jacket and wide-cut trousers in leather."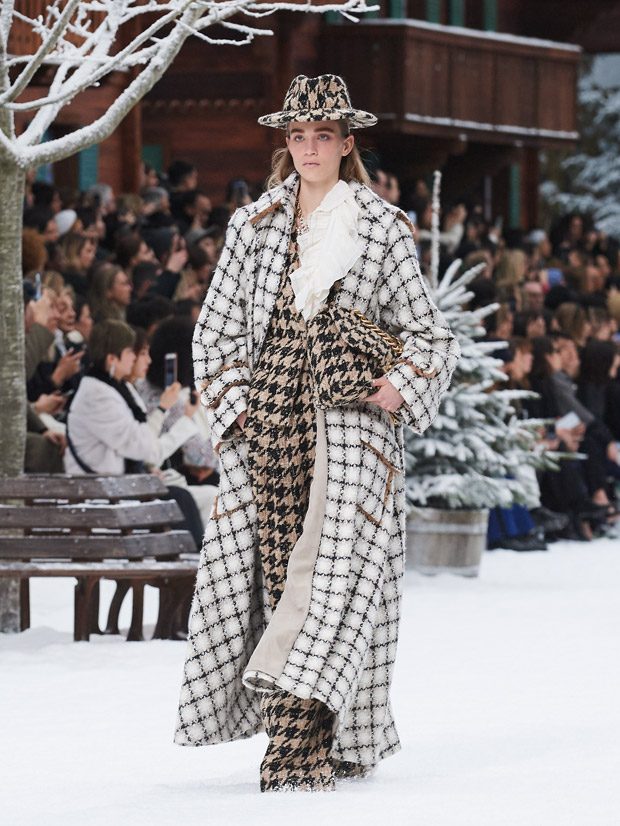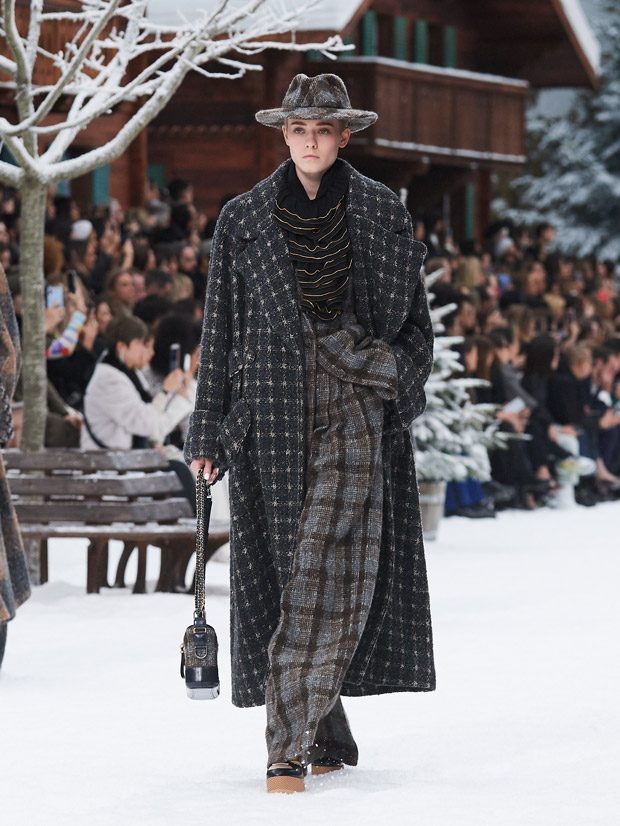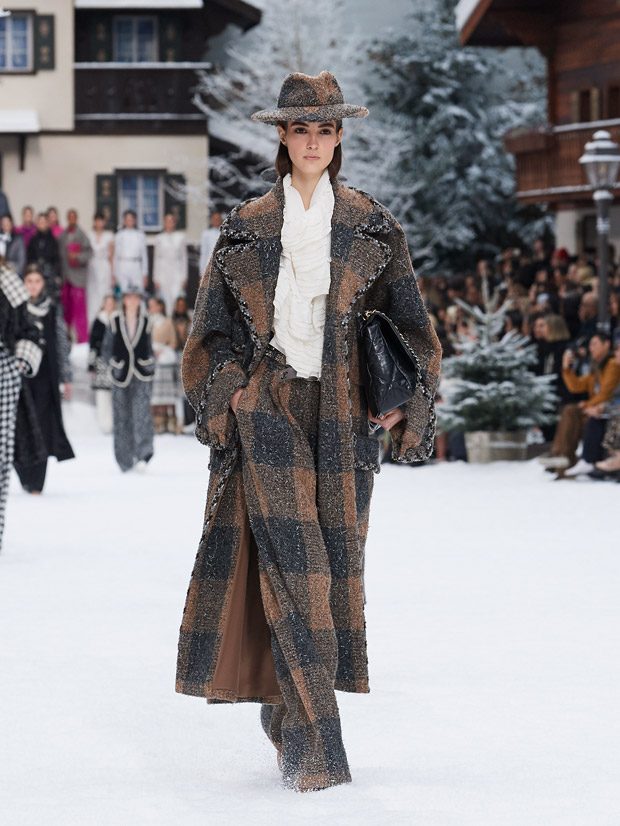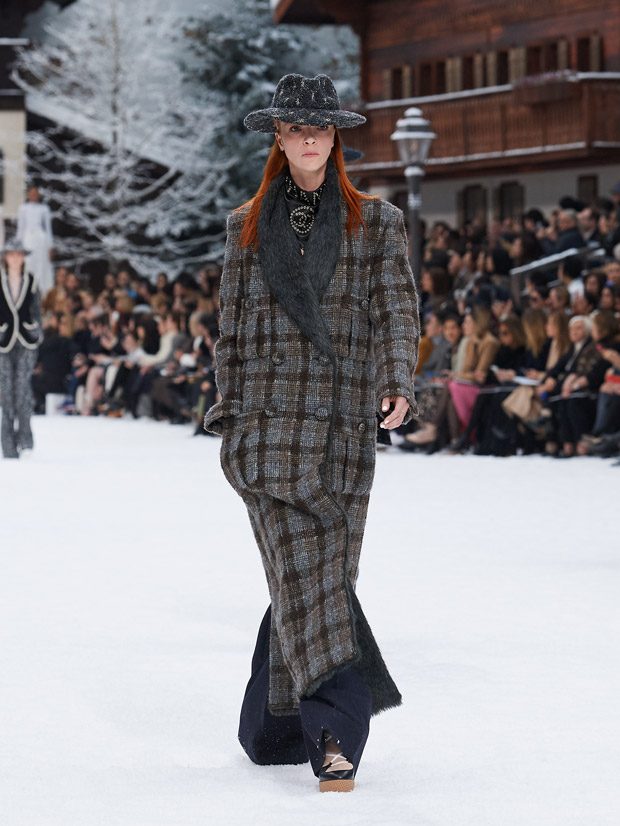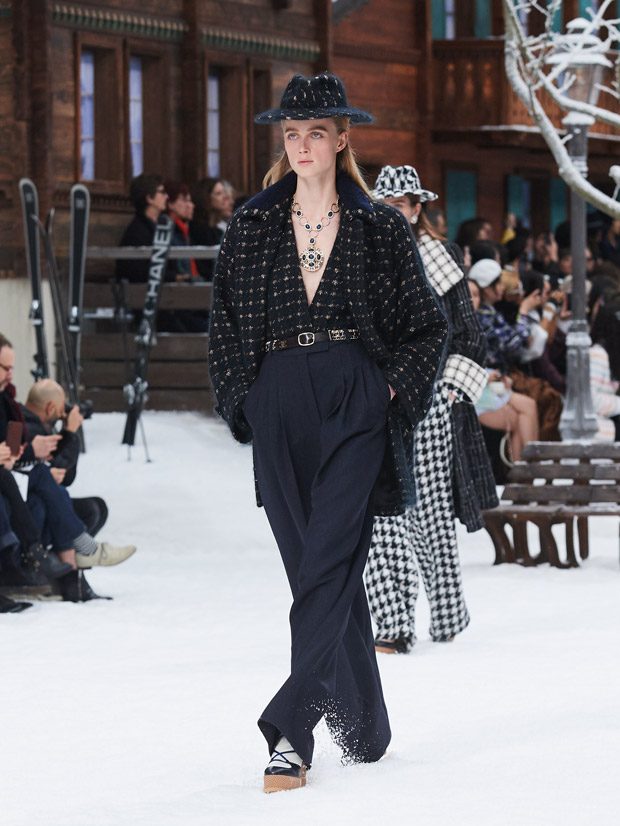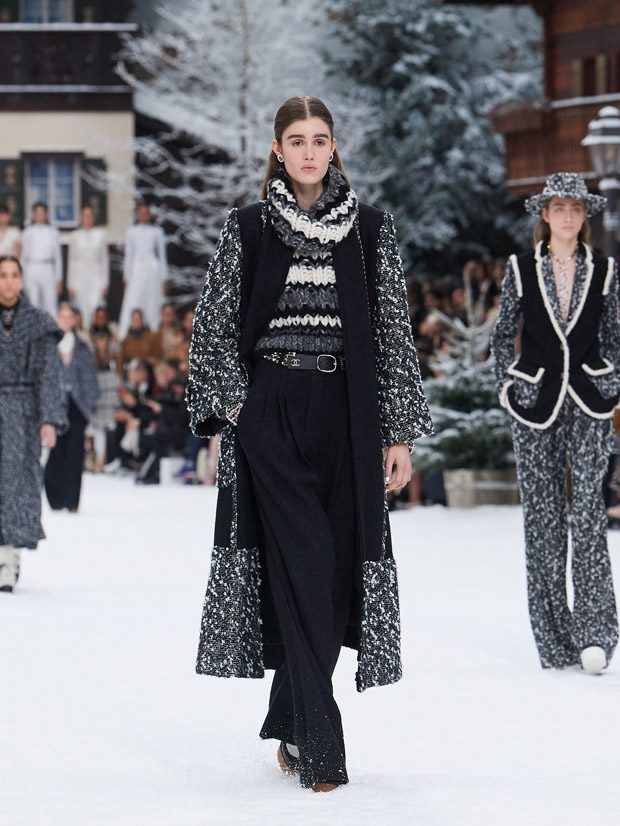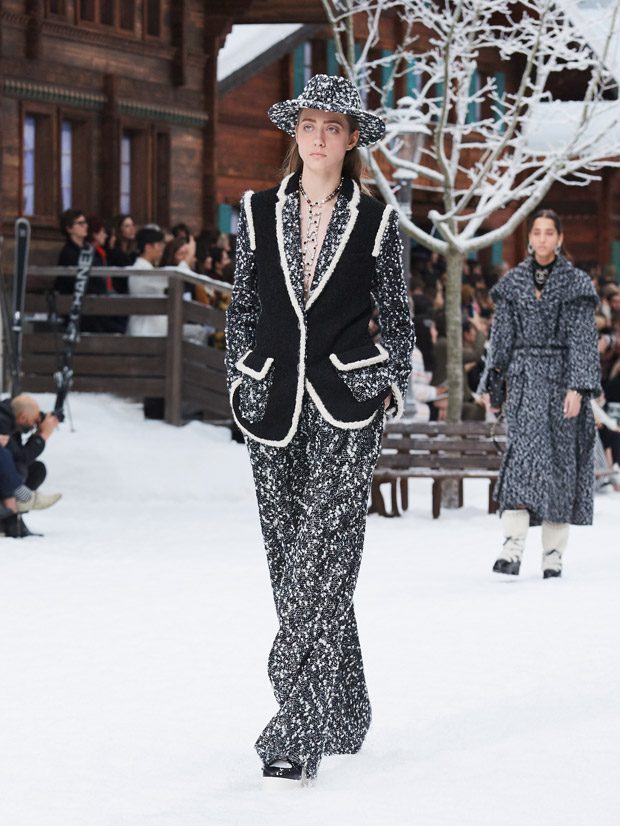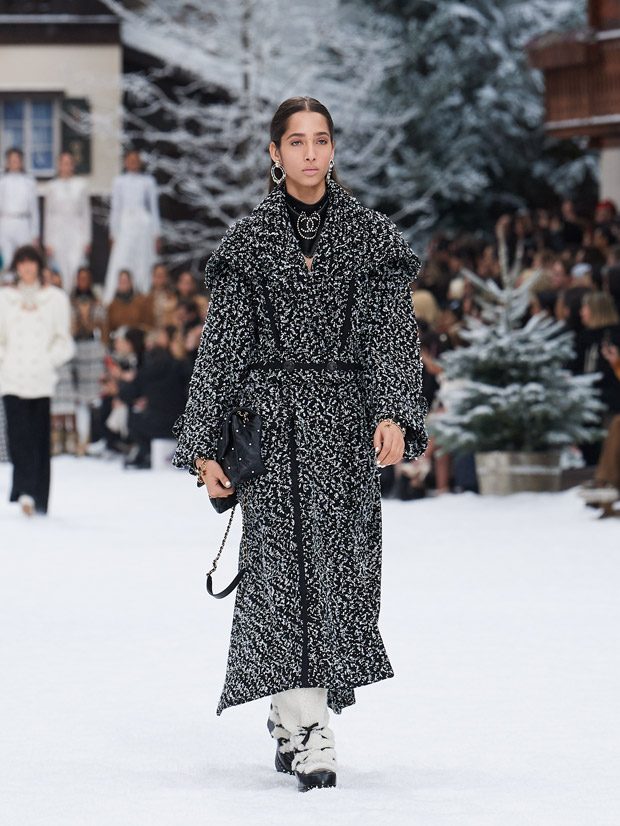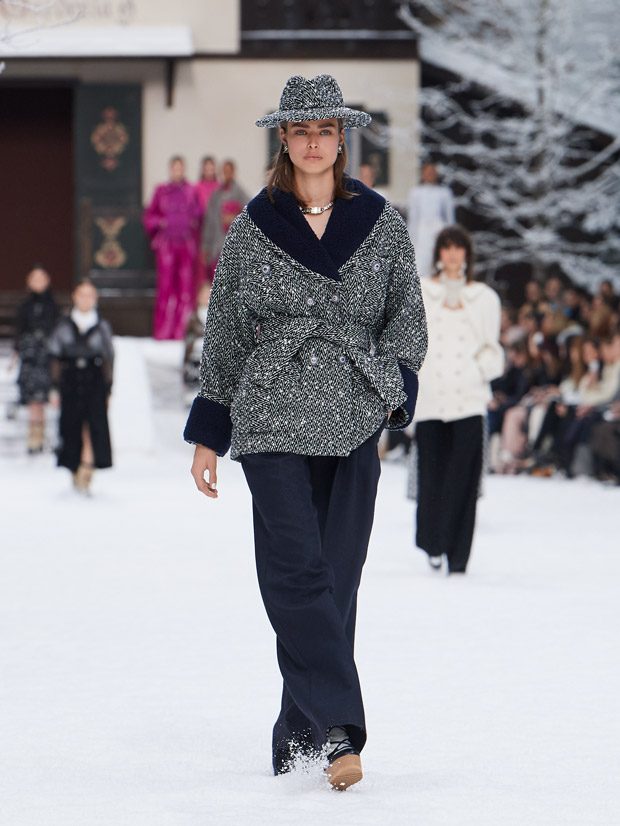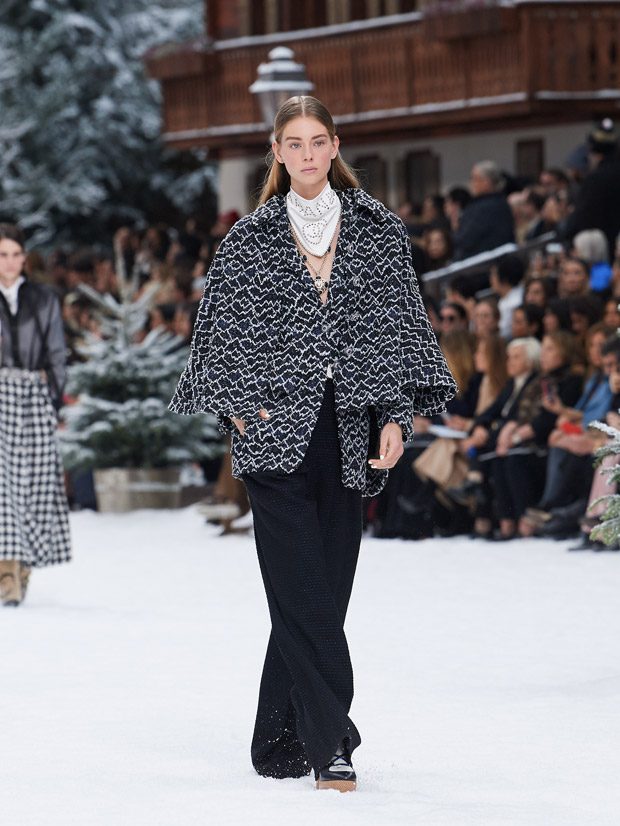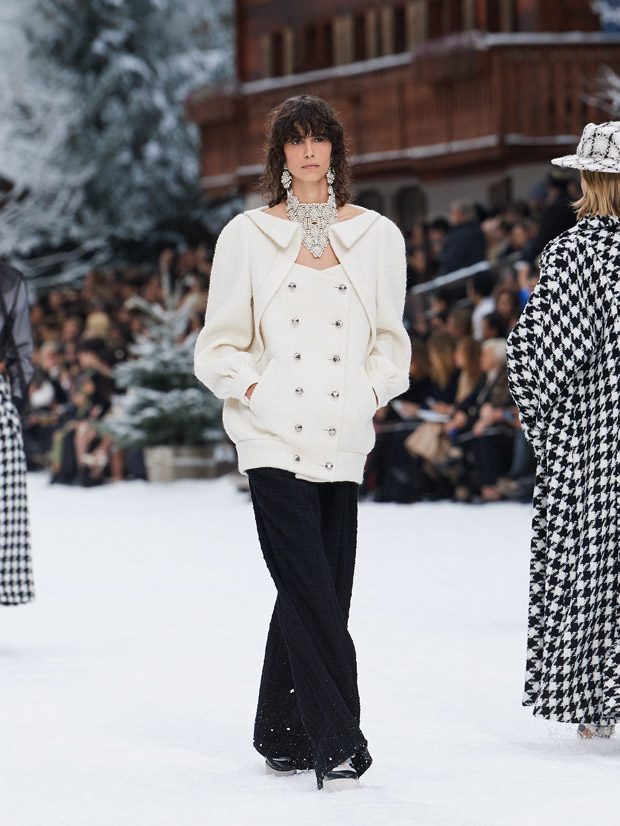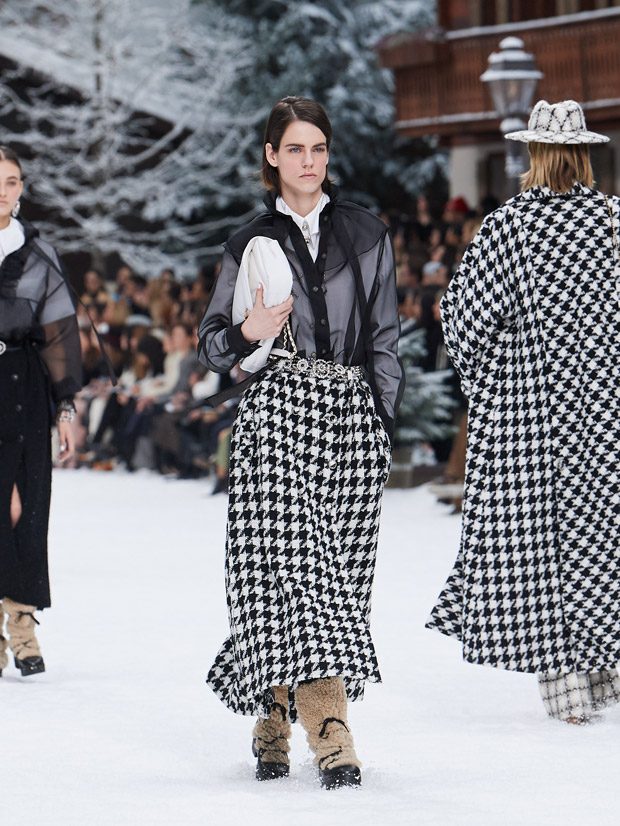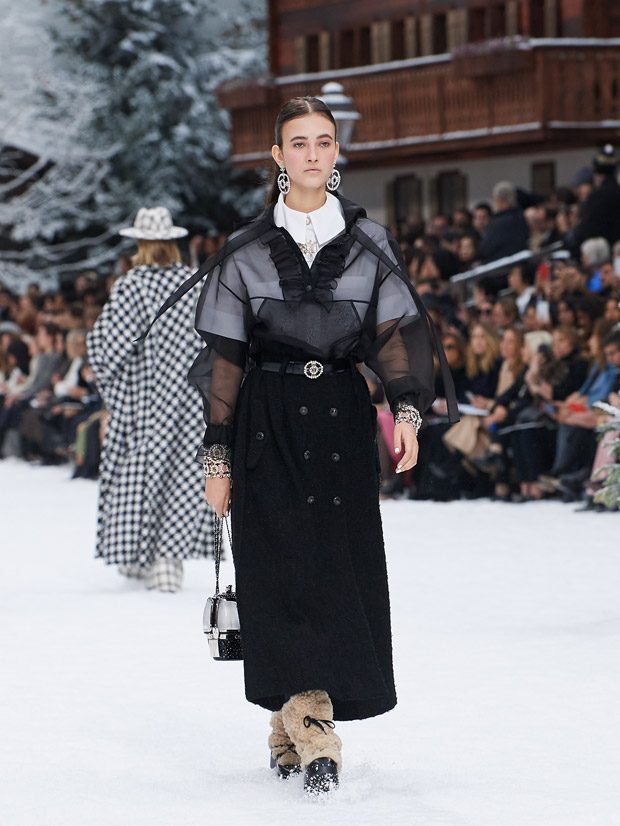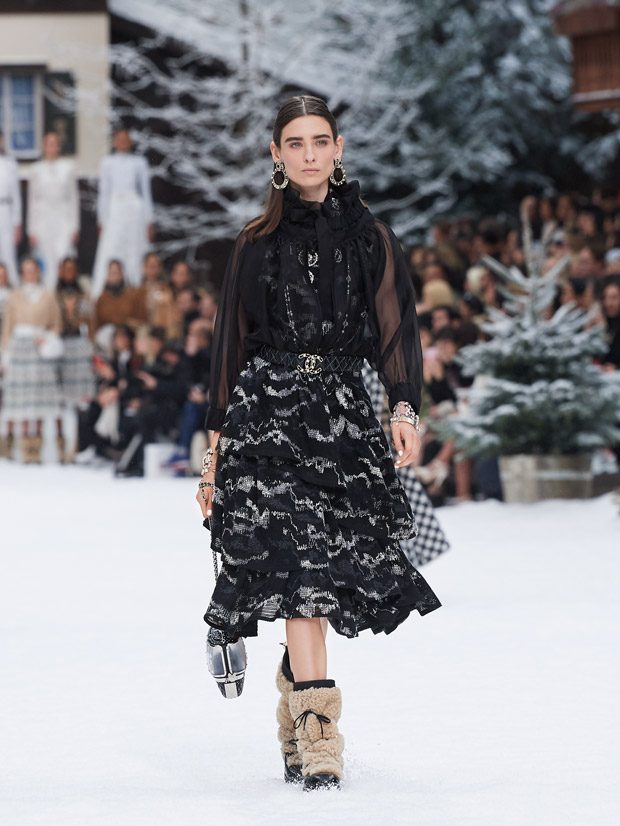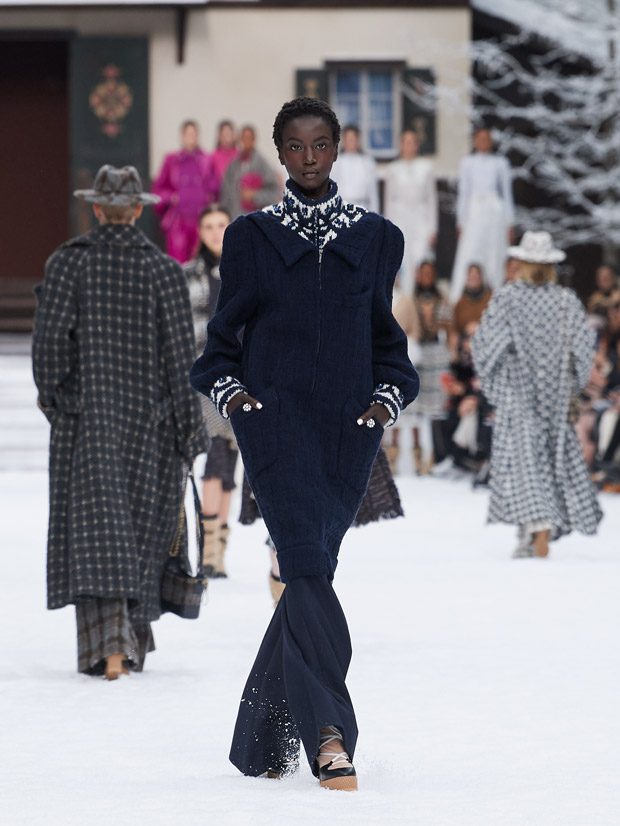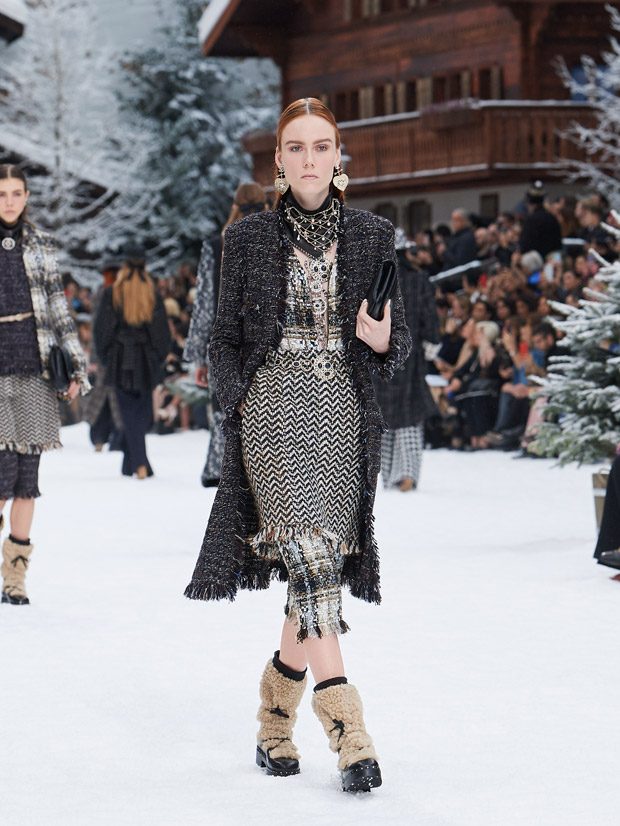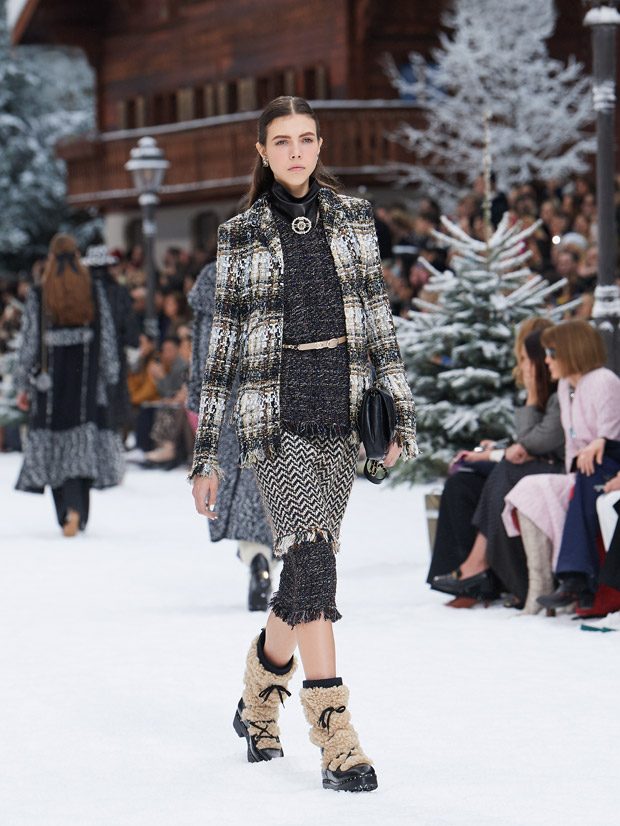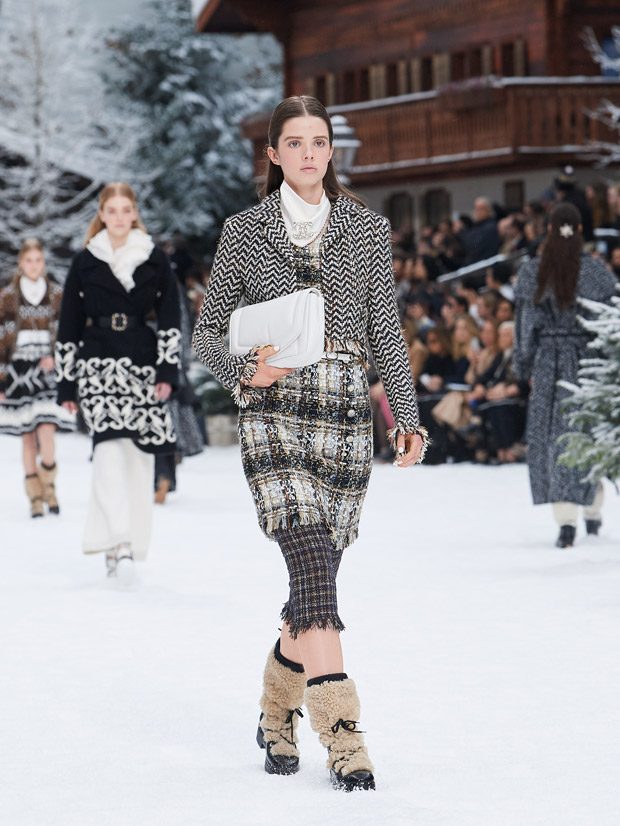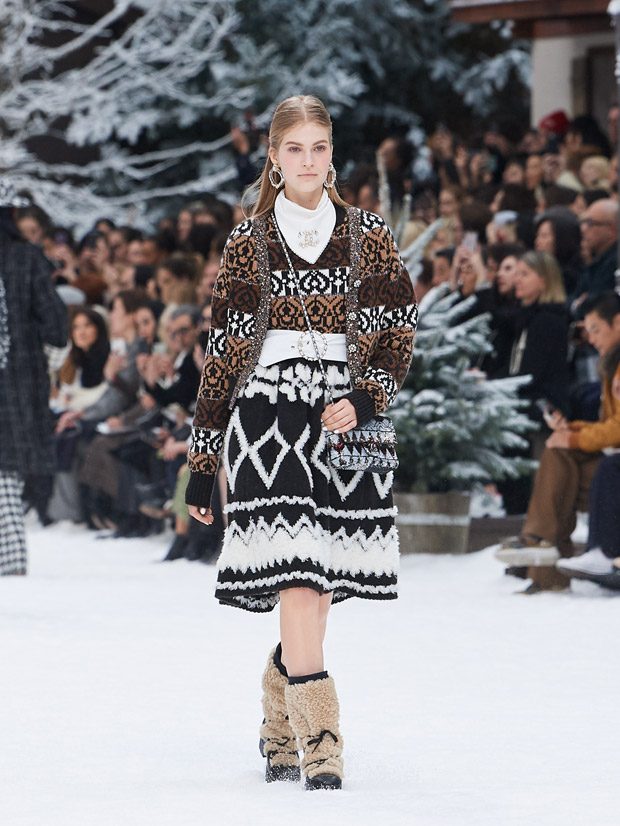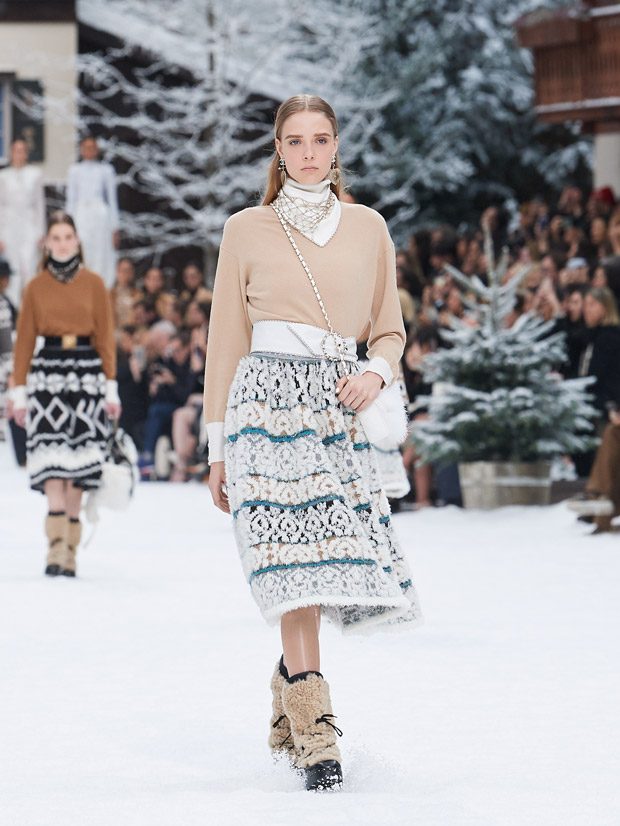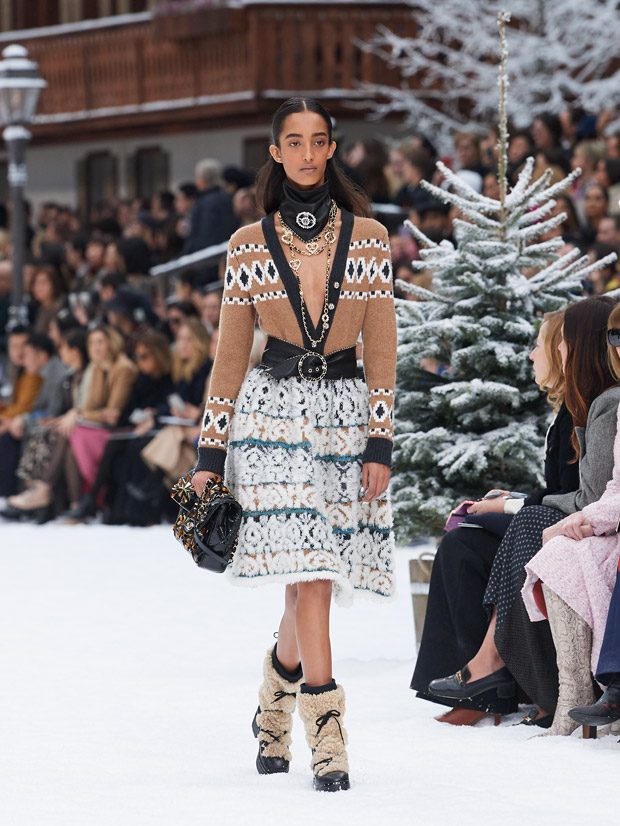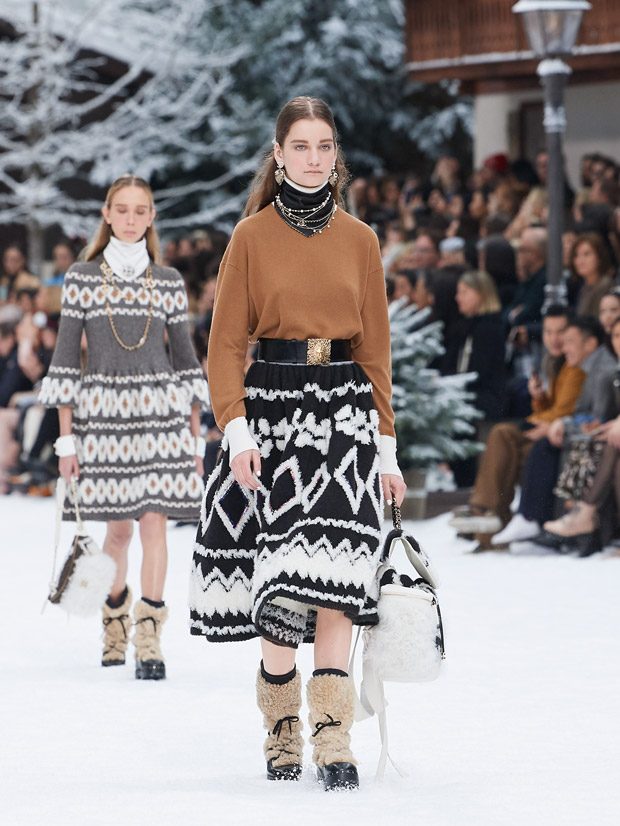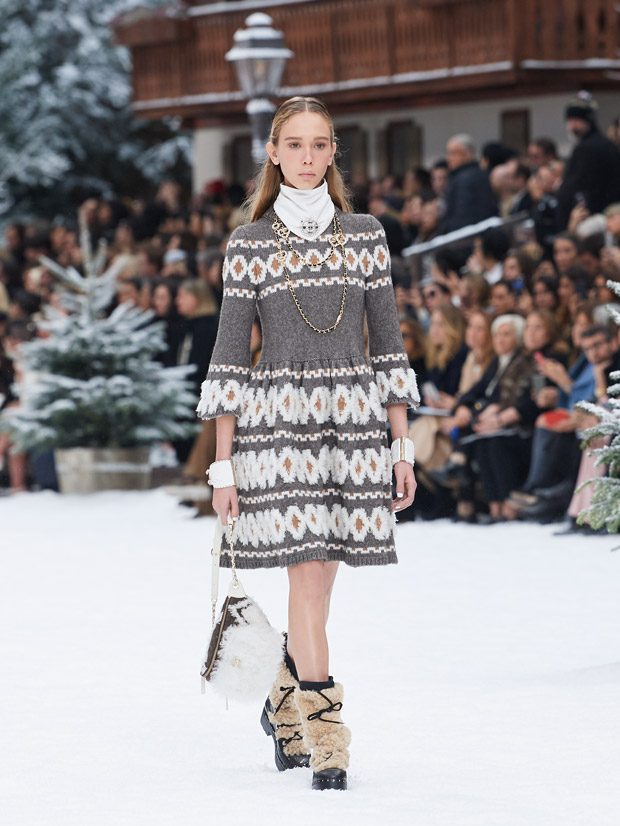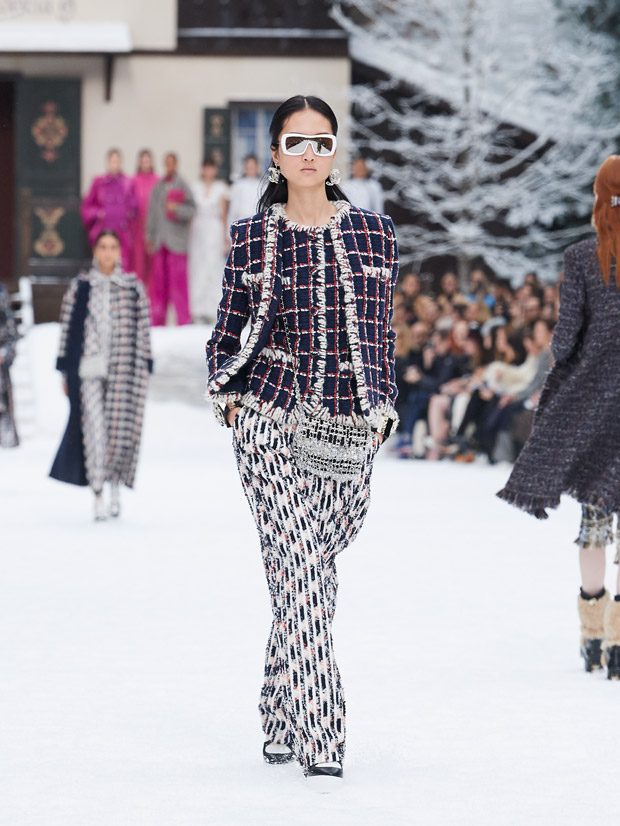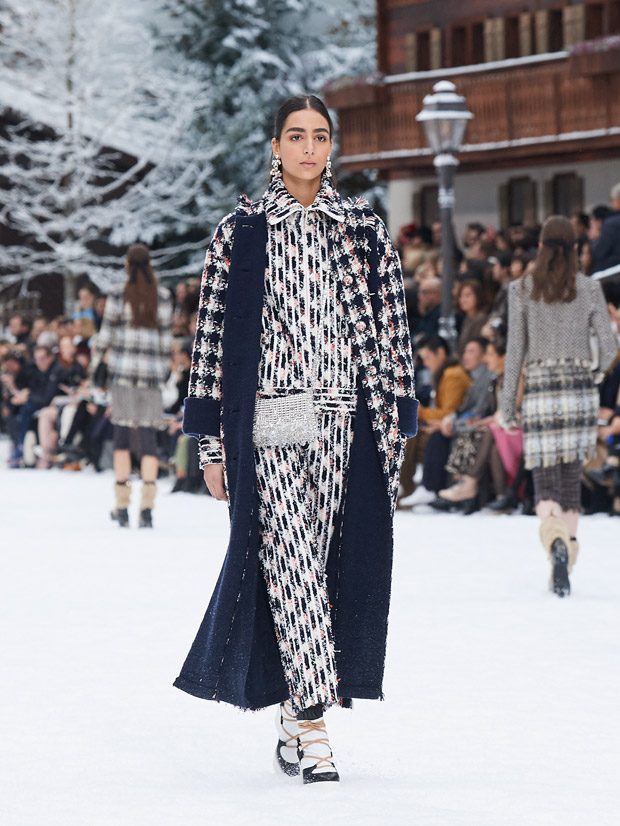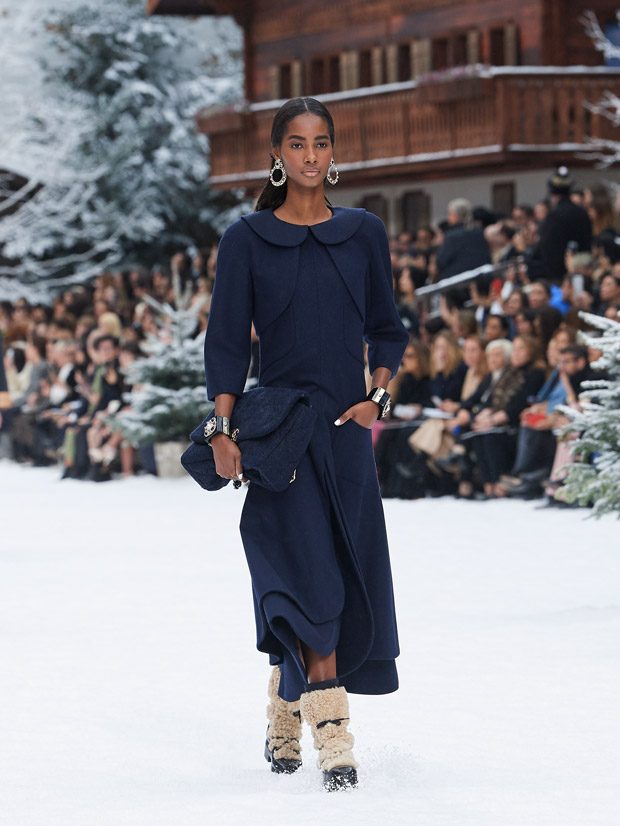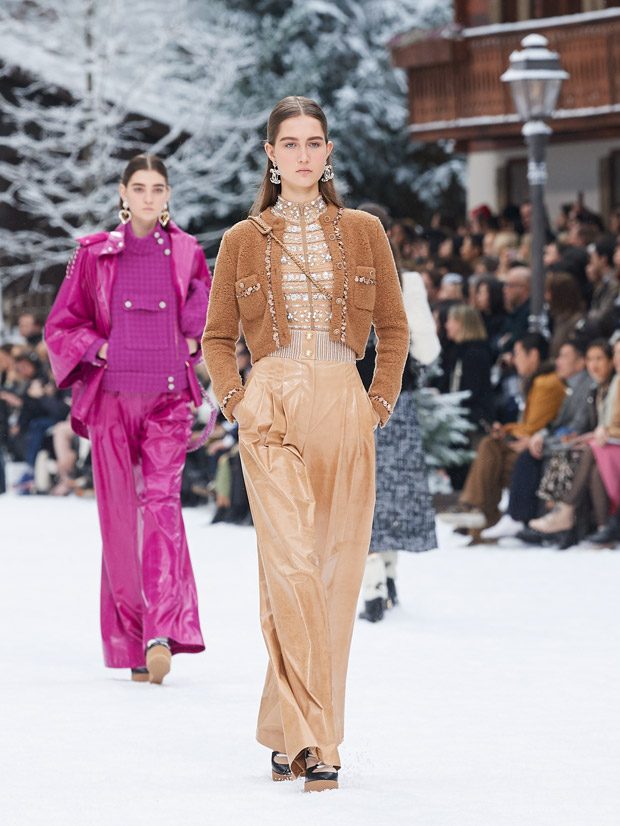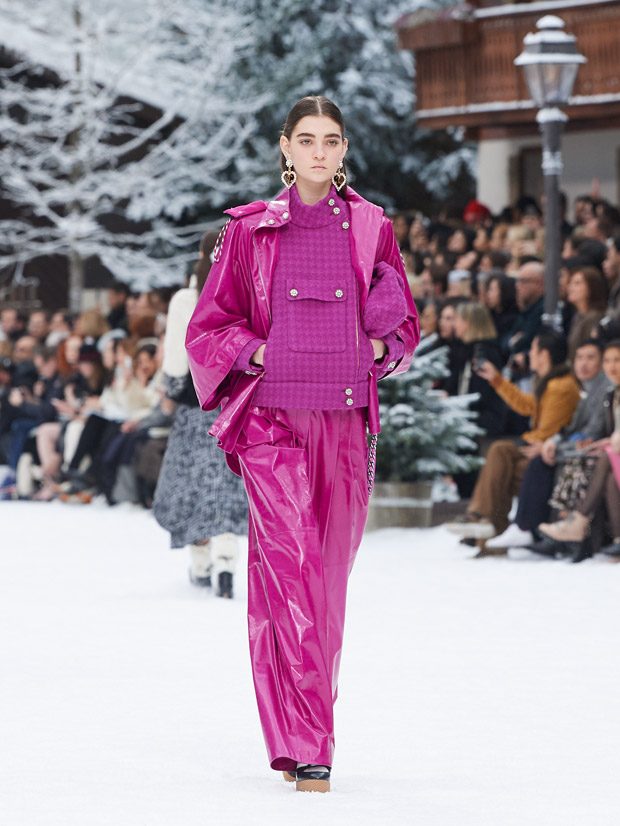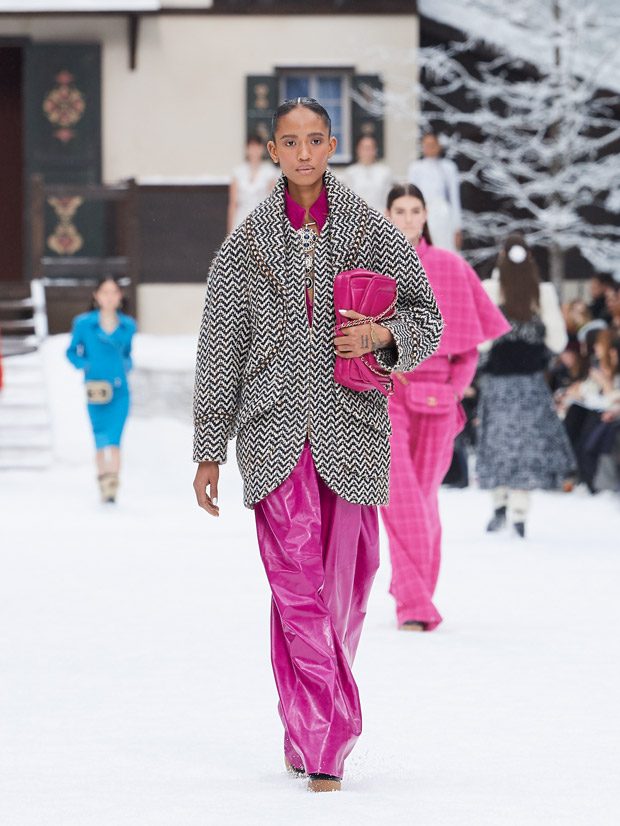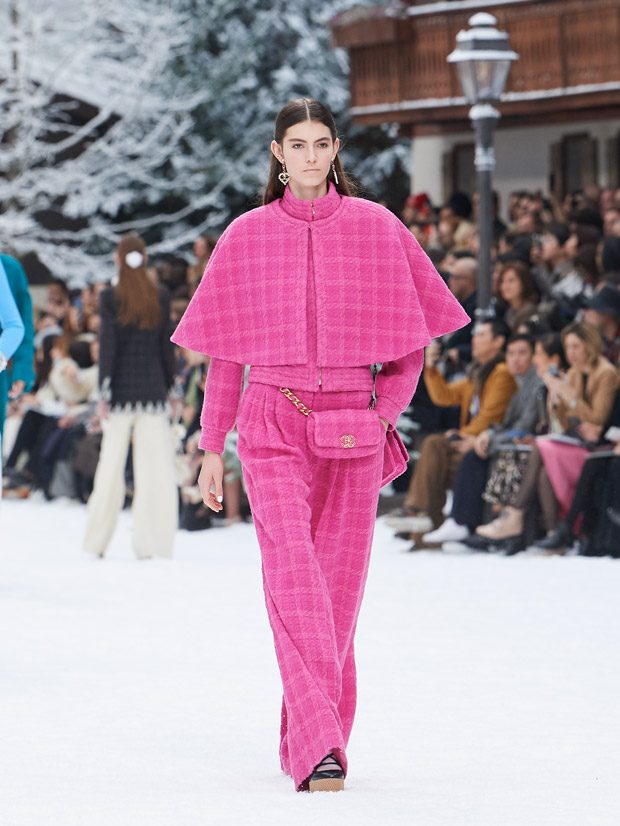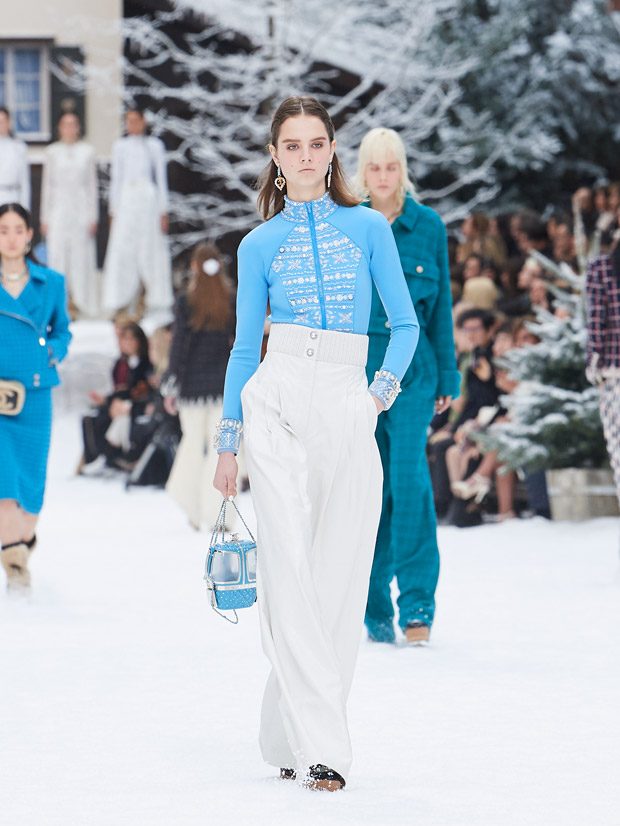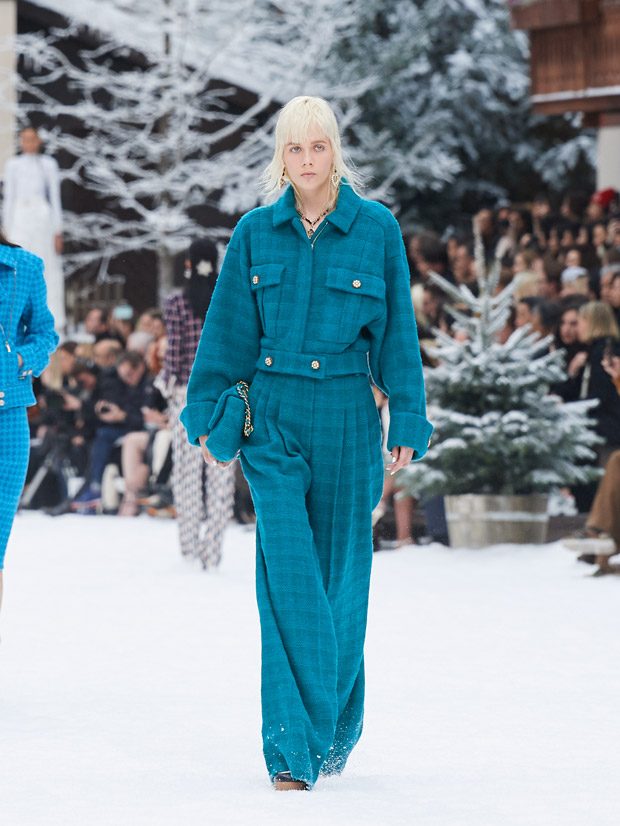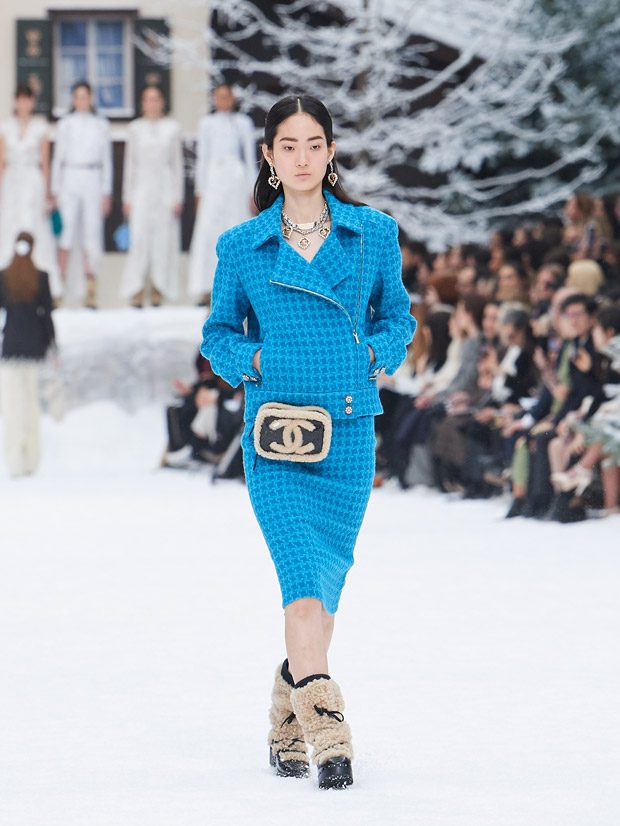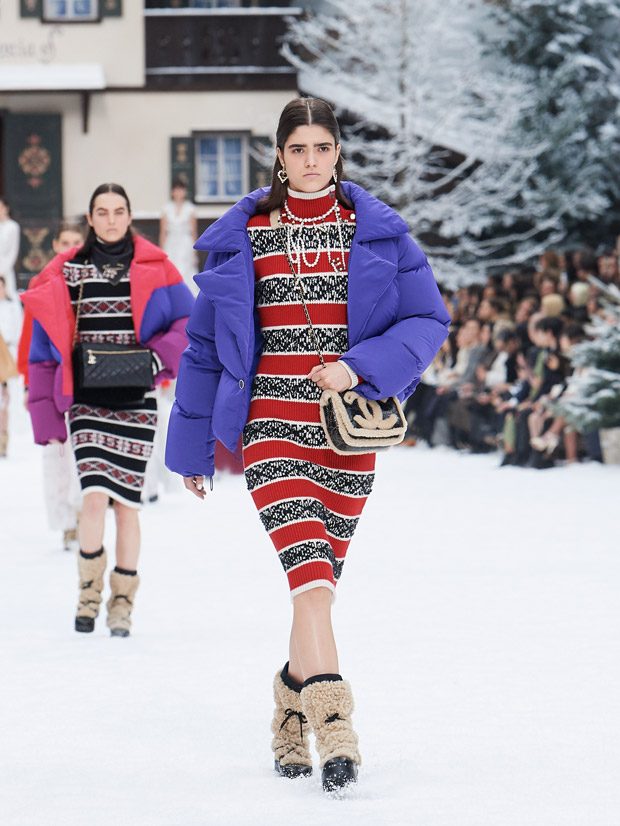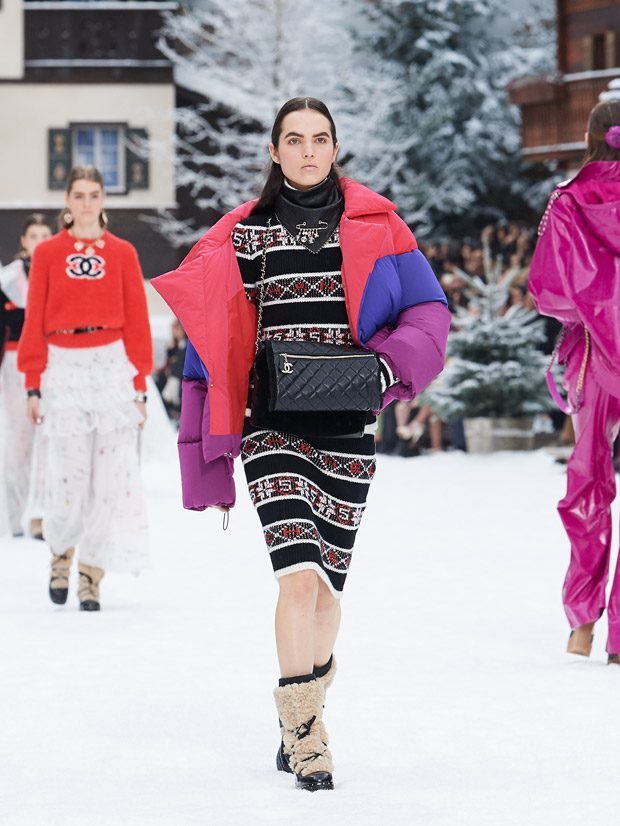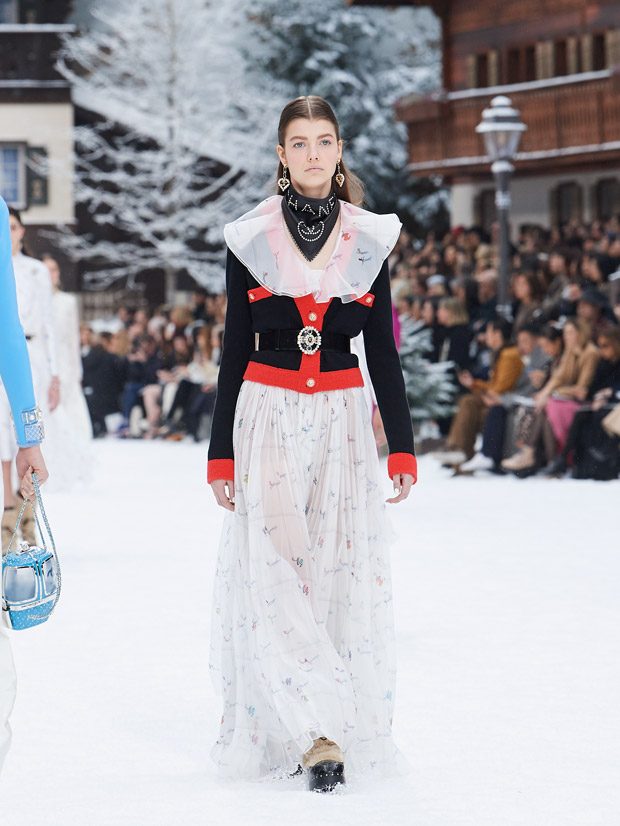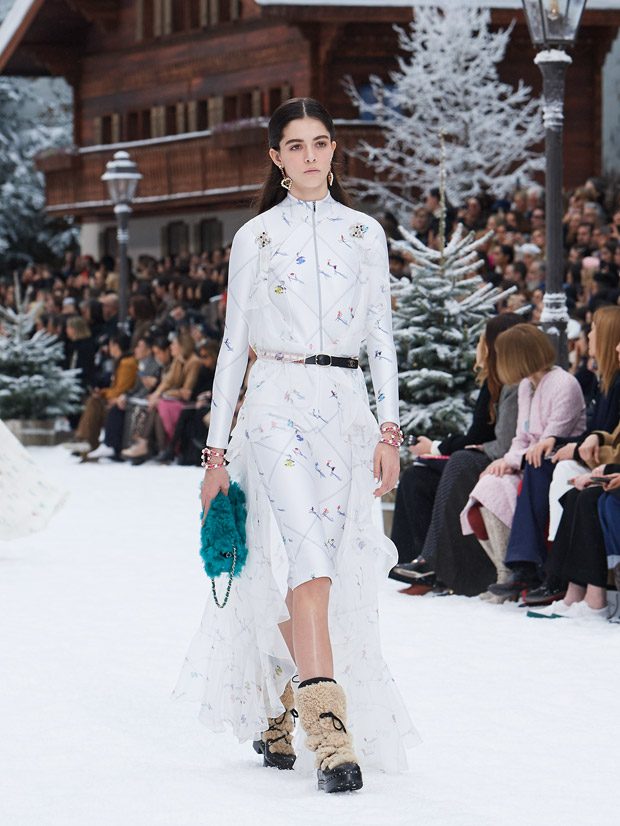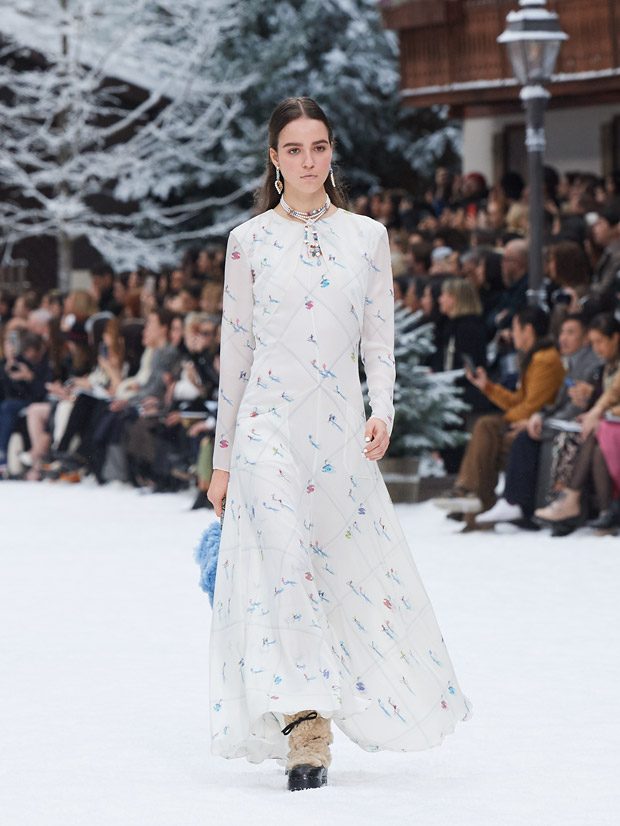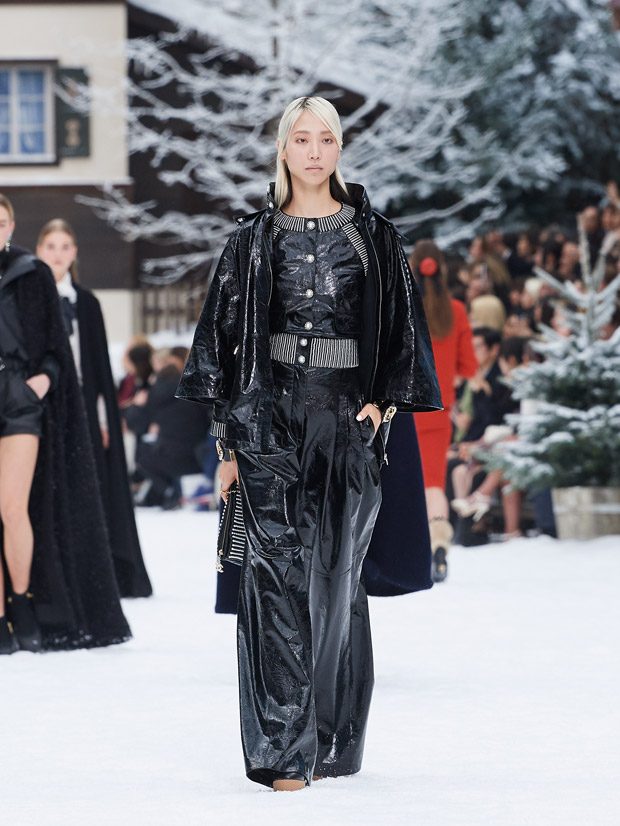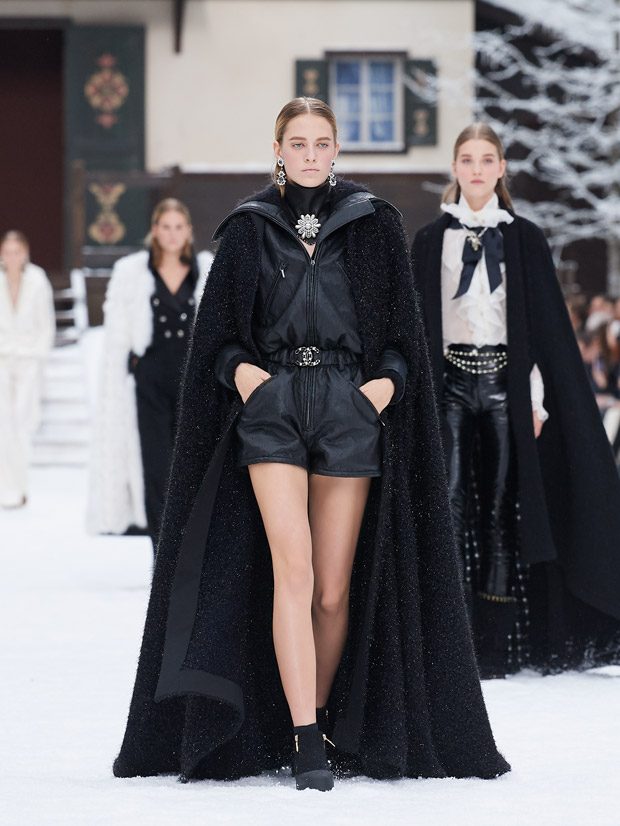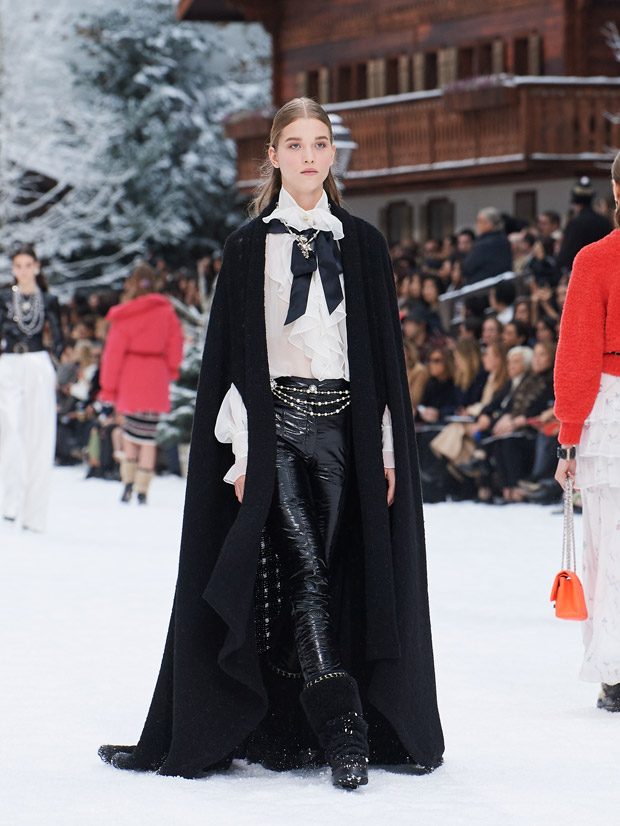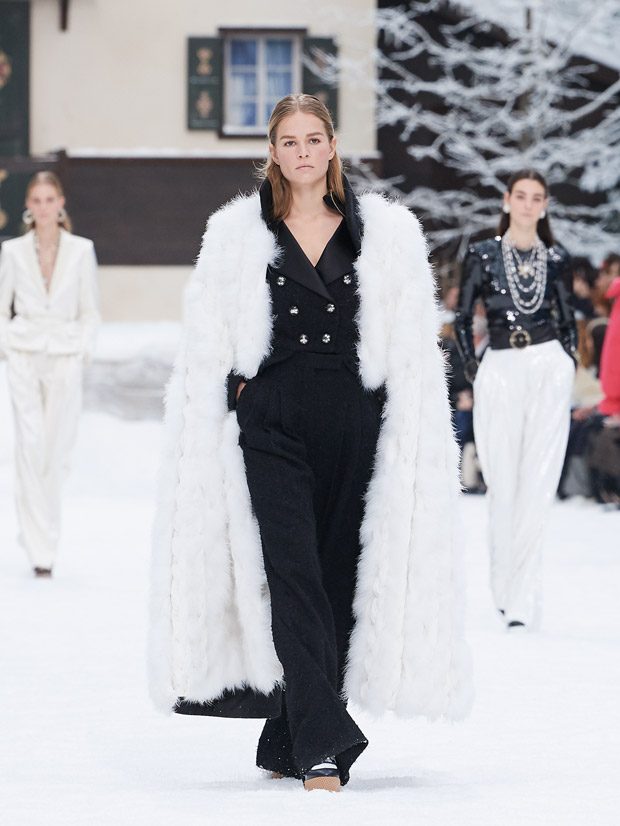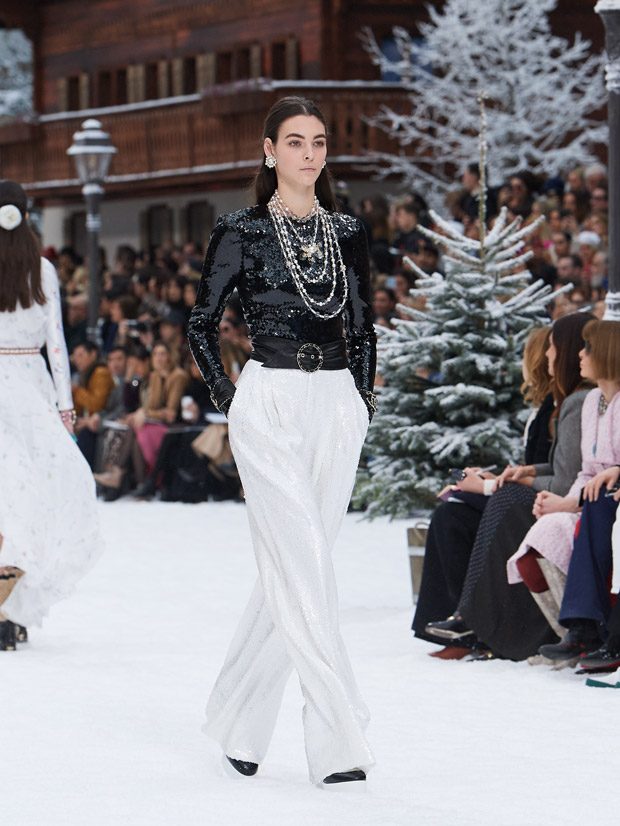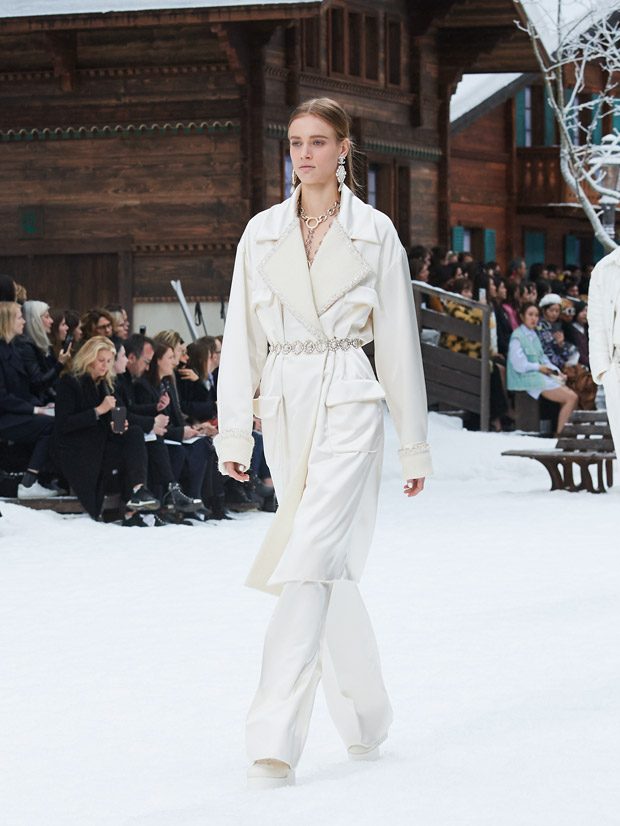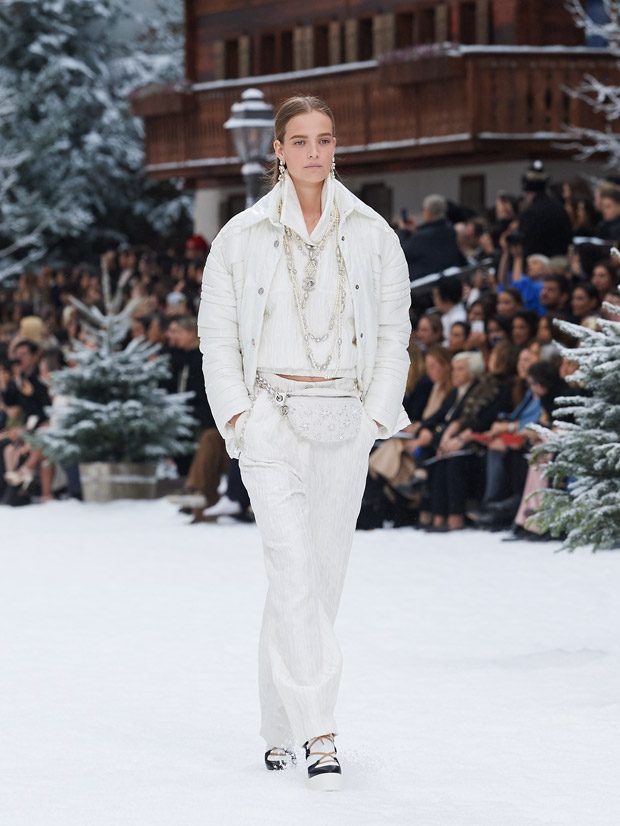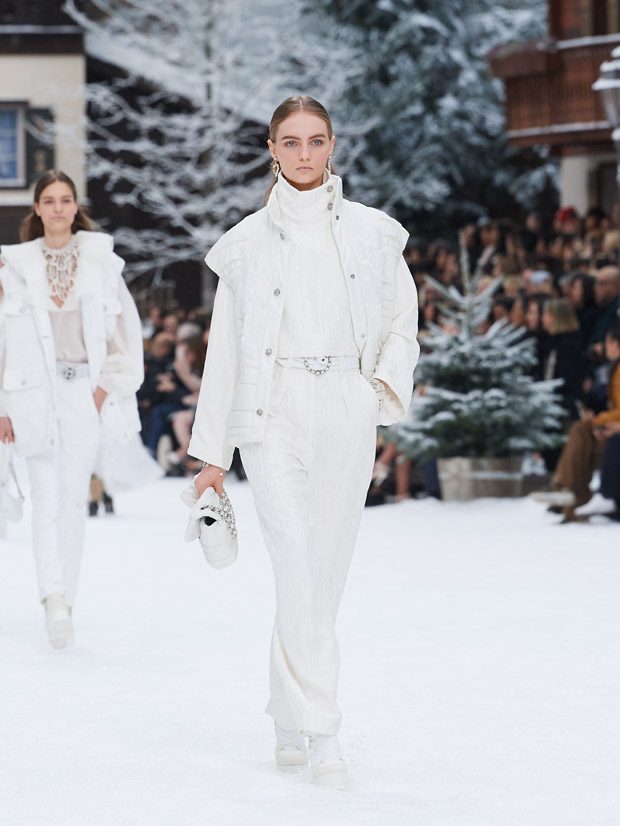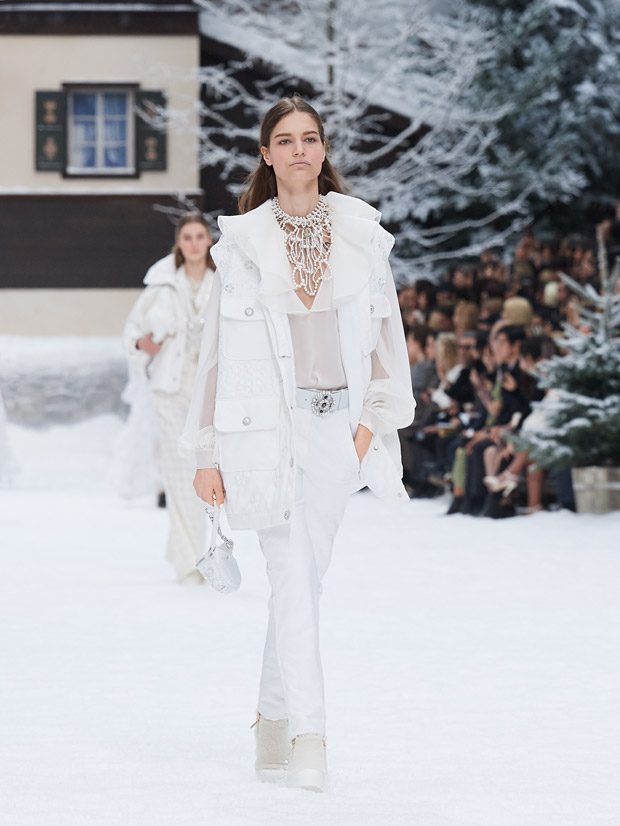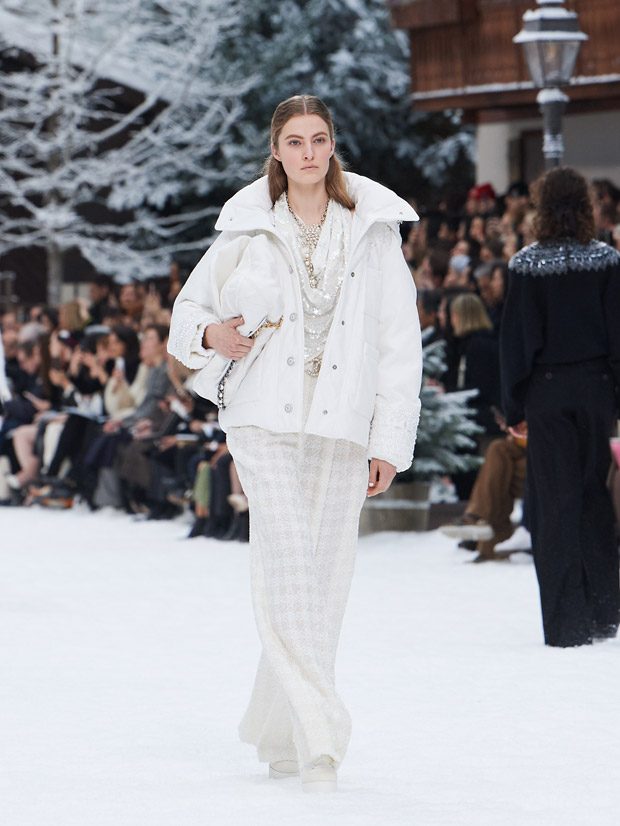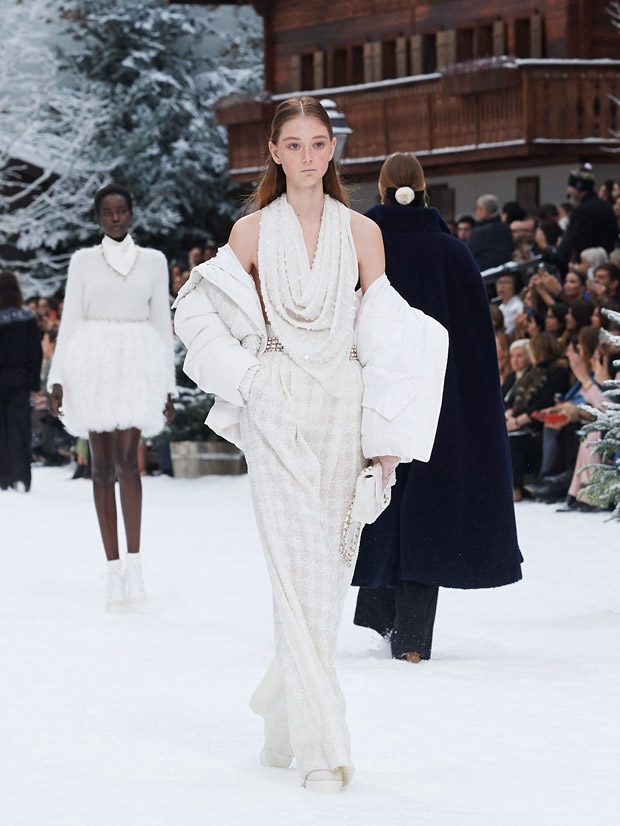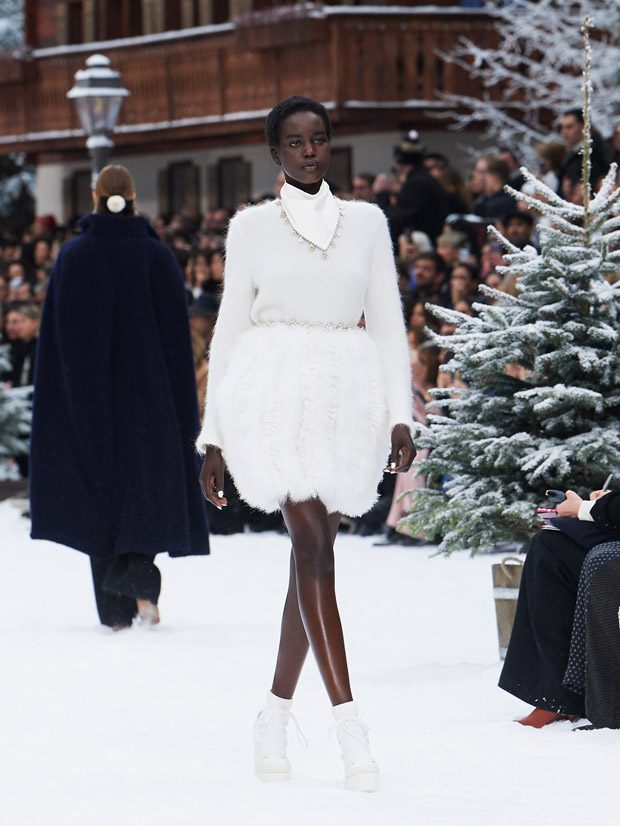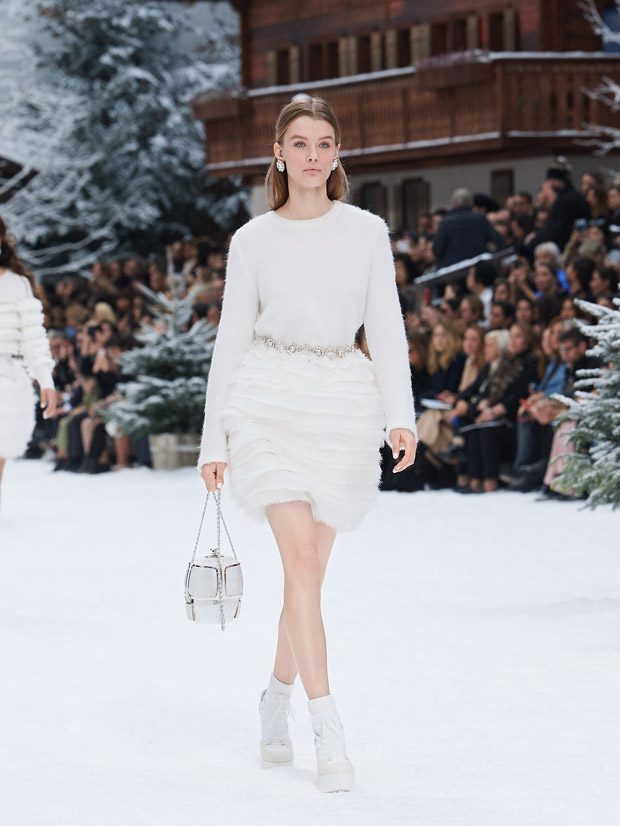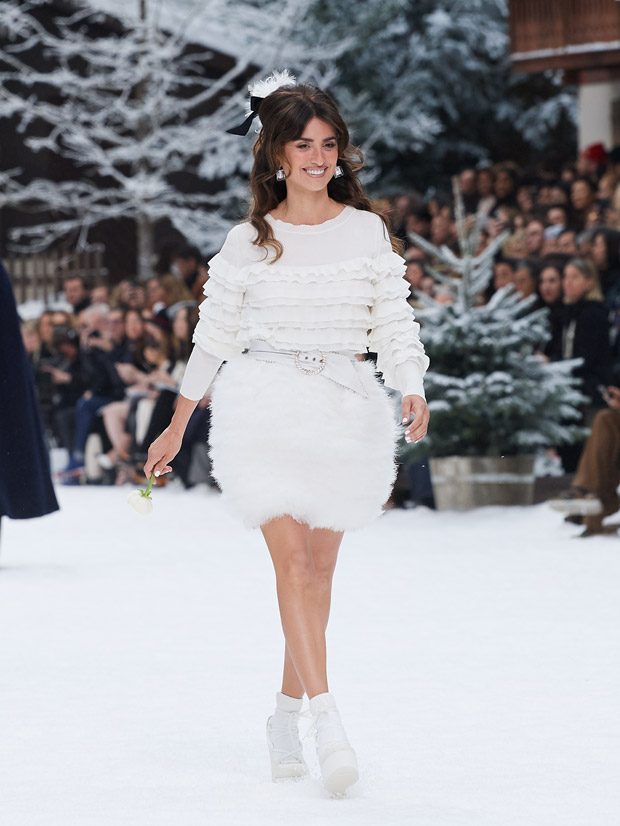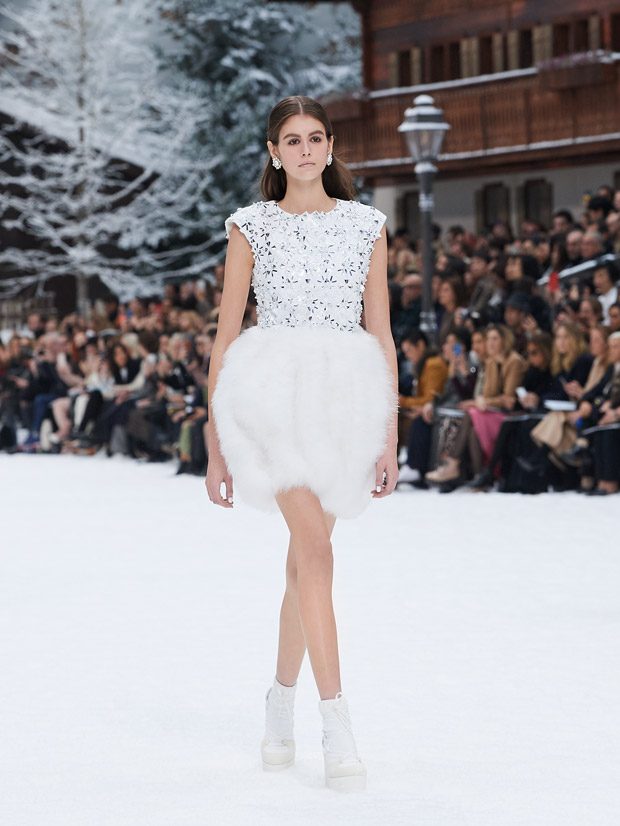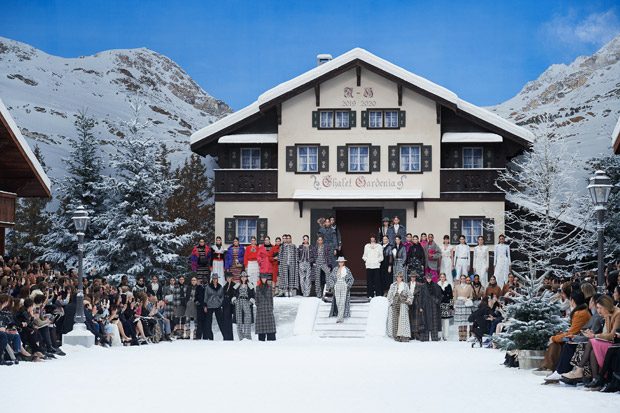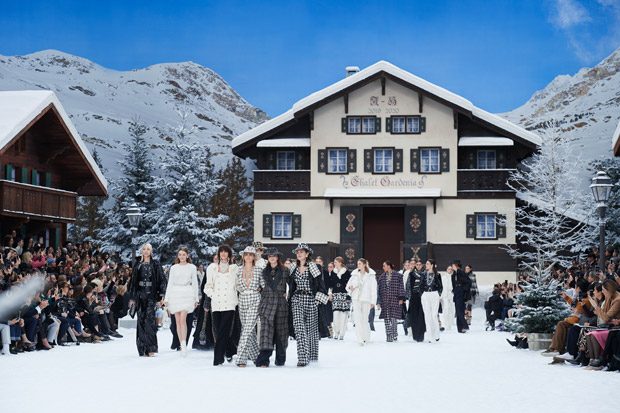 Finale pictures by Lucile Perron / All Images courtesy of © CHANEL