DAZED China launches with Declare Independence tag line on the covers as part of a new venture between Dazed Media Group and Yoho! a street-wear oriented Chinese company. Chinese edition of DAZED Magazine is backed by investment from C-Venture group.
What makes this marriage a guaranteed success is the 7+ million audience of Dazed group mixed in with more than 35 million readers and potential shoppers coming from Yoho! in China. Dazed China is set up as a bi-monthly magazine, poised for success due to the company's experience with print issues of Yoho! Boy and Yoho! Girl magazines. Both magazines are already a massive success on a local level. According to the reports Yoho's print edition magazines are selling around half a million copies each in print on a monthly basis. While Yohoboys.com and Yohogirls.com both report 7-8 million clicks on a daily level.
DAZED China's four premier issue covers feature there's Chinese singer and songwriter Leah Dou, Chinese actor Zhang Yu, Korean actor Yoo Ah-In and British top model and activist Adwoa Aboah.
Talent singer and songwriter Leah Dou
Photographer Lea Colombo
Fashion Stylist Shen Zhang
Hair 陈锋
Make-up 李济群
The media group also gets support from Yoho app with an average of 2.7 million daily users in China. This is not where the empire's ventures end, there is also a Yoho E-commerce web page with reported 12 million shoppers and annual gross estimated at 4 billion us dollars.
The launch comes to life thanks to C Ventures' Adrian Cheng who is an investor both in Dazed Media and Yoho! and is to stand as the chairman of the newly formed Dazed China.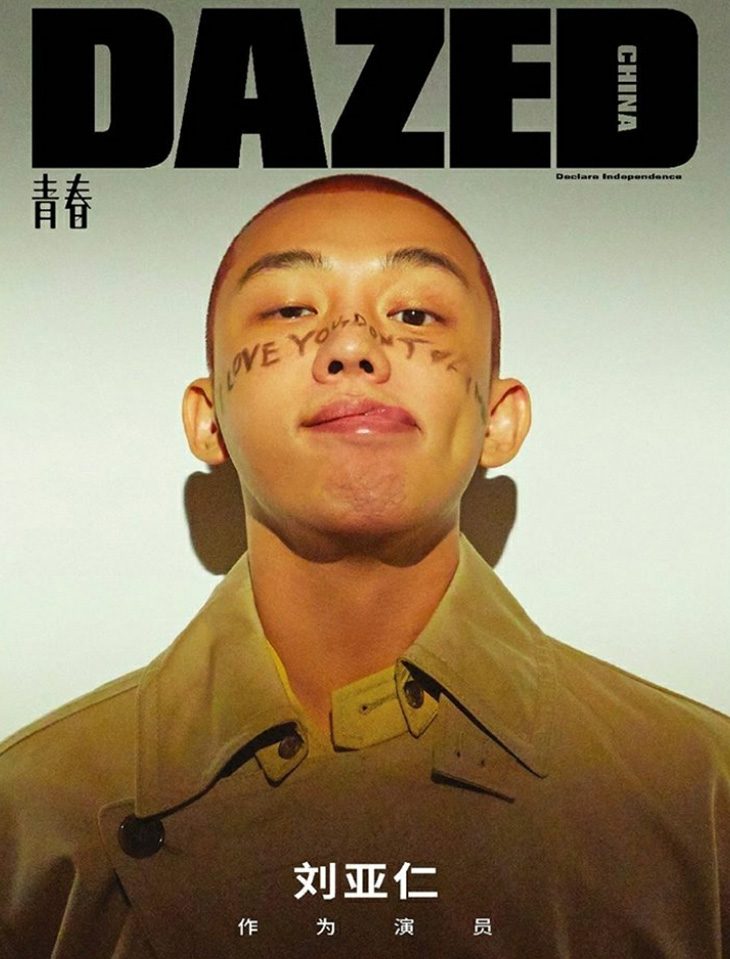 Yoo Ah-In for DAZED China:
After the rain, I can hear clearly the noice of cicada and the traffic. On the desk there are empty bottles, gummy bags and ashtrays. I may have to prepare for the movie shooting tomorrow but maybe I'll just fall asleep with all my random thoughts.

Photography Sunghyun Cho
Styling Alvin Yu
Hair Iljung Lee
Make-up Sunghee An
Artworks by Anthony
More on Dazed Media
Dazed media was founded in 1991 founded by Jefferson Hack and fashion photographer Rankin Waddell. Today this independent publishing group works across digital, print and video platforms. The family consists of Dazed Magazine, the newly launched Dazed Beauty, Hunger Magazine (by Rankin), NOWNESS, AnOther and AnOther Man. The latest venture is founding of Dazed Studio.
Talent Xiao Zhang
Photographer Yu Cong
Stylist Shen Zhang and Ting Wu
Hair Ting Wu
Make-up 冰冰
Adwoa Aboah for DAZED China:
I think too many times us women are seen as divas but it's actually about just protecting ourselves. If you're spending so much time on the road, if you're giving so much of your energy to other people, because that's your job, it's really important that there are some rules and boundaries.
Photography Hanna Moon
Styling Emma Alix Wyman
Hair Stylist Kiyoko Odo
Make-up Celia Burton
Text @susannemadsen1
Artworks by ANTHONY
Taken from the first issue of Dazed China.
More on YOHO! Group
While relatively unknown in Europe the YOHO! is one of the strongest streetwear powerhouses in China. Since 2005 when founded it focuses on streetwear culture and fashion industry through a variety of local web and print media channels. The group is an unparalleled example of combining both web, print and events into a retail business based on lifestyle.
More on C Ventures
The venture capital group is known for its investments in Yoho! but also Moda Operandi, Day Day Cook, Bandier, Threads, Beautycon, Finery, Dazed Media and Skybound Digital. The company's focus is generation z, street wear and millennial lifestyle.