While we are forced to self-isolate for our own benefit, it's easy to feel bored and uninspired. If you're looking for ways to stay sane during this uncertain times, our advice is to spend some quality time with an amazing book. Not only that it's fun, but it's scientifically proven to boost your mental and physical health.
GIVEAWAY: DOWNLOAD YOUR FREE COPY OF DESIGN SCENE MAGAZINE
Today we asked a renowned Serbian Author Ana Vuckovic Dencic to share her ultimate reading list for the month ahead.
Continue below to read Ana's top 15 picks for self isolation reading:
1. Giovanni Boccaccio – The Decameron
Decameron is a book often mentioned these days, precisely because the starting point of the action is a kind of self-isolation. Seven girls and three boys took refuge in the nearby castle from the plague that hit Florence, and spent ten days there. Each one of them told one story every night. The 100 novellas that make this book are interesting allegories, chronicles of life in the 14th century, but also stories of morality, pranks, often with elements of erotica. This book is a celebration of the story and storytelling on which civilization rests. It's a masterpiece of Italian literature, which unfortunately brings us back to the current place of great suffering.
2. Anton Chekhov – Collected Plays
Chekhov is undoubtedly one of the most important playwrights in history. What distinguishes him is his treatment of the concept of time. Perhaps that is why in this situation in which we are now, in which the category of time is somewhat different, we can dedicate ourselves to Chekhov's most famous plays – Uncle Vanya, The Cherry Orchard, The Three Sisters,The Seagull. It's nice to watch them on stage, but try to imagine and understand by reading.
3. Julio Cortázar – Hopscotch
Art, philosophy, jazz, the bohemia of Paris, wandering and thinking – these are all elements of the most extensive work of Argentine writer Julio Cortázar. Experiment and improvisation are present among the pages of this book, as much as in the aforementioned jazz, which inspired it, but it is perhaps even more interesting an experiment from the outside, that is, a call to play, which is why the book is called Hopscotch. You can read the book linearly, skipping some chapters, but also following Cortázar's pattern of numbers. For those unfamiliar with Cortázar's piece, it may be better to start with short stories. But since we are in self-isolation, we will have time for extensive reading.
4. Tarjei Vessas – The Birds
The Birds is one of the most beautiful and delicate books that comes to us from the north, and author Vessas is one of Norway's most significant writers. In times when we can't go out, this book can conjure up a trip to nature. This is the story of one man who, in a marvelous way, is recognizing the language of birds, the messages they write with its beak and feet. He establishes a relationship with nature as well as with himself. Refreshing and touching.
5. Sally Rooney – Normal people
Why are so many people around the world so fond of author Sally Rooney? Perhaps because her books are humorous, honest, wise, and so unpretentious, and because she tries to talk about what concerns us all – interpersonal relationships. In her first book, Conversations with Friends, this was a slightly broader context, and in Normal People, she focuses the story on a loving relationship, opening up the topic of communication, understanding and recognition.
6. Paolo Sorrentino – Irrelevant points of view
While you watch the New Pope or catch up with the Young Pope, you can also take a look at the literary work of one of most iconic artists of today Paolo Sorrentino. Sorrentino, whom we know for the films The Great Beauty, Youth and They, has written several books, dealing with the stories of the lucid Tony Pagoda, and many more. Allegedly based on black and white photographs of falsely named persons, the work of photographer Jakop Benasi, Sorrentino wrote 23 stories, 23 portraits that reveal magic, as well as the uniqueness of human existence. Some parts of the text are so humorous that you will laugh out loud.
7. Virginie Despentes – Vernon Subutex
Remember the High Fidelity book? Well, Vernon Subutex is not like this book, which I also recommend, though it has a similar starting point – the man at the record store. Virginia Despentes introduces us to a hero who lives relatively comfortably thinking that he will continue to do so. But as technology advances, he is forced to close the record store and begin his light but irreversible sinking. Vernon Subutex is only the first part of a trilogy in which the author so subtly and clearly dissects contemporary French society and reveals its anomalies.
8. Bob Dylan – Songs 1961-2012.
Before he was awarded the Nobel Prize for Literature, Bob Dylan was an author we could read and not just listen to. Still, the book before us offers a special pleasure – that we can do these two things at the same time in the warmth of our home. The book contains all the songs written between 1961 and 2012, both those that became hits and those that were never recorded. They are compared chronologically, so we can see how the style of one of the greatest songwriters has changed and evolved.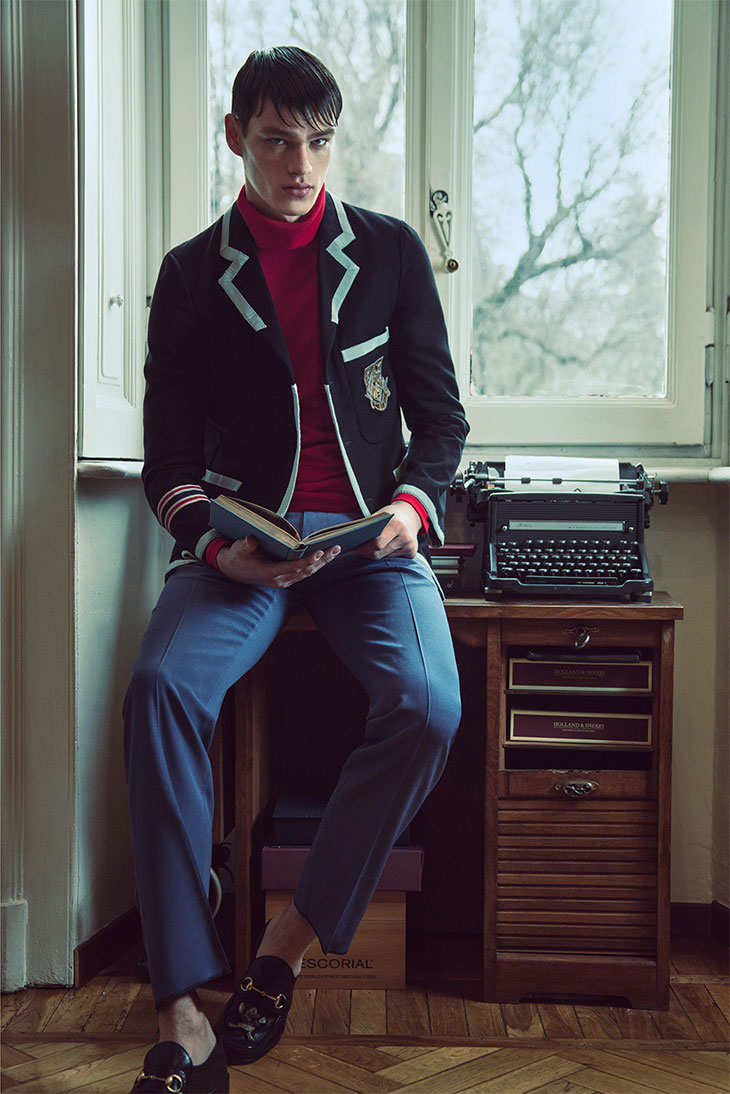 9. Karl Ove Knausgård – My Struggle
Many who have read the first book My Struggles or those who have listened to this book, complained that they did not have time to devote themselves to reading the entire series of six large books. Now is the perfect time to discover why the literary world has been fascinated by this amalgam of autobiography, fiction and essays, in which Knausgård narrates so simply, so soundly, about the things that any of us go through. Perhaps that is precisely the key to the success of the series, in which the hero philosophizes about life, art, memory, being alone.
10. Jack Kerouac – On the Road
Jack Keruoac was a beautiful man, a fashion icon, a wanderer, a dreamer. His most famous book is On the Road, a novel inspired by his real journey to America with his friend Neil Cassidy between 1947 and 1950. It's a book about self-discovery through wandering, experimenting with drugs and alcohol, about Buddhism and jazz, about dusty roads and freedom. This book, as well as Kerouac itself, was largely influenced by counterculture and the hippie movement.
11. Steven Jay Schneider – 1001 Movie You Must See Before You Die
This capital, large, well-equipped book has come out in many countries around the world, with the additions of those national cinemas. This is an encyclopedia, a guide to the history of cinema, featuring the cult, best, most paid, most entertaining movies of all genres, from action, musicals, dramas, romances, science fiction to animated. This is one of the books that every house should have because it is a book that you can always flip through and discover something new about your favorite movies. Or find an idea of what to watch tonight.
12. Peter Englund – Tystnadens Historia
Historian Peter Englund in all his books so far has dealt with the ways of history, what happens as wars and empires fall. Tystnadens historia is a collection of essays about things and phenomena that we take for granted, not thinking that they are not always there. Englund talks about the history of the stench, the reckoning of time, the fast food. Fun-written essays that keep us from getting this book out of our hands.
13. Rosa Montero – Instructions to Save the World
Rosa Montero is one of the most respected Spanish authors, and her latest novel weaves the story of several heroes fighting for their survival in the contemporary moment. The story evolves around a taxi driver whose wife has died and who now lives with her two dogs, a refugee girl from Sierra Leone, a grandmother who is intoxicated at a local coffee shop, as well as criminals running into modern Madrid. Montero questions how a little man can find a way out and save himself and the world. This is a good question for the reader in isolation as well.
14. Zadie Smith – Swing Time
British writer Zadie Smith has won many important awards, as well as the audience's affection with her books White Teeth, The Northwest and The Autograph Man, and Swing Time may be her most personal story. In it, she, as the name of the book itself, says, is a swing between the present and the memories of the past, of college, of friendships, of memories from the pop culture register, through which Fred Aster and Ginger Rogers play. This is a book about the passion for living life.
15. Carlos Ruiz Zafón – The Cemetery of Forgotten Books
Ruiz Zafón's series of books, like Knausgård's My Struggle, is hardly manageable, but enthusiastic readers around the world say that they have not regretted the minutes they spent on the books The Shadow of the Wind, The Angels Game, The Prisoner of Heaven and The Labyrinth of Spirits. The Shadow of the Wind is the most read novel in Spain in the last few decades. These books are dramas with elements of fiction but rooted in 20th-century Spanish history.
RELATED: Things to do during your coronavirus self-quarantine