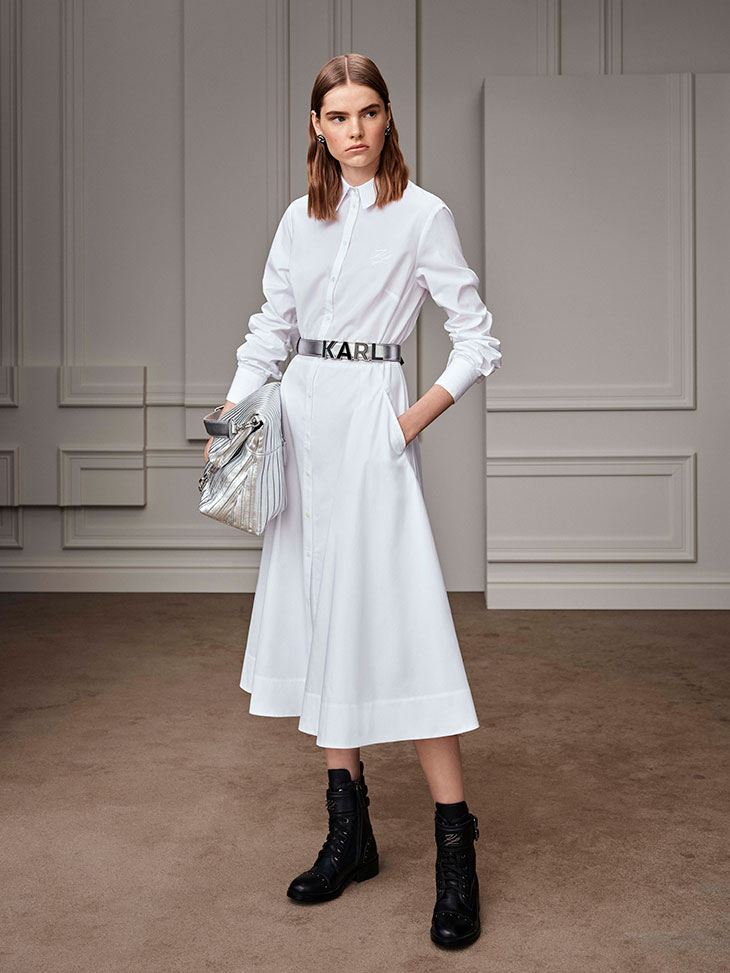 Being significant for this line is the incredibly interesting mingling of contemporary influences with historic ones: for instance inspirations from historic decades and places are paired with modern ones. Styles from the 18th century Europe, a time span Karl Lagerfeld was passionate about, team up with artisanal details, silhouettes from the '90s and a simply sophisticated spirit. Some of the graceful suits and collars remind us of the style Karl Lagerfeld was wearing himself. Therefore this collection can be understood as an ode to the legendary fashion designer himself. As a result, a modern interpretation of timeless inspirations is shown.
RELATED: FALL WINTER 2020 COLLECTIONS
We earn a commission when you follow the link to make a purchase. Click here to learn more about how we make money.
Read more after the jump:
Style inspirations from the legendary French queen Marie Antoinette can be found in many pieces. KARL LAGERFELD reinterprets the famous silhouettes of her era including corset shapes, peplum seamlines including ruffled trims. Mesmerizing shades of cotton candy pink meet KARL'S iconic color palette of black and white. Simply irresistible! What also stays in mind: themes from the '90s power dressing appear in pant suits, jackets and trousers; the overall image stays tailored and modern. When wearing these compelling creations, you will certainly be perfectly dressed for any occassion.
SHOP THE COLLECTION:
Apart of that, the collection takes us on a journey to the north of England, where it takes the looks of Queen Anne's wardrobe as a further style inspiration. Structured tailoring with strong shoulders, clean seams, voluminous sleeves and head-to-toe leather looks plays a central role. Furthermore it is focusing on outerwear with oversized cocoon coats, velvet capelets, modern ponchos and technical trench coats. Masculine influences clearly shine through, for example in pinstripe suiting, a full leather dress and a sweater- cape silhouette with antique embroidery detail.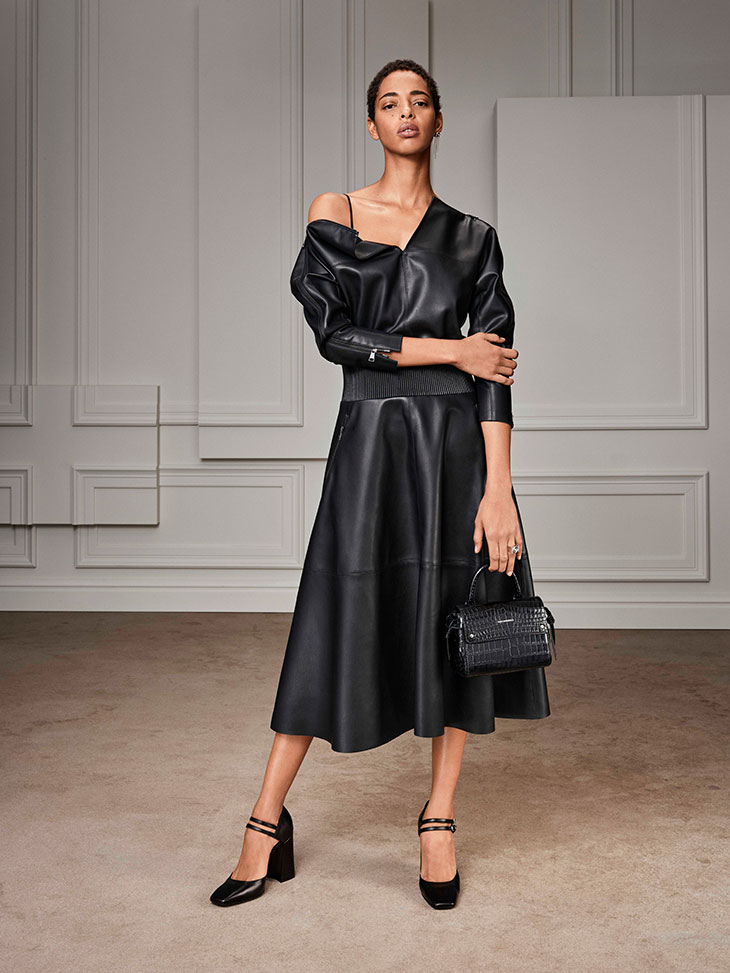 The travel through Europe comes to an end in Germany, where the music of Wolfgang Amadeus Mozart was celebrated in palaces at grand balls and masquerades. Similar to this style, the collection offers a wide range of KARL's party- ready styles for festive season. The luxurious character of these looks is expressed by metallic finishes and sparkling sequins. There are a bunch of highly desirable statement pieces, such as a faux fur leopard print coat, a metallic pleated skirt, and a '90s-inspired shirt with a built-in corset.
Moreover this collection includes a capsule that is inspired by Karl Lagefeld's archive designs from the 1990s. These pieces have been redesigned with new hemlines and modern fabrics, as a tribute to his legendary creativity.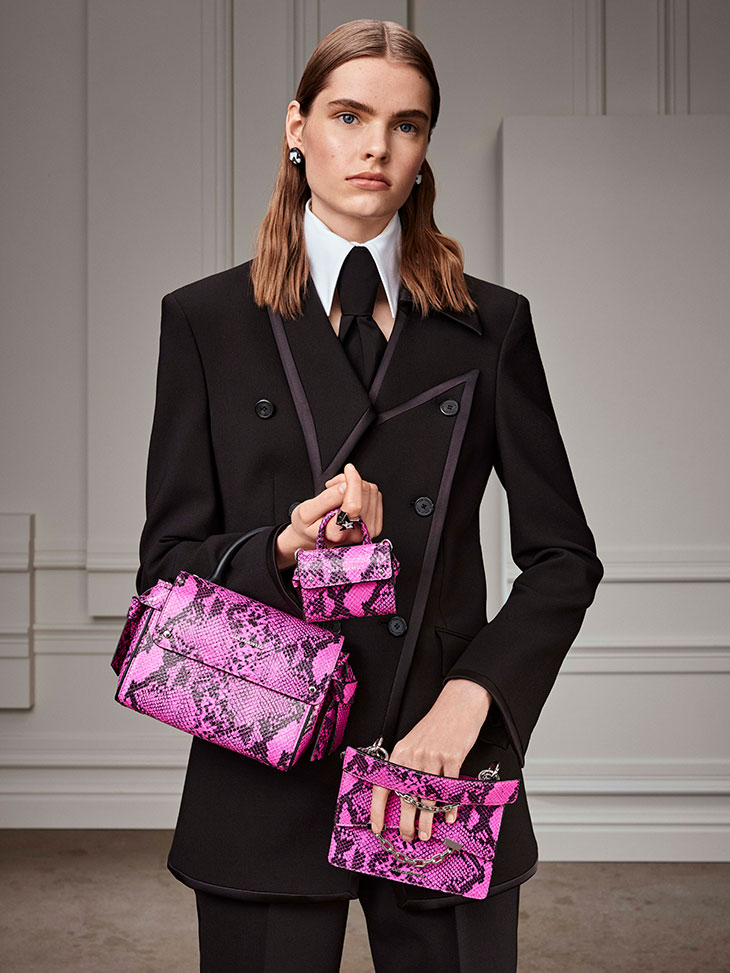 SHOP THE COLLECTION:
Accessoires
Color pops and vivid prints are integrated throughout the collection. The K/Ikon silhouette is reimagined with unique and innovative print effects, such as croc and snake print effects. It can be purchased as a medium top handle, a mini and a mini top handle.
The KARL SEVEN, which takes its inspiration by Karl Lagefeld's favourite number by the way, appears with a croc print and a natural snake print effect. It is available as a medium shoulder bag, mini and on- trend nano silhouette.
For festive moments, the K/ Signature family has glamorous ideas to offer: dazzling glitter finishes and hot fix sparkle effects certainly stand out from the crowd. In addition to this, there is also a new range of faux fur bags that a incredibly soft yet endlessly chic.
The new K/Autograph design introduces a top handle bag, with a logo that is originating from KARL LAGERFELD's archive designs. The playful K/Kushion is made of soft, padded and pleated materials that create a voluminous silhouette.
Last but not least the K/Studio is refreshed with new details: a larger "K" pattern plus new flap shap shapes, for an edgy, rock- chic look.
You can describe this collection as endlessly elegant and sophisticated in a highly fresh, feminine yet powerful way.