A girl from the future travels back in time and lands in the Nineties, surrounded by sequins and chunky jewelry. Serbia-based fashion brand, MATES, presented their Winter 2021.22 collection via digital runway filmed in Belgrade's legendary Genex tower. Named "B SIDE" (Serbian: B STRANA), the collection pays tribute to the '90s fashion and style.
DSCENE Fashion Director Katarina Djoric sits down with Marko Ilijev and Saša Stević, creative duo behind MATES brand, to talk about their latest collection, comeback of the '90s, and Instagram culture.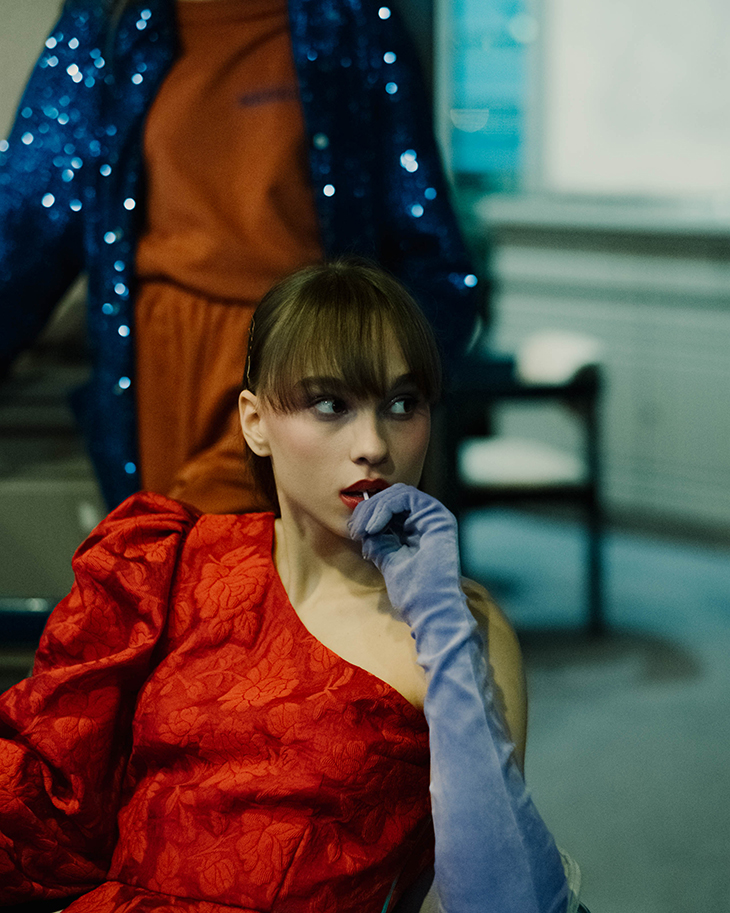 What does it mean to be an independent fashion designer?
Marko: Brand MATES came to life as a vision by two fellow students (mates).My perception of an independent designer or artist in Serbia includes dealing with everything under the umbrella of a brand– from idea development, meetings, production, marketing, pricing, order packaging to pure networking. Now, looking back, I can really be proud of our determination and not giving up.
Saša : I'd say it's all one big adventure and if you're not an adventurous type, don't take that ride. Seven years later I still feel the same excitement, butterflies in my stomach – it still pushes me to dig deeper and look for something new and different to work on. I was lucky enough to have an opportunity to design for much bigger brands, which only made me even more confident and attached to this story I write with Marko every day.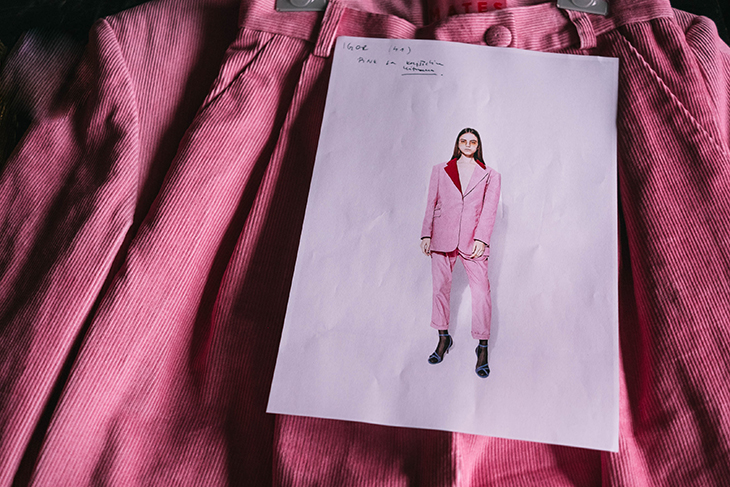 How would you describe the MATES brand?
M: I think of it as something that's always in me and gives me the ability to communicate with all those art, fashion and beauty lovers. Telling a story, good or bad, sharing all the experiences that affected my personal growth and fascination since childhood is now being done through the aesthetics of our brand.
S: I would say that the brand is best described by such words as youth, aesthetics defined by simplicity and ease of living as well as ubiquitous eclecticism adding that MATES flair to everything.
View this post on Instagram
The girl you're dressing seems detached in her search for style – she wears bold colors, satin suits and lots of sequins. What kind of girl do you actually aim to dress up?
M: Seeing a random person on the street wearing one of your pieces is really a special thing. It being "just a simple bright green silk blazer", I am always the most intrigued by the message, vision and a dream this person shares with us by wearing it. Whenever we work on a mood board and sketches, I can always envision a woman in front of me and I know what she does, what she reads and who she talks to, even though I never think of a specific type of girl or muse. MATES woman gets to know herself better every day, is not afraid of changes and has authentic style.
S: We think of the pieces we design as something that makes a girl reminisce in the morning of an eventful night, seaside memories or adventures she's had while wearing our garments.
How much is colour decisive when you compose a silhouette?
M: I love colors. It happens very often that color affects the whole decision about a silhouette or a whole piece. I just love layering, bringing colors and prints together.
S: Color palette is of huge importance to us, and we aim to spend a lot, if not most, of our time researching and forming one.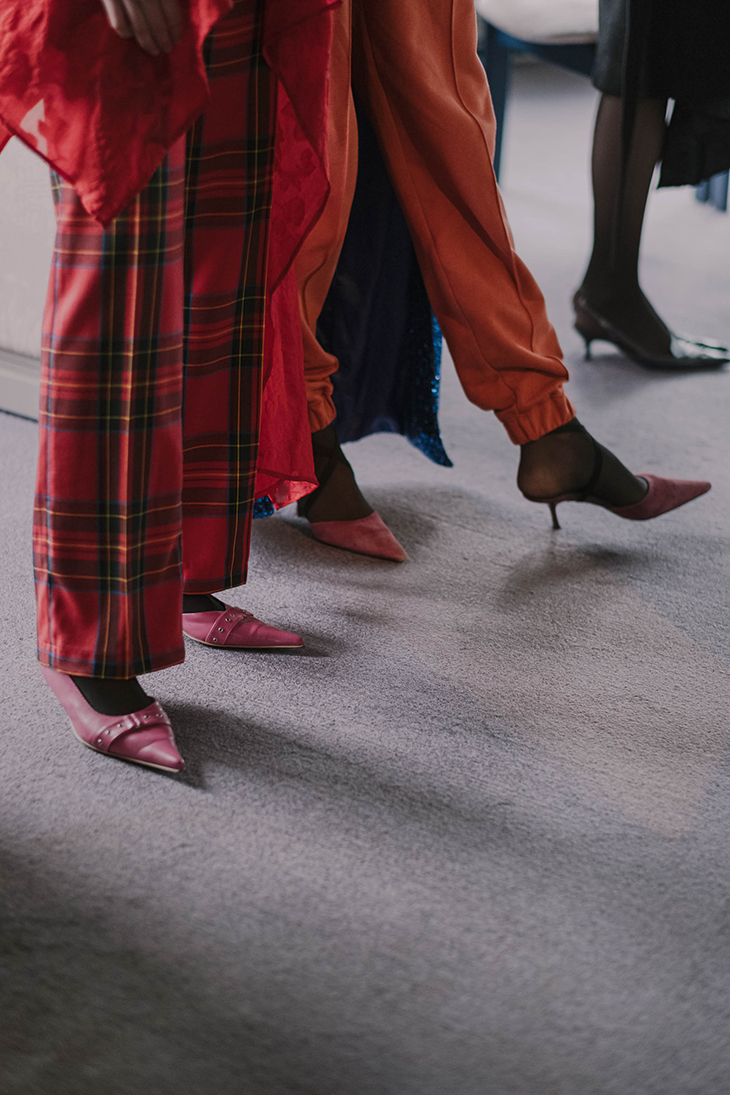 We have recently seen a comeback of the '90s in fashion. In your point of view, what should we take away from this era in fashion?
M: Super sexy chic vibe, strong perfumes for winter, chunky jewelry and statement pieces, always.
S: Right this moment I would say a lot of things since that's the period we dedicated the most of our new collection to. Perhaps I would single out that unique passion for emphasized femininity, a truly detailed approach to nourished, yet provocative beauty, as well as diversity as an imperative and a focus of that time.
In what ways have you evolved from your first collection?
M: First MATES collection was presented when I was 21. I could say that I am a completely different person now and that my own development was always followed by the development of the brand. Its aesthetics changed through the years, but our energy, vision and those conversations Saša and I regularly have stayed the same. I am not sure what to call it, probably the core of the brand.
S: When I try to visualize some imaginary chart, I would say all these years we are only going uphill and that makes me really happy.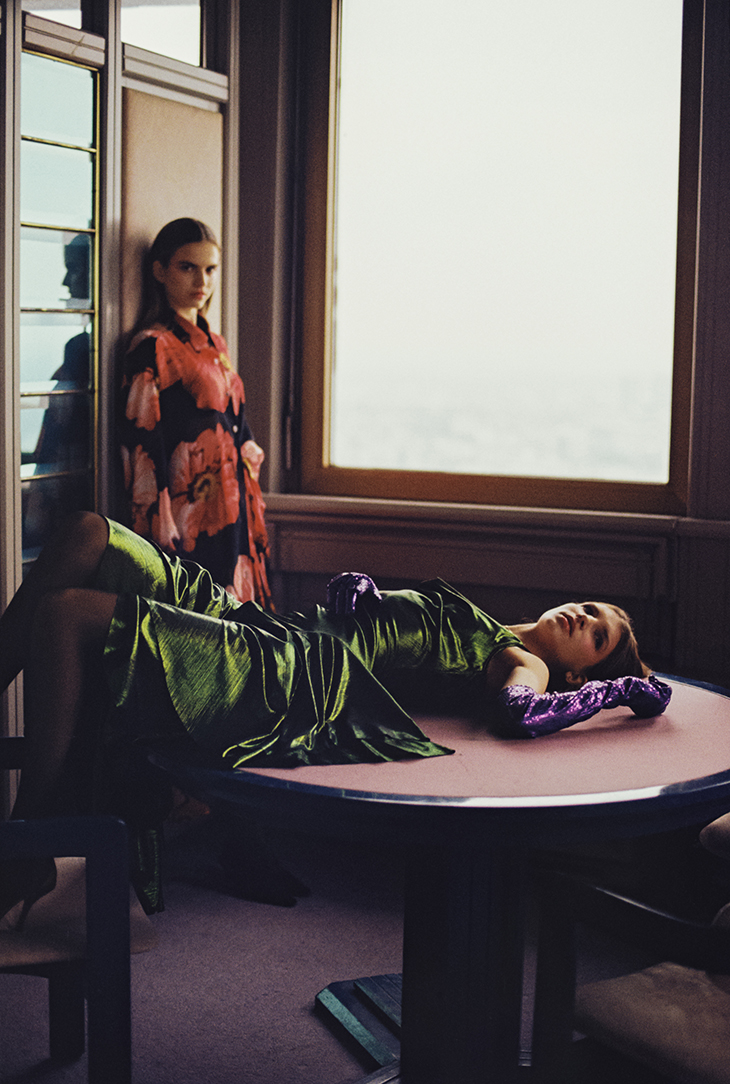 What do you think of Instagram culture and the rise of influencers in fashion?
M: Since day one Instagram was an essential platform for us, for presenting and communicating our brand, and that never changed. We use it as a diary of things that catch our attention and inspire us daily. I like to think of influencers as people who brought fashion closer to a wider world and influencer marketing could definitely be defined as a leading form of marketing currently.
S: I feel Instagram is a really diverse and attractive market. People have more and more connection with that online world and I'd say Marko and I realized that early and started working on MATES getting a seat in the first rows of that social media show. I'm glad we have influencers now, sometimes it seems like people can understand styling better off of them than models.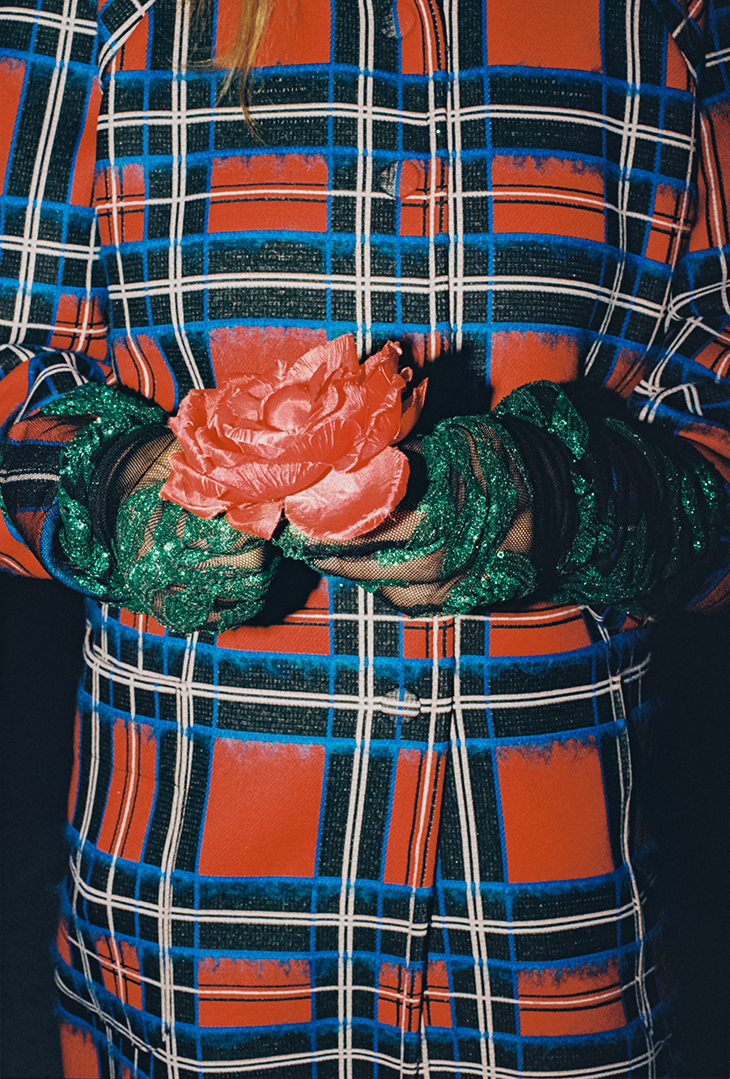 Is eco-friendly and ethically made clothing important to you?
M: I've never presented MATES as eco-friendly and sustainable brand. However, I think sustainable fashion and an ethical approach to it are essential today. Our clothes are manufactured in family-owned workshops, small quantities and in working conditions I can stand behind. Wearing designer fashion as opposed to fast fashion is also a step towards sustainability and not piling clothes up.
S: I educate myself daily and explore this topic a lot. I am still trying to figure out in what way is MATES part of this movement, but constantly thinking, caring and reading about it, while manufacturing in small batches, I'd say we are on a good path. On the other hand, I have an issue with the misuse of the word "sustainability" for marketing purposes and that's something I won't ever stand for.
What is next for MATES?
M: It's always about a new story being told by our next collection, and surpassing the previous one, even just a little bit. Slowly, and tiny increments towards a more serious future, goals and dreams.
S: Summer collection and hopefully an offline show after a long break.