It's been just over a year since The North Face and Gucci unveiled their first collection in select locations across the world, but the hype is far from over. The luxury label and the lifestyle brand have returned with yet another limited-edition offering. The topic is exploration, much like the last one.
For the collection, pieces from The North Face's own archives are reworked with the GG monogram or covered with prints inspired by Gucci's pattern vocabulary. But, perhaps most crucially, they're built to withstand the weather. While some of the designs are from the 1970s and 1990s, The North Face has infused them with modern proprietary technology. . The collection also features reworked Gucci staples superimposed with earthy colors and wilderness patterns. Apart from the stellar outerwear, throwback puffers and flowery down coats, there are a few understated throwback pieces, such as the zippered cardigans and silk dresses, which are practically devoid of The North Face detailing, apart from branded buttons.
Aside from the colorful puffer coats, the brand's classic Half-Dome emblem is one unmistakable The North Face element on exhibit here. Which, of course, is above a "GUCCI" in the same typeface.
Purchase The North Face x Gucci Shearling Jacket here.
Gucci and The North Face dominate the accessories game as well, presenting lots of new bucket hats and shoulder bags with themed design.
One intriguing aspect of this collection is a greater focus on graphic prints, with plenty of woods, hills, and other beautiful panoramas printed over layering pieces and adorned with the co-branded Half-Dome logo.
But there's more going on behind the scenes The line apparently utilizes recycled ECONYL instead of nylon and 100% certified responsible down insulation, which should be adequate to keep you warm in unrated circumstances. The North Face x Gucci's gear isn't really made to withstand more serious outdoor adventures, so keep that in mind.
The collection
The collection comprises a large range of 126 co-branded pieces with an outdoor-inspired aesthetic, ranging from coats and T-shirts to cats, backpacks and tracking boots. There's a little bit of everything in the collection when it comes to clothing. There are a few finely embroidered knits that can be dressed up or down depending on the occasion for those who prefer a cozier way. There are plenty of puffer vests, parkas, and other key outerwear pieces, as well as a fresh take on Gucci's characteristic slides, logo-detailed hiking boots, and backpacks, as well as cold-weather basics like beanies, scarfs, and logo-detailed socks.
Discover more apparel from The North Face x Gucci collection at GOAT.
We have compiled a list of our favourite pieces from the Gucci x The North Face partnership that we think you should buy right now:
The North Face x Gucci down jacket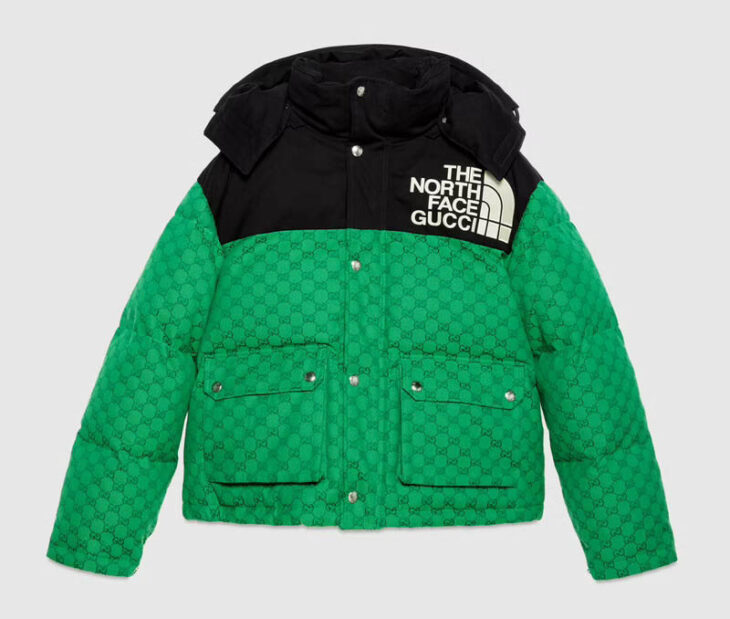 The hooded cotton-blend canvas-jacquard down jacket is our absolute favorite piece from the second chapter.
The North Face x Gucci women's tracking boots
These stunning orange hiking boots are made from GG-jacquard canvas and leather with a sturdy tread sole.
The North Face x Gucci sweater
This vintage inspired sweater comes in a trendy earth tone and contrast Gucci and The North Face motifs.
The North Face x Gucci down vest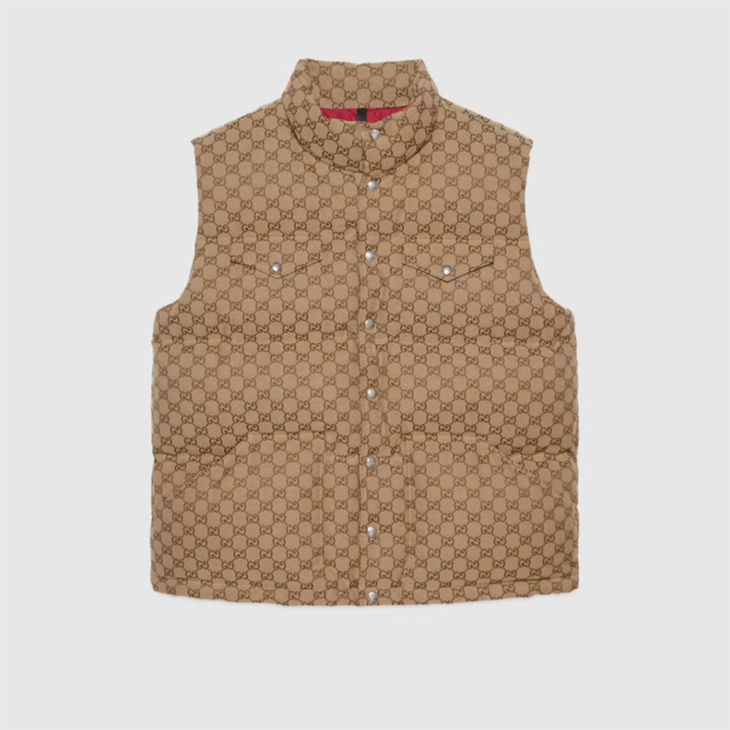 This classic padded vest is made out of a sturdy cotton/poly blent canvas in beige and ebony with warm down padding and The North Face x Gucci logo embroidery.
The North Face x Gucci padded jacket
This stunning beige padded jacket with contrast The North Face x Gucci logo embroidery is one of the more understated pieces.
The North Face x Gucci backpack
The fact that there are just a few items remaining for purchase demonstrates the popularity of this partnership. This was to be expected after such a successful collaboration and magnificent collection, which has left many people wondering what these brands have in store for the future. It will, without a doubt, be nothing short of spectacular.
Shop authentic Gucci apparel here.
Brand: The North Face x Gucci
Season: Fall/Winter 2021/22
Release Date: Available now
Price: $550 – $4,500