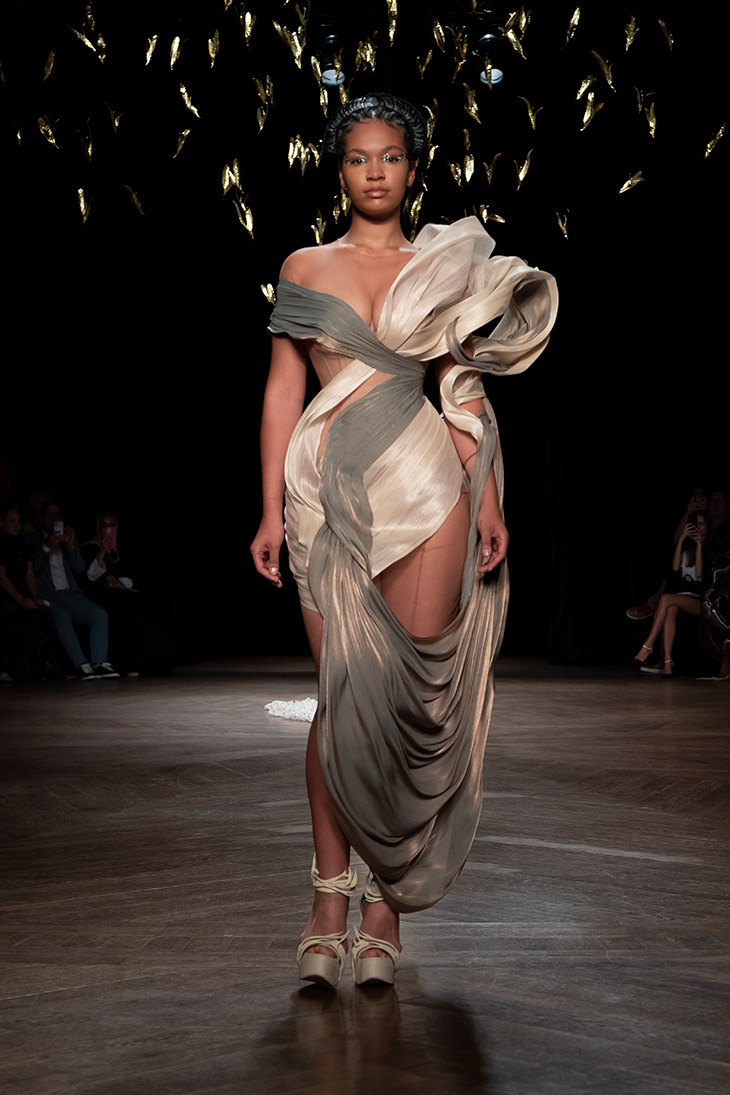 Fashion house IRIS VAN HERPEN presented their Autumn Winter 2022.23 Meta Morphism Haute Couture Collection, that celebrates the brand's fifteenth anniversary, on Monday July 4th, during the ongoing Paris Fashion Week. The collection explores multiple realities, intangible identities, as well as the depths of the body in posthuman realities. The designer also reflects on Ovid's magnus opus poem 'Metamorphoses', and with 16 looks examines the ancient visions of Ovid's mythology through modern themes of transhumanism. The collection was built around three myths: The story of Arachne – a masterly weaver who challenges the goddess of Athena, and notorious for her craftsmanship – is transformed into a spider through shame, to hang from an eternal thread; the story of Daphne and Apollo – a tale of objectification, Daphne was the first love of the god Apollo, but met with unrequited affection, a parable of lust in the face of rejection; and the story of Narcissus – who falls in love with his own reflection, slowly languishing to death through self-obsession.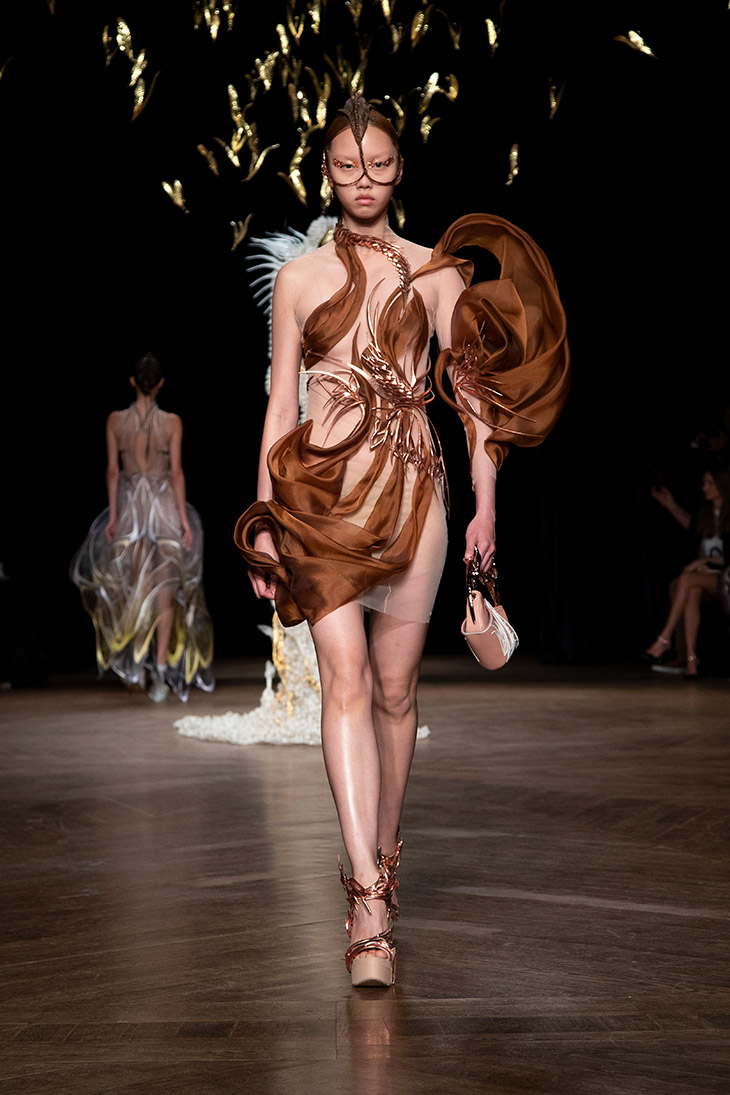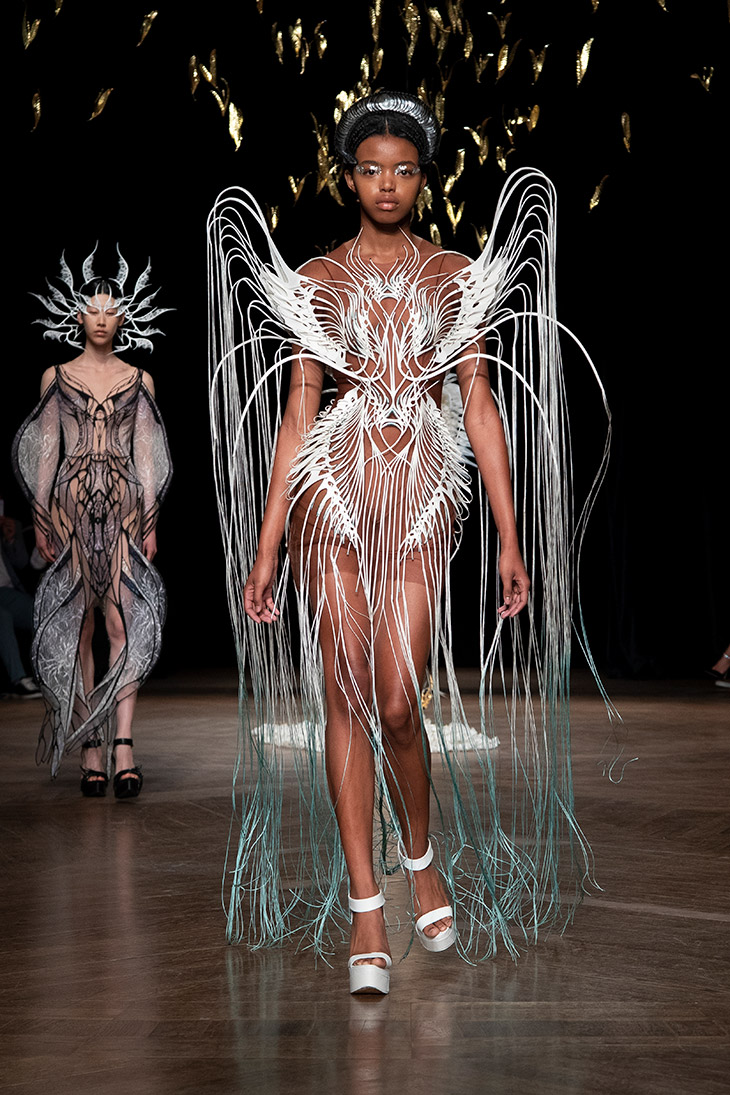 "In the collection, the tragedy of Arachne is translated in fine laces that are gradient dyed and trapped in embroidered webs, causing the trapped spiderwebs to float. Other looks are designed as if Arachne is still weaving them, hundreds of unspun threads float and spin around the body. On a deeper layer – emotional perfectionism and personal pressure are expressed in these looks, speaking to a wider societal message and the vivacity of the present age to view our- selves from a far. Arachne's digital twin avatar is also spinning a multitude of spider silk threads around her. Her golden threads are snares that defy gravity and loat upwards into a cosmic web above her. Her spinning acts like a musical instrument and while she spins her golden silk instrument, she becomes the composer of her own body.
The translucent layering and reflective textures of growth in this collection speak to a greater message of introspection. Demonstrating a more radical colour palette for the Maison, accruing the lightest colour way of any collection so far, the cream hues and beige tones are parabolic of the feeling of self-examining arc of this season. Transparent voluminous drapes echo around the body like ghosts, creating patchworks of shadows, designed to turn inwards on ourselves and question who we are, and who we are to become. Accents of dark blues and amethysts, ochres, metallic silvers and copper intersect the lucid palette, mirroring the vibrant flecks of our personalities. The shows opening look, the long white 'Narcissus' coat is embroidered with an artwork of echoing faces that shift while inter- locked. The portraits become glitchy and seem to slowly melt away.The 'Narcissus' gown and coat express the power of self-creation and the contradiction of how self-obsession can ultimatrly cause loosing your sense of self.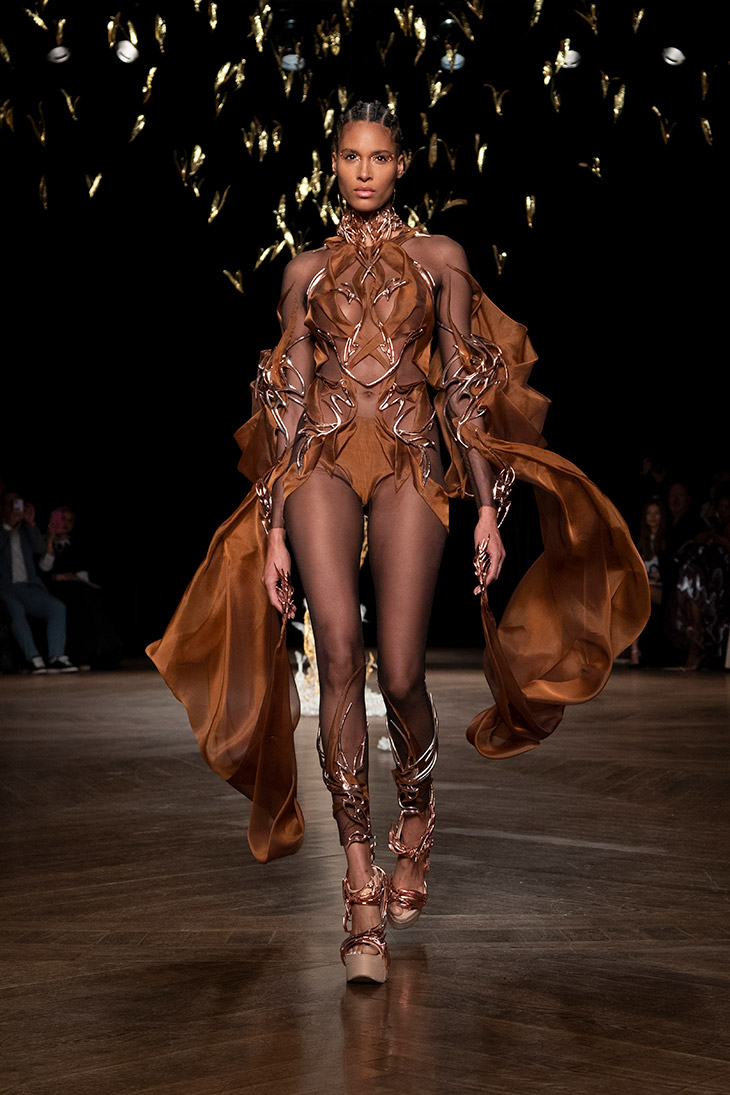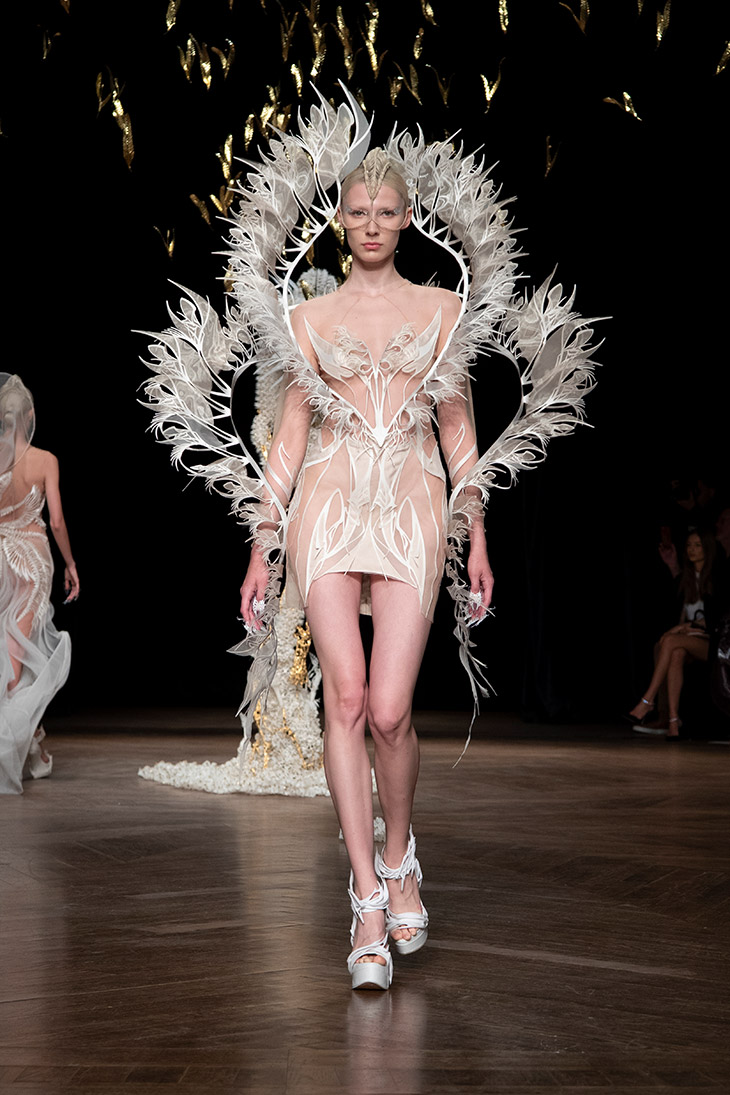 The allusion to Daphne and Apollo is betokened through the fiale look, embodying the very moment that Daphne transforms into a laurel tree, while the 'Glitched Growth' dress and other looks mimic the alternate stages of Daphne's metamorphoses, diffusing the creation of plant and bone structures growing together. These looks are designed around body objectification and imagine future metaverse hybrids of Daphne's myth in which the body is boundlessly transformed and where man and nature are indistinguishable." – from Iris Van Herpen