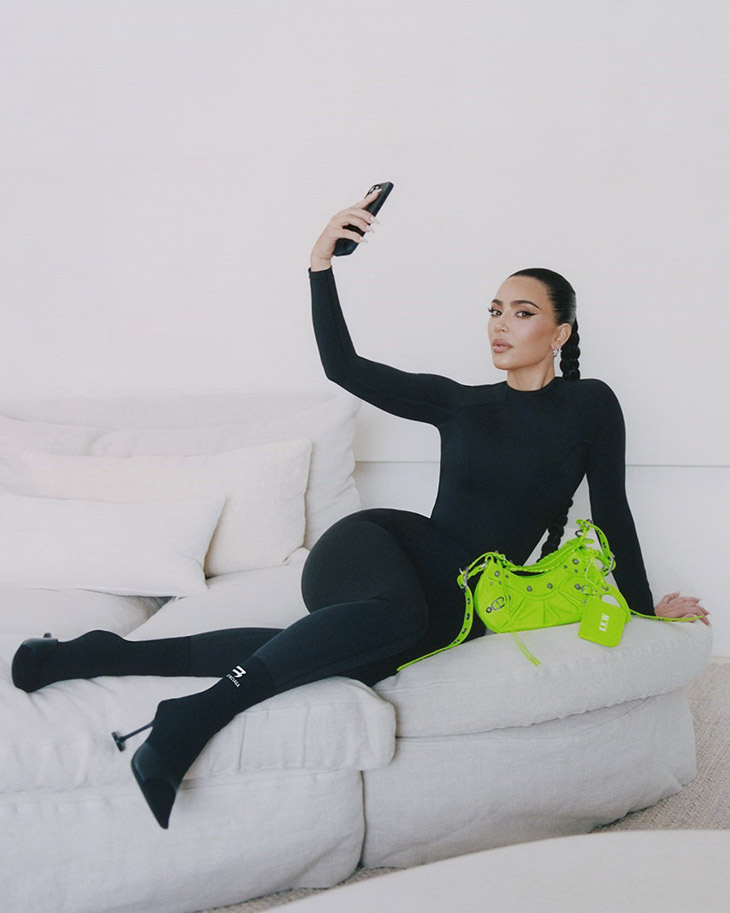 It is clear, you've got the coveted hourglass body figure and everyone around you either hates you or loves you. Congratulations! Hate or love are not even close from where they'll be after you apply our dress code.
Knock knock.
Who's there?
Daisy.
Daisy who?
Daisy me rollin' they hatin'!
Banters aside, determining your body type is the main step in choosing a great style, which means you've already championed the first and most important part.
So what now? We will show you what are the best clothes and combinations to help you enhance your figure and make the most out of your juicy silhouette.
Get ready to build the ultimate wardrobe!
The Hourglass Body Figure
The hourglass silhouette is easily recognizable, if you see wide busts and hips and a narrow waist, you've bumped into one. This technically means that the bust-to-hip ratio is close to 1:1, whereas the hip-to-waist ratio is around 1:0.6-0.7.
To summarize, it's a body that looks like an hourglass.
It's also a shape that many women work very hard to get. But it's not the easiest one to master, if you don't want your weapons to backfire.
The peculiarity of it is that it's somewhere between the petite and the busty type, making it versatile, uncommon, and demanding when it comes to clothing.
Now, whether your hourglass body is natural, or due to workout, or surgery, it can work in your favor or against you. The good news is there is a science behind it, and everyone can master it. Let's dive into it.
Dress Code Fundamentals
Hourglass bodies are commonly described as curvy, hot and of course… sexy! But you're running out of time for that awesome party you're attending, so let's start with the fundamentals!
1. Focus on the waist
The waist is what makes the hourglass, so the first thing you want is your waist to be perfectly contoured to make your curves stand out. Here are the best way to do this:
Belts: anywhere from the slim, night-dress belt to the thick leather and buckle, depending on what you're wearing (you may go a little cowgirl here), wearing a belt is the surest way of underlining your waist and showing off your curves!
Fit clothes: embrace your figure and don't hide it from the world. First of all: you look amazing! Second, any other style won't look as great on you. So go define your waist and look stupendous, whether with coats, t-shirts, blazers or tops!
High-rise pants: It's all about the waist, we've probably insisted enough on it. So high-rise pants are what you're looking for, whether jeans, chinos or whatever you prefer. Wear them high and shine!
2. Look great at work
While at work, you can also make the most out of your hourglass figure by experimenting with these full-success guarantee combinations:
Smart casual: for the standard day at the office, try out the blouse with slim-fit high-rise trousers. You'll look smart, put-together and comfortable.
Business cool: we are absolutely in love with blazers and suit jackets when it comes to hourglass bodies, and you'll be too! Whether with a shirt or a v-neck, trousers or skirt, a blazer will look great. Tip: roll sleeves back!
Sexy sophisticated: if you want to feel a tad more girly, we suggest you go for the high-waisted fitted skirt, which can also combine with a blouse or a blazer.
3.Ace your casual style
We all want to take a break from being pretty and relax, but there's a set of rules! You can relax and look great at the same time. Here's how:
The jean and jersey: wear some bootcut jeans with a fit jersey to look casual and cool while keeping it comfy.
The casual sexy: wear a skater dress with tennis shoes to look girly, cool and damn sexy! You can change the tennis shoes for boots and a choker necklace if you want to add another side to it!
The spring-summer casual: wear a miniskirt and a skinny t-shirt to show off hips, bust and legs while looking cool and feeling comfortable! As footwear, a pair of sneakers will do the trick.
4. Make the most out of your bust
Whether you like to show off or look more modest, you also have a gorgeous bust to exploit. You may want to go for a v-neck if you have a large chest and you want to make it look smaller. In any other case, you want your collarbone to shine out, and this will help:
Scoop necks will show the curves of your upper chest and make you look amazing
Boat necks will help you frame your figure and make your face stand out
Avoid turtlenecks and any outfits that make your chest look too large! If it's cold outside, scarves are better.
5. Pay attention to your underwear
You're almost certainly not lacking volume on your breasts, so make sure to wear bras that lift and give support. You should also pay attention to the straps and back, the best option might be to make a little investment and get some tailored or fitted to suit you to perfection.
Recap: do's and don'ts
It might have been a lot of info all at once, so let's go for a quick summary of all the do's and don'ts:
Do's
Fit clothes
Skirts and high-rise pants
Scoop and boat necks
Don'ts
Straight cuts and boxy styles
Turtlenecks
Clothes with ruffles
The Hourglass and the Hourglass
The hourglass figure became tremendously popular with the rise of the Kardashians, but let's make a point clear: having a Kardashian body is impossible without undergoing a liposuction, just like Kim did. Celebrities' preferences for plastic surgery also affect normal people. In fact, there is an incredible increase in the demand for hourglass body surgeries all over the world. Many patients even travel abroad for surgery in search of cheaper prices.
Turkey is nowadays one of the preferred destinations for medical tourism in the world. You can see how, in the following liposuction in Turkey page, they offer VIP services with accommodation, private transportation and all medical fees included.
The point is you shouldn't worry if your bust and hip width is not twice your waist, this is almost impossible without plastic surgery. The point is you have a great body and you can make the most out of it. Try experimenting with the different outfits and ask your family and friends about it, we guarantee they will love them!
Images from Kim K for BALENCIAGA Spring Summer 2022 Collection – See the full story here