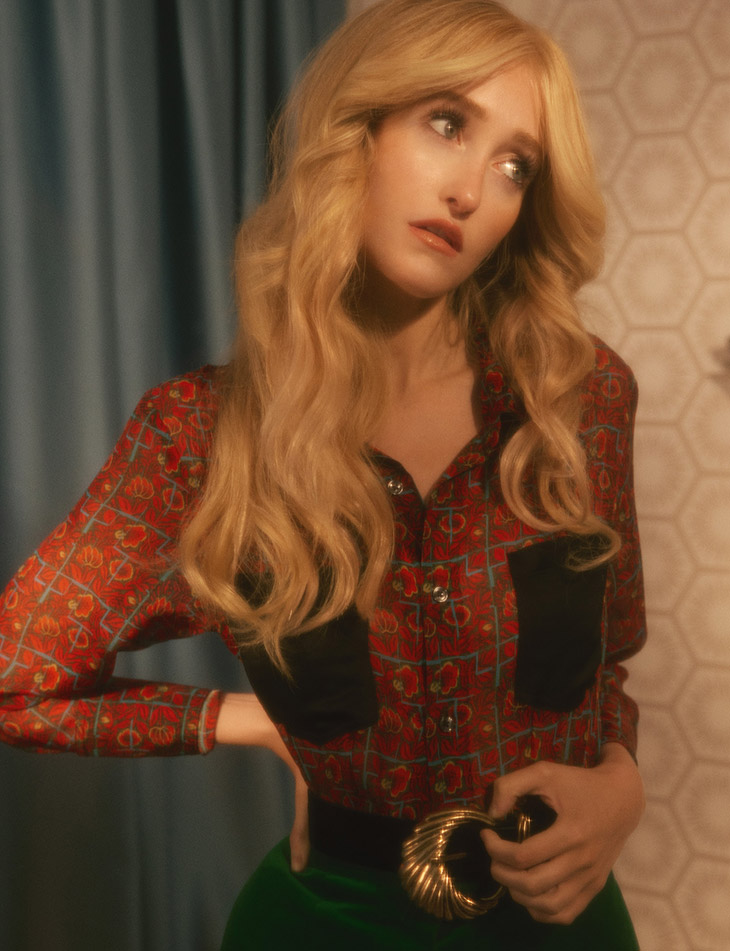 From indie favorites picking up awards at festivals to TV shows dominating big streaming services, Gus Birney has done it all. Gus began her career ten years ago and has since developed a stellar résumé. She seems to draw people to her instinctively, and her talent for keeping audiences engaged has helped her establish a successful acting career.
Birney, who was born and reared on New York's Upper West Side, attended different smaller performing arts schools and began creating songs and singing at the age of eleven. Birney began auditioning at the age of 13 and finally landed an ad for the teen skincare product Clean & Clear. Following her early success with commercials, runway appearances for major brands including Kanye West's Yeezy line, Birney has mostly focused her skills on theater, TV, and movies.
In 2017, she landed her breakthrough role in the Stephen King-inspired horror series "The Mist" Today, she has a diverse range of performing credits, including a stage appearance alongside Marisa Tomei and a role in Charlie Kaufman's I'm Thinking Of Ending Things, as well as being a series regular in Apple TV's "Dickinson" and in the new horror comedy series "Shining Vale" where she plays the daughter of Courteney Cox.
Birney sits down for an exclusive interview with DSCENE editor Ana Markovic, to talk about her passion for acting, her most memorable roles, her tiny OCD rituals, and future projects.
For the accompanying DSCENE exclusive editorial and fashion movie, Gus teams up with photographer and director Lara Callahan. Read the complete interview below: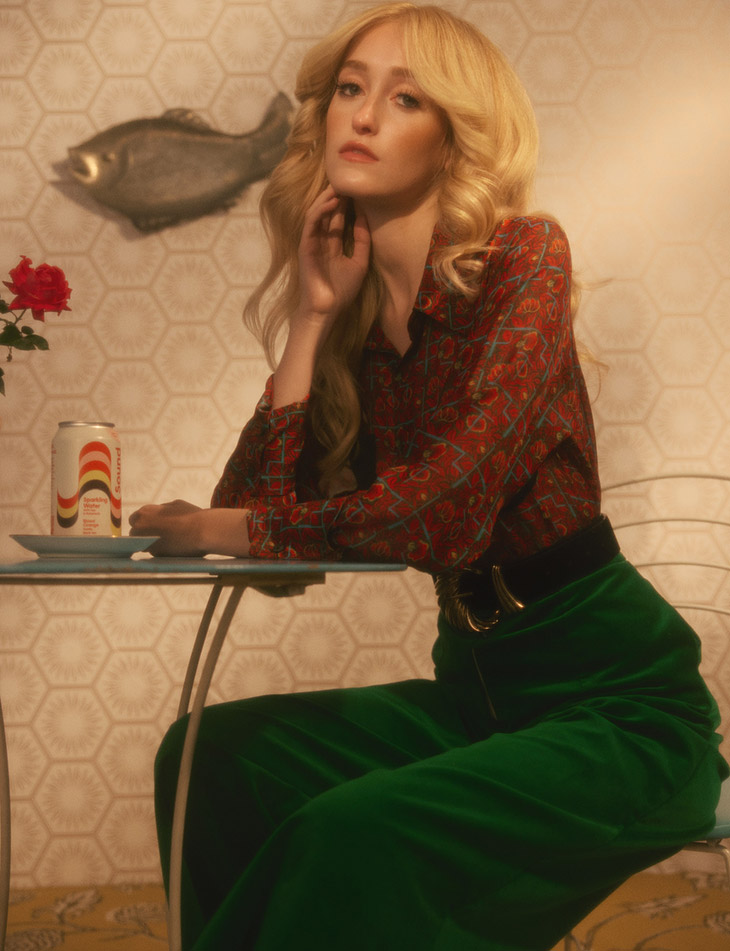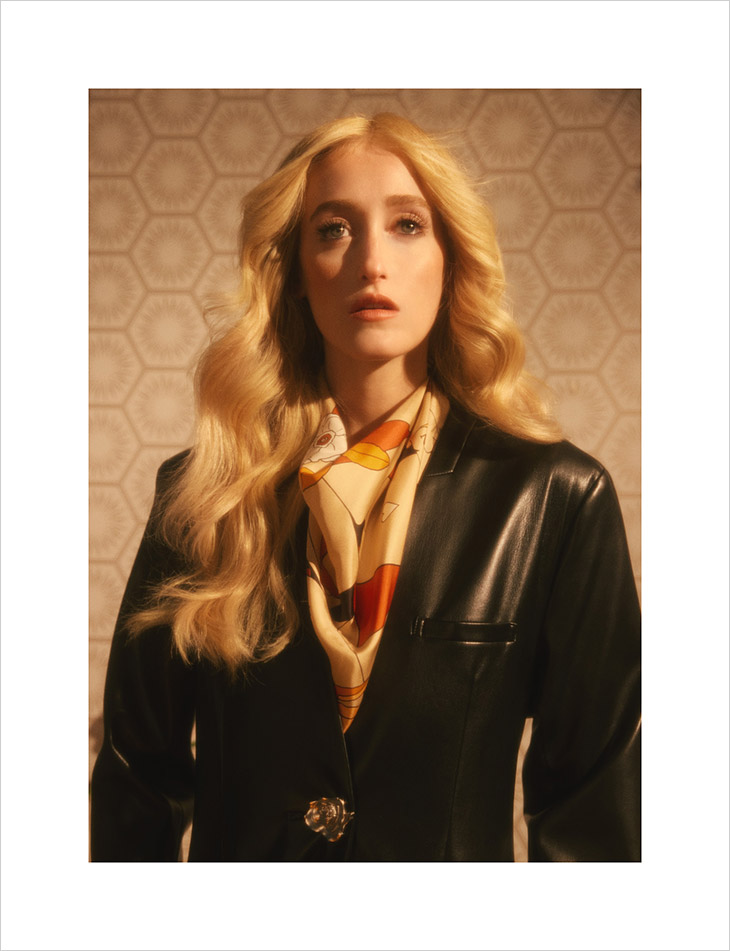 How did you discover your passion for acting?
As a little girl I never quite felt I was great at anything, except playing with my barbies acting out stories and putting on colorful dresses. Both my parents are actors so it was always around me but it was really in middle school when I was cast in Much Ado About Nothing that I felt somebody was noticing me for the first time, and I was actually being noticed. I was always a very anxious sensitive kid and the wonderful thing about acting is that ability to feel deeply is a superpower.
What does a character need to make a part interesting for you?
Human beings are such complex multi-dimensional creatures, just like Shrek or was it Donkey that said "ogres are like onions", so are people we have a lot of layer. As long as I feel a character is written where those layers have the potential of seeping through, where there's room for the audience to see that this person is more than just one thing. I'd say the sky's the limit from there as far as roles that are interesting.
What is the first thing you do to research and approach a role?
I've always come from the school of thought that your instincts from a first read usually lead you in a very strong direction. Reading a role I can tell within the first ten pages usually if I understand this person or not, and if so then you color it in with the information life has taught you. I don't usually do intense research cause I think good writing does so much of the work for you, but I remember with Dickinson looking at page after page of women's clothings in the 1840's gawking at the dressing they wore. For that show in particular the wardrobe really informed each of our characters and posture and status and really helped create Jane for me.
Do you have any personal rituals that you do before an audition?
As I said a few paragraphs up, I'm an incredibly anxious person so definitely have my own tiny OCD rituals I do before going in on something. Recently though my dad turned me onto meditation, I've been using this app and doing 10 minutes every morning. I was always someone who would roll my eyes when someone told me they swore by meditating but now I take it all back. The most important thing before an audition is to just check in and reconnect to the faith you have in yourself. You are your biggest cheerleader, so act like one!
Tell us one thing you learned about acting from working with actresses such as Frances Conroy and Courteney Cox?
I mean if someone had told me at 14 I would get to play Courteney Cox's daughter on a tv show, I probably would have done a back flip (though I would have broken an arm). I started professionally working at 15 and through the years it's the women on these set whom have taught me so much about professionalism and work ethic and the importance of kindness on a set. Both Frances and Courteney offer genuine warmth and respect to everyone they meet, which is something I value above most other things. This industry makes it easy to lose sight of yourself and that we are all human beings at the end of the day, stay humble, stay gracious and the rest will fall into place.
Tell us about Shining Vale. Did you enjoy being part of Courteney Cox' dysfunctional family?
Being on Shining Vale has felt like this magical spell that washed over me one day and I don't know how I got so lucky. Yes I know that sounds cliche but I mean it. The story revolves around a family from the city who moves to a mansion in Connecticut and as Pat (the mom) starts seeing ghosts she questions if she's on the brink of insanity of or if the house really is haunted. For a show that was cast over zoom, we all really mesh together so well, there's this sense of camaraderie and having each other's backs which is rare. Jeff Astrof and Sharon Horgan wrote something that makes me laugh and scream and cry all at the same time. Who knew you'd wanna feel it all at once.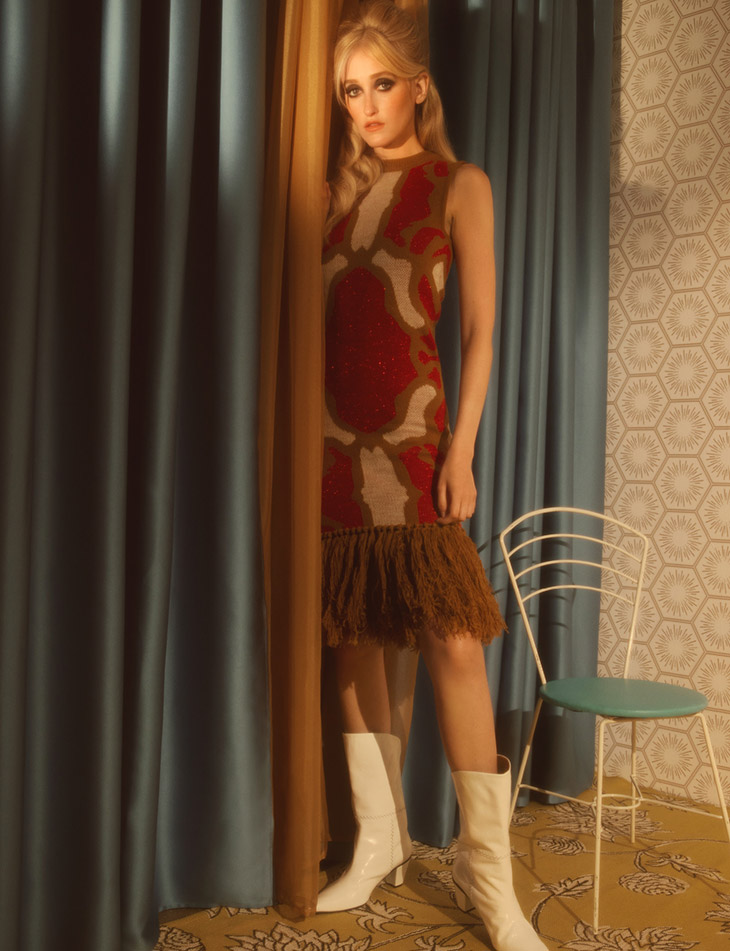 What do you think it is about Dickinson's show that so many girls and young women relate to? Did you enjoy its quirky vibe?
Dickinson embodied what it meant to be a women in today's age (ironically though set in the 1800's). Emily's superpower was being her own off beat miraculous self, loving whoever she wanted to love. She was very much a women ahead of her time, and I think people connect to her artistry. It also brought a new awareness to those who had never heard of her poetry and brought Emily's work back to life again. The show really played by the beat of its own drum. Jane Humphrey re-defined what it meant to be a "mean girl" and I absolute fell in love with playing her.
What is your favorite role so far and why?
You know each part I've played has been so symbolic at different points in my life. I look back on them and unlocked different parts of myself along the way every time. I couldn't pick a favorite because the favorite is always the one you're playing at the moment. I think every actor falls in love with the part they're playing at the time. Gaynor on Shining Vale feels really close to my heart right now. She's messy and challenging and sensitive and everything all at once
Do you ever watch your performances back?
I do, doesn't mean it's always easy. Even though I think I've gained more confidence in myself over the past couple years, doesn't mean I don't have the same mental junk we all have from time to time. It's funny how it's so easy to think everyone else is beautiful but looking at yourself the rules change drastically. I usually watch anything I'm in with my family which makes it easier.
What is your favorite poem?
I've always loved Listen To The Mustn'ts by Shel Silverstein.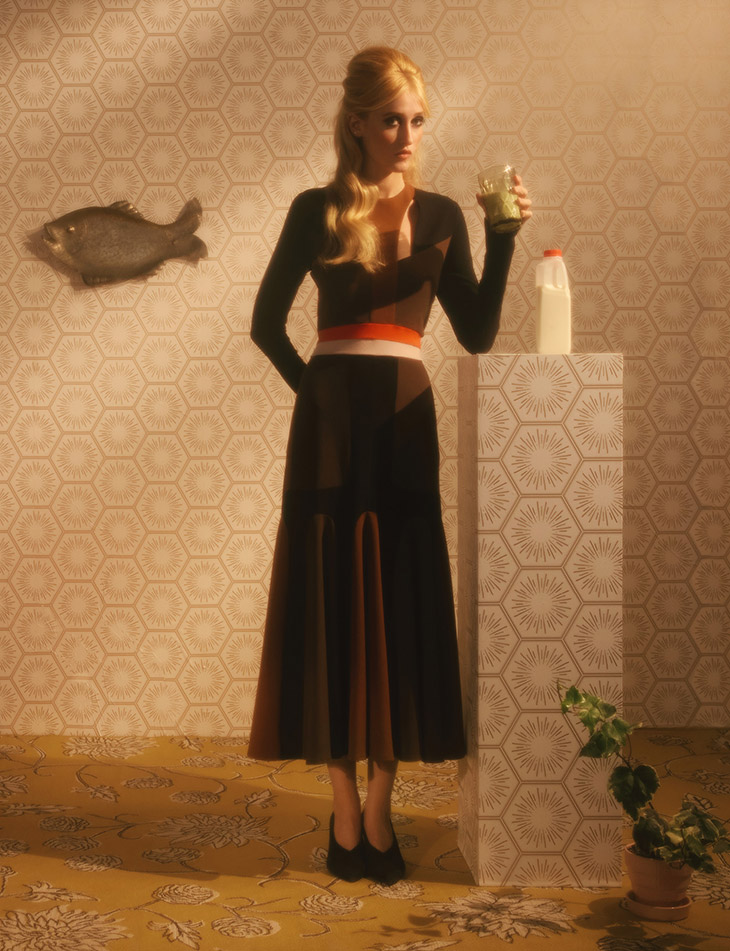 Do your on-screen experiences ever get under your skin?
Acting is such an extraordinary profession because it is all about feeling. And where do the feelings of your character begin and yours end? I guess if I was more technically trained I could tell you there is a clear difference but for me there's always little parts of myself that seep through making it a weird post-show return to reality after finishing a job. So to answer your question yes, always. That is the magic of the job, you're lucky if the experiences get under your skin.
Is there a TV show or a movie you would really like to be part of?
I just finished Severance on apple TV and man oh man would I love to be on something like that. Doing another period piece would be incredible though, I grew up watching Pride and Prejudice and Emma, there's something majestic about putting on these elaborate costumes and transporting to a time so far off from today.
If you could change one thing about the entertainment industry, what would it be?
We've come very far as the industry evolves and slowly becomes more diverse and inclusive, but I still think the beauty standards for women (and men) create toxic and unrealistic ideals and make kids growing up, watching these people are screen, feel they need to fit inside a box. There is no box, beauty is all shapes, all forms, all colors, and if I could tell the younger generation anything it's that your best love story will be with yourself. Fall in love with who you are.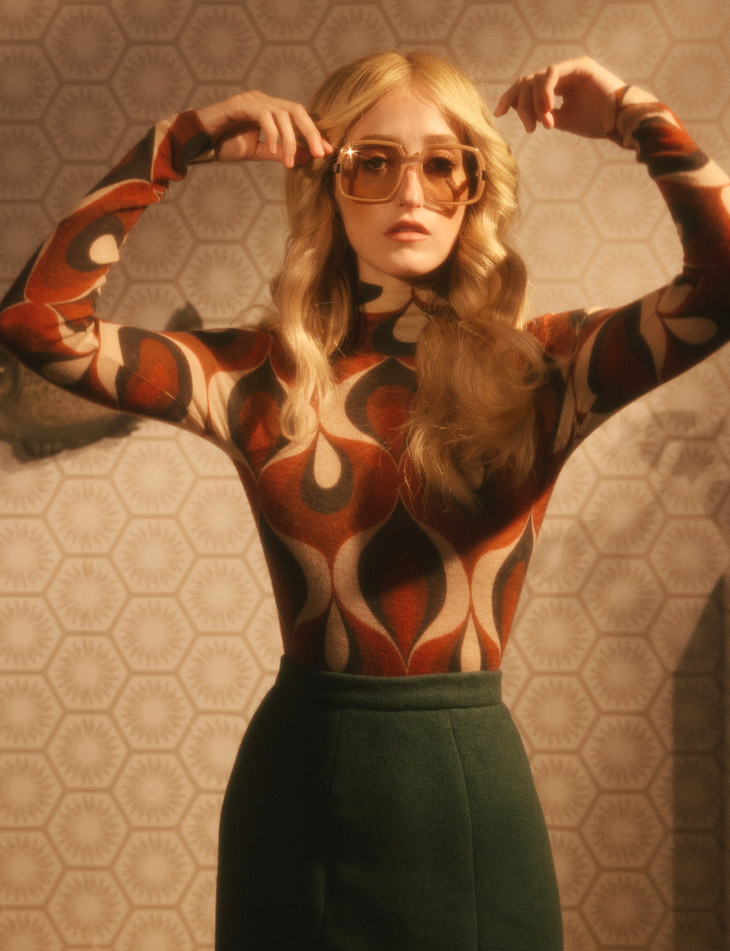 Anything in the works that you can talk about? Any exciting new projects?
I actually shot three films last year, all have different places in my heart. I'm really excited for this film Happiness For Beginner, which should come out on Netflix sometime in the new year I hope. The film is about a woman who signs up for a beginners wilderness retreat with a group of 7 others, so we quite literally hiked all around these gorgeous Connecticut trails and watched the leaves change colors for two months and became a little family. Might have been one of my favorite jobs yet.
What makes you happy?
Answering this question there were many clever creative responses I wanted to write, some which would be make look cooler than others but the quite literal answer is my family. My mom, my dad, and my brother Ephraim. They are the thing that tie my feet to the ground and make me laugh when I don't feel like laughing. Early 20's are confusing I won't lie, and sometimes it's hard to know which way you're going or to see a clear path to follow, but with them by my side I'm okay flying into the unknown for the moment.
Keep up with Gus – @gus_birney
Photographer, Director Lara Callahan at Kate Ryan
Stylist: Heather Newberger
Director of Photography: Ryan Dixon
Prop Stylist: Emily Rose Kellerman
Hair Stylist: Jasmine Burnside
Makeup Artist: Amanda Thesen
Talent: Gus Birney