Founded in 2021 by 3D artist Justin Melillo and entrepreneur Matthew Hoerl, Mona is a 3D world-building platform and web3 social network for virtual experiences. Made with the mission of empowering people around the world to create and collect, today Mona features thousands of artists, designers and worlds.
DSCENE Magazine Editor Katarina Doric sits down with the CEO and Co-Founder of Mona, Justin Melillo, to talk about Mona's beginnings, Art Basel projects with artists Tom Sachs and Daniel Arsham, as well as the future of metaverse.
Tell us about Mona. How did it all start?
At the beginning of 2021 I started to get really interested in NFTs, noticing many of my VFX colleagues and 3D artists tapping into a new income stream. For 3D art specifically, creators didn't have a great way to share / experience their work. Mona began as an idea centered around a virtual gallery experience. My co-founder Matt Hoerl and I have a deep background in AR and VR, and we see the future involving people spending more time interacting with virtual experiences and 3D content. As an artist, I grew increasingly interested in the web3 space and saw there was a huge need for tooling that catered specifically to 3D artists like myself.
The metaverse is the next evolution of the internet. People spend hours each day connecting with each other via the internet. As we empower more creators to build and share super high quality 3D experiences, more people will use immersive experiences for work, play, and to spend time with each other.
When did you realize the metaverse is the future of creativity?
In 2016, I joined Magic Leap, a startup that creates Augmented Reality (aka "Mixed Reality") hardware and software. I worked on a team that was building a digital human AI as well as volumetric capture experiences of human performance to be replayed on the Magic Leap headset. I also experienced first hand how to develop 3D immersive content as part of the web browsing experience – where one could literally pull 3D artwork and assets out of a web browser to place them into one's own real world environment to interact with. This, for me, solidified the notion of the metaverse being the future of creativity. My co-founder Matt had a similar experience – making the jump from working in film and tv to developing VR and AR experiences. Early on we had both seen the potential and started working in the space.
What sets Mona apart from other 3D world building platforms?
Mona is the only 3D world building platform that is truly creator first. Mona is free to access and free to build on. Other platforms force users to purchase land, and impose many restrictions on what creators can build. Creators are stuck in low-poly, low quality aesthetics on other platforms, or they have to download an app. Mona is the highest quality virtual world building experience, and is all accessible via the web browser, no downloads required. By visiting a URL link, one is immediately transported into a high quality, immersive experience shared with thousands of others, with customizable avatars, voice chat, and text chat.
View this post on Instagram
How does your platform support the creatives and visionaries?
Mona empowers artists and creative visionaries to build beautiful, high quality immersive experiences with tools they're already familiar with, mint these experiences as 1/1 NFTs, and sell these NFTs on Mona's custom built marketplace or any 3rd party marketplace – enabling creators to tap into new income streams and collect perpetual royalties on all secondary sales of their work – forever.
Is metaverse the future we're going to live in?
Yes, the metaverse is the next evolution of the internet. People spend hours each day connecting with each other via the internet. As we empower more creators to build and share super high quality 3D experiences, more people will use immersive experiences for work, play, and to spend time with each other.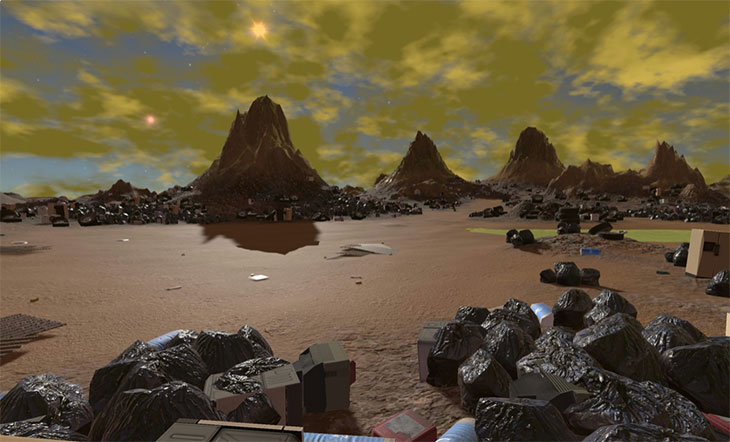 How did your collaboration with Tom Sachs come about?
We were connected to Tom through a couple of mutual colleagues. After our first meeting it was clear that we both had a very similar vision for the future of the metaverse and empowering human creativity
His work, The 'Final Frontier', is the largest activation on Mona to date. How challenging was working on it?
This is a first of its kind project that will set the bar high and serve as a template for artists and communities building in the metaverse. Thousands of unique, vast planets are being built on Mona. Like any innovating creative undertaking, the challenges faced help make the work better.
Tell us a bit about this NFT collection.
Tom Sachs Rocket Factory will offer up five physical rocket sculptures cryptographically paired with their digital counterparts to buyers on the Americana marketplace beginning in 2023. Through Americana's platform, physical collectibles are authenticated and properly stored and guarded on behalf of owners as they create redeemable NFTs of the physical asset on the blockchain. This enables owners to easily sell the physical and digital asset in seconds through access to a global community of collectors without the worry or hassle of transport or maintenance, which has long saddled collectors.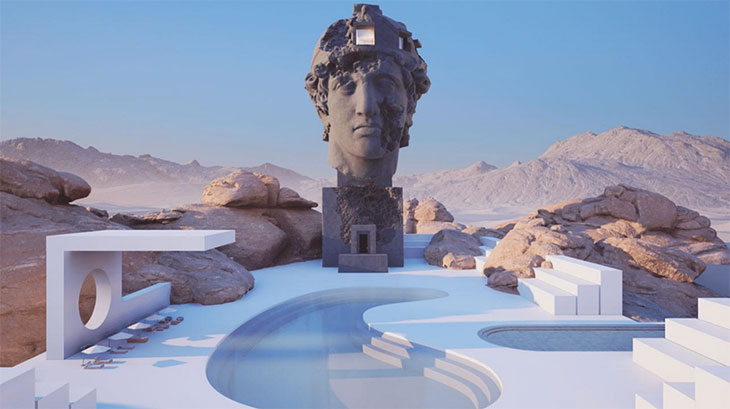 Another big collaboration, with renowned artist Daniel Arsham, has debuted during this year's Art Basel Miami. 
Hosted on Mona's virtual world building platform, The Row is a first-of-its kind, members-only metaverse real estate community. Designed by internationally acclaimed artist Daniel Arsham and produced by Everyrealm, Ares House is a metaverse architecture project featuring over thirty 3D designs. As the leading 3D, AR, and VR world building platform for high-quality, social digital experiences, Mona has built on-site a one-of-a-kind virtual meets IRL experience that serves as a beautiful, vibrant, engaging place, focused on creators and helping them build the future we're going to live in. Attendees will be able to step inside of Mona's metaverse and tour in the collective of spaces of the Row. The installation beckons patrons to explore the interior and exterior of Ares House, which surrounds the physical installation elements, including Arsham-designed furniture and sculptural works, anchoring the viewer while they delight in the tension between physical and digital.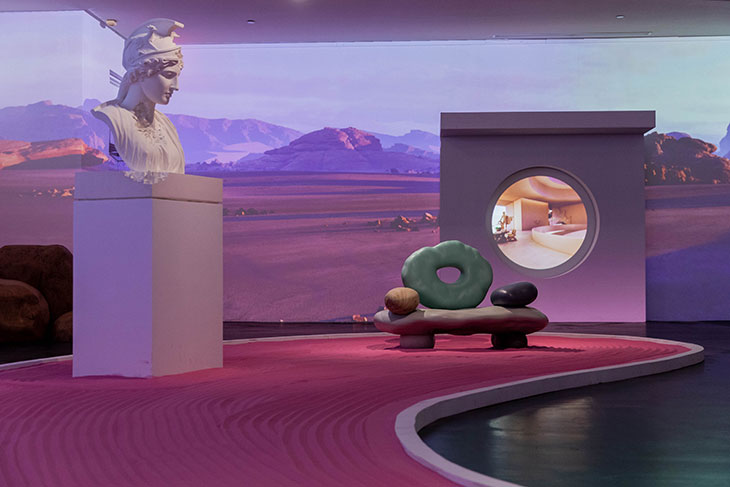 He created a first-of-its kind, members-only metaverse real estate community. Could you tell us a bit more about this concept?
'The Row,' is a private, members-only metaverse real estate community featuring architecture designed by artists. The Row is being co-developed by The Alexander Team and Everyrealm and will be launched on the metaverse world-building platform Mona. The artists will develop and build each of the Row's landmarks with the ability to be deployed across a variety of metaverse platforms within The Row district. Metaverse world-building platform Mona will host The Row's first builds. Membership to The Row is by invitation only and will become available once The Row has completed development later this year. Interested parties can now request an invitation on The Row's dedicated website.
"Ares House" is also a real life metaverse experience. What do you want to achieve by mixing the two worlds together?
Mona is realizing a vision of the metaverse where digital content and experiences merge seamlessly with the world around us. Ares House is a beautiful digital architectural landmark. Through our activation during Art Basel we bridge the gap between the digital and physical and enable guests to step inside Daniel Arsham's world in a new way.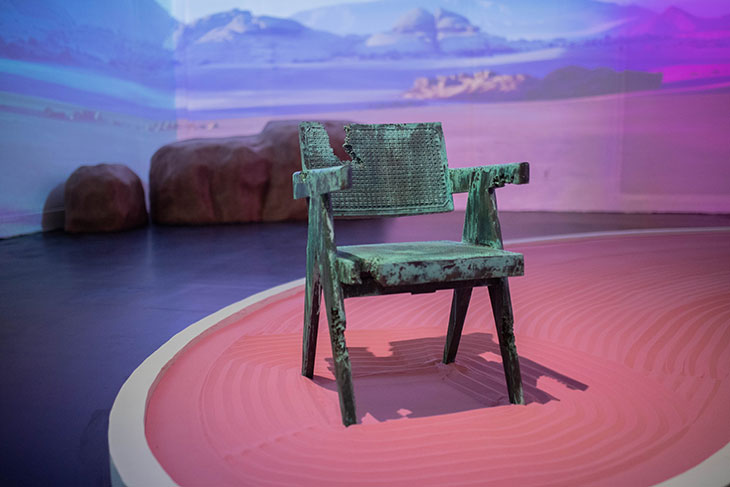 What's next for Mona?
At Mona, we are excited to continue empowering artists to build remarkable immersive experiences. Mona now supports video live-streaming inside of 3D spaces. We are adding more custom tooling for even more interactive, more immersive experiences. We are helping creators.
Keep up with Mona – monaverse.com