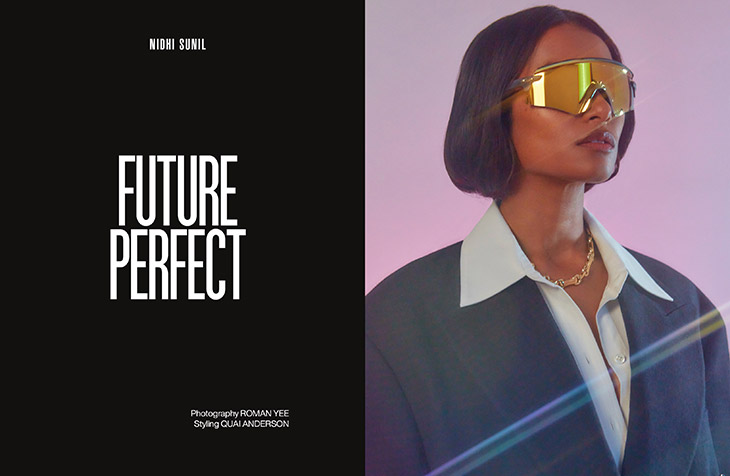 Model Nidhi Sunil sits down for an exclusive interview with DSCENE editor Maja Vuckovic, to talk about her modeling career, favorite trends, Invisible girl project, representation and inclusivity, and much more.
For an exclusive story Nidhi (Nomad, Elite NY) teams up with photographer Roman Yee. In charge of styling was Quai Anderson, who for the session selected pieces from brands such as Isabel Marant, Peter Do, Oakley, Khaite, Loulou Studio, Zimmerman, Helsa, and Balenciaga. Beauty is work of hair stylist Anike Rabiu, and makeup artist Malisa Khamphong. Post-production by Dan Tant. Photo assistance by Jenny Fu.
Read our interview with Nidhi below: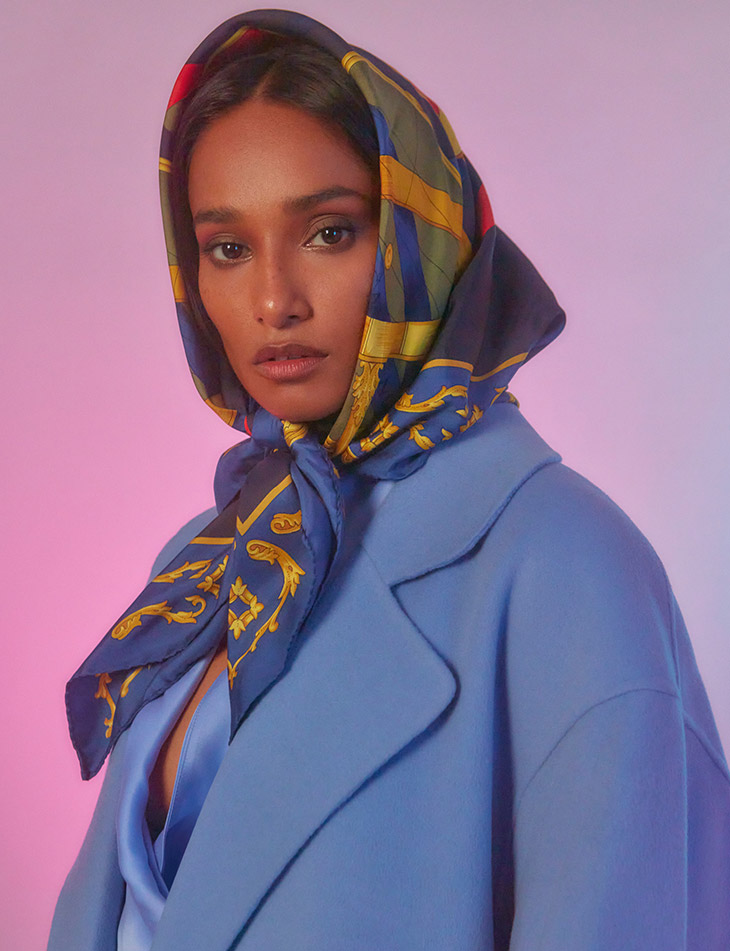 Hello Nidhi, so nice to have you at DSCENE. Could you tell us a bit more about yourself?
I am a model and a creative, with a legal background, that grew up in south India and moved to New York to follow my dreams.
How did you start modeling? And what was your first big break in the industry?
I started modelling half way through school. I won a modelling contest during my semester break and started working with Elite in Mumbai. I think my first break was getting on the cover of Elle India; and then lots of little breaks in between and then getting a contract to move to New York.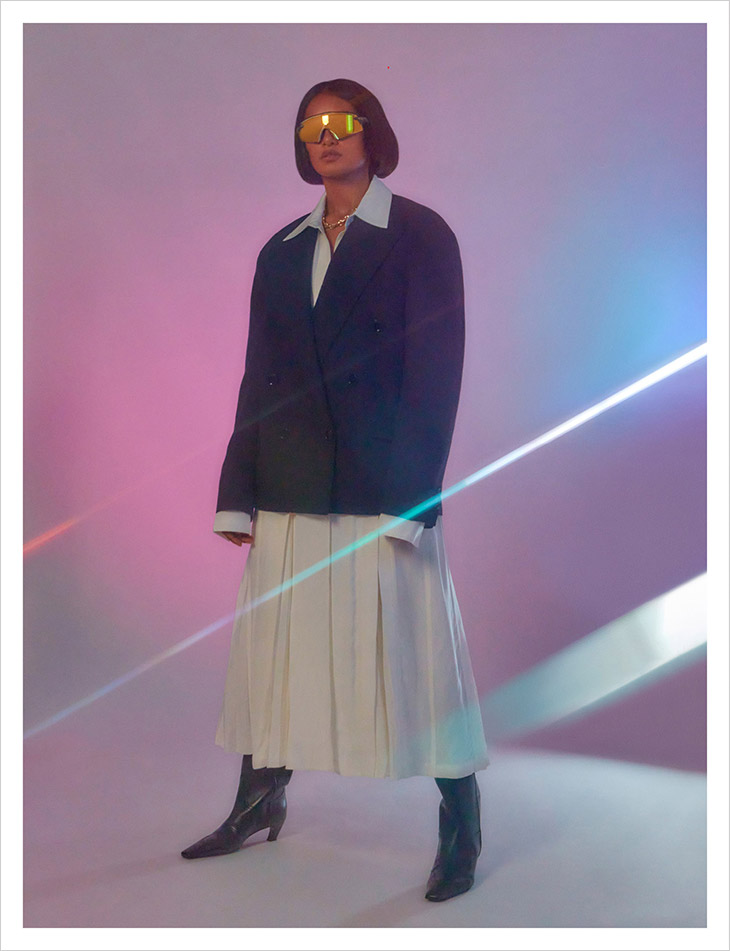 What are the projects you enjoyed working on the most, and the ones that were most challenging so far?
I think the projects I enjoy working on the most are always deeply personal; those are also the most challenging. I produced a documentary project for the NGO I work with – Invisible girl project – the team worked remotely until we coalesced in south India to shoot the project. We were on the panel for UNCSW (United Nations Commission for the Status of Women) and that was really terrifying. It's definitely more fun to work on projects where you get to show up, do your part and exit. I love flying to Paris to get dolled up and shoot a beauty campaign – though, to be fair, jet lag is its own beast.
How does it feel to be the first Indian model to represent L'Oréal Paris as their global ambassador?
I'm honestly really surprised. You always hear people exclaiming how Indian women are some of the most beautiful women on the planet etc etc… So it always surprised me that there are basically zero Indian models out there with global beauty contracts – well bar one, finally.
You have an impressive portfolio, what are some of your favorite brands and magazines that you've worked with in the past?
I love working with L'oréal Paris – working with them feels like you're part of this large community of super women from the around the world. It's a very special circle of humans. I love working on any editorial for any publication honestly, I loved working on this editorial for instance. It's fun and creative, and you get to be outrageous and cosplay and inhabit different personalities, and make friends with a super fun crew.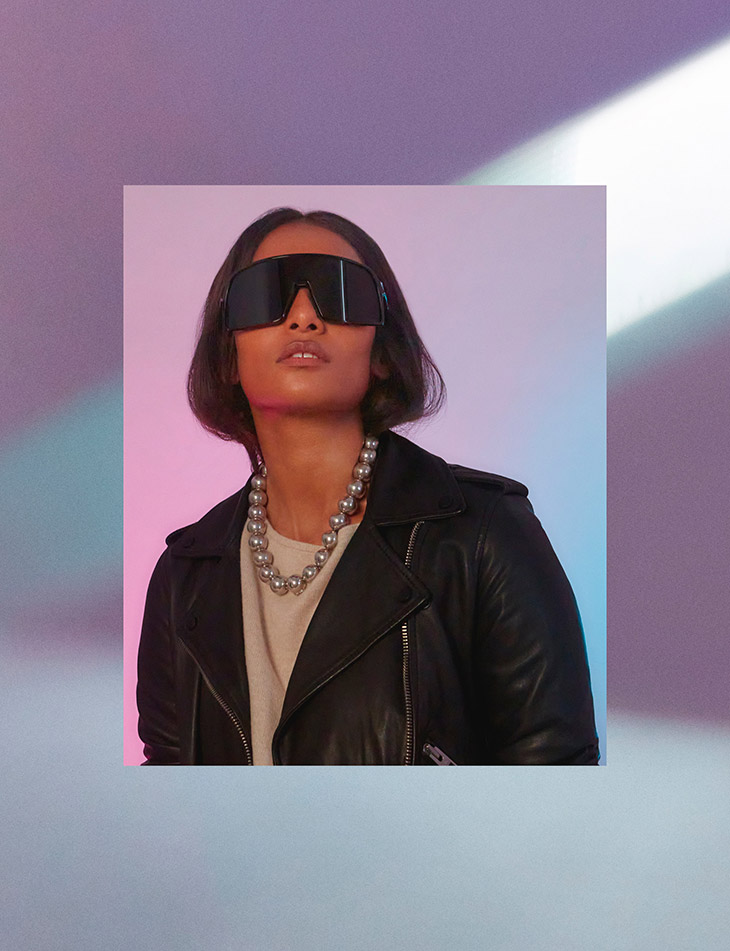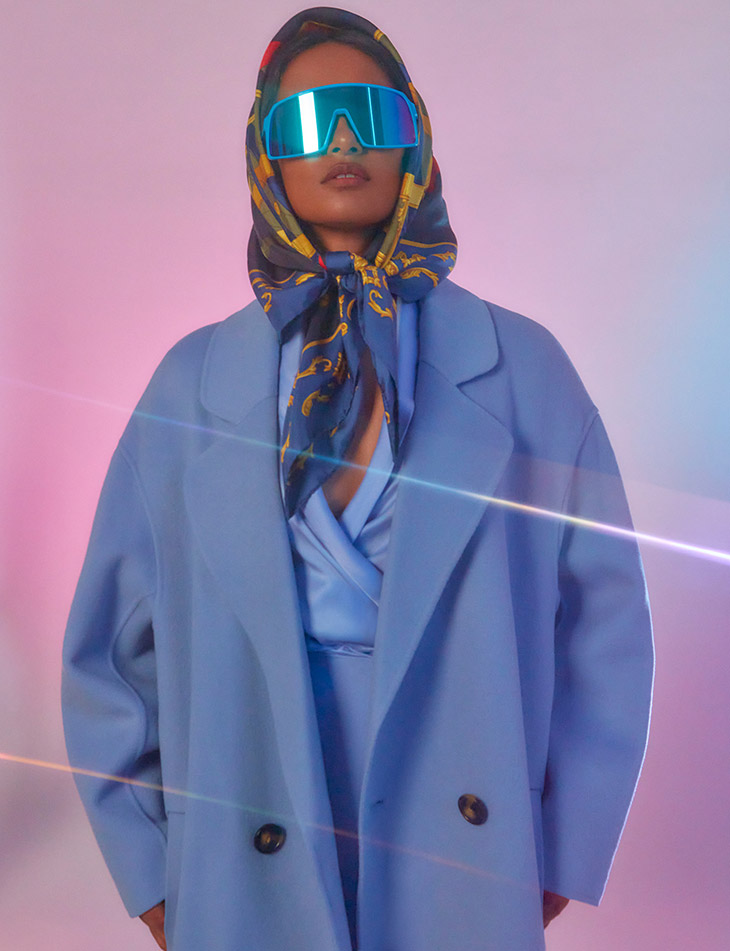 How different was the modeling world from the one you imagined before you started working in the industry?
I was a law school kid who accidentally started working in fashion with zero industry context or connections. As far as I was concerned the industry existed in a different universe that I didn't have the right kind of spaceship to access. I never wasted my imagination on it because I just remember thinking this place was not for people like me.
Do you think that the fashion world is changing in terms of inclusivity?
I started modelling before diversity or representation were buzzwords. I remember casting in Mumbai, and clients not wanting to cast Indian girls to shoot Saree campaigns (traditional Indian wear) because we weren't aspirational enough for the Indian demographic. I don't think people realise how deeply and globally ingrained Euro centric beauty standards are. I honestly can't really tell if we've come very far at all. Obviously social media has contributed to a lot of the conversation around diversity, euro centrism, shap-ism, size-ism, gender identities etc and there are models like Paloma Elsesser carving out spaces for themselves in high fashion where none existed before; but I sill think a skinny white European girl is the most valued commodity within the industry. Frankly, I'm surprised how many people I meet, who are exhausted at the need to educate themselves at all. To summarise, the public is having conversations that are more radical than the existing structures are excited to accommodate.
What do you think is your greatest strength as a model?
My thoughts and my words.
How would you describe your personal style? What is your favourite trend at the moment?
My personal style is street+thrift+Indian with a little leather. I think my favourite trend will always be thrifted street style.
What is your beauty regime? And how do you stay in shape?
My beauty regime includes lots of hydration, supplements, regular chemical exfoliation – retinols, aha, bha, lactic acid etc, not a ton of actives – just a lot of heavy moisturising creams+spf. I like mixing up workouts – I don't have a strict regime. I've been practicing yoga for a long time, but I love pilates, climbing, weight training, barre, aerials – anything fun and new honestly. I just try to move 5 days a week unless I'm on my cycle or travelling.
Who is your ultimate fashion icon?
If I only get one – Rihanna.
Any future plans you're excited about?
Honestly, I'm just excited for the holiday season and the end of 2022.
Keep up with Nidhi – @nidhisunil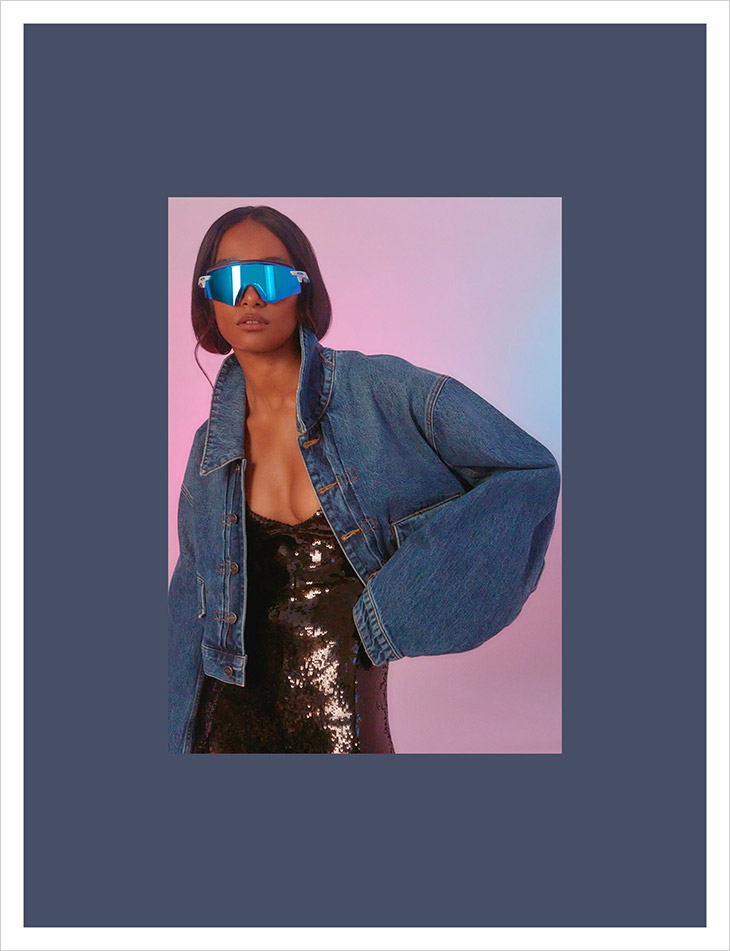 Photographer Roman Yee
Stylist Quai Anderson
Makeup Artist Malisa Khamphong
Hair Stylist Anike Rabiu
Model Nidhi Sunil at Nomad, Elite NY
Post-Production Dan Tant
Photo Assistant Jenny Fu