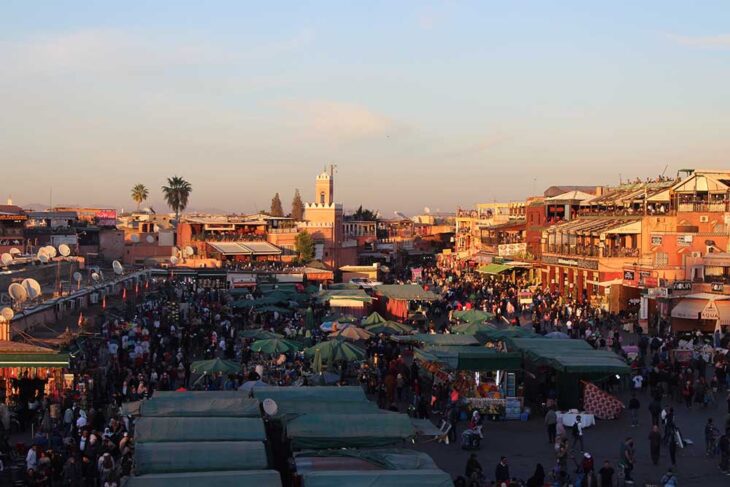 There are few places in the world quite as beautiful as Marrakech. The Morrocan city has long been associated with opulence and fashion, largely thanks to Yves Saint Laurent, who regularly visited the city to design his collections.
There's a relaxed nature to Marrakech, yet it's more vibrant and colourful than fashion capitals like London, Paris and Milan. There's no late night parties, no pretention. It is what it is and it's why so many people love it.
The champagne lifestyle it is not. After all, it's a muslim country where alcohol is forbidden. It's why many people choose to visit, not worrying about alcohol but rather being surrounded in such a rich culture. Which, in the world of fashion, is quite rare given the rise of alcoholism and drug use. In Morocco, you don't get that, which makes it the perfect escape for a sober adventure.
But, of course, there are many more reasons as to why you should make Marrakech your sober vacation this year…
Rich history and culture
Let's begin with the rich history and culture Marrakech has to offer. From the ancient medina with its maze of winding streets and bustling souks to the majestic Koutoubia Mosque and the Bahia Palace, there's no shortage of things to see and do. You can also explore the city's many museums (including one dedicated to YSL), art galleries, and historical sites to get a deeper understanding of the city's rich history and culture.
Soothing spas and wellness activities
Marrakech is renowned for its luxurious spas and wellness activities. You can indulge in a traditional hammam experience, which involves being scrubbed and massaged with traditional Moroccan products, or opt for a more contemporary spa treatment such as a massage or facial. Many spas also offer yoga and meditation classes, which are ideal for those looking to recharge their batteries and find inner peace.
Delicious food and drink alternatives
Moroccan cuisine is famous for its bold flavours, fragrant spices, and fresh ingredients, and there are plenty of delicious food and drink alternatives for those who choose to abstain from alcohol. You can try traditional Moroccan mint tea, which is served in small glasses with sugar cubes, or sample one of the many fresh fruit juices and smoothies that are available throughout the city. Moroccan cuisine also includes a range of delicious vegetarian and vegan dishes, such as vegetable tagine and couscous, making it easy to stick to a healthy and nourishing diet.

Outdoor adventures
The city itself is surrounded by stunning natural landscapes, including the majestic Atlas Mountains and the vast Sahara Desert, making it an ideal destination for outdoor adventures. You can take a guided trek through the mountains, go camel riding in the desert, or explore the rugged terrain on a quad bike. These activities provide an adrenaline rush and a sense of adventure that is sure to leave you feeling invigorated and fulfilled, ahead of a relaxed and alcohol-free evening.
Warm hospitality and welcoming locals
Finally, and perhaps most importantly, the Moroccan people are renowned for their warm hospitality and welcoming nature. You'll find smiling faces everywhere, from the friendly vendors in the souks to the hospitable staff at your hotel. You really will feel right at home in this vibrant and welcoming city. The locals are always happy to offer advice on where to go and what to see, and you're sure to make lasting connections and memories during your stay.