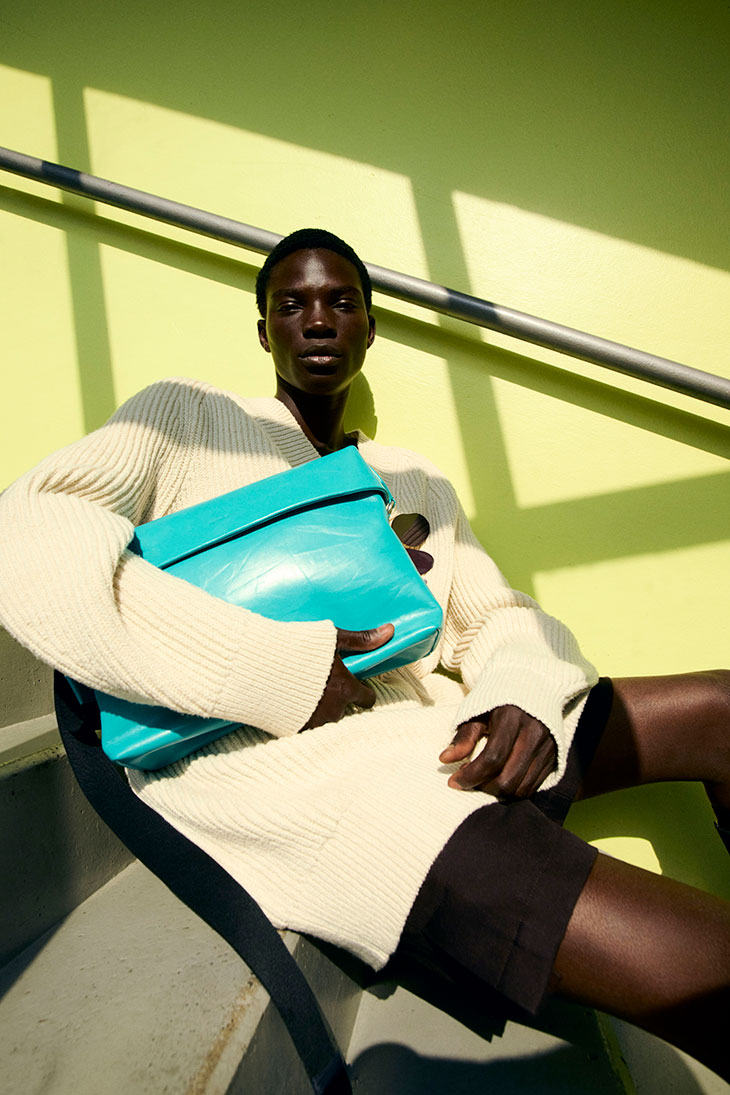 Jil Sander Resort 2024 collection explores the potential that emerges from the fusion of typically opposing elements, both culturally and formally. In a bold move to break free from convention, Lucie and Luke Meier have reimagined the classic suit by pairing long trousers and shorts with jackets and shirt-jackets, creating a fresh and innovative silhouette. Shirts have been replaced with luxurious high-collared tops, T-shirts, mesh shirts, and knits, adding a touch of sophistication to this daring ensemble. Adorned with foulards, necklaces, and flattened jewelry that drapes elegantly from the body to the garment.
The half-breasted jackets boast a commanding rectangular construction that exudes strength, yet maintains a relaxed fit with generously cut sleeves. Soft and voluminous long trousers are in vogue. These tailored shorts boast a crisp crease and a generous width, while their length is abbreviated for a chic and modern look. Expansive attitude and nonchalant image. The suit's defining features are becoming indistinguishable. The fusion of practicality and style, casual wear and sophistication is evident in the designs' silhouettes, fabrics, and craftsmanship. The fusion of technical and traditional details is on-trend.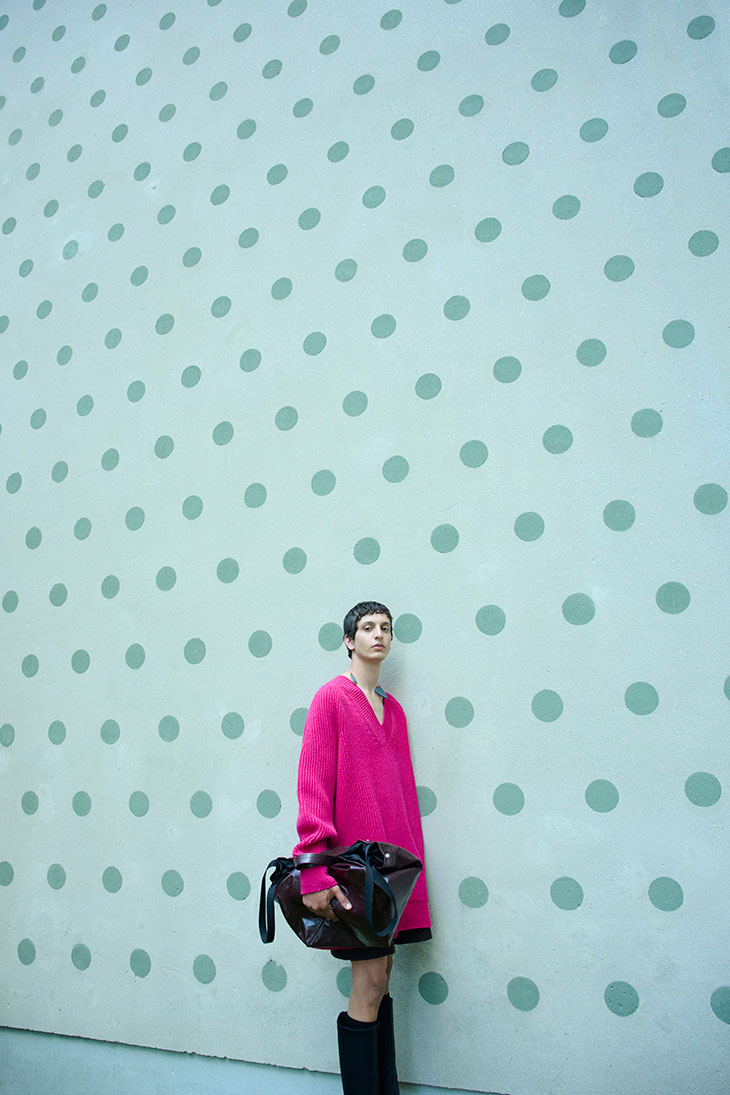 The diverse range of overcoats featured in this collection showcases an array of shapes and intricate details. From the commanding, grey A-shaped trench to the abbreviated raincoats with oversized pockets and metallic hardware, to the legendary tailored coats in golden wool or a tonal ivory jacquard with a natural catamount motif – these styles are equally prominent in the women's collection.
A craving for transformation is in the air. A fusion of menswear and womenswear, glossy and matte textures intersect. The exquisite variety of materials takes center stage, showcasing exceptional quality and diversity. From luxurious cashmere to smooth and embossed leather, Italian and Japanese wools to premium cottons, the selection is simply stunning. Knitwear reaches the pinnacle of sophistication with exquisite crochet inserts, embossing, and jacquards that elevate its expressive potential. The subversive pop graphics are evoked by the "Luscious Kiss" print and the "Magic Orchestra" green jacquard featured on the melange black and white jumper.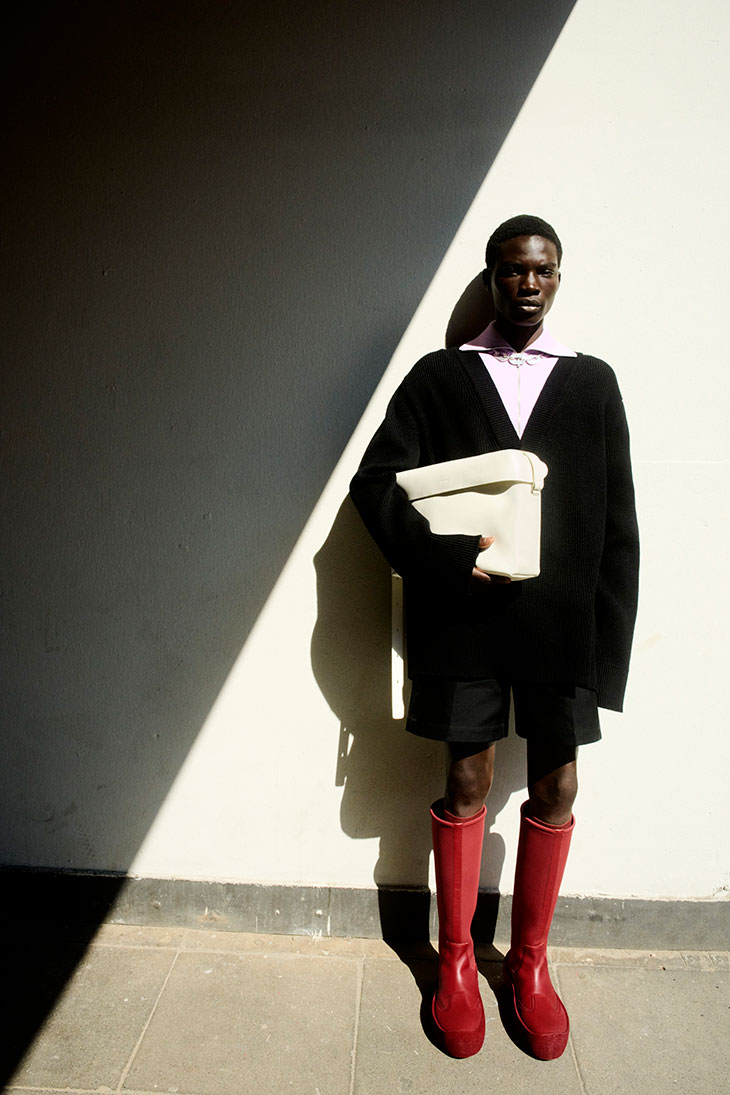 The color palette is daring and sophisticated, with cleverly contrasting blocks of white, butter, pale yellow, pink, lilac, metallic grey, sun yellow, and charged pink. This results in a sumptuous V-neck sweater made of ribbed cashmere, available in forest green, chocolate, black, and gold.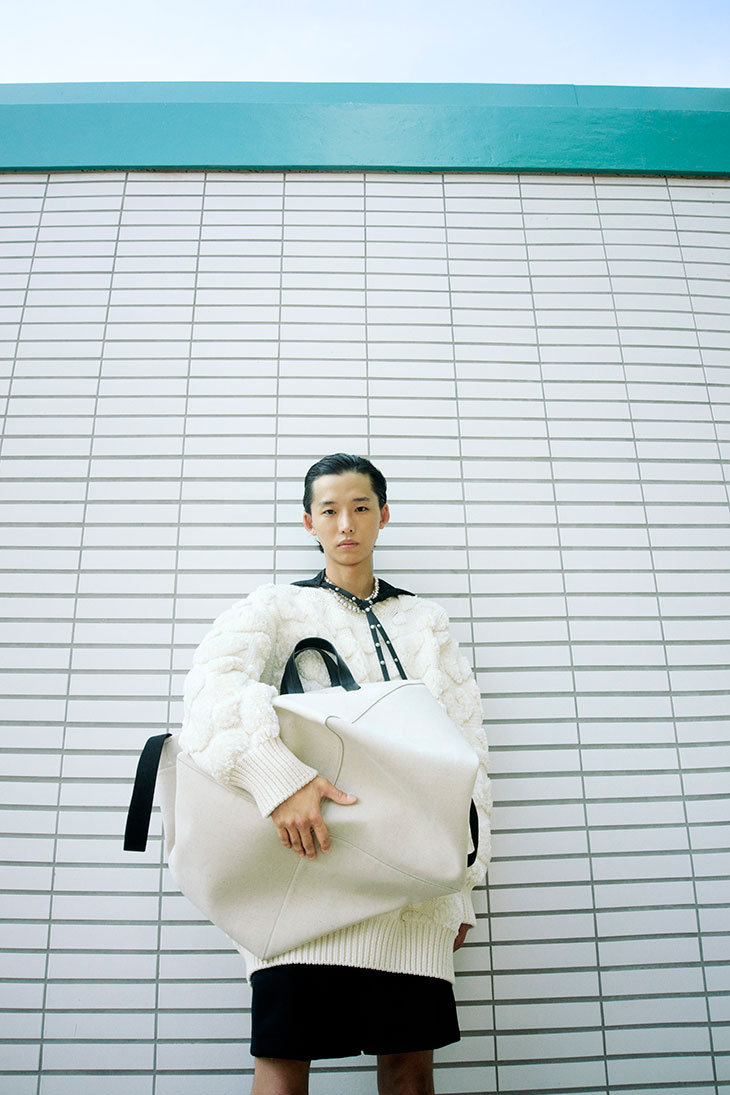 The fusion of athleticism and elegance is accentuated by the inclusion of sneakers and vulcanized boots with oversized rubber soles, as well as voluminous, plush, and vibrant tote bags, handbags, sandwich bags, multi-colored box bags, and envelope folios.